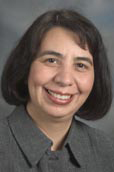 '
Marta Davila, MD, AGAF, FACG, FASGE
Present Title & Affiliation
Primary Appointment
Professor, Department of Gastroenterology, Hepat,& Nutr, Division of Internal Medicine, The University of Texas MD Anderson Cancer Center, Houston, TX
Dual/Joint/Adjunct Appointment
Interim Director - Clinical Outpatient Activities, Department of Gastroenterology, Hepat,& Nutr, Division of Internal Medicine, The University of Texas MD Anderson Cancer Center, Houston, TX
Faculty Advisor, Mid-Level Providers, Department of Gastroenterology, Hepat,& Nutr, Division of Internal Medicine, The University of Texas MD Anderson Cancer Center, Houston, TX
Associate Medical Director, Department of Cancer Prevention, The University of Texas MD Anderson Cancer Center, Houston, TX
Associate Program Director, Advanced Therapeutic Endoscopy Fellowship Program, Department of Gastroenterology, Hepat,& Nutr, Division of Internal Medicine, The University of Texas MD Anderson Cancer Center, Houston, TX
Office Address
The University of Texas MD Anderson Cancer Center
1515 Holcombe Blvd
Unit Number: 1466
Houston, TX 77030
Phone: 713-794-5073
Fax: 713-563-4408
Education & Training
Degree-Granting Education

1988
Harvard Medical School, Boston, MA, MD
1984
University of California Davis, Davis, CA, BS, Biological Sciences, Cum Laude with Highest Honors

Postgraduate Training

7/1993-6/1994

Fellowship in Gastroenterology, Advanced therapeutic endoscopy, University of California San Francisco, San Francisco, CA

7/1991-6/1993

Fellowship in Gastroenterology, University of California San Francisco, San Francisco, CA

6/1988-6/1991

Residency, Internal Medicine, University of California San Francisco, San Francisco, CA
Board Certifications
| | |
| --- | --- |
| 2003 | American Board of Internal Medicine in the Subspecialty of Gastroenterology |
| 2001 | American Board of Internal Medicine |
| 1989 | National Board of Medical Examiners |
Experience/Service
Institutional Committee Activities
Program Chair, Division of Internal Medicine and Cancer Survivorship Grand Rounds, 2010-present
Professional Memberships
American College of Gastroenterology, Bethesda, MD
Credentials Committee member, 2009-present
American College of Gastroenterology
Fellow, 2008-present
American Gastroenterological Association
Fellow, 2008-present
American Society for Gastrointestinal Endoscopy
CME Programs Review Committee, 2010-present
American Society for Gastrointestinal Endoscopy
Fellow, 2010-present
Harris County Medical Society, Houston, TX
Member, 4/2007-present
Texas Medical Association, Houston, TX
Member, 4/2007-present
Texas Society for Gastroenterology and Endoscopy, Austin, TX
Councilor, 2009-present
Texas Society for Gastroenterology and Endoscopy (TSGE), Austin, TX
Member, 2008-present
Selected Publications
Peer-Reviewed Original Research Articles

1.
Lee JH, Krishna SG, Singh A, Ladha HS, Slack RS, Ramireddy S, Raju GS, Davila M, Ross WA. Comparison of the utility of covered metal stents versus uncovered metal stents in the management of malignant biliary strictures in 749 patients. Gastrointest Endosc. e-Pub 4/2013.
2.
Song S, Maru DM, AJani JA, Chan CH, Honjo S, Lin HK, Correa A, Hofstetter WL, Davila M, Stroehlein J, Mishra L. Loss of TGF-B adaptor B2sP activates Notch signaling and SOX9 Expression in esophageal adenocarcinoma. Cancer Res. e-Pub 3/2013.
3.
Mahale P, Kontoyiannis DP, Chemaly RF, Jiang Y, Hwang JP, Davila M, Torres HA. Acute exacerbation and reactivation of chronic hepatitis C virus infection in cancer patients. J Hepatol 57(6):1177-85, 12/2012. e-Pub 8/2012.
4.
Kountourakis P, Ajani JA, Davila M, Lee JH, Bhutani MS, Izzo JG. Barrett's Esophagus: A Review of Biology and Therapeutic Approaches. Gastrointest Cancer Res 5(2):49-57, 3/2012.
5.
Torres HA, Adachi JA, Roach LR, Smith KM, Mahale P, Davila M, Raad II. Hepatitis C Clinic operated by Infectious Disease at a Comprehensive Cancer Center – Help is on the way. Clin Infectious Diseases 54(5):740-2, 3/2012. PMID: 22322272.
6.
Torres HA, Davila M. Reactivation of hepatitis b virus and hepatitis c virus in patients with cancer. Nat Rev Clin Oncol 9(3):156-66, 1/2012. e-Pub 1/2012.
7.
Mahale P, Kaseb AO, Davila M, Torres HA. The Effect of Transcatheter Arterial Chemoembolization on Hepatitis C Viremia. Oncologist 17(9):e21-3, 2012.
8.
Mendelsohn J, Song S, Ying L, Mishra B, Davila M, Hofstetter W, Mishra L. Dysfunctional TGF-B signaling with constitutively active Notch signaling in Barrett's esophageal adenocarcinoma. Cancer 117(16):3691-702, 8/2011.
9.
Welsh J, Amini A, Likhacheva A, Erasmus J, Gomez D, Davila M, Mehran R, Komaki R, Liao Z, Hofstetter WL, Bhutani M, Ajani JA. Update: Modern Approaches to the treatment of localized esophageal cancer. Curr Oncol Rep 13(3):157-67, 6/2011. e-Pub 3/2011.
10.
Raju RP, Jaganmohan SR, Ross WA, Davila ML, Javle M, Raju GS, Lee JH. Optimum Palliation of Inoperable Hilar Cholangiocarcinoma: Comparative Assessment of the Efficacy of Plastic and Self-Expanding Metal Stents. Dig Dis Sci 56(5):1557-64, 5/2011. e-Pub 1/2011. PMID: 21222156.
11.
Davila, ML. Photodynamic Therapy. Gastrointest Endoscopy Clin N Am 21(1):67-79, 1/2011. e-Pub 9/2010.
12.
Lee JH, Ross WA, Davila R, Chang G, Lin E, Dekovich A, Davila M. Self-expandable metal stents (SEMS) can serve as a bridge to surgery or as a definitive therapy in patients with an advanced stage of cancer: clinical experience of a tertiary cancer center. Dig Dis Sci 55(12):3530-6, 12/2010. e-Pub 9/2010.
13.
Hassan MM, Curley SA, Li D, Kaseb A, Davila M, Abdalla EK, Javle M, Moghazy D, Lozano, RD, Abbruzzese JL, Vauthey JN. Association of Diabetes Duration and Diabetes Treatment with the risk of hepatocellular carcinoma. Cancer 116(8):1938-1946, 4/2010.
14.
Thomas MB, Morris JS, Chadha R, Kaur H, Iwasaki M, Lin E, Kaseb A, Glover KY, Davila M. A Phase II trial of the combination of bevacizumab and erlotinib in patients with advanced hepatocellular carcinoma. Journal of Clinical Oncology 27(6):833-5, 7/2009.
15.
Hassan MM, Kaseb A, Li D, Patt YZ, Vauthey JN, Thomas MB, Curley SA, Spitz MR, Sherman SI, Abdalla EK, Davila M, Lozano RD, Hassan DM, Chan W, Brown TD, Abbruzzese JL. Association Between Hypothyroidism and Hepatocellular Carcinoma: A Case-control Study in the United States. Hepatology 49(5):1563-70, 5/2009.
16.
Cen P, Hofstetter WL, Correa AM, Wu TT, Lee JH, Ross WA, Davila M, Swisher SG, Fukami N, Rashid A, Maru D, Ajani JA. Lymphovascular invasion as a tool to further subclassify T1b esophageal adenocarcinoma. Cancer 112(5):1020-1027, 3/2008.
17.
Cen P, Hofstetter WL, Lee JH, Ross WA, Wu TT, Swisher SG, Davila M, Rashid A, Correa AM, Ajani JA. Value of Endoscopic Ultrasound Staging in Conjunction with the Evaluation of Lymphovascular Invasion in Identifying Low-Risk Esophageal Carcinoma. Cancer 112(3):503-10, 2/2008.
18.
Hassan MM, Li Donghui, El-Deeb AS, Wolff RA, Bonday ML, Davila M, and Abbruzzese JL. Association Between Hepatitis B Virus and Pancreatic Cancer. Journal of Clinical Oncology 26:4557-4562, 2008.

Invited Articles

1.
Davila ML and Bresalier RS. Gastrointestinal complications of oncologic therapy. Nature Clinical Practice Gastroenterology & Hepatology 5(12):682-696, 12/2008.
2.
Davila ML. Neutropenic enterocolitis: current issues in diagnosis and management. Curr Infect Dis Rep 9:116-20, 3/2007. PMID: 17324348.
3.
Davila ML. Neutropenic enterocolitis. Curr Opin Gastroenterol 22:44-7, 2006. PMID: 16319675.
4.
Davila M, Beaulieu C, Paik O, Napel S, Edelstein P, Jeffrey R. CT and MR Colonography (Virtual Colonoscopy). Techniques in Gastrointestinal Endoscopy 2:30-36, 2000.
5.
Davila M. Long-Term Follow-up after Endoscopic Sphincterotomy: Analysis of Sphincter Function, Bile Composition, and Bile Duct Histology. Adv Gastroenterol Hepatol Clin Nutr 3:23-26, 1998.

Editorials

1.
Davila ML, Davila RE. The demise of air insufflation and the rise of the warm water infusion method. Gastrointest Endosc 70(3):505-10, 9/2009.
2.
Thomas MB, Davila M, Abbruzzese JL. Stemming the Tide of Hepatitis B Virus-Related Hepatocellular Carcinoma? Journal of Clinical Oncology 26:172-174, 1/2008.
3.
Davila M. Self-expanding metal stents in malignant colonic obstruction: have we covered all angles? Gastrointest Endosc 66(5):937-9, 11/2007.

Book Chapters

1.
Davila ML, Torres HA. Management of Reactivation of Hepatitis B and Hepatitis C During Antineoplastic Therapy. In: Principles and Practice of Cancer Infectious Diseases. Ed(s) Safdar A. Humana Press: New York, 189-194, 2011. ISBN: 978-1-60761-643-6.
2.
Davila M, Torres HA. Management of Reactivation of Hepatitis C during antineoplastic therapy. In: Management of Infections in Cancer Patients. 1st Human Press: New York, 2011.
3.
Davila M, Bresalier RS. Gastrointestinal Complications. In: Cancer Medicine, 7th. Holland-Frei, 2005.

Letters to the Editor

1.
Torres HA, Davila M. Current strategies in the management of hepatitis B virus reactivation. Nat Rev Clin Oncol, 5/2012. e-Pub 5/2012.
© 2010 The University of Texas M. D. Anderson Cancer Center