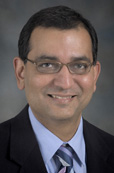 '
Milind Javle, M.D.
Present Title & Affiliation
Primary Appointment
Professor, Tenure Track, Department of Gastrointestinal (GI) Medical Oncology, Division of Cancer Medicine, The University of Texas MD Anderson Cancer Center, Houston, TX
Office Address
The University of Texas MD Anderson Cancer Center
1515 Holcombe Blvd
Unit Number: 426
Houston, TX 77030
Room Number: FC10.3026
Phone: 713-792-2828
Fax: 713-745-9926
Education & Training
Degree-Granting Education

1991
Grant Medical College, University of Bombay, India, Bombay, India, MD, Medicine

Postgraduate Training

1994-1995

Clinical Residency, Internal Medicine, SUNY Buffalo, Buffalo, NY
Experience/Service
Academic Appointments
Assistant Professor, Roswell Park Cancer Institute, Buffalo, NY, 10/2001-12/2006
Selected Publications
Peer-Reviewed Original Research Articles

1.
Aloia TA, Jįrufe N, Javle M, Maithel SK, Roa JC, Adsay V, Coimbra FJ, Jarnagin WR. Gallbladder Cancer: expert consensus statement. HPB (Oxford) 17(8):681-90, 8/2015. PMCID: PMC4527853.
2.
Liu C, Karam R, Zhou Y, Su F, Ji Y, Li G, Xu G, Lu L, Wang C, Song M, Zhu J, Wang Y, Zhao Y, Foo WC, Zuo M, Valasek MA, Javle M, Wilkinson MF, Lu Y. The UPF1 RNA Surveillance Gene is Commonly Mutated in Pancreatic Adenosquamous Carcinoma. Nat Med 20(6):596-8, 6/2014. e-Pub 5/2014. PMCID: PMC4048332.
3.
Javle MM, Shroff RT, Xiong H, Varadhachary GA, Fogelman D, Reddy SA, Davis D, Zhang Y, Wolff RA, Abbruzzese JL. Inhibition of the mammalian target of rapamycin (mTOR) in advanced pancreatic cancer: results of two phase II studies. BMC Cancer 10:368, 2010. e-Pub 7/2010. PMCID: PMC2910694.
4.
Javle M, Hsueh CT. Recent advances in gastrointestinal oncology--updates and insights from the 2009 annual meeting of the American Society of Clinical Oncology. J Hematol Oncol 3:11, 2010. e-Pub 3/2010. PMCID: PMC2856525.
5.
Donthireddy KR, Ailawadhi S, Nasser E, Schiff MD, Nwogu CE, Nava HR, Javle MM. Malignant gastroparesis: pathogenesis and management of an underrecognized disorder. J Support Oncol 5(8):355-63, 9/2007. PMID: 17944143.
Grant & Contract Support
Title:
Ph2 single arm study of BGJ398 in patients with advanced or metastatic cholangio with FGFR2 gene fusions or other FGFR genetic alterations who failed or are intolerant to platinum-based chemo
Funding Source:
Novartis
Role:
Principal Investigator
Duration:
4/15/2014 - 4/14/2019
Title:
A Phase I/Randomized Phase II Study of Gemcitabine + Erlotinib + MK-0646; Gemcitabine + MK-0646 and Gemcitabine + Erlotinib for Patients with Advanced Pancreatic Cancer
Funding Source:
Merk and Company
Role:
Principal Investigator
Duration:
5/30/2013 - 5/29/2018
Title:
Cellular and Molecular Mechanisms of Gastrointestinal Cancers
Funding Source:
NIH/NCI
Role:
Co-Investigator
Principal Investigator:
Lopa Mishra
Duration:
9/1/2012 - 8/31/2014
Title:
Design, Synthesis and Evaluation of a Small Molecule Inhibitor of DNA Helicase RecQ1
Funding Source:
The University of Texas MD Anderson Cancer Center
Role:
Principal Investigator
Duration:
7/1/2011 - 6/30/2013
Title:
Phase I Study of BikDD Nanoparticle for Advanced Cancer of the Pancreas
Funding Source:
NCI-DHHS-NIH
Role:
Principal Investigator
Duration:
4/14/2009 - 3/31/2014