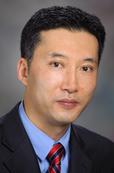 '
Min Sup Song, PhD
Present Title & Affiliation
Primary Appointment
Assistant Professor, Department of Molecular and Cellular Oncology, The University of Texas MD Anderson Cancer Center, Houston, TX
Education & Training
Degree-Granting Education

2001
Korea University, Seoul, Korea, Republic of, PHD, Biotechnology
1997
Korea University, Seoul, Korea, Republic of, MS, Biological Science
1995
Konkuk University, Seoul, Korea, Republic of, BS, Biological Science
Experience/Service
Academic Appointments
Instructor, Beth Israel Deaconess Medical Center, Center for Life Sciences Cancer Center, Harvard Medical School, Boston, MA, 5/2011-12/2013
Selected Publications
Peer-Reviewed Original Research Articles

1.
Song MS, Salmena L, Pandolfi PP. The functions and regulation of the PTEN tumour suppressor. Nat Rev Mol Cell Biol 13(5):283-96, 5/2012. e-Pub 4/2012. PMID: 22473468.
2.
Garcia-Cao I, Song MS, Hobbs RM, Laurent G, Giorgi C, de Boer VC, Anastasiou D, Ito K, Sasaki AT, Rameh L, Carracedo A, Vander Heiden MG, Cantley LC, Pinton P, Haigis MC, Pandolfi PP. Systemic elevation of PTEN induces a tumor-suppressive metabolic state. Cell 149(1):49-62, 3/2012. e-Pub 3/2012. PMCID: PMC3319228.
3.
Song MS, Carracedo A, Salmena L, Song SJ, Egia A, Malumbres M, Pandolfi PP. Nuclear PTEN regulates the APC-CDH1 tumor-suppressive complex in a phosphatase-independent manner. Cell 144(2):187-99, 1/2011. PMCID: PMC3249980.
4.
Poliseno L, Salmena L, Riccardi L, Fornari A, Song MS, Hobbs RM, Sportoletti P, Varmeh S, Egia A, Fedele G, Rameh L, Loda M, Pandolfi PP. Identification of the miR-106b~25 microRNA cluster as a proto-oncogenic PTEN-targeting intron that cooperates with its host gene MCM7 in transformation. Sci Signal 3(117):ra29, 2010. e-Pub 4/2010. PMCID: PMC2982149.
5.
Song SJ, Kim SJ, Song MS, Lim DS. Aurora B-mediated phosphorylation of RASSF1A maintains proper cytokinesis by recruiting Syntaxin16 to the midzone and midbody. Cancer Res 69(22):8540-4, 11/2009. e-Pub 11/2009. PMID: 19887622.
6.
Song SJ, Song MS, Kim SJ, Kim SY, Kwon SH, Kim JG, Calvisi DF, Kang D, Lim DS. Aurora A regulates prometaphase progression by inhibiting the ability of RASSF1A to suppress APC-Cdc20 activity. Cancer Res 69(6):2314-23, 3/2009. e-Pub 3/2009. PMID: 19276349.
7.
Song MS, Salmena L, Carracedo A, Egia A, Lo-Coco F, Teruya-Feldstein J, Pandolfi PP. The deubiquitinylation and localization of PTEN are regulated by a HAUSP-PML network. Nature 455(7214):813-7, 10/2008. e-Pub 8/2008. PMCID: PMC3398484.
8.
Song MS, Song SJ, Kim SY, Oh HJ, Lim DS. The tumour suppressor RASSF1A promotes MDM2 self-ubiquitination by disrupting the MDM2-DAXX-HAUSP complex. EMBO J 27(13):1863-74, 7/2008. e-Pub 6/2008. PMCID: PMC2486425.
9.
Song MS, Song SJ, Kim SJ, Nakayama K, Nakayama KI, Lim DS. Skp2 regulates the antiproliferative function of the tumor suppressor RASSF1A via ubiquitin-mediated degradation at the G1-S transition. Oncogene 27(22):3176-85, 5/2008. e-Pub 12/2007. PMID: 18071316.
10.
Song MS, Chang JS, Song SJ, Yang TH, Lee H, Lim DS. The centrosomal protein RAS association domain family protein 1A (RASSF1A)-binding protein 1 regulates mitotic progression by recruiting RASSF1A to spindle poles. J Biol Chem 280(5):3920-7, 2/2005. e-Pub 11/2004. PMID: 15546880.
11.
Song MS, Song SJ, Ayad NG, Chang JS, Lee JH, Hong HK, Lee H, Choi N, Kim J, Kim H, Kim JW, Choi EJ, Kirschner MW, Lim DS. The tumour suppressor RASSF1A regulates mitosis by inhibiting the APC-Cdc20 complex. Nat Cell Biol 6(2):129-37, 2/2004. e-Pub 1/2004. PMID: 14743218.
12.
Song MS, Park YK, Lee JH, Park K. Induction of glucose-regulated protein 78 by chronic hypoxia in human gastric tumor cells through a protein kinase C-epsilon/ERK/AP-1 signaling cascade. Cancer Res 61(22):8322-30, 11/2001. PMID: 11719466.