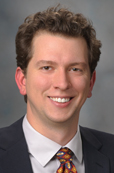 '
Nicholas Navin, Ph.D.
Present Title & Affiliation
Primary Appointment
Assistant Professor, Department of Genetics, The University of Texas MD Anderson Cancer Center, Houston, TX
Dual/Joint/Adjunct Appointment
Assistant Professor, Department of Bioinformatics and Computational Biology, Division of Quantitative Sciences, The University of Texas MD Anderson Cancer Center, Houston, TX
Assistant Professor, The University of Texas Graduate School of Biomedical Sciences, Houston, TX
Research Interests
Single-cell sequencing

Genome Evolution in cancer

Intratumor Heterogeneity

Cancer Genomics

Computational Biology and Bioinformatics
My goal is to understand genome evolution in human cancers. As tumors evolve from a single cell, they acquire complex somatic mutations and diverge to form distinct lineages and subpopulations. This intratumor heterogeneity confounds basic research and clinical diagnosis, because tools do not exist to resolve it. To address this problem, we developed a single-cell sequencing method to profile genomic copy number in individual tumor cells (Nature 472:90-4, 2011). I used this method to profile hundreds of single cells in two breast cancer patients to delineate clonal diversity and infer patterns of genome evolution. The data revealed multiple clonal subpopulations that shared a common evolutionary lineage. In contrast to the gradual models of tumor progression, the data suggest that these breast tumors grew by punctuated clonal expansions, in which hundreds of genomic rearrangements were acquired in short bursts of evolution. We have also recently developed a powerful new method to perform whole-genome sequencing on single tumor cells. This will enable us to study the evolution of many different classes of somatic mutations (point mutations, indels and structural variants) at base-pair resolution in single cells. In addition to single cell sequencing, my laboratory also uses many genomic and cytological methods to study how cancer genomes evolve. We are also actively developing new computational methods to quantify tumor heterogeneity and understand if these measures correlate with clinical parameters such as survival and resistance to chemotherapy. One method developed is called Ploidy-Seq to deep-sequence intratumor subpopulations and infer mutational chronology and ancestral tumor genomes.
View a complete list of Dr. Navin's publications.
Visit Dr. Navin's Lab Website.
Office Address
The University of Texas MD Anderson Cancer Center
Department of Genetics
1515 Holcombe Blvd., Unit 1010
Houston, TX 77030
Room Number: BSRB S15.8116B
Phone: 713-563-1287
Email: nnavin@mdanderson.org
Education & Training
Degree-Granting Education

2010
Cold Spring Harbor Laboratory and Stony Brook University, Cold Spring Harbor, NY, PHD, Molecular Genetics
2003
Skidmore College, Saratoga Springs, NY, BS, Cell Biology

Postgraduate Training

3/2010-3/2011

Ph.D. Graduate Student/Postdoctoral Fellow, Cancer Biology, Cold Spring Harbor Laboratory, Cold Spring Harbor, NY, Dr. Michael Wigler
Honors and Awards
2008

King and Miller Fellowship,

Stony Brook University
Selected Publications
Peer-Reviewed Original Research Articles

1.
Hicks J, Krasnitz A, Lakshmi B, Navin NE, Riggs M, Leibu E, Esposito D, Alexander J, Troge J, Grubor V, Yoon S, Wigler M, Ye K, Børresen-Dale AL, Naume B, Schlicting E, Norton L, Hägerström T, Skoog L, Auer G, Månér S, Lundin P, Zetterberg A. Novel patterns of genome rearrangement and their association with survival in breast cancer. Genome Res 16(12):1465-79, 12/2006. PMCID: PMC1665631.
2.
Navin N, Grubor V, Hicks J, Leibu E, Thomas E, Troge J, Riggs M, Lundin P, Månér S, Sebat J, Zetterberg A, Wigler M. PROBER: oligonucleotide FISH probe design software. Bioinformatics 22(19):2437-8, 10/2006. PMID: 16740623.
3.
Pelham RJ, Rodgers L, Hall I, Lucito R, Nguyen KC, Navin N, Hicks J, Mu D, Powers S, Wigler M, Botstein D. Identification of alterations in DNA copy number in host stromal cells during tumor progression. Proc Natl Acad Sci U S A 103(52):19848-53, 12/2006.
4.
Grubor V, Krasnitz A, Troge JE, Meth JL, Lakshmi B, Kendall JT, Yamrom B, Alex G, Pai D, Navin N, Hufnagel LA, Lee YH, Cook K, Allen SL, Rai KR, Damle RN, Calissano C, Chiorazzi N, Wigler M, Esposito D. Novel genomic alterations and clonal evolution in chronic lymphocytic leukemia revealed by representational oligonucleotide microarray analysis (ROMA). Blood 113(6):1294-303, 2/2009. PMID: 18922857.
5.
Navin N, Krasnitz A, Rodgers L, Cook K, Meth J, Kendall J, Riggs M, Eberling Y, Troge J, Grubor V, Levy D, Lundin P, Månér S, Zetterberg A, Hicks J, Wigler M. Inferring Tumor Progression from Genomic Heterogeneity. Genome Research(1):68-80, 1/2010.
6.
Navin N, Hicks, J. Tracing the Tumor Lineage. Mol Onc 4(3):267-283, 5/2010.
7.
Navin N, Kendall J, Troge J, Rodgers L, Cook K, Stepansky A, Levy D, Lee Y, Esposito D, Muthuswamy L, Hicks J, Wigler M. Tumor Evolution Inferred by Single Cell Sequencing. Nature 7(472):90-4, 4/2011. PMID: 21399628.
8.
Navin N, Hicks J. Future Medical Applications of Single-Cell Sequencing in Cancer. Genome Medicine 3(31), 5/2011.
9.
Blake PM, Decker DA, Glennon TM, Liang YM, Losko S, Navin N, Suh KS. Toward an integrated knowledge environment to support modern oncology. Cancer J. 17(4):257-63, 7/2011.
10.
Chen M, Pratt CP, Zeeman ME, Schultz N, Taylor BS, O'Neill A, Castillo-Martin M, Nowak DG, Naguib A, Grace DM, Murn J, Navin N, Atwal GS, Sander C, Gerald WL, Cordon-Cardo C, Newton AC, Carver BS, Trotman LC. Identification of PHLPP1 as a Tumor Suppressor Reveals the Role of Feedback Activation in PTEN-Mutant Prostate Cancer Progression. Cancer Cell 20(2):173-86, 8/2011.
11.
Russnes GH, Navin N, Hicks J, Borresen-Dale AL. Insight into the Heterogeneity of Breast Cancer through Next-Generation Sequencing. J Clin Invest 121(10):3810-8, 10/2011.
Grant & Contract Support
Funding Source:
Lefkofsky Foundation
Role:
Principal Investigator
Duration:
2015 - 2018
Funding Source:
Center for Genomics Award
Role:
Principal Investigator
Duration:
2015 - 2016
Title:
Investigating Clonal Evolution in Triple-Negative Breast Cancers with Single-Cell Sequencing
Funding Source:
Agilent University Relations Grant
Role:
Principal Investigator
Duration:
1/1/2015 - 1/1/2016
Title:
Investigating Metastasis and Non-Invasive Monitoring in TNBC by Single-Cell Sequencing
Funding Source:
Moonshot Knowledge Gap Award
Role:
Principal Investigator
Duration:
2014 - 2015
Funding Source:
Center for Epigenetics Award
Role:
Principal Investigator
Duration:
2014 - 2015
Title:
Developing Single Cell Sequencing Methods to Investigate Metastatic Seeding
Funding Source:
Damon-Runyon Rachleff Innovation Award
Role:
Principal Investigator
Duration:
1/1/2013 - 12/31/2015
Title:
Non-Invasive monitoring of Breast Cancer Mutations Using Circulating Free DNA
Funding Source:
T.C. Hsu Award
Role:
Principal Investigator
Duration:
2013 - 2015
Title:
Single-Cell Sequencing of Breast Tumors to Investigate Genome Evolution
Funding Source:
NIH/NCI
Role:
Principal Investigator
Duration:
7/1/2012 - 6/30/2017
Title:
Developing a Whole-Genome Sequencing Method for Single Human Cells
Funding Source:
NIH/NIMH
Role:
Principal Investigator
Duration:
2012 - 2014
Title:
Investigating the Evolution of Somatic Mutations in Breast Cancer by Single-Cell Sequencing
Funding Source:
Center for Genetics and Genomics, UTMDACC
Role:
Principal Investigator-MDACC
Duration:
10/3/2011 - 10/2/2012
Title:
Next-Generation Sequencing Grant
Funding Source:
Kleberg Foundation
Role:
Principal Investigator
Duration:
1/1/2011 - 12/31/2014
Title:
Equipment Grant
Funding Source:
Texas Stars
Role:
Principal Investigator
Duration:
1/1/2011 - 12/31/2013
Funding Source:
Center for Genomics Award
Role:
Principal Investigator
Duration:
2011 - 2012
© 2014 The University of Texas MD Anderson Cancer Center