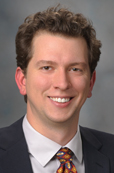 '
Nicholas Navin, Ph.D.
Present Title & Affiliation
N/A
Research Interests
Single-cell sequencing

Genome Evolution in cancer

Intratumor Heterogeneity

Cancer Genomics

Computational Biology and Bioinformatics
My goal is to understand genome evolution in human cancers. As tumors evolve from a single cell, they acquire complex somatic mutations and diverge to form distinct lineages and subpopulations. This intratumor heterogeneity confounds basic research and clinical diagnosis, because tools do not exist to resolve it. To address this problem, we developed a single-cell sequencing method to profile genomic copy number in individual tumor cells (Nature 472:90-4, 2011). I used this method to profile hundreds of single cells in two breast cancer patients to delineate clonal diversity and infer patterns of genome evolution. The data revealed multiple clonal subpopulations that shared a common evolutionary lineage. In contrast to the gradual models of tumor progression, the data suggest that these breast tumors grew by punctuated clonal expansions, in which hundreds of genomic rearrangements were acquired in short bursts of evolution. We have also recently developed a powerful new method to perform whole-genome sequencing on single tumor cells. This will enable us to study the evolution of many different classes of somatic mutations (point mutations, indels and structural variants) at base-pair resolution in single cells. In addition to single cell sequencing, my laboratory also uses many genomic and cytological methods to study how cancer genomes evolve. We are also actively developing new computational methods to quantify tumor heterogeneity and understand if these measures correlate with clinical parameters such as survival and resistance to chemotherapy. One method developed is called Ploidy-Seq to deep-sequence intratumor subpopulations and infer mutational chronology and ancestral tumor genomes.
View a complete list of Dr. Navin's publications.
Visit Dr. Navin's Lab Website.
Office Address
The University of Texas MD Anderson Cancer Center
Department of Genetics
1515 Holcombe Blvd., Unit 1010
Houston, TX 77030
Room Number: BSRB S15.8116B
Phone: 713-563-1287
Email: nnavin@mdanderson.org
Education & Training
Degree-Granting Education

2010
Cold Spring Harbor Laboratory and Stony Brook University, Cold Spring Harbor, NY, PHD, Molecular Genetics
2003
Skidmore College, Saratoga Springs, NY, BS, Cell Biology

Postgraduate Training

3/2010-3/2011

Postdoctoral Fellow, Cancer Genetics, Cold Spring Harbor Laboratory, Cold Spring Harbor, NY, Dr. Michael Wigler
Honors and Awards
2016

40 Under 40 Award,

Stony Brook University

2015

AAAS Wachtel Award,

American Association for the Advancement of Science

2014

Faculty Educator Award,

University of Texas M.D. Anderson Cancer Center

2013

Damon-Runyon Innovator Award,

Damon-Runyon Rachleff Foundation

2013

Stone Award,

Wilson Stone Foundation

2013

T.C. Hsu Award,

Young Investigator Award

2010

Young Investigator Award,

Genome Technology Magazine

2009

Abraham's Award,

Stony Brook University

2009

T32 NCI Fellowship,

National Cancer Institute

2008

King and Miller Fellowship,

Stony Brook University

2005

Lindsey-Goldberg Fellowship,

Cold Spring Harbor Laboratory
Selected Publications
Peer-Reviewed Original Research Articles

1.
Navin N, Kendall J, Troge J, Rodgers L, Cook K, Stepansky A, Levy D, Lee Y, Esposito D, Muthuswamy L, Hicks J, Wigler M. Tumor Evolution Inferred by Single Cell Sequencing. Nature 7(472):90-4, 4/2011. PMID: 21399628.
2.
Wang Y, Waters J, Unruh A, Roh W, Shi X, Chen K, Scheet P, Vattathil S, Liang H, Multani A, Zhang H, Zhao R, Michor F, Meric-Bernstam F, Navin NE. Clonal Evolution in Breast Cancer Revealed by Single Nucleus Genome Sequencing. Nature 512(7513):155-60, 7/2014. PMCID: PMCPMC4158312.
3.
Baslan T, Kendall J, Troge J, Stepansky A, Wigler M, Navin N, Hicks J. Genome-wide Copy Number Analysis of Single Cells. Nature Protocols 7(6):1024-41, 5/2012. PMID: 22555242.
4.
Molhatra A, Wang Y, Waters J, Hall I, Navin N. Ploidy-Seq: inferring mutational chronology by sequencing polyploid tumor subpopulations. Genomic Med 7(1):6, 1/2015. PMCID: PMCPMC4343275.
5.
Leung M, Wang Y, Waters J, Navin N. SNES: Single Nuclei Exome Sequencing .. Genome Biol 25(16):55, 3/2015. PMCID: PMCPMC4373516.

Invited Articles

1.
Wang Y, Navin N. Advances and Applications of Single-Cell Sequencing Technologies. Molecular Cell 58(4):598-609, 5/2015. PMCID: PMCPMC4441954.
2.
Navin N. Cancer Genomics: One Cell at a Time. Genome Biol, 8/2014. PMCID: PMCPMC4281948.
3.
Navin N. The First 5 Years of Single Cell Cancer Genome Sequencing and Beyond. Genome Res, 7/2015.
4.
Navin N. Delineating Cancer Evolution with Single Cell Sequencing. Science Trans Med, 7/2015.
Grant & Contract Support
Title:
Single Cell Sequencing of Circulating Tumor Cells in Metastatic Breast Cancer Patients
Funding Source:
Angle Inc. - Sponsored Research Grant
Role:
Principal Investigator
Duration:
2016 - 2017
Title:
Investigating Chemoresistance Evolution in TNBC Breast Cancer Patients with Single Cell Sequencing
Funding Source:
Lefkofsky Foundation
Role:
Principal Investigator
Duration:
2015 - 2017
Title:
Investigating Clonal Evolution in Triple-Negative Breast Cancers with Single-Cell Sequencing
Funding Source:
Agilent University Relations Grant
Role:
Principal Investigator
Duration:
1/1/2015 - 1/1/2017
Funding Source:
Center for Genomics Award
Role:
Principal Investigator
Duration:
2015 - 2016
Title:
Investigating Metastasis and Non-Invasive Monitoring in TNBC by Single-Cell Sequencing
Funding Source:
Moonshot Knowledge Gap Award
Role:
Principal Investigator
Duration:
2014 - 2017
Title:
Developing single cell sequencing methods for epigenetic profiling of human cells
Funding Source:
Center for Epigenetics Award
Role:
Principal Investigator
Duration:
2014 - 2015
Title:
Non-Invasive monitoring of Breast Cancer Mutations Using Circulating Free DNA
Funding Source:
T.C. Hsu Award
Role:
Principal Investigator
Duration:
2013 - 2016
Title:
Single-Cell Sequencing of Breast Tumors to Investigate Genome Evolution
Funding Source:
NIH/NIMH
Role:
Principal Investigator
Duration:
7/1/2012 - 6/30/2017
Title:
Developing a Whole-Genome Sequencing Method for Single Human Cells
Funding Source:
NIH/NIMH
Role:
Principal Investigator
Duration:
2012 - 2014
Title:
Investigating the Evolution of Somatic Mutations in Breast Cancer by Single-Cell Sequencing
Funding Source:
Center for Genetics and Genomics, UTMDACC
Role:
Principal Investigator-MDACC
Duration:
10/3/2011 - 10/2/2012
Title:
Next-Generation Sequencing Grant
Funding Source:
Kleberg Foundation
Role:
Principal Investigator
Duration:
1/1/2011 - 12/31/2014
Funding Source:
Center for Genomics Award
Role:
Principal Investigator
Duration:
2011 - 2012