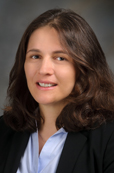 '
Niki M. Zacharias Millward, PhD
Present Title & Affiliation
Primary Appointment
Assistant Professor, Department of Cancer Systems Imaging, Division of Diagnostic Imaging, The University of Texas MD Anderson Cancer Center, Houston, TX
Associate Member, University of Texas Graduate School of Biomedical Sciences, Houston, TX
Dual/Joint/Adjunct Appointment
Assistant Professor, Bioengineering, Rice University, Houston, TX
Research Interests
As a chemist, my goal is to use chemistry and biochemistry to understand the metabolism of cancer and use this knowledge to design metabolic imaging probes and develop these probes from the bench to the clinic.
We are specifically interested in creating hyperpolarized metabolic imaging agents for magnetic resonance (MR) imaging and spectroscopy and, we are interested in determining the metabolic profile of cancer cell lines and tumor tissue using high field Nuclear Magnetic Resonance (NMR). NMR and MR are both powerful methods of determining the metabolic profiles of cancer. Hyperpolarized contrast agents increase the sensitivity of conventional MR over 50,000 fold and have the potential for early detection and selection of therapies for individual cancer patients. The four areas of research my lab is currently working on are a) synthesis and polarization of new imaging and metabolic compounds using Parahydrogen Induced Polarization (PHIP) and Dynamic Nuclear Polarization (DNP) with compounds containing either the non-radioactive isotopes 13C, 15N, 29Si, or a combination of. These molecules are small molecules, larger nanoparticles, and polymers b) application of hyperpolarized molecules in in vivo applications to different mice models of cancer, neurodegenerative and cardiovascular diseases c) determining the metabolic profile of cancer cell lines and tumor tissue using high field NMR d) using bioreactors and 3D cell culture and hyperpolarized agents to interrogate the metabolic cycles of different cancer cell lines.
Office Address
The University of Texas MD Anderson Cancer Center
1881 East Road
Unit Number: 1907
Houston, TX 77054-1907
Room Number: 3SCR4.3618
Phone: 713-792-5226
Fax: 713-834-6073
Email: nmzacharias@mdanderson.org
Education & Training
Degree-Granting Education

2003
California Institute of Technology, Pasadena, CA, PHD, Chemistry
1997
Texas A&M University, College Station, TX, BS, Chemistry

Postgraduate Training

2/2008-2/2009

Research Fellowship, University of Southern California, Los Angeles, CA, Richard Roberts
Experience/Service
Academic Appointments
Assistant Professor, Department of Experimental Diagnostic Imaging, Division of Diagnostic Imaging, The University of Texas MD Anderson Cancer Center, Houston, TX, 3/2012-5/2013
Honors and Awards
| | |
| --- | --- |
| 2011 | Best Poster and Presentation Award in MRI Probes including Hyperpolarization II Session at World Molecular Imaging Congress |
| 2011 | International Society of Magnetic Resonance Annual Research Conference Student Stipend Award |
| 2010 | In Vivo Magnetic Resonance Gordon Research Conference Student Stipend Award |
| 2000-2001 | NIH Training Grant in Bioorganic Chemistry |
| 1999 | Caltech Award for Excellence in Teaching |
| 1997 | Faculty Achievement Award College of Science at Texas A&M |
| 1997 | Phi Beta Kappa |
| 1994-1995 | Texas A&M University Honor Scholarship |
| 1993-1997 | Dean's List at Texas A&M University |
Professional Memberships
American Chemical Society
Member, 1/2012-present
International Society for Magnetic Resonance in Medicine
Member, 8/2012-present
Selected Publications
Peer-Reviewed Original Research Articles

1.
Zacharias NM, Chan HR, Sailasuta N, Ross BD, Bhattacharya P. Real-time molecular imaging of tricarboxylic acid cycle metabolism in vivo by hyperpolarized 1-(13)C diethyl succinate. J Am Chem Soc 134(2):934-43, 1/2012. e-Pub 12/2011. PMCID: PMC3262122.
2.
Bhattacharya P, Chekmenev EY, Reynolds WF, Wagner S, Zacharias N, Chan HR, Bünger R, Ross BD. Parahydrogen-induced polarization (PHIP) hyperpolarized MR receptor imaging in vivo: a pilot study of 13C imaging of atheroma in mice. NMR Biomed 24(8):1023-8, 10/2011. e-Pub 4/2011. PMCID: PMC3240663.
3.
Eastwood AL, Blum AP, Zacharias NM, Dougherty DA. A selenide-based approach to photochemical cleavage of peptide and protein backbones at engineered backbone esters. J Org Chem 74(23):9241-4, 12/2009. PMCID: PMC2953381.
4.
Petersson EJ, Brandt GS, Zacharias NM, Dougherty DA, Lester HA. Caging proteins through unnatural amino acid mutagenesis. Methods Enzymol 360:258-73, 2003. PMID: 12622154.
5.
Beene DL, Brandt GS, Zhong W, Zacharias NM, Lester HA, Dougherty DA. Cation-pi interactions in ligand recognition by serotonergic (5-HT3A) and nicotinic acetylcholine receptors: the anomalous binding properties of nicotine. Biochemistry 41(32):10262-9, 8/2002. PMID: 12162741.
6.
Zacharias N, Dougherty DA. Cation-pi interactions in ligand recognition and catalysis. Trends Pharmacol Sci 23(6):281-7, 6/2002. PMID: 12084634.
7.
Bekele H, Nesloney CL, McWilliams KW, Zacharias NM, Chitnumsub P, Kelly JW. Improved Synthesis of the Boc and Fmoc Derivatives of 4-(2'-Aminoethyl)-6-dibenzofuranpropionic Acid: An Unnatural Amino Acid That Nucleates beta-Sheet Folding. J Org Chem 62(7):2259-2262, 4/1997. PMID: 11671538.

Invited Articles

1.
Suto MJ, Zacharias N. Neuronal nicotinic acetylcholine receptors as drug targets. Expert Opin Ther Targets, 4/2004.

Book Chapters

1.
Bennett PB, Zacharias N, Nicholas JB, Sahba SD, Kulkarni A, Nowak M. Unnatural Amino Acids as Probes of Ion Channel Structure – Function and Pharmacology. In: Expression and Analysis of Recombinant Ion Channels: From Structural Studies to Pharmacological Screening. 2006.
Grant & Contract Support
Title:
Determining Aggressiveness of Prostate Cancer Using In Vivo Hyperpolarized Metabolic Imaging
Funding Source:
Institutional Research Grant UT MD Anderson
Role:
Principal Investigator
Duration:
9/1/2013 - 9/30/2014
Title:
Colleen's Dream Foundation - Gift
Funding Source:
Colleen's Foundation
Role:
Principal Investigator
Duration:
9/1/2013
Title:
High Definition Non-invasive MR Colonoscopy by Hyperpolarized Silicon Nanoparticles
Funding Source:
UT MD Anderson Cancer Center
Role:
Co-Investigator
Principal Investigator:
Pratip Bhattacharya
Duration:
4/1/2013 - 3/31/2014
Title:
Personalized X-aptamer-nanoparticle therapeutics for ovarian or melanoma cancers and a novel detection mechanism
Funding Source:
CCTS MRP Proposal UTMDACC and UT Health
Role:
Co-Investigator
Principal Investigator:
Pratip Bhattacharya
Duration:
11/1/2012 - 7/31/2013
Title:
Early detection, characterization, and monitoring efficacy of chemotherapy in prostate cancer using hyperpolarized metabolic imaging agents
Funding Source:
Department of Defense (DOD)
Role:
Principal Investigator
Duration:
9/30/2012 - 3/30/2015
Title:
In Vivo PHIP Imaging of plaques in Alzheimer's disease
Funding Source:
James G. Boswell Foundation
Role:
Principal Investigator
Duration:
2010 - 2012
Title:
Cell-Based Technology for Protein-Protein Interactions
Funding Source:
NIH/NIMH
Role:
Co-Investigator
Principal Investigator:
Mark Nowak
Duration:
2006 - 2007
Title:
hERG MAP-A rational approach to eliminate ion channel related cardiotoxicity
Funding Source:
NIH/NHLBI
Role:
Co-Investigator
Principal Investigator:
Mark Nowak
Duration:
2006 - 2007
Title:
Novel assay to identify non-ATP competitive protein kinase inhibitors
Funding Source:
NIH/NIMH
Role:
Co-Investigator
Principal Investigator:
Mark Nowak
Duration:
2006 - 2007
Title:
Compounds Targeting the Alpha-2 GABA-A Receptor Subtype
Funding Source:
NIH/NIMH
Role:
Co-Investigator
Principal Investigator:
Mark Nowak
Duration:
2005 - 2007
© 2014 The University of Texas MD Anderson Cancer Center