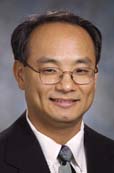 '
Pei-Fong Wong
Present Title & Affiliation
Primary Appointment
Senior Medical Physicist, Department of Radiation Physics, Division of Radiation Oncology, The University of Texas MD Anderson Cancer Center, Houston, TX
Office Address
The University of Texas MD Anderson Cancer Center
1400 Pressler St.
Unit Number: 1420
Houston, TX 77030-3722
Room Number: FCT8.6032
Phone: (713) 745-4761
Fax: (713) 563-2620
Email: pwong@mdanderson.org
Education & Training
Degree-Granting Education

1987
University of Texas Health Science Center, Houston, TX, MS, Medical Physics
1980
National Tsing-Hua University, Taiwan, BS, Nuclear Engineering

Postgraduate Training

2012

Medical imaging using ionizing radiation: optimization of dose and image quality, AAPM Summer School, San Diego, CA, San Diego, CA
Board Certifications
| | |
| --- | --- |
| 6/1991 | The American Board of Radiology |
Experience/Service
Academic Appointments
Medical Physicist, Department of Radiation Physics, Division of Radiation Oncology, U.T. M.D. Anderson Cancer Center, Houston, TX, 9/1991-9/1995
Junior Medical Physicist, Department of Radiation Physics, Division of Radiation Oncology, U.T. M.D. Anderson Cancer Center, Houston, TX, 5/1990-6/1991
Radiological Physicist, Department of Medical Physics, St. Francis Hospital & Medical Center, Hartford, CT, 9/1987-4/1990
Medical Physicist, Department of Radiology, National Taiwan University Hospital, Taipei, Republic of China, China, 7/1982-8/1984
Selected Publications
Peer-Reviewed Original Research Articles

1.
Garden AS, Morrison WH, Wong PF, Tung SS, Rosenthal DI, Dong L, Mason B, Perkins GH, Ang KK. Disease-control rates following intensity-modulated radiation therapy for small primary oropharyngeal carcinoma. Int J Radiat Oncol Biol Phys 67(2):438-444, 2/1/2007. e-Pub 12/4/2006. PMID: 17141972.
2.
Yom SS, Morrison WH, Ang KK, Rosenthal DI, Perkins GH, Wong PF, Garden AS. Two-field versus three-field irradiation technique in the postoperative treatment of head-and-neck cancer. Int J Radiat Oncol Biol Phys 66(2):469-476, 10/2006. e-Pub 8/2006. PMID: 16887292.
3.
Stevens CW, Wong PF, Rice D, Jeter M, Forster K, Zhu XR. Treatment planning system evaluation for mesothelioma IMRT. Lung Cancer 49:S75-81, 2005. PMID: 15950806.
4.
Bubenzer V, Esfandi M, Jafari N, Manske MA, Wong PF. Dosage along the matchline between upper head-and-neck IMRT fields and conventional supraclavicular fields. Med Dosim 29(2):104-8, 2004. PMID: 15191756.
5.
Manske MA, Barker JL, Jr, Wong PF, Westlake W, Garden AS, Ang KK, Rosenthal DI. New equations for matching a low neck field to oblique upper neck fields with collimator rotation in a 3-field monoisocentric setup for head-and-neck cancers. Med Dosim 29(2):86-91, 2004. PMID: 15191753.
6.
Oh HK, Chambers MS, Garden AS, Wong PF, Martin JW. Risk of osteoradionecrosis after extraction of impacted third molars in irradiated head and neck cancer patients. J Oral Maxillofac Surg 62:139-44, 2004. PMID: 14762744.
7.
Garden AS, Forster K, Wong PF, Morrison WH, Schechter NR, Ang KK. Results of radiotherapy for T2N0 glottic carcinoma: does the "2" stand for twice-daily treatment? Int J Radiat Oncol Biol Phys 55(2):322-8, 2/1/2003. PMID: 12527044.
8.
Kudchadker RJ, Antolak JA, Morrison WH, Wong PF, Hogstrom KR. Utilization of custom electron bolus in head and neck radiotherapy. J Appl Clin Med Phys 4(4):321-333, 2003. PMID: 14604422.
9.
Chang EL, Wong PF, Forster KM, Petru MD, Kowalski AV, Maor MH. Verification techniques and dose distribution for computed tomographic planned supine craniospinal radiation therapy. Med Dosim 28(2):127-31, 2003. PMID: 12804712.
10.
Liebross RH, Starkschall G, Wong PF, Horton J, Gokaslan ZL, Komaki R. The effect of titanium stabilization rods on spinal cord radiation dose. Med Dosim 27(1):21-4, 2002. PMID: 12019961.
11.
Meyers CA, Geara F, Wong PF, Morrison WH. Neurocognitive effects of therapeutic irradiation for base of skull tumors. Int J Radiat Oncol Biol Phys 46(1):51-5, 1/1/2000. PMID: 10656372.
12.
Morrison WH, Wong PF, Starkschall G, Garden AS, Childress C, Hogstrom KR, Peters LJ. Water bolus for electron irradiation of the ear canal. Int J Radiat Oncol Biol Phys 33(2):479-83, 9/30/1995. PMID: 7673037.
13.
Morrison WH, Wong PF, Peters LJ. Radiotherapy for Basal and Squamous Cell Skin Cancinomas. The Cancer Bulletin 45, 1993.