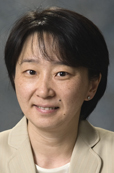 '
Qing Ma, Ph.D.
Present Title & Affiliation
Primary Appointment
Associate Professor, Department of Stem Cell Transplantation - Research, Division of Cancer Medicine, University of Texas MD Anderson Cancer Center, Houston, TX
Office Address
The University of Texas MD Anderson Cancer Center
1515 Holcombe Blvd.
Unit Number: 900
Houston, TX 77030
Room Number: SCRB1-3.3027
Phone: (713) 563-3327
Fax: (713) 563-3338
Email: qma@mdanderson.org
Education & Training
Degree-Granting Education

1995
Thomas Jefferson University, Philadelphia, PA, PHD, Genetics
1988
Fudan University, Shanghai, China, BS, Biochemistry

Postgraduate Training

2001-2002

Research Fellowship, Transplantation, Fred Hutchinson Cancer Research Center, Seattle, WA, Rainer Storb, M.D.

1995-2001

Research Fellowship, Immunology, Harvard Medical School, Boston, MA, Timothy Springer, Ph.D.
Selected Publications
Peer-Reviewed Original Research Articles

1.
Sergeeva A, He H, Ruisaard K, St. John L, Alatrash G, Clise-Dwyer K, Li D, Patenia R, Hong R, Sukhumalchandra P, You MJ, Gagea M, Ma Q, and Molldrem JJ. Activity of 8F4, a T cell receptor-like anti-PR1/HLA-A2 antibody, against primary human AML in vivo. Leukemia. In Press.
2.
Ciurea SO, Thall PF, Milton DR, Barnes TH, Kongtim P, Carmazzi Y, López AA, Yap DY, Popat U, Rondon G, Lichtiger B, Aung F, Afshar-Kharghan V, Ma Q, Fernández-Viña M, Champlin RE, Cao K. Complement-binding Donor-specific Anti-HLA Antibodies and Risk of Primary Graft Failure in Hematopoietic Stem Cell Transplantation. Biol Blood Marrow Transplant 21(8):1392-8, 8/2015. e-Pub 5/15/2015. PMCID: PMC4506716.
3.
Ma Q, Li D, Carreño R, Patenia R, Tsai KY, Xydes-Smith M, Alousi AM, Champlin RE, Sale GE, Afshar-Kharghan V. Complement component C3 mediates Th1/Th17 polarization in human T-cell activation and cutaneous GVHD. Bone Marrow Transplant 49(7):972-6, 7/2014. e-Pub 4/28/2014. PMCID: PMC4410869.
4.
Puebla-Osorio N, Kim J, Ojeda S, Zhang H, Tavana O, Li S, Wang Y, Ma Q, Schluns KS, Zhu C. A novel Ku70 function in colorectal homeostasis separate from nonhomologous end joining. Oncogene 33(21):2748-57, 5/2014. e-Pub 6/2013. PMID: 23752193.
5.
Alatrash G, Mittendorf EA, Sergeeva A, Sukhumalchandra P, Qiao N, Zhang M, St John LS, Ruisaard K, Haugen CE, Al-Atrache Z, Jakher H, Philips AV, Ding X, Chen JQ, Wu Y, Patenia RS, Bernatchez C, Vence LM, Radvanyi LG, Hwu P, Clise-Dwyer K, Ma Q, Lu S, Molldrem JJ. Broad Cross-Presentation of the Hematopoietically Derived PR1 Antigen on Solid Tumors Leads to Susceptibility to PR1-Targeted Immunotherapy. J Immunol 189(11):5476-84, 12/1/2012. e-Pub 10/26/2012. PMCID: PMC3504175.
6.
Ma Q, Li D, Nurieva R, Patenia R, Bassett R, Cao W, Alekseev AM, He H, Molldrem JJ, Kroll MH, Champlin RE, Sale GE, Afshar-Kharghan V. Reduced graft-versus-host disease in C3-deficient mice is associated with decreased donor Th1/Th17 differentiation. Biol Blood Marrow Transplant 18(8):1174-81, 8/2012. e-Pub 6/2012. PMCID: PMC3437318.
7.
Sergeeva A, Alatrash G, He H, Ruisaard K, Lu S, Wygant J, McIntyre BW, Ma Q, Li D, St John L, Clise-Dwyer K, Molldrem JJ. An anti-PR1/HLA-A2 T-cell receptor-like antibody mediates complement-dependent cytotoxicity against acute myeloid leukemia progenitor cells. Blood 117(16):4262-72, 4/2011. e-Pub 2/2011. PMCID: PMC3087478.
8.
Ma Q, Wang C, Jones D, Quintanilla KE, Li D, Wang Y, Wieder ED, Clise-Dwyer K, Alatrash G, Mj Y, Munsell MF, Lu S, Qazilbash MH, Molldrem JJ. Adoptive transfer of PR1 cytotoxic T lymphocytes associated with reduced leukemia burden in a mouse acute myeloid leukemia xenograft model. Cytotherapy 12(8):1056-62, 12/2010. e-Pub 8/2010. PMCID: PMC3365857.
9.
Li D, Li Y, Hernandez JA, Patenia R, Kim TK, Khalili J, Dougherty MC, Hanley PJ, Bollard CM, Komanduri KV, Hwu P, Champlin RE, Radvanyi LG, Molldrem JJ, Ma Q. Lovastatin inhibits T-cell proliferation while preserving the cytolytic function of EBV, CMV, and MART-1-specific CTLs. J Immunother 33(9):975-82, Nov-Dec, 11/2010. PMID: 20948439.
10.
Carreño R, Brown WS, Li D, Hernandez JA, Wang Y, Kim TK, Craft JW, Komanduri KV, Radvanyi LG, Hwu P, Molldrem JJ, Legge GB, McIntyre BW, Ma Q. 2E8 binds to the high affinity I-domain in a metal ion-dependent manner: a second generation monoclonal antibody selectively targeting activated LFA-1. J Biol Chem 285(43):32860-8, 10/2010. e-Pub 8/2010. PMCID: PMC2963386.
11.
Palmer LA, Sale GE, Balogun JI, Li D, Jones D, Molldrem JJ, Storb RF, Ma Q. Chemokine receptor CCR5 mediates alloimmune responses in graft-versus-host disease. Biol Blood Marrow Transplant 16(3):311-9, 3/2010. e-Pub 12/2009. PMCID: PMC3182111.
12.
Wang Y, Li D, Jones D, Bassett R, Sale GE, Khalili J, Komanduri KV, Couriel DR, Champlin RE, Molldrem JJ, Ma Q. Blocking LFA-1 activation with lovastatin prevents graft-versus-host disease in mouse bone marrow transplantation. Biol Blood Marrow Transplant 15(12):1513-22, 12/2009. e-Pub 10/2009. PMID: 19896074.
13.
Kim TK, St John LS, Wieder ED, Khalili J, Ma Q, Komanduri KV. Human late memory CD8+ T cells have a distinct cytokine signature characterized by CC chemokine production without IL-2 production. J Immunol 183(10):6167-74, 11/2009. e-Pub 10/2009. PMID: 19841187.
14.
Ma Q, Gooley TA, Storb RF. CCR5 expression on cells from HLA-matched unrelated marrow donors and graft-versus-host disease. Biol Blood Marrow Transplant. 16:132-133, 7/2009. PMID: 20053336.
15.
Li D, Molldrem JJ, Ma Q. LFA-1 Regulates CD8+ T Cell Activation via T Cell Receptor-mediated and LFA-1-mediated Erk1/2 Signal Pathways. J Biol Chem 284(31):21001-10, 7/2009. e-Pub 5/2009. PMCID: PMC2742865.
16.
Wang Y, Li D, Nurieva R, Yang J, Sen M, Carreño R, Lu S, McIntyre BW, Molldrem JJ, Legge GB, Ma Q. LFA-1 affinity regulation is necessary for the activation and proliferation of naïve T cells. J Biol Chem 284(19):12645-53, 5/2009. e-Pub 3/2009. PMCID: PMC2675993.
17.
Freedman RS, Ma Q, Wang E, Gallardo ST, Gordon IO, Shin JW, Jin P, Stroncek D, Marincola FM. Migration deficit in monocyte-macrophages in human ovarian cancer. Cancer Immunol Immunother 57(5):635-45, 5/2008. e-Pub 10/10/2007. PMID: 17926037.
18.
Carreño R, Li D, Sen M, Nira I, Yamakawa T, Ma Q, Legge GB. A mechanism for antibody-mediated outside-in activation of LFA-1. J Biol Chem. 283(16):10642-48, 4/2008. e-Pub 1/2008. PMID: 18199751.
19.
Toba Y, Tiong JD, Ma Q, Wray S. CXCR4/SDF-1 system modulates development of GnRH-1 neurons and the olfactory system. Dev Neurobiol. 68(4):487-503, 3/2008. PMID: 18188864.
20.
Kaul M, Ma Q, Medders KE, Desai MK, Lipton SA. HIV-1 coreceptors CCR5 and CXCR4 both mediate neuronal cell death but CCR5 paradoxically can also contribute to protection. Cell Death Differ. 14(2):296-305, 2/2007. e-Pub 7/2006. PMID: 16841089.
21.
Wang X, Deavers M, Patenia R, Bassett RL, Jr, Mueller P, Ma Q, Wang E, Freedman RS. Monocyte/macrophage and T-cell infiltrates in peritoneum of patients with ovarian cancer or benign pelvic disease. J Transl Med. 4:30, 2006. PMID: 16824216.
22.
Lu S, Wieder E, Komanduri K, Ma Q, Molldrem JJ. Vaccines in Leukemia. Adv Pharmacol 51:255-70, 2004. PMID: 15464913.
23.
Ma Q, Shimaoka M, Lu C, Jing H, Carman CV, Springer TA. Activation-induced conformational changes in the I domain region of lymphocyte function-associated antigen 1. J Biol Chem. 277(12):10638-41, 3/2002. e-Pub 1/2002. PMID: 11792712.
24.
Ma Q, Jones D, Springer TA. The chemokine receptor CXCR4 is required for the retention of B-lineage and granulocytic precursors within the bone marrow microenvironment. Immunity. 10(4):463-71, 4/1999. PMID: 10229189.
25.
Parolin C, Borsetti A, Choe H, Farzan M, Kolchinsky P, Heesen M, Ma Q, Gerald C, Palu G, Dorf ME, Springer T, Sodroski J. Use of Murine CXCR-4 as a second receptor by some T-cell-tropic human imunnodeficiency virus. J Virol. 72(2):1652-6, 2/1998. PMID: 9445072.
26.
Ma Q, Jones D, Borghesani PR, Segal RA, Nagasawa T, Kishimoto T, Bronson RT, Springer TA. Impaired B-lymphopoiesis, myelopiesis, and derailed cerebellar neuron migration in CXCR4- and SDF-1-deficient mice. Proc Natl Acad Sci USA. 95(16):9448-53, 1998. PMID: 9689100.
27.
Siracusa LD, McGrath R, Ma Q, Moskow JJ, Manne J, Christner PJ, Buchberg AM, Jimenez SA. A tandem duplication within the fibrillin 1 gene is associated with the mouse tight skin mutation. Genome Res. 6(4):300-13, 4/1996. PMID: 8723723.
28.
Ma Q, Alder H, Nelson KK, Chatterjee D, Gu Y, Nakamura T, Canaani E, Croce, C,M, Siracusa LD, Buchberg AM. Analysis of the murine ALLl-1gene reveals conserved domains with human ALL-1 and identifies a motif shared with DNA methyltransferases. Proc Natl Acad Sci USA. 9(13):6350-4, 7/1993. PMID: 8327517.
Grant & Contract Support
Title:
Investigation of ex vivo fucosylation to enhance the efficacy of adoptive T cell immunotherapy
Funding Source:
Leukemia and Lymphoma Society
Role:
Co-Investigator
Principal Investigator:
Alatrash
Duration:
10/1/2014 - 9/30/2017
Title:
UT M.D. Anderson Cancer Center SPORE-Leukemia
Funding Source:
NIH/NCI
Role:
Co-Investigator
Principal Investigator:
Hagop Kantarjian
Duration:
5/1/2013 - 8/31/2018
Title:
The role of complement system in alloimmune responses
Funding Source:
NIH/NIAID
Role:
Principal Investigator
Duration:
8/1/2012 - 7/31/2015
Title:
An Anti-PR1/HLA-A2 Antibody as Novel Therapy for Myeloid Malignancies
Funding Source:
Leukemia and Lymphoma Society
Role:
Co-Principal Investigator
Principal Investigator:
Jeffrey Molldrem
Duration:
10/1/2011 - 9/30/2015
Title:
Improving Cord Blood Transplantation
Funding Source:
NIH/NCI
Role:
Co-Principal Investigator
Principal Investigator:
Shpall
Duration:
9/22/2011 - 8/31/2017
Title:
LFA-1 Affininty Regulation and T Cell Mediated Alloimmunity
Funding Source:
American Cancer Society (ACS)
Role:
Principal Investigator
Duration:
7/1/2008 - 6/30/2013