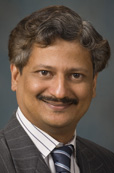 '
Ramaswamy Sadagopan, M.S.
Present Title & Affiliation
Primary Appointment
Senior Medical Physicist, Department of Radiation Physics, Division of Radiation Oncology, The University of Texas MD Anderson Cancer Center, Houston, TX
Education & Training
Degree-Granting Education

1989
University of Texas Health Science Center, Houston, TX, MS, Medical Physics
1983
Sri Paramakalyani College, Alwarkurichi, India, MS, Physics, Physics
1980
St. Xavier's College, Palayamkottai, India, BS, Physics, Mathematics and Chemistry
Board Certifications
| | |
| --- | --- |
| 1993 | American Board of Radiology in Therapeutic Radiology |
Selected Publications
Peer-Reviewed Original Research Articles

1.
Peng Y, Vedam S, Chang JY, Gao S, Sadagopan R, Bues M, Balter P. Implementation of Feedback-Guided Voluntary Breath-Hold Gating for Cone Beam CT-Based Stereotactic Body Radiotherapy. Int J Radiat Oncol Biol Phys 80(3):909-17, 7/1/2011. e-Pub 4/4/2011. PMID: 21470784.
2.
Benedict SH, Yenice KM, Followill D, Galvin JM, Hinson W, Kavanagh B, Keall P, Lovelock M, Meeks S, Papiez L, Purdie T, Sadagopan R, Schell MC, Salter B, Schlesinger DJ, Shiu AS, Solberg T, Song DY, Stieber V, Timmerman R, Tomé WA, Verellen D, Wang L, Yin FF. Stereotactic body radiation therapy: the report of AAPM Task Group 101. Med Phys 37(8):4078-101, 8/2010. PMID: 20879569.
3.
Sadagopan R, Bencomo JA, Martin RL, Nilsson G, Matzen T, Balter PA. Characterization and clinical evaluation of a novel IMRT quality assurance system. J Appl Clin Med Phys 10(2):2928, 2009. PMID: 19458595.
4.
Sadagopan, Ramaswamy. Application of a Laplace Transformation Pair Model to Deconvolve High Energy Photon Spectra from Transmission Measurements. POSTER PRESENTATION IN THE WORLD CONFERENCE ON MEDICAL PHYSICS AND BIO-MANAGEMENT ENGINEERING IN SAN ANTONIO, 8/1988.
5.
Ramaswamy JS, Saple MP, Deshpande DD, Deore SM, Pandhe R. Dosimetry of Template Implants using Ir-192 Sources. PROCEEDINGS OF THE ASIAN REGIONAL CONFERENCE, Bombay, 12/1986.
6.
Shanta A, Deore SM, Ramaswamy JS, Das KR. Estimation of Radiation Dose from Ir-192 Wire Handling in Brachytherapy. PROCEEDINGS OF THE ASIAN REGIONAL CONFERENCE, Bombay, 12/1986.
7.
Deshpande DD, Pendse AM, Deore SM, Ramaswamy JS, Pandhe RP. Experience with CT Treatment Planning System. PROCEEDINGS OF THE ASIAN REGIONAL CONFERENCE, Bombay, 12/1986.
© 2014 The University of Texas MD Anderson Cancer Center