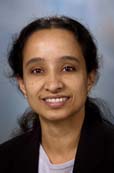 '
Revathy B. Iyer, MD
Present Title & Affiliation
Primary Appointment
Professor, Department of Diagnostic Radiology, Division of Diagnostic Imaging, The University of Texas MD Anderson Cancer Center, Houston, TX
Dual/Joint/Adjunct Appointment
Assistant Program Director, Diagnostic and Interventional Radiology, Diagnostic Radiology Residency Program, The University of Texas at Houston Medical School, Houston, TX
Office Address
The University of Texas MD Anderson Cancer Center
1515 Holcombe Blvd.
Unit Number: 1476
Houston, TX 77030
Phone: (713) 792-5043
Fax: (713) 745-1151
Email: riyer@mdanderson.org
Education & Training
Degree-Granting Education

1988
Louisiana State University, New Orleans, LA, MD, Medicine
1983
University Of New Orleans, New Orleans, LA, BS, Biology

Postgraduate Training

7/1989-6/1993

Clinical Residency, Diagnostic Radiology, The University of Texas Health Science Center, Houston, TX, Bharat Raval, MD, Department Chairman

7/1988-6/1989

Clinical Internship, Internal Medicine, The University of Texas, Dallas, TX, Daniel Foster, MD, Department Chairman
Board Certifications
| | |
| --- | --- |
| 1993 | American Board of Radiology |
Experience/Service
Administrative Appointments/Responsibilities
Assistant Program Director, Department of Diagnostic Radiology, Baylor College of Medicine, Houston, TX, 2000-2010
Selected Publications
Peer-Reviewed Original Research Articles

1.
Ganeshan D, Iyer R, Devine C, Bhosale P, Paulson E. Imaging of primary and secondary renal lymphoma. AJR Am J Roentgenol 201(5):W712-9, 11/2013. PMID: 24147501.
2.
Bhosale PR, Iyer RB, Wei W, He H. MRI is highly specific in determining primary cervical versus endometrial cancer when biopsy results are inconclusive. Clinical Radiology, 5/2013.
3.
Tan CH, Iyer RB. Use of computed tomography in the management of colorectal cancer. World Journal of Radiology 2(5):151-157, 2010.
4.
Iyer RB, Guo CC, Perrier N. Adrenal pheochromocytoma with surrounding brown fat stimulation. AJR Am J Roentgenol 192(1):300-301, 1/2009. PMID: 19098214.
5.
Yu TK, Bhosale PR, Crane CH, Iyer RB, Skibber JM, Rodriguez-Bigas MA, Feig BW, Chang GJ, Eng C, Wolff RA, Janjan NA, Delclos ME, Krishnan S, Das P. Patterns of locoregional recurrence after surgery and radiotherapy or chemoradiation for rectal cancer. Int J Radiat Oncol Biol Phys 71(4):1175-1180, 7/2008. e-Pub 1/2008. PMID: 18207667.
6.
Iyer RB, Faria S, Dubrow R. CT colonography surveillance in patients with a history of colorectal cancer. Abdom Imaging 32(2):234-238, Mar-Apr, 3/2007. PMID: 16967249.
7.
Iyer RB, Balachandran A, Bruzzi JF, Johnson V, Macapinlac HA, Munden RF. PET/CT and hepatic radiation injury in esophageal cancer patients. Cancer Imaging 7:189-194, 2007. e-Pub 11/2007. PMCID: PMC2151325.
8.
Kwek JW, Iyer RB, Dunnington J, Faria S, Silverman PM. Spectrum of imaging findings in the abdomen after radiotherapy. AJR Am J Roentgenol 187(5):1204-1211, 11/2006. PMID: 17056907.
9.
Kwek JW, Iyer RB. Recurrent ovarian cancer spectrum of imaging findings. AJR Am J Roentgenol 187(1):99-104, 7/2006. PMID: 16794162.
10.
Balachandran A, *Iyer RB. Imaging ovarian cancer. Appl Radiol 34(9):19-29, 2005.
11.
Faria SC, Iyer RB, Rashid A, Ellis L, Whitman GJ. Desmoid tumor of the small bowel and the mesentery. AJR Am J Roentgenol 183(1):118, 7/2004. PMID: 15208123.
12.
Faria SC, Iyer RB, Rashid A, Whitman GJ. Hepatic adenoma. AJR Am J Roentgenol 182(6):1520, 6/2004. PMID: 15149999.
13.
Gayed I, Vu T, Iyer R, Johnson M, Macapinlac H, Swanston N, Podoloff D. The role of 18F-FDG PET in staging and early prediction of response to therapy of recurrent gastrointestinal stromal tumors. J Nucl Med 45(1):17-21, 1/2004. PMID: 14734662.
14.
Iyer RB, Silverman PM, Tamm EP, Dunnington JS, DuBrow RA. Diagnosis, staging, and follow-up of esophageal cancer. AJR Am J Roentgenol 181(3):785-793, 9/2003. PMID: 12933482.
15.
Kaur H, Silverman PM, Iyer RB, Verschraegen CF, Eifel PJ, Charnsangavej C. Diagnosis, staging, and surveillance of cervical carcinoma. AJR Am J Roentgenol 180(6):1621-1631, 6/2003. PMID: 12760933.
16.
Iyer RB, Libshitz HI. Radiographic demonstration of intercostal lymphatics and lymph nodes. Lymphology 28(2):89-94, 6/1995. PMID: 7564496.
17.
Iyer RB, Eftekhari F, Varma D, Jaffe N. Cystic retroperitoneal lymphangioma: CT, ultrasound and MR findings. Pediatr Radiol 23(4):305-306, 1993.
© 2014 The University of Texas MD Anderson Cancer Center