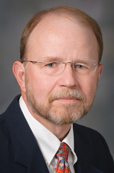 '
Richard E. Wendt, III, Ph.D.
Present Title & Affiliation
Primary Appointment
Professor, Department of Imaging Physics, Division of Diagnostic Imaging, The University of Texas MD Anderson Cancer Center, Houston, TX
Program Director, Medical Physics, The University of Texas Graduate School of Biomedical Sciences at Houston, Houston, TX
Education & Training
Degree-Granting Education

1982
Rice University, Houston, TX, PHD, Electrical Engineering
1980
Rice University, Houston, TX, MS, Electrical Engineering
1977
University of Chicago, Chicago, IL, MBA, Business Administration
1976
University of Chicago, Chicago, IL, AB, Business Administration (also completed degree requirements in Physics and Mathematics)

Postgraduate Training

6/1982-5/1984

Postdoctoral Fellowship, NMR Imaging, Baylor College of Medicine, Houston, TX, R. Nick Bryan, M.D., Ph.D.
Board Certifications
6/1995

American Board of Science in Nuclear Medicine, with special competence in Nuclear Medicine Physics and Instrumentation, Recertification Date:

12/2013

4/1999

American Board of Medical Physics, with special competence in Magnetic Resonance Imaging Physics, Recertification Date:

9/2013
Selected Publications
Peer-Reviewed Original Research Articles

1.
Zhou JJ, Gonzalez A, Lenox MW, Fossum TW, Frank RK, Simon J, Stearns S, Ruoff CM, Wendt III RE, Akabani G. Dosimetry of 90Y-Hydroxide Treatment of Canine Osteosarcoma Using PET/CT: A Liquid Brachytherapy Approach. Applied Radiation and Isotopes. In Press.
2.
Wendt III, RE. Principal Component Analysis of EBT2 Radiochromic Film for Multichannel Film Dosimetry. International Journal of Medical Physics, Clinical Engineering and Radiation Oncology 3(3):156-166, http://dx.doi.org/10.4236/ijmpcero.2014.33021, 8/2014.
3.
Simon J, Frank RK, Crump DK, Erwin WD, Ueno NT, Wendt RE. A Preclinical Investigation of the Saturation and Dosimetry of Sm-153-DOTMP as a Bone-Seeking Radiopharmaceutical. Nuclear Medicine and Biology 39(6):770-776, 8/2012. PMCID: PMCPMC3389123.
4.
Nishii R, Tong W, Wendt R, Soqhomonyan S, Mykhopadhyay U, Balatoni J, Mawlawi O, Bidaut L, Tinkey P, Borne A, Alauddin M, Gonzalez-Lepera C, Yang B, Gelovani J. Pharmacokinetics, Metabolism, Biodistribution, Radiation Dosimetry and Toxicology of 18F-Fluoroacetate (18F-FACE) in Non-Human Primates. Molecular Imaging and Biology 14(2):213-224, 4/2012. e-Pub 5/2011. PMID: 21437735.
5.
Tian M, Ogawa K, Wendt R, Mykhopadhyay U, Balatoni J, Fukumitsu N, Uthamanthil R, Borne A, Brammer D, Jackson J, Mawlawi O, Alauddin M, Gelovani J. Pharmacokinetics, Biodistribution, Metabolism and Radiation Dosimetry Estimates of 18F-PEG6-IPQA in Nonhuman Primates. Journal of Nuclear Medicine 52(6):934-941, 6/2011. PMCID: PMCPMC4013275.
6.
Dickinson RL, Erwin WD, Stevens DM, Bidaut LM, Mar MV, Macapinlac HA, Wendt III RE. Hybrid Modality Fusion of Planar Scintigrams and CT Topograms to Localize Sentinel Lymph Nodes in Breast Lymphoscintigraphy: Technical Description and Phantom Studies. International Journal of Molecular Imaging 2011, Article ID 298102, http://dx.doi.org/10.1155/2011/298102, 12/2010.
7.
Nunez R, Erwin WD, Wendt III RE, Stachowiak A, Mar M, Stevens D, Madewell JE, Yeung HW, Macapinlac HA. Acquisition Parameters for Oncologic Imaging with a New SPECT/Multislide CT Scanner. Molecular Imaging and Biology 12(2):110-138, 2/2010. PMID: 20049543.
8.
Ueno NT, de Souza JA, Booser D, Nakayama K, Madewell J, Wendt RE III, Hortobagyi GN, Podoloff D, Champlin RE. Pilot Study of Targeted Skeletal Radiotherapy for Bone-Only Metastatic Breast Cancer. Clinical Breast Cancer 9(3):173-177, 8/2009. PMID: 19661041.
9.
Mar MV, Dickinson RL, Erwin WD and Wendt RE. Optimal Co-57 Flood Source Activity and Acquisition Time for Lymphoscintigraphy Localization Images. Journal of Nuclear Medicine Technology 36(2):82-87, 6/2008. PMID: 18483139.
10.
Christoforidou AV, Saliba RM, Williams P, Qazilbash M, Roden L, Aleman A, Weber D, Mendoza F, Podoloff D, Wendt R, Breitz H, Alexanian R, Champlin R, Giralt S. Results of a retrospective single institution analysis of targeted skeletal radiotherapy with (166)Holmium-DOTMP as conditioning regimen for autologous stem cell transplant for patients with multiple myeloma. Impact on transplant outcomes. Biology of Blood Marrow and Transplantation 13(5):543-9, 5/2007. e-Pub 2/2007. PMID: 17448913.
11.
Madsen MT, Anderson JA, Halama JR, Kleck J, Simpkin DJ, Votaw JR, Wendt RE, Williams LE and Yester MV. AAPM Task Group 108: PET and PET/CT Shielding Requirements. Medical Physics 33(1):4-15, 2006. PMID: 16485403.
12.
Breitz HB, Wendt RE, Stabin MS, Shen S, Erwin WD, Rajendran JG, Eary JF, Durack L, Delpassand E, Martin W and Meredith RF. Ho-166-DOTMP Radiation Absorbed Dose Estimation for Skeletal Targeted Radiotherapy (STR). Journal of Nuclear Medicine 47(3):534-542, 2006. PMID: 16513624.
13.
Kappadath SC, Erwin WD and Wendt RE. Observed Inter-Camera Variability of Clinically Relevant Performance Characteristics for Siemens Symbia Gamma Cameras. Journal of Applied Clinical Medical Physics 7(4):74-80, 2006. PMID: 17533358.
14.
Bandi V, Velamuri S, Sirgi C, Wendt J, Wendt R, Guntupalli K. Deposition Pattern of Heliox-Driven Bronchodilator Aerosol in the Airways of Stable Asthmatics. Journal of Asthma 42(7):583-6, 9/2005. PMID: 16169793.
15.
Schechter NR, Wendt RE, Yang DJ, Azhdarinia A, Erwin WD, Stachowiak AM, Broemeling LD, Kim EE, Cox JD, Podoloff DA and Ang KK. Radiation Dosimetry of Tc-99m Labeled C225 in Patients with Squamous Cell Carcinoma of the Head and Neck. Journal of Nuclear Medicine 45:1683-1687, 10/2004. PMID: 15471833.
16.
Wen X, Cao X, Pasuelo MJ, Wendt R and Li C. Polymeric Radiotracers in Nuclear Imaging. Current Drug Delivery 1(4):377-384, 2004. PMID: 16305399.
17.
Keleher A, Wendt R, Delpassand E, Stachowiak A and Kuerer H. The Safety of Lymphatic Mapping in Pregnant Breast Cancer Patients Using Tc-99m Sulfur Colloid. The Breast Journal 10(6):492-495, 2004. PMID: 15569204.
18.
Breitz H, Wendt R, Stabin M, Bouchet L and Wessels B. Dosimetry of High Dose Skeletal Targeted Radiotherapy (STR) with Ho-166-DOTMP. Cancer Biotherapy & Radiopharmaceuticals 18(2):225-230, 2003. PMID: 12804048.
19.
Giralt S, Bensinger W, Goodman M, Podoloff D, Eary J, Wendt R, Alexanian R, Weber D, Maloney D, Holmberg L, Rajandran J, Breitz H, Ghalie R and Champlin R. Ho-166-DOTMP Plus Melphalan Followed by Peripheral Blood Stem Cell Transplantation in Patients with Multiple Myeloma. Blood 102(7):2684-2691, 2003. PMID: 12730103.
20.
Anderson RH, Devine WA, Uemura H, Geva T, Vick III GW, Wendt RE, Rokey R. Diagnosis of Heterotaxy Syndrome [2]. Circulation 91(3):906-908, 3/1995. PMID: 7828322.
© 2014 The University of Texas MD Anderson Cancer Center