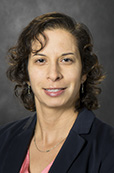 '
Rodabe N. Amaria, M.D.
Present Title & Affiliation
Primary Appointment
Assistant Professor, Department of Melanoma Medical Oncology, Division of Cancer Medicine, The University of Texas MD Anderson Cancer Center, Houston, TX
Bio Statement
Rodabe Amaria, MD joined the University of Texas MD Anderson Cancer Center as an Assistant Professor in July 2013 in the department of Melanoma Medical Oncology. She is a clinician specialized in the care of patients with advanced stage melanoma. Dr. Amaria co-directs the biospecimen collection efforts in the melanoma clinic and has helped build an infrastructure conducive to obtaining serial blood samples and tumor biopsies in patients undergoing treatment to elucidate biomarkers of response and resistance. She is involved in the development of neoadjuvant protocols in melanoma which allows for longitudinal tumor collections to understand changes in the tumor microenvironment in response to a specific treatment. She has an interest in translational immunotherapy research with a focus on understanding mechanisms of resistance to immunomodulatory therapies. Since joining MDACC, Dr. Amaria has been involved with enhancing the adoptive cell therapy program using tumor infiltrating lymphocytes. The hope of the program is to better understand how T cell therapy can be applied to help more patients with melanoma and make ACT more widely accessible to patients.
Office Address
The University of Texas MD Anderson Cancer Center
1515 Holcombe Boulevard
Unit Number: 430
Houston, TX 77030
Room Number: FC11.3040
Phone: 713-745-5530
Fax: 713-563-2768
Education & Training
Degree-Granting Education

2006
University of Colorado, Denver, CO, MD, Doctor of Medicine
2000
University of Colorado, Boulder, CO, BA, Cellular and Developmental Biology

Postgraduate Training

7/2010-6/2013

Hematology/Oncology Fellowship Program, University of Colorado, Aurora, CO, Dr. Klein

6/2006-6/2009

Internal Medicine Residency Program, University of Colorado, Denver, CO, Dr. Brandenburg
Experience/Service
Institutional Committee Activities
Interviewer, Internal Medicine Residency Program Internship Interviewer, 11/2011-2/2012
Reviewer, Pediatric Hematology and Oncology Fellowship Program Review Staff, 8/2011
Honors and Awards
| | |
| --- | --- |
| 2012-2013 | Chief Fellow, Hematology/Oncology |
| 2005 | Internal Medicine Distinguished Student |
Professional Memberships
American Society of Clinical Oncology
Member, 7/2010-present
Rocky Mountain Oncology Society
Member, 7/2010-present
Selected Publications
Peer-Reviewed Original Research Articles

1.
Amaria RN, Kim KB. Dabrafenib for the treatment of melanoma. Expert Opin Pharmacother 15(7):1043-50, 5/2014. e-Pub 4/10/2014. PMID: 24720932.
2.
Jordan KR, Amaria RN, Ramirez O, Callihan EB, Gao D, Borakove M, Manthey E, Borges VF, McCarter MD. Myeloid-derived suppressor cells are associated with disease progression and decreased overall survival in advanced-stage melanoma patients. Cancer Immunol Immunother 62(11):1711-22, 11/2013. e-Pub 9/27/2013. PMID: 24072401.
3.
Amaria R, Schefter TE, Durham J, Pita De Oliveira LO, Kane M. Selective internal radiotherapy in metastatic esophageal adenocarcinoma. Gastrointest Cancer Res 4(5-6):191-3, 9/2011. PMCID: PMC3269141.
4.
Amaria RN, Corboy JR, Finlayson CA, Robinson WA, Borges VF. Immunomodulatory therapy in multiple sclerosis and breast cancer risk: a case report and literature review. Clin Breast Cancer 8(5):449-52, 10/2008. PMID: 18952560.
5.
Hutton J, Wasmeier C, Amaria R, Bright N, Creemers J. Proprotein processing and pancreatic islet function. Adv Exp Med Biol 552:39-65, 2004. PMID: 15622958.
6.
Guest PC, Abdel-Halim SM, Gross DJ, Clark A, Poitout V, Amaria R, Ostenson CG, Hutton JC. Proinsulin processing in the diabetic Goto-Kakizaki rat. J Endocrinol 175(3):637-47, 12/2002. PMID: 12475375.

Invited Articles

1.
Medina T, Amaria RN, Jimeno A. Dabrafenib in the treatment of advanced melanoma. Drugs Today (Barc) 49(6):377-85, 6/2013. PMID: 23807941.
2.
Amaria RN, Bowles DW, Lewis KD, Jimeno A. Vismodegib in basal cell carcinoma. Drugs Today (Barc) 48(7):459-67, 7/2012. PMID: 22844657.
3.
Amaria RN, Lewis KD, Jimeno A. Vemurafenib: the road to personalized medicine in melanoma. Drugs Today (Barc) 48(2):109-18, 2/2012. PMID: 22384451.
4.
Scott A, Amaria R, Lewis K. Adjuvant peginterferon alfa-2b therapy in stage II melanoma. Expert Review of Dematology 6(6):567-575, 12/2011.
5.
Scheier B, Amaria R, Lewis K, Gonzalez R. Novel therapies in melanoma. Immunotherapy 3(12):1461-9, 12/2011. PMID: 22091682.
6.
Amaria RN, Lewis KD, Gonzalez R. Therapeutic options in cutaneous melanoma: latest developments. Ther Adv Med Oncol 3(5):245-51, 9/2011. PMCID: PMC3169931.

Abstracts

1.
Lawson D, Russell M, Wilkinson J, Amaria RN, Gonzalez R, Gerami P, Lyle S, Jackson G, Greisinger A, Robbins J, Johnson C, Oelschlager K, Maetzold D, Cook R, Delman K. Gene expression profie of primary cutaneous melanomas accurately distinguishes between low and high risk of metastasis. Journal of Clinical Oncology 31(15 suppl) (#9022), 5/2013.
2.
Jordan KR, Amaria RN, Callihan E, Borges VF, McCarter MD. Immunosuppression in human melanoma (#128), 10/2012.
3.
Diamond JR, Amaria R, O'Donnell CI, Meltesen L, Swisshelm K, Malancon D, McGavran L, Singh M, Elias A, Borges VF. The incidence of low-level HER2 gene amplification and chromosome 17 polysomy in cases of newly diagnosed breast cancer and their association with clinical prognostic markers. J Clin Oncol 27 (suppl) (#e22012), 2009.

Book Chapters

1.
Amaria RN, Gonzalez R. Updated approach to the patient with metastatic melanoma. In: In: emerging cancer therapeutic's. Ed(s) Abraham J and Sharfman WH. Demos Publishing: New York, 583-602, 2012.
Grant & Contract Support
| | |
| --- | --- |
| Title: | Phase I Study of Weekly LOC-paclitaxel Injection |
| Funding Source: | Luitpold Pharmaceuticals Inc. |
| Role: | Principal Investigator |
| Duration: | 11/10/2009 - 11/30/2015 |
© 2014 The University of Texas MD Anderson Cancer Center