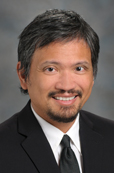 '
Ron Purugganan, M.D.
Present Title & Affiliation
N/A
Education & Training
Degree-Granting Education

1996
University of Texas Medical School at Houston, Houston, TX, MD, Medicine
1990
Texas A&M University, College Station, TX, BS, Biochemistry

Postgraduate Training

8/1997-7/2000

Clinical Residency, Anesthesiology, University of Texas Medical School Houston, Houston, TX, Carin Hagberg, MD

7/1996-6/1997

Clinical Internship, Internal Medicine, University of Texas Medical School Houston, Houston, TX, Victor Lavis, MD
Board Certifications
| | |
| --- | --- |
| 4/2002 | American Board of Anesthesiology |
Experience/Service
Academic Appointments
Assistant Professor, Department of Anesthesiology and Perioperative Medicine, Division of Anesthesiology and Critical Care, The University of Texas M. D. Anderson Cancer Center, Houston, TX, 9/2002-8/2008
Selected Publications
Peer-Reviewed Original Research Articles

1.
Norman Ph, Thall PF, Purugganan RV, Riedel BJ, Thakar DR, Rice DC, Huynh L, Qia W, Wen S, Smythe WR. A possible association between aprotinin and improved survival after radical surgery for mesothelioma. Cancer 115 (4):833-841, 2/2009.
2.
Hagemeister FB, Purugganan R, Fuller L, McLaughlin P, Swan F, Jr, Romaguera J, Rodriguez M, Cabanillas F. Treatment of early stages of Hodgkin's disease with novantrone, vincristine, vinblastine, prednisone, and radiotherapy. Semin Hematol 31 (2)(Suppl 3):36-43, 4/1994. PMID: 8073308.
3.
Hagemeister FB, Purugganan R, Podoloff DA, Hess M, Rodriguez MA, McLaughlin P, Swan F, Jr, Romaguera JE, Cabanillas F. The gallium scan predicts relapse in patients with Hodgkin's disease treated with combined modality therapy. Ann Oncol Suppl 2:59-63, 5, 1994. PMID: 8204521.

Invited Articles

1.
Purugganan R. Intravenous Anesthesia for Thoracic Procedures. Curr Opin Anaesthesiol 21:1-7, 2008.
2.
Rahlfs T, Purugannan R, McMilian L. Health Care Resourse Management: An Introduction and the Role of the Anesthesiologist. Advances in Anesthesia 25:1-6, 2007.
3.
Popat K, Puruggana R, Malik I. Off-label uses for dexmedtomidine. Advances in Aesthesia 24:177-192, 2006.

Abstracts

1.
Norman P, Purugganan R, Bernhard J, Riedel J, Thakar D, Rice D. Aprotinin Decreases Blood Loss and Improves Survival in Mesothelioma Surgery. Anesthesiology 109:A56, 2008.

Book Chapters

1.
Purugganan R, Kowalski A, Arens J. Fluid therapy for non-cardiac thoracic surgery. In: Perioperative Fluid Therapy. Ed(s) D Prough, R Hahn, C Svensen. Marcel Dekker: New York, 2005.

Manuals, Teaching Aids, Other Teaching Publications

1.
Purugganan R, Norman P. Basic Video Bronchoscopy for Lung Isolation in Thoracic Anesthesia, 2007.
2.
Purugganan R. Cardiovascular Anesthesia Resident's Manual For the University of Texas Houston Medical School: Houston, 2000.