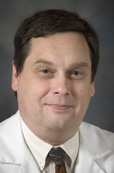 '
Ronald S. Walters, M.D., MBA, MHA
Present Title & Affiliation
Primary Appointment
Associate Vice President of Medical Operations and Informatics, The University of Texas MD Anderson Cancer Center, Houston, TX
Professor of Clinical Medicine, Non-Tenured, Department of Breast Medical Oncology, Division of Cancer Medicine, The University of Texas MD Anderson Cancer Center, Houston, TX
Medical Director, Managed Care Programs, The University of Texas MD Anderson Cancer Center, Houston, TX
Medical Director, Case Management Program, University of Texas MD Anderson Cancer Center, Houston, TX
Education & Training
Degree-Granting Education

2000
Houston Baptist University, Houston, TX, MS, Management of Comupting and Information Svcs
1998
Houston Baptist University, Houston, TX, MHA, Healthcare Administration
1996
University of Houston, Houston, TX, MBA, General Business Administration
1976
University of Nebraska College of Medicine, Omaha, NE, MD, Medicine
1973
University of Nebraska, Lincoln, NE, BS, Math
Board Certifications
| | |
| --- | --- |
| 1/1987 | Medical Oncology |
| 1/1979 | Internal Medicine |
Selected Publications
Peer-Reviewed Original Research Articles

1.
Rivera E, Mejia JA, Arun BK, Adinin RB, Walters RS, Brewster A, Broglio KR, Yin G, Esmaeli B, Hortobagyi GN, Valero V. Phase 3 study comparing the use of docetaxel on an every-3-week versus weekly schedule in the treatment of metastatic breast cancer. Cancer 112(7):1455-61, 4/1/2008. PMID: 18300256.
2.
Weingart SN, Brown E, Bach PB, Eng K, Johnson SA, Kuzel TM, Langbaum TS, Leedy RD, Muller RJ, Newcomer LN, O'Brien S, Reinke D, Rubino M, Saltz L, Walters RS. NCCN Task Force Report: Oral chemotherapy. J Natl Compr Canc Netw 6 Suppl 3:S1-14, 3/2008. PMID: 18377852.
3.
Walters RS, Holmes FA, Valero V, Esparza-Guerra L, Hortobagyi GN. Phase II study of ifosfamide and mesna in patients with metastatic breast cancer. Am J Clin Oncol 21(4):413-5, 8/1998. PMID: 9708645.

Book Chapters

1.
Raber MN, Walters RS. Delivering High-Quality Cancer Care in a Changing Health Care Environment. In: Holland-Frei Cancer Medicine, 7th Edition. Ed(s) Kufe DW, Pollock FE, Weichselbaum RR, Bast RC, Gansler TS, Holland JF, Frei E III. B.C. Decker, Inc. Ontario, 1031-1034, 2006.
2.
Valero, V, Theriault R, Esparza L, Fraschini G, Holmes F, Walters R, Buzdar A, Raber M, Pazdur R, Bellet R, Bayssas M, Hortobagyi GN. Phase II study of taxotere in patients with anthracycline-resistant metastatic breast cancer. In: Recent Advances in Chemotherapy: Proceedings of the 18th International Congress of Chemotherapy, 844-845, 1994.
3.
Holmes, FA, Valero V, Walters R, Theriault R, Booser D, Buzdar A, Gibbs H, Frye D, Young K, Hortobagyi G. Taxol in metastatic breast cancer: the MD Anderson Cancer Center experience. In: Cancer Treatment: An Update. 167-171. Springer-Verlag, 1994.
4.
Walters, RS, Johnston DA, Dixon DO, Stass SA, Keating MJ, Trujillo JM, McCredie KB, Barlogie B. Nucleic acid flow cytometry - an aid to diagnosis and prognosis in acute leukemia in adults. In: The Acute Leukemias: Biologic, Diagnostic, and Therapeutic Determinants. Marcel Dekker, Inc, 1987.