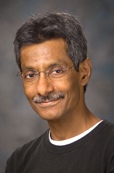 '
Sadhan Majumder, Ph.D.
Present Title & Affiliation
Primary Appointment
Professor and Deputy Chair, Department of Genetics, The University of Texas MD Anderson Cancer Center, Houston, TX
Dual/Joint/Adjunct Appointment
Professor, Department of Neuro-Oncology, The University of Texas MD Anderson Cancer Center, Houston, TX
Professor, The University of Texas Graduate School of Biomedical Sciences, Houston, TX
Research Interests
Adult and embryonic stem cells
Neural/glial tumors
Bioinformatics
Chromatin
Mouse models
The current research in my laboratory involves deciphering mechanisms that control normal development of the brain and how aberration of such mechanisms produces tumors, neurodegenerative disorders or neuropsychiatric disorders. We are also interested in determining how such knowledge can be used in therapeutic interventions. We found that the abnormal expression of the transcriptional repressor REST and Myc causes medulloblastoma, by blocking differentiation of neural stem cells. These studies, along with other pioneering work, have provided evidence that blockade of differentiation of neural stem cells is a mechanism of brain tumor formation. We found that neural stem cells or even muscle progenitor cells (mesodermal lineage) can be reprogrammed into a physiologically active neuronal phenotype (ectodermal lineage) by simply activating REST target genes. Although not universally accepted in 2004, our studies provided some of the earliest evidence that cells are more flexible than was previously thought: cell fates can be switched by simple manipulation of a few transcription factors. Later elegant studies from several laboratories have shown that mouse and human fibroblasts can be reprogrammed to an induced-pluripotent state (iPS) by the transfer of a few transcription factors and that these iPS cells can then be differentiated into various cell-types, supporting our original findings. These studies have far-reaching implications in stem cell biology and human health. We found that REST maintains pluripotency of embryonic stem cells by maintaining the expression of the known pluripotency regulators, including Oct4, Nanog, and Sox2, through a novel microRNA-mediated mechanism. Our further work resolved some of the contradictions in the literature and showed that the REST-mediated regulation of ES cell pluripotency depends on the cell-type (not all ES lines are the same) as well as the culture conditions, indicating how various factors form part of an interconnected network influencing each other. We have recently begun a new line of work on the biology of and therapeutic intervention for glioblastoma tumors and neuropsychiatric disorders using bioinformatics, imaging, genome-wide assays, and clinical databases.
View a complete list of Dr. Majumder's publications.
Office Address
The University of Texas MD Anderson Cancer Center
Department of Genetics Unit 1010
1515 Holcombe Blvd.
Houston, TX 77030
Room Number: S13.8316A
Phone: (713) 834-6347
Email: smajumder@mdanderson.org
Education & Training
Degree-Granting Education

1985
New York University, New York, NY, PHD, Microbiology
Selected Publications
Peer-Reviewed Original Research Articles

1.
Sathyan P, Zinn PO, Marisetty AL, Liu B, Kamal MM, Singh SK, Bady P, Lu L, Wani KM, Veo BL, Gumin J, Kassem DH, Robinson F, Weng C, Baladandayuthapani V, Suki D, Colman H, Bhat KP, Sulman EP, Aldape K, Colen RR, Verhaak RG, Lu Z, Fuller GN, Huang S, Lang FF, Sawaya R, Hegi M, Majumder S. Mir-21-Sox2 Axis Delineates Glioblastoma Subtypes with Prognostic Impact. J Neurosci 35(45):15097-112, 11/2015. PMCID: PMC4642241.
2.
Singh SK, Marisetty A, Sathyan P, Kagalwala M, Zhao Z, Majumder S. REST-miR-21-SOX2 axis maintains pluripotency in E14Tg2a.4 embryonic stem cells. Stem Cell Res 15(2). e-Pub 7/2015. PMID: 26209818.
3.
Kamal MM, Sathyan P, Singh SK, Zinn PO, Marisetty AL, Liang S, Gumin J, El-Mesallamy HO, Suki D, Colman H, Fuller GN, Lang FF, Majumder S. REST regulates oncogenic properties of glioblastoma stem cells. Stem Cells 30(3):405-14. doi:10.1002/stem.1020, 3/2012. PMCID: PMC4039365.
4.
Singh SK, Veo BL, Kagalwala MN, Shi W, Liang S, Majumder S. Dynamic status of REST in the mouse ESC pluripotency network. PLoS One 7(8):e43659. doi:10.1371/journal.pone.0043659, 2012. e-Pub 8/28/2012. PMCID: PMC3429488.
5.
Gopalakrishnan V, Sinnappah-Kang N, Adams H, Fuller G, Pan ZZ, and Majumder S. Myoblast-derived neuronal cells form glutamatergic neurons in the mouse cerebellum. Stem Cells 28:1839-1847, 2010.
6.
Kagalwala M, Singh S, Majumder S. Stemness is only a state of the cell. Cold Spring Harbor Laboratories Symposium on Quantitative Biology (on Stem Cells), 1/2009. e-Pub 1/2009.
7.
Singh S, Kagalwala M, Zhao Z, Majumder S. REST maintains self-renewal and pluripotency of embroyonic stem cells. Nature 453:223-237, 2008.
8.
Su X, Gopalakrishnan V, Stearns D, Aldape K, Lang FF, Fuller G, Snyder E, Eberhart CG, Majumder S. Abnormal expression of REST/NRSF and Myc in neural stem/progenitor cells causes cerebellar tumors by blocking neuronal differentiation. Mol Cell Biol 26:1666-78, 3/2006. PMID: 16478988.
9.
Su X, Kameoka S, Lentz S, Majumder S. Activation of REST/NRSF target genes in neural stem cells is sufficient to cause neuronal differentiation. Mol Cell Biol 24(18):8018-25, 9/2004. PMID: 15340064.
10.
Watanabe Y, Kameoka S, Gopalakrishnan V, Aldape KD, Pan ZZ, Lang FF, Majumder S. Conversion of myoblasts to physiologically active neuronal phenotype. Genes and Development 18(8):889-900, 4/2004. PMID: 15078815.
11.
Rastelli L, Robinson K, Xu Y, Majumder S. Reconstitution of enhancer function in paternal pronuclei of one-cell mouse embryos. Mol Cell Biol 21(16):5531-40, 8/2001. PMID: 11463835.
12.
Lawinger P, Venugopal R, Guo ZS, Immaneni A, Sengupta D, Lu W, Rastelli L, Marin Dias Carneiro A, Levin V, Fuller GN, Echelard Y, Majumder S. The neuronal repressor REST/NRSF is an essential regulator in medulloblastoma cells. Nature Medicine 6(7):826-31, 7/2000. PMID: 10888935.