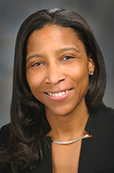 '
Sherise D. Ferguson, M.D.
Present Title & Affiliation
Primary Appointment
Assistant Professor, Department of Neurosurgery, Division of Surgery, The University of Texas MD Anderson Cancer Center, Houston, TX
Office Address
The University of Texas MD Anderson Cancer Center
University of Texas MD Anderson Cancer Center
1515 Holcombe Blvd, Unit 442
Unit Number: 442
Houston, TX 77030
Phone: 713-792-5368
Fax: 713-794-4950
Regional Care Center Memorial City
925 Gessner Rd
Medical Plaza 4
Unit Number: 2052
Houston, TX 77024
Room Number: Suite 450
Phone: 713-358-5300
Fax: 713-358-5329
Education & Training
Degree-Granting Education

2006
University of Chicago, Pritzker School of Medicine, Chicago, IL, MD, Medicine
2002
University of Pennsylvania, Philadelphia, PA, MLA, Master of Liberal Arts
2000
University of Virginia, Charlottesville, VA, BA, Biology

Postgraduate Training

7/2011-6/2012

Enfolded Clinical Fellowship, Neurosurgical Oncology, MD Anderson Cancer Center, Houston, TX

7/2009-6/2010

Research Fellowship, University of Chicago, Chicago, IL

6/2006-6/2013

Residency, Neurosurgery, University of Chicago, Chicago, IL
Honors and Awards
2008-2009

Outstanding Consultant to the Emergency Department,

University Chicago Hospitals

2003-2004

American Medical Student Association-Chapter President,

University of Chicago, Pritzker School of Medicine

2003

Honorary Mention for Excellence,

NIH/University of Chicago Summer Research Program Forum

2002

Distinguished Final Project,

Master of Liberal Arts Program-University of Pennsylvania
Professional Memberships
American Association of Neurological Surgeons
Member, 2006
Congress of Neurolgical Surgeons
Member, 2006
Selected Publications
Peer-Reviewed Original Research Articles

1.
Ferguson SD, McCutcheon IE. Surgical Management of Gliomas in Eloquent Cortex. Prog Neurol Surg. In Press.
2.
Balyasnikova IV, Prasol MS, Ferguson SD, Han Y, Ahmed AU, Gutova M, Tobias AL, Mustafi D, Rincón E, Zhang L, Aboody KS, Lesniak MS. Intranasal delivery of mesenchymal stem cells significantly extends survival of irradiated mice with experimental brain tumors. Mol Ther 22(1):140-8, 1/2014. e-Pub 9/3/2013. PMCID: PMC3978787.
3.
Wei J, Wang F, Kong LY, Xu S, Doucette T, Ferguson SD, Yang Y, McEnery K, Jethwa K, Gjyshi O, Qiao W, Levine NB, Lang FF, Rao G, Fuller GN, Calin GA, Heimberger AB. miR-124 inhibits STAT3 signaling to enhance T cell-mediated immune clearance of glioma. Cancer Res 73(13):3913-26, 7/1/2013. e-Pub 5/1/2013. PMCID: PMC3780786.
4.
Thaci B, Ulasov IV, Ahmed AU, Ferguson SD, Han Y, Lesniak MS. Anti-angiogenic therapy increases intratumoral adenovirus distribution by inducing collagen degradation. Gene Ther 20(3):318-27, 3/2013. e-Pub 6/7/2012. PMCID: PMC3443547.
5.
Doucette TA, Kong LY, Yang Y, Ferguson SD, Yang J, Wei J, Qiao W, Fuller GN, Bhat KP, Aldape K, Priebe W, Bögler O, Heimberger AB, Rao G. Signal transducer and activator of transcription 3 promotes angiogenesis and drives malignant progression in glioma. Neuro Oncol 14(9):1136-45, 9/2012. e-Pub 6/29/2012. PMCID: PMC3424209.
6.
Balyasnikova IV, Ferguson SD, Han Y, Liu F, Lesniak MS. Therapeutic effect of neural stem cells expressing TRAIL and bortezomib in mice with glioma xenografts. Cancer Lett 310(2):148-59, 11/28/2011. e-Pub 7/1/2011. PMCID: PMC3159776.
7.
Ferguson SD, Ahmed AU, Thaci B, Mercer RW, Lesniak MS. Crossing the Boundaries: Stem Cells and Gene Therapy. Discov Medicine 9(46):192-6, 2011.
8.
Ferguson SD. Malignant Gliomas: Diagnosis and Treatment. Dis Mon 57(10):558-69, 2011.
9.
Ferguson SD, Musleh W, Gurbuxani S, Shafizadeh SF, Lesniak MS. Intracranial mucosa-associated lymphoid tissue (MALT) lymphoma. J Clin Neurosci 17(5):666-9, 5/2010. e-Pub 3/3/2010. PMID: 20202849.
10.
Ferguson SD, Rosen DS, Bardo D, MacDonald RL. Arterial Diameters on Catheter and Computed Tomographic Angiography. World Neurosurg 73(3):165-73, 2010.
11.
Balyasnikova IV, Ferguson SD, Sengupta S, Han Y, Lesniak MS. Mesenchymal stem cells modified with a single-chain antibody against EGFRvIII successfully inhibit the growth of human xenograft malignant glioma. PLoS One 5(3):e9750, 2010. e-Pub 3/18/2010. PMCID: PMC2841188.
12.
Ferguson SD, Coccaro EF. History of mild to moderate traumatic brain injury and aggression in physically healthy participants with and without personality disorder. J Pers Disord 23(3):230-9, 6/2009. PMID: 19538079.
13.
Rosen DS, Ferguson SD, Ogden AT, Huo D, Fessler RG. Obesity and self-reported outcome after minimally invasive lumbar spinal fusion surgery. Neurosurgery 63(5):956-60; discussion 960, 11/2008. PMID: 19005386.
14.
Fergusen S, Macdonald RL. Predictors of cerebral infarction in patients with aneurysmal subarachnoid hemorrhage. Neurosurgery 60(4):658-67; discussion 667, 4/2007. PMID: 17415202.
15.
Ferguson S, Lesniak MS. Convection enhanced Drug Delivery of Novel Therapeutic Agents to Malignant Brain Tumors. Current Drug Delivery 4(2):169-80, 2007.
16.
Ferguson SD, Foster K, Yamini B. Convection-Enhanced Delivery for Treatment of Brain Tumors. Expert Review Anticancer Therapy 7:79-85, 2007.
17.
Ferguson SD, Michael N, Frim DM. Observations regarding failure of cerebrospinal fluid shunts early after implantation. Neurosurg Focus 22(4):E7, 2007. e-Pub 4/15/2007. PMID: 17613196.
18.
Fagan LH, Ferguson S, Yassari R, Frim DM. The Chiari pseudotumor cerebri syndrome: symptom recurrence after decompressive surgery for Chiari malformation type I. Pediatr Neurosurg 42(1):14-9, 2006. PMID: 16357496.
19.
Ferguson S, Lesniak MS. Percival Bailey and the classification of brain tumors. Neurosurg Focus 18(4):e7, 4/15/2005. e-Pub 4/15/2005. PMID: 15844870.
20.
Palmer SC, Coyne JC, Ferguson S,. Validity of Horowitz's Impact of Events Scale as a Screen for PTSD in a Sample of Breast Cancer Patients. Annals of Behavioral Medicine 24, 2002.

Book Chapters

1.
Ferguson SD, LaRiviere MJ, Mansour N, Lesniak MS. Malignant Glioma: Chemovirotherapy. In: Tumors fo the Nervous Central System. 1, First. Springer, 2011.
Grant & Contract Support
| | |
| --- | --- |
| Title: | Preparing Trainees in Neurology and Neurosurgery for Academic Research careers |
| Funding Source: | NIH/NIDDS |
| Role: | Trainee |
| Principal Investigator: | S Small |
© 2014 The University of Texas MD Anderson Cancer Center