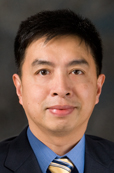 '
Shiaw-Yih (Phoebus) Lin, Ph.D.
Present Title & Affiliation
Primary Appointment
Associate Professor, Department of Systems Biology, Division of Cancer Medicine, The University of Texas MD Anderson Cancer Center, Houston, TX
Deputy Department Chair, Department of Systems Biology, Division of Cancer Medicine, The University of Texas MD Anderson Cancer Center, Houston, TX
Dual/Joint/Adjunct Appointment
Faculty, The University of Texas Houston Graduate School of Biomedical Sciences, Houston, TX
Education & Training
Degree-Granting Education

1999
The University of Texas MD Anderson Cancer Center, Houston, TX, PHD, Cancer Biology
1996
State University of New York (SUNY) at Buffalo, Buffalo, NY, MS, Molecular Pharmacology
1987
Kaohsiung Medical College, Kaohsiung, Taiwan, BS, Pharmacy

Postgraduate Training

1/2000-9/2003

Research Fellowship, Baylor College of Medicine, Houston, TX, Dr. Stephen J Elledge
Honors and Awards
2011-2014

Faculty Scholar Award,

MDACC

2010-2015

Era of Hope Scholar Award,

DOD Breast Cancer Research Program

2006-2010

Research Scholar Award,

American Cancer Society

1983-1987

Outstanding Scholarship (4 times),

Kaohsiung Medical College
Selected Publications
Peer-Reviewed Original Research Articles

1.
Peng G, Chun-Jen Lin C, Mo W, Dai H, Park YY, Kim SM, Peng Y, Mo Q, Siwko S, Hu R, Lee JS, Hennessy B, Hanash S, Mills GB, Lin SY. Genome-wide transcriptome profiling of homologous recombination DNA repair. Nat Commun 5:3361, 2014. PMCID: PMC4017859.
2.
Zhang B, Wang E, Dai H, Hu R, Liang Y, Li K, Wang G, Peng G, Lin S-Y. BRIT1 Regulates p53 Stability and Functions as a Tumor Suppressor in Breast Cancer. Carcinogenesis 34(10):2271-2280, 10/2013. PMCID: PMC3786380.
3.
Tian F, Sharma S, Zou J, Lin S-Y, Wang B, Rezvani K, Wang H, Parvin JD, Ludwig T, Canman CE, Zhang D. BRCA1 promotes the ubiquitination of PCNA and recruitment of translesion polymerases in response to replication blockade. Proc. Natl. Acad. Sci U S A 110(33):13558-63, 8/2013. PMCID: PMC3746927.
4.
Meng L, Lin T, Peng G, Hsu J, Lee S, Lin S-Y, Tsai R. Nucleostemin Deletion Reveals An Essential Mechanism That Maintains The Genomic Stability of Stem and Progenitor Cells. Proc Natl Acad Sci U S A 110(28):11415-20, 7/2013. PMCID: PMC3710807.
5.
Hu R, Wang E, Peng G, Dai H, Lin S-Y. Zinc Finger Protein 668 interacts with Tip60 to promote H2AX acetylation after DNA damage. Cell Cycle 12(13):2033-41, 7/2013. PMCID: PMC3737306.
6.
Trinh BQ, Ko SY, Barengo N, Lin SY, Naora H. Dual functions of the homeoprotein DLX4 in modulating responsiveness of tumor cells to topoisomerase II-targeting drugs. Cancer Research 73(2):1000-10, January 15, 2013, 1/2013. PMCID: PMC3549009.
7.
Park YY, Jung SY, Jennings NB, Rodriguez-Aguayo C, Peng G, Lee SR, Kim SB, Kim K, Leem SH, Lin SY, Lopez-Berestein G, Sood AK, Lee JS. FOXM1 mediates Dox resistance in breast cancer by enhancing DNA repair. Carcinogenesis 33(10):1843-53, 10/2012. PMCID: PMC3529559.
8.
Peng G, Dai H, Zhang W, Hsieh HJ, Pan MR, Park YY, Tsai RY, Bedrosian I, Lee JS, Ira G, Lin SY. Human Nuclease/helicase DNA2 Alleviates Replication Stress by Promoting DNA End Resection. Cancer Res 72(11):2802-13, 6/2012. PMCID: PMC3367086.
9.
Pan MR, Hsieh HJ, Dai H, Hung WC, Li K, Peng G, Lin SY. Chromodomain helicase DNA-binding protein 4 (CHD4) regulates homologous recombination DNA repair and its deficiency sensitizes cells to poly (ADP-ribose) polymerase (PARP) inhibitor treatment. J Biol Chem 287(9):6764-72, 2/2012. PMCID: PMC3307306.
10.
Zhang W, Peng G, Lin SY, Zhang P. DNA damage response is suppressed by the high cyclin-dependent kinase 1 activity in mitotic mammalian cells. J Biol Chem 286(41):35899-905, 10/2011. PMCID: PMC3195557.
11.
Hu R, Peng G, Dai H, Breuer EK, Stemke-Hale K, Li K, Gonzalez-Angulo AM, Mills GB, Lin SY. ZNF668 functions as a tumor suppressor by regulating p53 stability and function in breast cancer. Cancer Res 71(20):6524-34, 10/2011. PMCID: PMC3193577.
12.
Pan MR, Peng G, Hung WC, Lin SY. Monoubiquitination of H2AX protein regulates DNA damage response signaling. J Biol Chem 286(32):28599-607, 8/2011. PMCID: PMC3151101.
13.
Tian L, Peng G, Parant JM, Leventaki V, Drakos E, Zhang Q, Parker-Thornburg J, Shackleford TJ, Dai H, Lin SY, Lozano G, Rassidakis GZ, Claret FX. Essential roles of Jab1 in cell survival, spontaneous DNA damage and DNA repair. Oncogene 29(46):6125-6137, 11/2010. PMCID: PMC3495558.
14.
Ishiguro T, Avila H, Lin SY, Nakamura T, Yamamoto M, Boyd DD. Gene trapping identifies chloride channel 4 as a novel inducer of colon cancer cell migration, invasion and metastases. Br J Cancer 102(4):774-782, 2/2010. PMCID: PMC2837579.
15.
Liang Y, Gao H, Lin SY, Peng G, Huang X, Zhang P, Goss JA, Brunicardi FC, Multani AS, Chang S, Li K. BRIT1/MCPH1 is Essential for Mitotic and Meiotic Recombination DNA Repair and Maintaining Genomic Stability in Mice. PLoS Genet 6(1):e1000826, http://www.plosgenetics.org/home.action, 1/2010. PMCID: PMC2809772.
16.
Liang Y, Gao H, Lin SY, Goss JA, Brunicardi FC, Li K. siRNA-Based Targeting of Cyclin E Overexpression Inhibits Breast Cancer Cell Growth and Suppresses Tumor Development in Breast Cancer Mouse Model. PLoS One 5(9):e12860, 2010. PMCID: PMC2942895.
17.
Peng G, Yim EK, Dai H, Jackson AP, Burgt I, Pan MR, Hu R, Li K, Lin SY. BRIT1/MCPH1 links chromatin remodeling to DNA damage response. Nat Cell Biol 11(7):865-872, 7/2009. PMCID: PMC2714531.
18.
Yim EK, Peng G, Dai H, Hu R, Li K, Lu Y, Mills GB, Meric-Bernstam F, Hennessy BT, Craven RJ, Lin SY. Rak Functions as a Tumor Suppressor by Regulating PTEN Protein Stability and Function. Cancer Cell 15(4):304-314, 4/7/2009. PMCID: PMC2673492.
19.
Kim H, Lee OH, Xin H, Chen LY, Qin J, Chae HK, Lin SY, Safari A, Liu D, Songyang Z. TRF2 functions as a protein hub and regulates telomere maintenance by recognizing specific peptide motifs. Nat Struct Mol Biol 16(4):372-379, 4/2009. PMID: 19287395.
20.
Rai R, Phadnis A, Haralkar S, Badwe RA, Dai H, Li K, Lin S-Y. Differential regulation of centrosome integrity by DNA damage response proteins. Cell Cycle 7(14):2225-33, 7/2008. PMCID: PMC2557875.
21.
Ding Z, Liang J, Lu Y, Yu Q, Songyang Z, Lin SY, Mills GB. A retrovirus-based protein complementation assay screen reveals functional AKT1-binding partners. Proc Natl Acad Sci U S A 103(41):15014-9, 10/2006. PMCID: PMC1636760.
22.
Rai R, Dai H, Multani AS, Li K, Chin K, Gray J, Lahad JP, Liang J, Mills GB, Meric-Bernstam F, Lin SY. BRIT1 regulates early DNA damage response, chromosomal integrity, and cancer. Cancer Cell 10(2):145-57, 8/2006. PMCID: PMC1557410.
23.
Lin SY, Rai R, Li K, Xu ZX, Elledge SJ. BRIT1/MCPH1 is a DNA damage responsive protein that regulates the Brca1-Chk1 pathway, implicating checkpoint dysfunction in microcephaly. Proc Natl Acad Sci U S A 102(42):15105-9, 10/2005. PMCID: PMC1257745.
24.
Lin SY, Li K, Stewart GS, Elledge SJ. Human Claspin works with BRCA1 to both positively and negatively regulate cell proliferation. Proc Natl Acad Sci U S A 101(17):6484-6489, 4/2004. PMCID: PMC404071.
25.
Li K, Lin SY, Brunicardi FC, Seu P. Use of RNA interference to target cyclin E overexpressing hepatocellular carcinoma. Cancer Res 63(13):3593-3597, 7/1/2003. PMID: 12839946.
26.
Lin SY, Elledge SJ. Multiple Tumor Suppressor Pathways Negatively Regulate Telomerase. Cell 113(7):881-889, 6/27/2003. PMID: 12837246.
27.
Deng J, Miller SA, Wang HY, Xia W, Wen Y, Zhou BP, Li Y, Lin SY, Hung MC. beta-catenin interacts with and inhibits NF-kappa B in human colon and breast cancer. Cancer Cell 2(4):323-34, 10/2002. PMID: 12398896.
28.
Lin SY, Makino K, Xia W, Matin A, Wen Y, Kwong KY, Bourguignon L, Hung MC. Nuclear localization of EGF receptor and its potential new role as a transcription factor. Nat Cell Biol 3(9):802-8, 9/2001. PMID: 11533659.
29.
Lin SY, Xia W, Wang JC, Kwong KY, Spohn B, Wen Y, Pestell RG, Hung MC. Beta-catenin, a novel prognostic marker for breast cancer: its roles in cyclin D1 expression and cancer progression. Proc Natl Acad Sci U S A 97(8):4262-6, 4/11/2000. PMCID: PMC18221.
30.
Zhou BP, Hu MC, Miller SA, Yu Z, Xia W, Lin SY, Hung MC. HER-2/neu blocks tumor necrosis factor-induced apoptosis via the Akt/NF-kappaB pathway. J Biol Chem 275(11):8027-31, 3/17/2000. PMID: 10713122.
31.
Wen Y, Yan DH, Spohn B, Deng J, Lin SY, Hung MC. Tumor suppression and sensitization to tumor necrosis factor alpha-induced apoptosis by an interferon-inducible protein, p202, in breast cancer cells. Cancer Res 60(1):42-6, 1/1/2000. PMID: 10646849.
32.
Shao R, Hu MC, Zhou BP, Lin SY, Chiao PJ, von Lindern RH, Spohn B, Hung MC. E1A sensitizes cells to tumor necrosis factor-induced apoptosis through inhibition of IkappaB kinases and nuclear factor kappaB activities. J Biol Chem 274(31):21495-8, 7/30/1999. PMID: 10419449.
33.
Black AR, Jensen D, Lin S-Y, Azizkhan JC. Growth/cell cycle regulation of Sp1 phosphorylation. J Biol Chem 274(3):1207-15, 1/1999. PMID: 9880488.
34.
Kiyokawa N, Lee EK, Karunagaran D, Lin SY, Hung MC. Mitosis-specific negative regulation of epidermal growth factor receptor, triggered by a decrease in ligand binding and dimerization, can be overcome by overexpression of receptor. J Biol Chem 272(30):18656-65, 7/25/1997. PMID: 9228035.
35.
Lin S-Y, Black AR, Kostic D, Pajovic S, Hoover CN, Azizkhan JC. Cell cycle-regulated association of E2F1 and Sp1 is related to their functional interaction. Mol Cell Biol 16(4):1668-75, 4/1996. PMID: 8657142.

Invited Articles

1.
Wang SH, Lin SY. Tumor dormancy: potential therapeutic target in tumor recurrence and metastasis prevention. Exp Hematol Oncol. 2(1):19, 10/2013.
2.
Wang E, Lin SY. Brit1 regulates DNA damage repair and chromosome dynamics to suppress tumor phenotypes. Trends in Cancer Research 8:1-10, 12/2012.
3.
Seviour EG, Lin S-Y. The DNA Damage Response:  Balancing the Scale between Cancer and Aging. Aging Journal 2(12):900-907, 12/2010.
4.
Lin SY, Liang Y, Li K. Multiple Roles of BRIT1/MCPH1 in DNA Damage Response, DNA Repair, and Cancer Suppression. Yonsei Med J 51(3):295-301, 5/2010. PMCID: PMC2852782.
5.
Peng G, Lin, S-Y. BRIT1/MCPH1 is a multifunctional DNA damage responsive protein mediating DNA repair-associated chromatin remodeling. Cell Cycle 8(19):3071-3072, 10/2009.
6.
Peng G, Lin SY. The linkage of chromatin remodeling to genome maintenance: contribution from a human disease gene BRIT1/MCPH1. Epigenetics 4(7):457-461, 10/2009. PMID: 19829069.
7.
Yim EK, Siwko S, Lin SY. Exploring Rak tyrosine kinase function in breast cancer. Cell Cycle 8(15):2360-2364, 8/2009. PMID: 19597351.
8.
Liang Y, Lin SY, Brunicardi FC, Goss J, Li K. DNA Damage Response Pathways in Tumor Suppression and Cancer Treatment. World J Surg 33(4):661-666, 4/2009. PMID: 19034564.
9.
Jackson-Bernitsas D, Li K, Lin S-Y. BRIT1 gene in cancer. Encyclopedia of Cancer Springer 2:428-430, 2008.
10.
Rai R, Peng G, Li K, Lin S-Y. DNA damage response: the players, the network and the role in tumor suppression. Cancer Genomics Proteomics 4(2):99-106, Mar-Apr, 2007. PMID: 17804872.
11.
Chaplet M, Rai R, Jackson-Bernitsas D, Li K, Lin SY. BRIT1/MCPH1: a guardian of genome and an enemy of tumors. Cell Cycle 5(22):2579-83, 11/2006. PMID: 17172830.
12.
Lin, S-Y, Hung M-C. Cancer: Current concepts. J. Clinical Ligand Assay 22:1-5, 1999.

Editorials

1.
Davis JD, Lin SY. DNA damage and breast cancer. World J Clin Oncol 2(9):329-338, 9/10/2011. PMCID: PMC3168783.
2.
Peng G, Lin SY. Exploiting the homologous recombination DNA repair network for targeted cancer therapy. World J Clin Oncol 2(2):73-79, 2/10/2011. PMCID: PMC3095467.

Book Chapters

1.
Gong L, Wang E, Lin SY. Chromatin Remodeling in DNA Damage Response and Human Aging. In: Chromatin Remodeling. Ed(s) Danuta Radzioch. Intech, 153-171, 2013. ISBN: 978-953-51-1087-3.
2.
Green L, Lin SY. DNA Damage Response and Breast Cancer: An Overview. In: Breast Cancer Cells / Book 2. Ed(s) RL. Aft. InTech, 97-112, 2012. ISBN: 978-953-51-0145-1.
3.
Peng G, Lin S-Y. A Novel DNA Damage Responsive Protein Dysfunctioned in Primary Microcephaly and Cancer. In: New Research on DNA Damage. Nova Publishers, 99-112, 2008.
4.
Azizkhan JC, Lin S-Y, Jensen D, Kostic D and Black AR. Retinoblastoma protein, gene expression, and cell cycle control. In: Cancer Genes: Functional Aspects. Plenum: New York, 1996.
Grant & Contract Support
Title:
Regulation of HECT E3 ubiquitin ligases by Rak kinase: a novel mechanism that links tyrosine phosphorylation to protein stability in breast tumor suppression
Funding Source:
Cancer Prevention & Research Institute of Texas (CPRIT)
Role:
Principal Investigator
Duration:
3/1/2013 - 2/29/2016
Title:
Molecular Determinants and Clinical Implications of Breast Cancer Dormancy
Funding Source:
Department of Defense (DOD)
Role:
Principal Investigator
Duration:
9/15/2012 - 9/14/2014
Title:
Chartacterizing and targeting CHD4 Deficiency in Endrometrial Cancer
Funding Source:
NIH/NCI
Role:
Principal Investigator
Duration:
9/1/2012 - 8/31/2017
Title:
Rak, A New Player In The DNA Damage Response Network
Funding Source:
Susan G. Komen Breast Cancer Foundation
Role:
Principal Investigator
Duration:
9/22/2010 - 9/30/2011
Title:
Targeting replication stress response defects in breast cancer
Funding Source:
Department of Defense (DOD)
Role:
Principal Investigator
Duration:
7/15/2010 - 7/14/2015
Title:
Genetic and Chemical Screens for Suppressors of Oct4 Expression in Breast Cancer
Funding Source:
Susan G. Komen Breast Cancer Foundation
Role:
Principal Investigator
Duration:
8/20/2008 - 8/17/2010
Title:
Functional and clinical analysis of Rak in breast cancer suppression
Funding Source:
NIH/NCI
Role:
Principal Investigator
Duration:
12/5/2006 - 9/30/2013
Title:
Functional analysis of a novel tumor suppressor, BRIT1 in prostate cancer
Funding Source:
American Cancer Society (ACS)
Role:
Principal Investigator
Duration:
7/1/2006 - 6/30/2010
Title:
The roles of BRIT1 in immortalization, checkpoints and cancer
Funding Source:
NIH/NCI
Role:
Principal Investigator
Duration:
6/1/2005 - 4/30/2011
Title:
Functional and clinical analysis of Rak in breast cancer suppression
Funding Source:
UTMDACC M. Scott Memorial Fund for Breast Cancer Research
Role:
Principal Investigator
Duration:
2005 - 2006
Title:
The roles of BRIT1 in immortalization, checkpoints and cancer
Funding Source:
UTMDACC IRG
Role:
Principal Investigator
Duration:
1/1/2004 - 1/1/2005
Title:
Chk2: Roles in checkpoint and breast tumor suppression
Funding Source:
NIH/NCI
Role:
Principal Investigator
Duration:
1/1/2003 - 12/31/2003
Title:
Targeting the BRCAness and P13Kness in Ovarian Cancer
Funding Source:
NIH/NCI
Role:
Collaborator
Principal Investigator:
Bast
Duration:
9/30/1999 - 8/31/2015
© 2014 The University of Texas MD Anderson Cancer Center