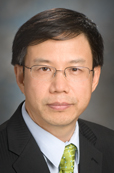 '
Shulin Li, PhD
Present Title & Affiliation
Primary Appointment
Professor, Department of Pediatrics - Research, Division of Pediatrics, The University of Texas MD Anderson Cancer Center, Houston, TX
W. T. and Louise Jarrett Moran Distinguished Chair in Pediatric Oncology, Department of Pediatrics - Research, Division of Pediatrics, The University of Texas MD Anderson Cancer Center, Houston, TX
Dual/Joint/Adjunct Appointment
Graduate Faculty, The University of Texas Graduate School of Biomedical Sciences, Houston, TX
Research Interests
Lab interests
1. IL12 and IL27 signaling on tumorigenesis, progression and metastasis
2. Biology of IL30 such as liver protection
3. Discovery of circulating tumor cell markers and genetic defects
4. Electroporation chemogene therapy for treating tumors in small and large animal model
5. Stem cell engineering and programming
Clinical Interests
Though I do not have any clinical responsibility, it is my strong desire to move some of my laboratory research into clinical trials by collaborating with clinical scientists, clinicians, regulatory research teams, and clinical research coordinators. In this regard, my laboratory has found that co-administration of bleomycin and IL12 gene via electroporation not only eradicates in mice but also eliminates recurrent tumors in dogs. Importantly, this combination therapy significantly extends the life span and quality of life in both mice and dogs. This therapeutic is primarily tested in breast and oral tumors but also applicable to other types of tumors. My laboratory is in the process to test this approach in pediatric tumors, this project could yield a huge impact on human's life.
Office Address
The University of Texas MD Anderson Cancer Center
1515 Holcombe Boulevard
Unit Number: 853
Houston, TX 77054
Room Number: SRB MOD2.017
Phone: 713-563-9608
Fax: 713-563-9607
Education & Training
Degree-Granting Education

1993
Washington State University, Pullman, WA, PHD, Cell Wall Biology
1985
Shanxi State University, Shanxi, China, BS, Biological Science

Postgraduate Training

1993-1997

Post doctorate, Molecular Immunology, Experimental Therapeutics, The University of Texas MD Anderson Cancer Center, Houston, TX
Experience/Service
Academic Appointments
Professor, Veterinary Medicine, Louisiana State University, Baton Rouge, LA, 6/2007-5/2010
Associate Professor, Comparative Biomedical Sciences, Louisiana State University, Baton Rouge, LA, 1/2003-5/2007
Assistant Professor/Director of Basic Research, Department of Otolaryngology, University of Arkansas for Medical Sciences, Little Rock, AR, 6/1999-12/2001
Administrative Appointments/Responsibilities
Committee Member, American Society of Gene Therapy, Physical Gene & Cell Therapy Section, Philadelphia, PA, 2011-2012
Committee Chair, American Society of Gene Therapy, Physical Gene and Cell Therapy and Vectrology Section, Washington, DC, 2009-2010
Director of Basic Research, Department of Head and Neck Surgery, University of Arkansas for Medical Sciences, Little Rock, AR, 1999-2001
Endowed Positions
Paula & Milton Endowed Professor, Department of Veterinary Medicine and Surgery, Louisiana State University, Baton Rouge, LA, 6/2007-5/2010
Honors and Awards
2007

Distinguished Faculty Scholar Award,

School of Veterinary Medicine, Louisiana State University

2005

Pfizer Award for Research Excellence
Selected Publications
Peer-Reviewed Original Research Articles

1.
Dibra D, Cutrera JJ, Li S. Coordination between TLR9 Signaling in Macrophages and CD3 Signaling in T Cells Induces Robust Expression of IL-30. J Immunol 188(8):3709-15, 4/2012. e-Pub 3/2012. PMCID: PMC3324657.
2.
Satelli A, Li S. Vimentin in cancer and its potential as a molecular target for cancer therapy. Cell Mol Life Sci 68(18):3033-46, 9/2011. e-Pub 6/2011. PMCID: PMC3162105.
3.
Flanagan M, Gimble JM, Yu G, Wu X, Xia X, Hu J, Yao S, Li S. Competitive electroporation formulation for cell therapy. Cancer Gene Ther 18(8):579-86, 8/2011. e-Pub 6/10/2011. PMCID: PMC3238913.
4.
Hu J, Liu X, Hughes D, Esteva FJ, Liu B, Chandra J, Li S. Herceptin conjugates linked by EDC boost direct tumor cell death via programmed tumor cell necrosis. PLoS ONE 6(8):e23270.doi:10.1371/journal.pone.0023270, 8/2011. PMCID: PMC3154407.
5.
Reed SD, Li S. Pre-clinical toxicity assessment of tumor-targeted interleukin-12 low-intensity electrogenetherapy. Cancer Gene Ther 18(4):265-74, 4/2011. e-Pub 1/2011. PMID: 21233859.
6.
Cutrera J, Dibra D, Xia X, Hasan A, Reed S, Li S. Discovery of a Linear Peptide for Improving Tumor Targeting of Gene Products and Treatment of Distal Tumors by IL12 Gene Therapy. Mol Ther. e-Pub 3/2011. PMCID: PMC3149172.
7.
Dibra D, Cutrera J, Xia X, Li S. WSX1 Expression in Tumors Induces Immune Tolerance via Suppression of Effector Immune Cells. PLoS One 6(4):e19072.doi:10.1371/journal.pone.0019072, 2011. e-Pub 4/2011. PMCID: PMC3084744.
8.
Reed SD, Fulmer A, Buckholz J, Zhang B, Cutrera J, Shiomitsu K, Li S. Bleomycin/interleukin-12 electrochemogenetherapy for treating naturally occurring spontaneous neoplasms in dogs. Cancer Gene Ther 17(7):457-64, 7/2010. e-Pub 2/2010. PMID: 20150931.
9.
Zhu S, Lee DA, Li S. IL-12 and IL-27 sequential gene therapy via intramuscular electroporation delivery for eliminating distal aggressive tumors. J Immunol. 184(5):2348-54, 3/2010. PMCID: PMC2824785.
10.
Cutrera J, Dibra D, Xia X, Li S. Enhancement of reporter gene detection sensitivity by insertion of specific mini-peptide-coding sequences. Cancer Gene Ther 17(2):131-140, 2/2010. e-Pub 8/28/2009. PMCID: PMC2808434.
11.
Reed SD, Li S. Electroporation Advances in Large Animals. Curr Gene Ther. e-Pub 8/2009. PMID: 19545229.
12.
Dibra D, Cutrera JJ, Xia X, Birkenbach MP, Li S. Expression of WSX1 in tumors sensitizes IL-27 signaling-independent natural killer cell surveillance. Cancer Res 69(13):5505-13, 7/1/2009. e-Pub 6/23/2009. PMCID: PMC2706921.
13.
Shiomitsu K, Sajo E, Xia X, Hunley DW, Mauldin GE, Li S, Mauldin GN. Radiosensitivity of canine osteosarcoma cells transfected with wild-type p53 in vitro. Vet Comp Oncol 6(3):193-200, 9/2008. PMID: 19178679.
14.
Craig R, Cutrera J, Zhu S, Xia X, Lee YH, Li S. Administering plasmid DNA encoding tumor vessel-anchored IFN-alpha for localizing gene product within or into tumors. Mol Ther 16(5):901-6, 5/2008. e-Pub 3/2008. PMID: 18388923.
15.
Zhu S, Waguespack M, Barker SA, Li S. Doxorubicin directs the accumulation of interleukin-12 induced IFN gamma into tumors for enhancing STAT1 dependent antitumor effect. Clin Cancer Res 15:13(14):4252-60, 7/2007. PMID: 17634555.
16.
Liu J, Xia X, Torrero M, Barrett R, Shillitoe EJ, Li S. The mechanism of exogenous B7.1-enhanced IL-12-mediated complete regression of tumors by a single electroporation delivery. Int J Cancer 119(9):2113-8, 11/2006. PMID: 16823840.
17.
Torrero MN, Xia X, Henk W, Yu S, Li S. Stat1 deficiency in the host enhances interleukin-12-mediated tumor regression. Cancer Res 66(8):4461-7, 4/2006. PMID: 16618773.
18.
Torrero MN, Henk WG, Li S. Regression of high-grade malignancy in mice by bleomycin and interleukin-12 electrochemogenetherapy. Clin Cancer Res 1(12):257-63, 1/2006. PMID: 16397050.
19.
Craig R, Li S. Function and molecular mechanism of tumor-targeted peptide. Medicinal chemistry(6):109-120, 2006.
20.
Li S, Zhang L, Torrero M, Cannon M, Barret R. Administration route- and immune cell activation-dependent tumor eradication by IL12 electrotransfer. Mol Ther 12(5):942-9, 11/2005. e-Pub 6/2005. PMID: 15953768.
21.
Li S, Wilkinson M, Xia X, David M, Xu L, Purkel-Sutton A, Bhardwaj A. Induction of IFN-regulated factors and antitumoral surveillance by transfected placebo plasmid DNA. Mol Ther. 11(1):112-9, 1/2005. PMID: 15585412.
22.
Li S. Electroporation gene therapy: new developments in vivo and in vitro. Curr Gene Ther 4(3):309-316, 9/2004. PMID: 15384944.
23.
Li S, Hanna E, Breau R, Ratanatharathorn V, Xia X, Suen J. Preferential expression of hPGFS in primary SCCHN and tumour cell lines derived from respiratory and digestive organs. Br J Cancer 8:90(5):1093-9, 3/8/2004. PMCID: PMC2409636.
24.
Li S, Xia X, Mellieon FM, Liu J, Steele S. Candidate genes associated with tumor regression mediated by intratumoral IL-12 electroporation gene therapy. Mol Ther 9(3):347-54, 3/2004. PMID: 15006601.
25.
Torrero MN, Li S. Growth factor receptors: targets for gene therapy and immunotherapy for cancer treatment. Gene Therapy and Molecular Biology(8):175-180, 2004.
26.
Wang J, Hamilton JI, Carter MS, Li S, Wilkinson MF. Alternatively spliced TCR mRNA induced by disruption of reading frame. Science 297(5578):108-110, 7/2002. PMID: 12098701.
27.
Pumphrey CY, Theus AM, Li S, Parrish RS, Sanderson RD. Neoglycans, carbodiimide-modified glycosaminoglycans: a new class of anticancer agents that inhibit cancer cell proliferation and induce apoptosis. Cancer Res 62(13):3722-3728, 7/2002. PMID: 12097281.
28.
Wang J, Vock VM, Li S, Olivas OR, Wilkinson MF. A quality control pathway that down-regulates aberrant T-cell receptor (TCR) transcripts by a mechanism requiring UPF2 and translation. J Biol Chem 24(277):18489-93, 5/2002. e-Pub 3/2002. PMID: 11889124.
29.
Li S, Zhang X, Xia X. Regression of tumor growth and induction of long-term antitumor memory by interleukin 12 electro-gene therapy. J Natl Cancer Inst 15(94):762-8, 5/2002. PMID: 12011227.
30.
Dornhoffer JL, Danner C, Li S. Natriuretic peptide receptors in the human endolymphatic sac. Arch Otolaryngol Head Neck Surg 128(4):379-83, 4/2002. PMID: 11926910.
31.
Li S, Xia X, Zhang X, Suen J. Regression of tumors by IFN-alpha electroporation gene therapy and analysis of the responsible genes by cDNA array. Gene Ther 9(6):390-7, 3/2002. PMID: 11960315.
32.
Li S, Benninger M. Applications of muscle electroporation gene therapy. Curr Gene Ther 2(1):101-5, 2/2002. PMID: 12108971.
33.
Li S. IL-12-Based therapy of malignancies. Drugs Today (Barc) 37(9):629-637, 9/2001. PMID: 12743634.
34.
Mühlemann O, Mock-Casagrande CS, Wang J, Li S, Custódio N, Carmo-Fonseca M, Wilkinson MF, Moore MJ. Precursor RNAs harboring nonsense codons accumulate near the site of transcription. Mol Cell 8(1):33-43, 7/2001. PMID: 11511358.
35.
Hanna E, Shrieve DC, Ratanatharathorn V, Xia X, Breau R, Suen J, Li S. A novel alternative approach for prediction of radiation response of squamous cell carcinoma of head and neck. Cancer Res 15(61):2376-80, 3/2001. PMID: 11289099.
36.
Li S, Zhang X, Xia X, Zhou L, Breau R, Suen J, Hanna E. Intramuscular electroporation delivery of IFN-alpha gene therapy for inhibition of tumor growth located at a distant site. Gene Ther 8(5):400-7, 3/2001. PMID: 11313817.
37.
Hanna E, Zhang X, Woodlis J, Breau R, Suen J, Li S. Intramuscular electroporation delivery of IL-12 gene for treatment of squamous cell carcinoma located at distant site. Cancer Gene Ther 8(3):151-7, 3/2001. PMID: 11332985.
38.
Li S, MacLaughlin FC, Fewell JG, Gondo M, Wang J, Nicol F, Dean DA, Smith LC. Muscle-specific enhancement of gene expression by incorporation of SV40 enhancer in the expression plasmid. Gene Ther 8(6):494-7, 3/2001. PMID: 11313829.
39.
Li S, MacLaughlin FC, Fewell JG, Li Y, Mehta V, French MF, Nordstrom JL, Coleman M, Belagali NS, Schwartz RJ, Smith LC. Increased level and duration of expression in muscle by co-expression of a transactivator using plasmid systems. Gene Ther 6(12):2005-11, 12/1999. PMID: 10637452.
40.
Li S, Wilkinson MF. Nonsense surveillance in lymphocytes? Immunity 8(2):135-41, 2/1998. PMID: 9491995.
41.
Li S, Wilkinson MF. Site-directed mutagenesis: a two-step method using PCR and DpnI. Biotechniques 23(4):588-90, 10/1997. PMID: 9343667.
42.
Li S, Ke S, Budde RJ. The C-terminal Src kinase (Csk) is widely expressed, active in HT-29 cells that contain activated Src, and its expression is downregulated in butyrate-treated SW620 cells. Cell Biol Int 20(11):723-9, 11/1996. PMID: 8979366.
43.
Maiti S, Doskow J, Li S, Nhim RP, Lindsey JS, Wilkinson MF. The Pem homeobox gene. Androgen-dependent and -independent promoters and tissue-specific alternative RNA splicing. J Biol Chem 271(29):17536-46, 7/1996. PMID: 8663309.
44.
Carter MS, Doskow J, Morris P, Li S, Nhim RP, Sandstedt S, Wilkinson MF. A regulatory mechanism that detects premature nonsense codons in T-cell receptor transcripts in vivo is reversed by protein synthesis inhibitors in vitro. J Biol Chem 48(270):28995-9003, 12/1995. PMID: 7499432.
45.
Li S, Sun G, Budde RJ. Production and characterization of monoclonal antibodies against the recombinant p50csk protein tyrosine kinase: a tool for signal transduction research. Hybridoma 14(4):341-6, 8/1995. PMID: 8522345.
46.
Andrews P, Li S. Partial purification and characterization of galactosidase from cell walls of a nonclimacteris fruit. J Agric. and Food Chemistry(42):2177-2182, 1994.
© 2014 The University of Texas MD Anderson Cancer Center