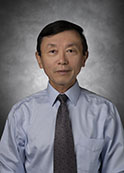 '
Shuwei Gao, MD
Present Title & Affiliation
Primary Appointment
Associate Professor, Department of General Internal Medicine, Division of Internal Medicine, The University of Texas MD Anderson Cancer Center, Houston, TX
Education & Training
Degree-Granting Education

1986
Peking Union Medical College, Beijing, China, MS, Master of Medicine in Cardiology
1983
Beijing Medical University, Beijing, China, MD, Bachelor of Medicine (MD)

Postgraduate Training

10/2005-2/2006

Clinical Safety & Effectiveness Program, The University of Texas MD Anderson Cancer Center, Houston, TX

6/1995-6/1998

Intern/ Resident, University of Texas Medical School at Houston, Houston, TX, Dr. Victor Lavis

9/1987-6/1989

Postdoctoral Fellow, University of California San Francisco Medical School, San Francisco, CA
Board Certifications
| | |
| --- | --- |
| 1/1998 | American Board of Internal Medicine |
Selected Publications
Peer-Reviewed Original Research Articles

1.
Gao S, Escalante C. Venous thromboembolism and malignancy. Expert Rev Anticancer Ther 4(2):303-20, 4/2004. PMID: 15056060.
2.
Gao, S, Caraway N. Fever, Leukocytosis, and Splenomegaly. Primary Care & Cancer. 20((9)):39045, 2000.
3.
Holmquist GP, Gao S. Somatic mutation theory, DNA repair rates, and the molecular epidemiology of p53 mutations. Mutat Res 386(1):69-101, 3/1997. PMID: 9100856.
4.
Gao S, Drouin R, Holmquist GP. DNA repair rates mapped along the human PGK1 gene at nucleotide resolution. Science 263(5152):1438-40, 3/1994. PMID: 8128226.
5.
Gao SW, Morser J, McLean K, Shuman MA. Differential effect of platelets on plasminogen activation by tissue plasminogen activator, urokinase, and streptokinase. Thromb Res 58(4):421-33, 5/1990. PMID: 2112791.
6.
Gao SW, Chen ZJ, Tao SQ. [Effects of low-dose aspirin on platelet aggregation and the biosynthesis of PGI2 and TXA2 in patients with coronary heart disease]. Zhonghua Nei Ke Za Zhi 26(4):209-12, 255, 4/1987. PMID: 3308356.

Abstracts

1.
Grover, TS, Martin C, Gao S, Yeung SJ, Liu W, Elting L. A cost-effectiveness analysis of the use of bolus, continuous and dexrazoxane-associated infusion of doxorubicin in breast cancer in the reduction of cardiomyopathy related morbidity and mortality. The Proceedings of the 2001 Annual meeting of the American Society of Clinical Oncology:Abstract 962, 5/2001.

Book Chapters

1.
Gao, S, Shannon V. Vascular Emergencies. In: Oncologic Emergencies. B.C. Decker Inc, 2002.
2.
Escalante C, Hwang J, Grover T, Rajagopal A, Deng G, Lazo-Diaz G, Forman A, Manzullo E, Gao S. Major Presenting Symptoms. In: Oncologic Emergencies, 1st. Ed(s) Yeung SJ, Escalante C. B.C. Decker: Ontaria, Canada, 25-60, 2002.