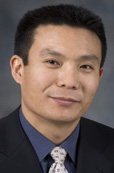 '
Shuxing Zhang, Ph.D.
Present Title & Affiliation
Primary Appointment
Assistant Professor, Department of Experimental Therapeutics, The University of Texas MD Anderson Cancer Center, Houston, TX
Research Interests
Research Interests
Our research is to develop new computational methods and strategies that are urgently needed for drug discovery, mainly in three areas: ligand-based drug design, structure-based drug design, and protein structural bioinformatics. We are also intensively involved in ADME/Tox modeling, polypharmacology design, and systems chemical biology.
Office Address
The University of Texas MD Anderson Cancer Center
1901 East Road
Unit Number: 1950
Houston, TX 77054
Room Number: 4SCR2.1047
Phone: (713) 745-2958
Fax: (713) 794-5577
Email: shuzhang@mdanderson.org
Education & Training
Degree-Granting Education

2005
The University of North Carolina at Chapel Hill, Chapel Hill, NC, PHD, Pharmaceutical Sciences
1997
Peking University, Beijing, P.R., China, BS, Pharmaceutical Sciences
Selected Publications
Peer-Reviewed Original Research Articles

1.
Wu B, Zhang S, Hu M. Evaluation of 3,3',4'-trihydroxyflavone and 3,6,4'-trihydroxyflavone (4'-O-glucuronidation) as the in vitro functional markers for hepatic UGT1A1. Mol Pharm 8(6):2379-89, 12/2011. e-Pub 10/2011. PMID: 21985641.
2.
Du-Cuny L, Chen L, Zhang S*. A Critical Assessment of Combined Ligand/Structure-based Approaches to hERG Channel Blocker Modeling. J Chem Inf Model 51. e-Pub 9/2011. PMID: 21902220.
3.
Tran HT, Zhang S*. Accurate Prediction of the Bound Form of the Akt Pleckstrin Homology Domain Using Normal Mode Analysis To Explore Structural Flexibility. J Chem Inf Model 51(9):2352-60, 9/2011. e-Pub 8/2011. PMID: 21834588.
4.
Wu B, Kulkarni K, Basu S, Zhang S, Hu M. First-pass metabolism via UDP-glucuronosyltransferase: a barrier to oral bioavailability of phenolics. J Pharm Sci 100(9):3655-81, 9/2011. e-Pub 4/2011. PMID: 21484808.
5.
Khalaf J, Estrella-Jimenez ME, Shashack MJ, Phatak SS, Zhang S, Gilbertson SR. Design, synthesis and diversification of 3,5-substituted enone library. ACS Comb Sci 13(4):351-6, 7/2011. e-Pub 6/2011. PMID: 21648460.
6.
Zhang S*. Computer-aided drug discovery and development. Methods Mol Biol 716:23-38, 2011. PMID: 21318898.
7.
Zhang S*, Chen L, Jung EJ, Calin GA*. Targeting microRNAs with small molecules: from dream to reality. Clin Pharmacol Ther 87(6):754-8, 6/2010. e-Pub 4/2010. PMID: 20428111.
8.
Meuillet EJ, Song Z, Lemos R, Ihle N, Kingston J, Watkins R, Moses SA, Zhang S, Du-Cuny L, Herbst R, Jacoby JJ, Zhou LL, Ahad AM, Mash EA, Kirkpatrick DL, Powis G. Molecular pharmacology and antitumor activity of PHT-427, a novel Akt/phosphatidylinositide-dependent protein kinase 1 pleckstrin homology domain inhibitor. Mol Cancer Ther 9(3):706-17, 3/2010. e-Pub 3/2010. PMCID: PMC2837366.
9.
Du-Cuny L, Song Z, Moses S, Powis G, Mash EA, Meuillet EJ, Zhang S*. Computational modeling of Akt pleckstrin homology domain inhibitors using various in silico approaches. Bioorg Med Chem 17(19):6983-6992, 10/2009. e-Pub 8/2009. PMCID: PMC2808703.
10.
Chen LS, Nowak BJ, Ayres ML, Krett NL, Rosen ST, Zhang S*, Gandhi V*. Inhibition of ATP Synthase by Halogenated Adenosine analogs. Biochem Pharmacol 78(6):583-91, 9/2009. e-Pub 5/2009. PMCID: PMC2763632.
11.
Moses SA, Ali MA, Zuohe S, Du-Cuny L, Zhou LL, Lemos R, Ihle N, Skillman AG, Zhang S, Mash EA, Powis G, Meuillet EJ. In vitro and in vivo activity of a novel small molecule inhibitor targeting the pleckstrin homology domain of protein kinase B/AKT. Cancer Res 69(12):5073-81, 6/2009. e-Pub 6/2009. PMID: 19491272.
12.
Zhang S*, Du-Cuny L. Development and evaluation of a new statistical model for structure-based high-throughput virtual screening. Int J Bioinform Res Appl 5(3):269-279, 2009. PMID: 19525200.
13.
Zhang S, Kaplan AH, Tropsha A. HIV-1 Protease Function and Structure Studies with the Simplicial Neighborhood Analysis of Protein Packings Method. Proteins 73(3):742-53, 11/2008. PMCID: PMC2765824.
14.
Zhang S, Kumar K, Jiang X, Wallqvist A, Reifman J. DOVIS: an Implementation for High-throughput virtual Screening Using AutoDock. BMC Bioinformatics 9(126):126, 2008. PMCID: PMC2267697.
15.
Zhang S, Wei L, Bastow K, Zheng W, Brossi A, Lee KH, Tropsha A. Antitumor agents 252. Application of validated QSAR models to database mining: discovery of novel tylophorine derivatives as potential anticancer agents. J Comput Aided Mol Des 21(1-3):97-112, Jan-Mar, 1/2007. e-Pub 3/2007. PMCID: PMC2754562.
16.
Zhang S, Golbraikh A, Oloff S, Kohn H, Tropsha A. A novel Automated Lazy Learning QSAR (ALL-QSAR) approach: method development, applications, and virtual screening of chemical databases using validated ALL-QSAR models. J Chem Inf Model 46(5):1984-1995, Sep-Oct, 9/2006. PMCID: PMC2536695.
17.
Zhang S, Golbraikh A, Tropsha A. Development of quantitative structure-binding affinity relationship models based on novel geometrical chemical descriptors of the protein-ligand interfaces. J Med Chem 49(9):2713-24, 5/2006. PMCID: PMC2773514.

Invited Articles

1.
Morrow JK, Du-Cuny L, Chen L, Meuillet EJ, Mash EA, Powis G, Zhang S*. Recent development of anticancer therapeutics targeting Akt. Recent Pat Anticancer Drug Discov 6(1):146-59, 1/2011. PMID: 21110830.
2.
Phatak SS, Tran HT, Zhang S*. Novel computational biology methods and their application to drug discovery. Front. Biol. 6(4):289-299, 2011.
3.
Morrow JK, Tian L, Zhang S*. Molecular networks in drug discovery. Crit Rev Biomed Eng 38(2):143-56, 2010. PMID: 20932236.
© 2010 The University of Texas M. D. Anderson Cancer Center