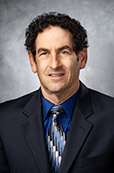 '
Steven M. Kornblau
Present Title & Affiliation
Primary Appointment
Professor (with tenure), Department of Stem Cell Transplantation, Division of Cancer Medicine, The University of Texas MD Anderson Cancer Center, Houston, TX
Professor (with tenure), Department of Leukemia, Division of Cancer Medicine, The University of Texas MD Anderson Cancer Center, Houston, TX
Bio Statement
I received my Hematology/Oncology fellowship training at UT MD Anderson Cancer Center and joined the faculty in 1991. I am currently a full professor with tenure. My research activities initially focused on protein expression in leukemia with the goal of identifying proteins who's function are key to the survival of leukemic cells. Initially I focused on individual proteins and over the years have published many articles on RB, waf1, BCL2, BAX, PKCα, PCNA. ERK, AKT, FOXO3a. My focus has evolved from analyzing individual proteins to a more systems biology approach capable of simultaneously looking at hundreds of proteins, including phosphorylation states, with the goal of defining patterns of protein activation in AML. My laboratory developed the techniques necessary to use reverse phase protein array technology for the study of leukemia and I am recognized as the leader in that field. We have extended this to also look at external effects by studying cytokine profiling and integrating that with the protein signatures. Recently we demonstrated the ability to perform proteomic profiling in the very rare populations of AML stem cells. Key to the success of my research has been the availability of patient derived material. When I started doing my research I discovered that no one at MDACC was systematically banking patient derived material. In response to this void I began banking surplus material from the samples that I collected for my research and soon had a sizable bank. Over time I assumed the banking responsibilities for 3 P01 grants (AML, MDS, CML) and 2 SPORE grants (Leukemia and Myeloma) and now am the director of the MDACC Leukemia Sample Bank. Our repository is perhaps the largest leukemia bank in the world and has been called a "national treasure" in a P01 grant review. The LSB is internationally recognized for it's size, the breadth of our collection and the completeness of our clinical annotation. As a vice-chair on the IRB I recognized the need for banking protocols that were able to adequately consent patients today while also covering the changing research needs of the future. In response I pioneered a double consenting process, one for sample collection the other for research use, that has now become standard at MDACC. In addition to adult AML we now also bank pediatric samples and the myeloma bank is also part of our operations. The combination of my experience with patient sample based proteomics and access to this wealth of patient material makes me ideally suited to the successful execution of this proposed analysis of how hypoxia and stromal contact affect AML cell biology and proteomics.
Education & Training
Degree-Granting Education

1985
U.T. Medical Branch at Galveston, Galveston, TX, MD, Medicine
Experience/Service
Academic Appointments
Associate Professor (with tenure), Blood and Marrow Transplantation, Division of Cancer Medicine, The University of Texas M.D. Anderson Cancer Center, Houston, TX, 1/2000-1/2007
Faculty Associate (non-tenured), Department of Hematology, Division of Medicine, The University of Texas M.D. Anderson Cancer Center, Houston, TX, 1/1991-1/1992
Selected Publications
Peer-Reviewed Original Research Articles

1.
Frolova O, Samudio I, Benito JM, Jacamo R, Kornblau SM, Markovic A, Schober W, Lu H, Qiu YH, Buglio D, McQueen T, Pierce S, Shpall E, Konoplev S, Thomas D, Kantarjian H, Lock R, Andreeff M, Konopleva M. Regulation of HIF-1α signaling and chemoresistance in acute lymphocytic leukemia under hypoxic conditions of the bone marrow microenvironment. Cancer Biol Ther 13(10):858-70, 8/2012. e-Pub 8/1/2012. PMCID: PMC3414410.
2.
York H, Kornblau SM, Qutub AA. Network Analysis of Reverse Phase Protein Expression Data: Characterizing Protein Signatures in Acute Myeloid Leukemia Cytogenetic Categories t(8;21) and inv(16). Proteomics 12(13):2084-93, 7/2012. e-Pub 5/2012. PMID: 22623292.
3.
Carter BZ, Qiu Y, Huang X, Diao L, Zhang N, Coombes KR, Mak DH, Konopleva M, Cortes J, Kantarjian HM, Mills GB, Andreeff M, Kornblau SM. Survivin is highly expressed in CD34+38- leukemic stem/progenitor cells and predicts poor clinical outcomes in AML. Blood 120(1):173-80, 7/2012. PMCID: PMC3390955.
4.
Neeley ES, Baggerly KA, Kornblau SM. Surface Adjustment of Reverse Phase Protein Arrays Using Positive Control Spots. Cancer Inform 2012(11):77-86, 2012. e-Pub 4/2012. PMCID: PMC3329188.
5.
Kornblau SM, Singh N, Qiu Y, Chen W, Zhang N, Coombes KR. Highly Phosphorylated FOXO3A Is an Adverse Prognostic Factor in Acute Myeloid Leukemia. Clin Cancer Res 16(6):1865-74, 3/2010. PMID: 20215543.
6.
Levin VA, Panchabhai SC, Shen L, Kornblau SM, Qiu Y, Baggerly KA. Different Changes in Protein and Phosphoprotein Levels Result from Serum Starvation of High-Grade Glioma and Adenocarcinoma Cell Lines. J Proteome Res 9(1):179-91, 1/2010. e-Pub 11/2009. PMID: 19894763.
7.
Kornblau SM, Tibes R, Qiu Y, Chen W, Kantarjian HM, Andreeff M, Coombes KR, Mills GB. Functional Proteomic Profiling of AML Predicts Response and Survival. Blood 113(1):154-164, 1/2009. PMID: 18840713.
8.
Kornblau SM, Qiu YH, Bekele BN, Cade JS, Zhou X, Harris D, Jackson CE, Estrov Z, Andreeff M. Studying the right cell in acute myelogenous leukemia: dynamic changes of apoptosis and signal transduction pathway protein expression in chemotherapy resistant ex-vivo selected "survivor cells". Cell Cycle 5(23):2769-77, 12/2006. PMID: 17172852.
9.
Kornblau SM, Womble M, Qiu YH, Jackson CE, Chen W, Konopleva M, Estey EH, Andreeff M. Simultaneous activation of multiple signal transduction pathways confers poor prognosis in acute myelogenous leukemia. Blood 108(7):2358-65, 10/2006. PMID: 16763210.
10.
Kornblau SM, Womble M, Cade JS, Lemker E, Qiu YH. Comparative analysis of the effects of sample source and test methodology on the assessment of protein expression in acute myelogenous leukemia. Leukemia 19(9):1550-7, 9/2005. PMID: 15973452.
11.
Kornblau SM, Stiouf I, Snell V, Przepiorka D, Stephens LC, Champlin R, Marini FC. Preemptive control of graft-versus-host disease in a murine allogeneic transplant model using retrovirally transduced murine suicidal lymphocytes. Cancer Res 61(8):3355-60, 4/2001. PMID: 11309292.
12.
Kornblau SM, Estey E, Madden T, Tran HT, Zhao S, Consoli U, Snell V, Sanchez-Williams G, Kantarjian H, Keating M, Newman RA, Andreeff M. Phase I study of mitoxantrone plus etoposide with multidrug blockade by SDZ PSC-833 in relapsed or refractory acute myelogenous leukemia. J Clin Oncol 15(5):1796-802, 5/1997. PMID: 9164187.
13.
Kornblau SM, Thall P, Huh YO, Estey E, Andreeff M. Analysis of CD7 expression in acute myelogenous leukemia: martingale residual plots combined with 'optimal' cutpoint analysis reveals absence of prognostic significance. Leukemia 9(10):1735-41, 10/1995. PMID: 7564518.
14.
Kornblau SM, Goodacre A, Cabanillas F. Chromosomal abnormalities in adult non-endemic Burkitt's lymphoma and leukemia: 22 new reports and a review of 148 cases from the literature. Hematol Oncol 9(2):63-78, Mar-Apr, 3/1991. PMID: 1869243.

Abstracts

1.
Kornblau SM, Qiu YH, Graber D, Chen W, Melendez J, Konopleva M, Faderl S, Andreeff M, Borthakur G, Yao H, Coombes KR. Protein Expression in Acute Myelogenous Leukemia Stem Cells Compared to Bulk AML Cells Using Reverse Phase Proteins Arrays (RPPA). Blood 112(11):881 (#2536), 11/2008.
2.
Kornblau SM, Qiu Y, Chen W, Chou P, Blau L, Nashino H, Ravandi F, Andreeff M, Kantarjian H, Neeley S, Ju Z, Zhang N, Coombes KR. Proteomic Profiling of 150 Proteins in 511 Acute Myelogenous Leukemia (AML) Patient Samples Using Reverse Phase Proteins Arrays (RPPA) Reveals Recurrent Proteins Expression Signatures with Prognostic Implications. Blood 112(11):281-282 (#759), 11/2008.
3.
Kornblau SM, Qiu Y, Chen W, Liang H, Ravandi F, Coombes KR, Nagarajan L. Expression and Prognostic Impact of Candidate Suppressor Sequence-Specific Single-Stranded DNA Binding Protein (SSBP2) in AML Using Reverse Phase Proteins Arrays (RPPA). Blood 110(11):707a (#2394), 12/2007.
4.
Kornblau SM, McCue D, Ku LK, Chen W, Coombes KR. Cytokine Profiling of Acute Meylogenous Leukemia and Myelodysplasia. Blood 108(11):667a (#2355), 2006.
5.
Kornblau SM, Xu H, Del Giglio D, Zhang W, Benedict WF, Deisseroth AB. Patterns of expression of the retinoblastoma antioncogene in leukemia. Proceeding American Association Cancer Research 32(309) (#1835), 1991.
Grant & Contract Support
Title:
Myeloma SPORE - Developmental Research Project
Funding Source:
NIH/NCI
Role:
Principal Investigator
Duration:
9/1/2012 - 8/31/2013
Title:
Integrating proteomics and kinomics in pediatric acute myeloid leukemia (AML): detailed cellular insights to improve outcome
Funding Source:
Quality of Life Gala Foundation
Role:
Co-Principal Investigator
Principal Investigator:
Eveline S.J.M. de Bont
Duration:
10/1/2010 - 9/30/2014
Title:
The Therapy of CML Core D: CML Bank Core
Funding Source:
NIH/NCI
Role:
Core Leader
Principal Investigator:
Richard Champlin, MD
Duration:
7/1/2010 - 6/30/2015
Title:
Lymphoma SPORE Project 3: Non-genotoxic p53 activation as novel therapeutic concept for lymphomas
Funding Source:
NIH/NCI
Role:
Co-Investigator
Principal Investigator:
Anas Younes, MD
Duration:
9/1/2009 - 8/31/2013
Title:
Leukemia SPORE, Core B, Tissue Procurement and Hematopathology
Funding Source:
NIH/NCI
Role:
Co-Investigator
Principal Investigator:
Hagop Kantarjian, M.D.
Duration:
9/1/2008 - 4/30/2013
Title:
The Therapy of AML, Project 1-Targeting regulators of apoptosis in AML
Funding Source:
NIH/NCI
Role:
Co-Investigator
Principal Investigator:
Michael Andreeff, MD, PhD
Duration:
9/20/2007 - 8/31/2013