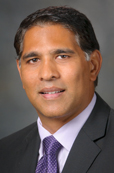 '
Sumit K. Subudhi, MD, PhD
Present Title & Affiliation
Primary Appointment
Assistant Professor, Department of Genitourinary Medical Oncology, Division of Cancer Medicine, The University of Texas MD Anderson Cancer Center, Houston
Research Interests
My research interests are to investigate how androgen receptor pathway signaling influences T cell activation, differentiation, and migration to tumor sites. I would like to expand on this understanding to develop rational drug combinations against prostate cancer.
Office Address
The University of Texas MD Anderson Cancer Center
1155 Pressler St
Unit 1374
Unit Number: 1374
Houston, TX 77030-3721
Room Number: CPB7.3514
Email: sksubudhi@mdanderson.org
Education & Training
Degree-Granting Education

2007
The University of Chicago, Pritzker School of Medicine, Chicago, IL, MD, Medicine
2004
The University of Chicago, Division of Biological Sciences, Chicago, IL, PhD, Biological Science
1994
The University of Pennsylvania, College of Arts and Sciences, Philadelphia, PA, BA, Biological Basis of Behavior

Postgraduate Training

7/2009-6/2013

Clinical Fellowship, Medical Oncology Fellowship, Memorial Sloan-Kettering Cancer Center, New York, NY

6/2007-6/2009

Clinical Residency, Internal Medicine, New York Presbyterian Hospital-Weill Cornell Medical Center, New York, NY
Board Certifications
| | |
| --- | --- |
| 11/2013 | American Board of Internal Medicine-Medical Oncology |
| 10/2010 | American Board of Internal Medicine-Internal Medicine |
Honors and Awards
2014

Young Investigator Award,

Prostate Cancer Foundation

2013

Advanced Scholar,

UT MD Anderson Cancer Center

2011

ASCO Poster Discussion Session,

American Society of Clinical Oncology

2011

NIH Clinical Scholars Biomedical Research Training Program,

National Institutes of Health

2011

NIH Loan Repayment Program,

National Institutes of Health

2006

Francis L. Lederer MD/PhD Scholars Research Grant,

University of Chicago

2004

Doolittle - Harrison Travel Fellowship,

University of Chicago

2002

Best Poster Presentation,

University of Chicago

2000

NIH Pediatric Growth and Development Training Grant,

National Institutes of Health

2000

Winner of Sixth Annual Medical Student Poster Competition,

American Society of Internal Medicine
Selected Publications
Peer-Reviewed Original Research Articles

1.
Zamarin D, Holmgaard RB, Subudhi SK, Park JS, Mansour M, Palese P, Merghoub T, Wolchok JD, Allison JP. Localized oncolytic virotherapy overcomes systemic tumor resistance to immune checkpoint blockade immunotherapy. Sci Transl Med 6(226):226ra32, 3/2014. PMID: 24598590.
2.
Arora VK, Schenkein E, Murali R, Subudhi SK, Wongvipat J, Balbas MD, Shah N, Cai L, Efstathiou E, Logothetis C, Zheng D, Sawyers CL. Glucocorticoid receptor confers resistance to antiandrogens by bypassing androgen receptor blockade. Cell 155(6):1309-22, 12/5/2013. PMID: 24315100.
3.
Reis BS, Jungbluth AA, Frosina D, Holz M, Ritter E, Nakayama E, Ishida T, Obata Y, Carver B, Scher H, Scardino PT, Slovin S, Subudhi SK, Reuter VE, Savage C, Allison JP, Melamed J, Jäger E, Ritter G, Old LJ, Gnjatic S. Prostate cancer progression correlates with increased humoral immune response to a human endogenous retrovirus GAG protein. Clin Cancer Res 19(22):6112-25, 11/2013. e-Pub 9/2013. PMID: 24081977.
4.
Ross RW, Galsky MD, Scher HI, Magidson J, Wassmann K, Lee GS, Katz L, Subudhi SK, Anand A, Fleisher M, Kantoff PW, Oh WK. A whole-blood RNA transcript-based prognostic model in men with castration-resistant prostate cancer: a prospective study. Lancet Oncol 13(11):1105-13, 11/2012. e-Pub 10/2012. PMID: 23059047.
5.
Anders RA, Subudhi SK, Wang J, Pfeffer K, Fu YX. Contribution of the lymphotoxin beta receptor to liver regeneration. J Immunol 175(2):1295-300, 7/2005. PMID: 16002734.
6.
Wang Y, Subudhi SK, Anders RA, Lo J, Sun Y, Blink S, Wang Y, Wang J, Liu X, Mink K, Degrandi D, Pfeffer K, Fu YX. The role of herpesvirus entry mediator as a negative regulator of T cell-mediated responses. J Clin Invest 115(3):711-7, 3/2005. PMCID: PMC546456.
7.
Baron BW, Anastasi J, Montag A, Huo D, Baron RM, Karrison T, Thirman MJ, Subudhi SK, Chin RK, Felsher DW, Fu YX, McKeithan TW, Baron JM. The human BCL6 transgene promotes the development of lymphomas in the mouse. Proc Natl Acad Sci U S A 101(39):14198-203, 9/2004. e-Pub 9/2004. PMCID: PMC521136.
8.
Subudhi SK, Zhou P, Yerian LM, Chin RK, Lo JC, Anders RA, Sun Y, Chen L, Wang Y, Alegre ML, Fu YX. Local expression of B7-H1 promotes organ-specific autoimmunity and transplant rejection. J Clin Invest 113(5):694-700, 3/2004. PMCID: PMC351315.
9.
Tang Q, Henriksen KJ, Boden EK, Tooley AJ, Ye J, Subudhi SK, Zheng XX, Strom TB, Bluestone JA. Cutting edge: CD28 controls peripheral homeostasis of CD4+CD25+ regulatory T cells. J Immunol 171(7):3348-52, 10/2003. PMID: 14500627.
10.
Sun Y, Chen HM, Subudhi SK, Chen J, Koka R, Chen L, Fu YX. Costimulatory molecule-targeted antibody therapy of a spontaneous autoimmune disease. Nat Med 8(12):1405-13, 12/2002. e-Pub 11/2002. PMID: 12426559.
11.
Tang Q, Subudhi SK, Henriksen KJ, Long CG, Vives F, Bluestone JA. The Src family kinase Fyn mediates signals induced by TCR antagonists. J Immunol 168(9):4480-7, 5/2002. PMID: 11970992.
12.
Sun Y, Lin X, Chen HM, Wu Q, Subudhi SK, Chen L, Fu YX. Administration of agonistic anti-4-1BB monoclonal antibody leads to the amelioration of experimental autoimmune encephalomyelitis. J Immunol 168(3):1457-65, 2/2002. PMID: 11801689.
13.
Tesciuba AG, Subudhi S, Rother RP, Faas SJ, Frantz AM, Elliot D, Weinstock J, Matis LA, Bluestone JA, Sperling AL. Inducible costimulator regulates Th2-mediated inflammation, but not Th2 differentiation, in a model of allergic airway disease. J Immunology 167(4):1996-2003, 2001. PMID: 11489981.
14.
Cassel DL, Subudhi SK, Surrey S, McKenzie SE. GATA and NF-Y participate in transcriptional regulation of FcgammaRIIA in megakaryocytic cells. Blood Cells Mol Dis 26(6):587-97, 12/2000. PMID: 11112392.

Invited Articles

1.
Goswami S, Aparicio A, Subudhi SK. Immune Checkpoint Therapies in Prostate Cancer. Cancer Journal. In Press. NIHMSID: NIHMS755175.
2.
Gao J, He Q, Subudhi S, Aparicio A, Zurita-Saavedra A, Lee DH, Jimenez C, Suarez-Almazor M, Sharma P. Review of immune-related adverse events in prostate cancer patients treated with ipilimumab: MD Anderson experience. Oncogene 34(43). e-Pub 2/2015. PMCID: PMC4530091.
3.
Subudhi SK, Alegre ML, Fu YX. The balance of immune responses: co-stimulation verse co-inhibition. J Mol Med (Berl) 83(3):193-202, 3/2005. e-Pub 1/2005. PMID: 15630593.
4.
Sun Y, Subudhi SK, Fu YX. Co-stimulation agonists as a new immunotherapy for autoimmune diseases. Trends Mol Med 9(11):483-9, 11/2003. PMID: 14604826.

Editorials

1.
Curran MA, Callahan MK, Subudhi SK, Allison JP. Response to "Ipilimumab (Yervoy) and the TGN1412 catastrophe". Immunobiology 217(6):590-2, 6/2012. e-Pub 11/2011. PMID: 22459268.
2.
Subudhi SK, Callahan MK, Wolchok JD. Improving the therapeutic benefits of ipilimumab. Oncology (Williston Park) 24(14):1288, 1294, 12/2010. PMID: 21294472.

Abstracts

1.
Corn P, Tu S, Zurita AJ, Subudhi SK, Araujo JC, Kim J, Jonasch E, Pagliaro LC, Siefker-Radtke AO, Wang J, Wang X, Heath EI, Logothetis C, Aparicio A. A multi-institutional randomized phase II study (NCT01505868) of cabazitaxel (CAB) plus or minus carboplatin (CARB) in men with metastatic castration-resistant prostate cancer (mCRPC). J Clin Oncol, 2015 Genitourinary Cancers Symposium 33 (#5010), 5/2015.
2.
Chapin BF, Mcguire SE, Wang X, Troncoso P, Davis JW, Navai N, Subudhi SK, Zurita AJ, Araujo JC, Pettaway CA, Matin SF, Pisters LL, Ward JF, Tu S, Wang J, Le O, Logothetis CJ, Aparicio A. A prospective, multicenter, randomized phase II trial of best systemic therapy (BST) or BST plus definitive treatment (Surgery or Radiation) of the primary tumor in metastatic prostate cancer. J Clin Oncology, 2015 ASCO Annual Meeting 33 (#TPS5075), 5/2015.
3.
Subudhi SK, Montalvo-Ortiz W, Scher HI, Allison JP. Dissecting the therapeutic effects of anti-CTLA-4 and ADT in murine hormone-sensitive prostate cancer. J Clin Oncology, 2013 ASCO Annual Meeting 31 (#61), 2013.
4.
Subudhi SK, Heller G, Danila DC, Anand A, Lacuna KP, Samoila A, Fleisher M, Scher HI. Sera cytokine levels to predict survival in men with progressive castration-resistant prostate cancer. J Clin Oncology, 2013 ASCO Annual Meeting 31 (#5083), 2013.
5.
Callahan MK, Yang A, Tandon S, Xu S, Subudhi SK, Roman RA, Heine AI, pogoriler E, Kuk D, Panageas K, Yuan JD, Allison JP, Wolchok JD. Evaluation of serum IL-17 levels during ipilimumab therapy: Correlation with colitis. American Society of Clinical Oncology 29 (#2505), 2011.

Book Chapters

1.
Sharma P, Subudhi S, Peggs S, Goswani S, Gao J, Quezada S, Allison JP. Cancer Medicine 9th Edition. In: Chapter 13: Cancer Immunotherapy, 9, 2015. PMCID: PMC978-1-607-950-141.
2.
Subudhi SK, Scher HI, Allison JP. CTLA-4 inhibitors in castration-resistant prostate cancer. In: Targeted Therapies for Castration-Resistant Prostate Cancer. Scardino PT: London, UK, 2012.
Grant & Contract Support
Title:
Targeting the Immune & Non-immune Tumor-associated Microenvironments in Prostate Cancer
Funding Source:
UT MD Anderson Cancer Center - Prostate Cancer Moon Shot
Role:
Co-Investigator
Duration:
9/1/2015 - 8/31/2016
Title:
A Feasibility Study to Determine T-cell Responses to Neoantigens Following Treatment with Ipilimumab in Men with Metastatic Castration-Resistant Prostate Carcinoma
Funding Source:
UT MD Anderson Cancer Center - Prostate Cancer Moon Shot
Role:
Co-Investigator
Duration:
9/1/2014 - 8/31/2015
Title:
Improving Patient Selection for Immune Checkpoint Therapy: Maximizing Benefit and Minimizing Toxicities
Funding Source:
Prostate Cancer Foundation
Role:
Principal Investigator
Duration:
3/1/2014 - 2/28/2017
© 2014 The University of Texas MD Anderson Cancer Center