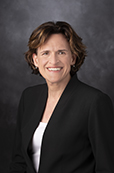 '
Susan L McGovern, MD, PhD
Present Title & Affiliation
Primary Appointment
Assistant Professor, Department of Radiation Oncology, Division of Radiation Oncology, The University of Texas MD Anderson Cancer Center, Houston, TX
Education & Training
Degree-Granting Education

2005
Northwestern University Medical School, Chicago, IL, MD, Medical Scientist Training Program (MSTP)
2003
Northwestern University, Evanston, IL, PHD, Biophysics and Structural Biology
1997
University of Notre Dame, South Bend, IN, BS, Biochemistry and Mathematics

Postgraduate Training

7/2006-8/2010

Clinical Residency, Radiation Oncology, UTMD Anderson Cancer Center, Houston, TX, Christopher Crane, M.D.

6/2005-6/2006

Clinical Internship, Internal Medicine, The University of Texas, Health Science Center at Houston and UTMD Anderson Cancer Center, Houston, TX, Michael Farnie, M.D.
Board Certifications
| | |
| --- | --- |
| 2021 | American Board of Radiology |
Selected Publications
Peer-Reviewed Original Research Articles

1.
McGovern SL, Qi Y, Pusztai L, Symmans WF, Buchholz TA. CENP-A, an essential centromere protein, is a prognostic marker for relapse in estrogen receptor-positive breast cancer. Breast Cancer Res 14(3). e-Pub 5/2012. PMID: 22559056.
2.
McGovern SL, Williams MD, Weber RS, Sabichi A, Chambers MS, Martin JW, Chao KS. Three synchronous HPV-associated squamous cell carcinomas of Waldeyer's ring: case report and comparison with Slaughter's model of field cancerization. Head Neck 32(8):1118-124, 8/2010. PMID: 19572386.
3.
McGovern SL, Aldape KD, Munsell MF, Mahajan A, DeMonte F, Woo SY. A comparison of World Health Organization tumor grades at recurrence in patients with non-skull base and skull base meningiomas. J Neurosurg 112(5):925-33, 5/2010. PMID: 19799498.
4.
McGovern SL, Liao Z, Bucci MK, McAleer MF, Jeter MD, Chang JY, O'Reilly MS, Cox JD, Allen PK, Komaki R. Is sex associated with the outcome of patients treated with radiation for nonsmall cell lung cancer? Cancer 115(14):3233-242, 7/2009. PMID: 19472405.
5.
Diehn M, Nardini C, Wang DS, McGovern S, Jayaraman M, Liang Y, Aldape K, Cha S, Kuo MD. Identification of noninvasive imaging surrogates for brain tumor gene-expression modules. Proceedings of the National Academy of Sciences 105:5213-218, 2008.
6.
Seidler J, McGovern SL, Doman TN, Shoichet BK. Identification and prediction of promiscuous aggregating inhibitors among known drugs. J Med Chem 46(21):4477-486, 10/2003. PMID: 14521410.
7.
McGovern SL, Helfand BT, Feng B, Shoichet BK. A specific mechanism of nonspecific inhibition. J Med Chem 46(20):4265-272, 9/2003. PMID: 13678405.
8.
McGovern SL, Shoichet BK. Information decay in molecular docking screens against holo, apo, and modeled conformations of enzymes. J Med Chem 46(14):2895-907, 7/2003. PMID: 12825931.
9.
McGovern SL, Shoichet BK. Kinase inhibitors: not just for kinases anymore. J Med Chem 46(8):1478-483, 4/2003. PMID: 12672248.
10.
Doman TN, McGovern SL, Witherbee BJ, Kasten TP, Kurumbail R, Stallings WC, Connolly DT, Shoichet BK. Molecular docking and high-throughput screening for novel inhibitors of protein tyrosine phosphatase-1B. J Med Chem 45(11):2213-221, 5/2002. PMID: 12014959.
11.
McGovern SL, Caselli E, Grigorieff N, Shoichet BK. A common mechanism underlying promiscuous inhibitors from virtual and high-throughput screening. J Med Chem 45(8):1712-722, 4/2002. PMID: 11931626.
12.
Beadle BM, McGovern SL, Patera A, Shoichet BK. Functional analyses of AmpC beta-lactamase through differential stability. Protein Sci 8(9):1816-824, 9/1999. PMID: 10493583.

Invited Articles

1.
McGovern SL, Mahajan A. Progress in Radiotherapy for Pediatric Sarcomas. Curr Oncol Rep 14(4):320-26, 8/2012. PMID: 22532264.

Editorials

1.
McGovern SL. Factors influencing survival in patients with breast cancer and single or solitary brain metastasis. Breast Diseases: A Year Book Quarterly. In Press.