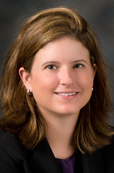 '
Tara Sagebiel, M.D.
Present Title & Affiliation
Primary Appointment
Assistant Professor, Department of Diagnostic Radiology, Division of Diagnostic Imaging, The University of Texas M. D. Anderson Cancer Center, Houston, TX
Bio Statement
Dr. Tara Sagebiel joined MD Anderson Cancer Center in 2009. She is the Quality Office for Diagnostic Radiology, Director of Gastrointestinal Radiology, and the director for the MDACC radiology rotation for the UT medical students. She is a member of the gastric cancer and peritoneal malignancy multidisciplinary conferences. She is also a member of the faculty senate, Perioperative, Executive Billing Compliance, UT Resident Core Competency and Medical Quality Planning committees.

Research Interests
Improving peer review
Appendiceal and gastric cancers


Clinical Interests
Appendiceal and gastric cancers

Office Address
The University of Texas MD Anderson Cancer Center
1515 Holcombe Blvd.
Unit Number: 1473
Houston, TX 77030
Room Number: FCT 15.6093
Phone: (713) 792-6205
Fax: (713) 745-1152
Email: tsagebiel@mdanderson.org
Education & Training
Degree-Granting Education

2001
Baylor College of Medicine, Houston, TX, MD, Radiology
1997
Texas A & M University, College Station, TX, BS, Biomedical Science

Postgraduate Training

2006-2007

Clinical Fellowship, Abdominal Imaging, Thomas Jefferson University of Medicine, Philadelphia, PA

2002-2006

Clinical Residency, Radiology, Baylor College of Medicine, Houston, TX

2001-2002

Transitional Year Internship, Radiology, Baylor College of Medicine, Houston, TX
Board Certifications
| | |
| --- | --- |
| 6/2006 | American Board of Radiology |
Selected Publications
Peer-Reviewed Original Research Articles

1.
Gardner CS, Sunil J, Klopp AH, Devine CE, Sagebiel TL, Viswanathan C, Bhosale PR. Primary Vaginal Cancer: Role of MR Imaging in Diagnosis, Staging, and Treatment. Br J Radiol 88(1052):20150033, 8/2015. e-Pub 5/2015. PMID: 25966291.
2.
Vicens RA, Patnana M, Le O, Bhosale PR, Sagebiel TL, Menias CO, Balachandran A. Multimodality imaging of common and uncommon peritoneal diseases: a review for radiologists. Abdom Imaging 40(2):436-56, 2/2015. e-Pub 8/2014. PMID: 25139643.
3.
Sagebiel TL, Faria SC, Balachandran A, Butler CE, Garvey PB, Bhosale PR. Pelvic Reconstruction with Pedicled Thigh Flaps: Indications, Surgical Techniques, and Postoperative Imaging. AJR Am J Roentgenol 202(3):593-601, 3/2014. PMID: 24555596.
4.
Sagebiel TL, Faria SC, Aparna Balachandran , Sacks JM, You YN, Bhosale PR. Pelvic reconstruction with omental and VRAM flaps: anatomy, surgical technique, normal postoperative findings, and complications. Radiographics 31(7):2005-2019, 11/2011. PMID: 22084184.

Book Chapters

1.
Sagebiel TL, Szklaruk J. Overview of CT and MRI techniques. In: Cross Sectional Imaging of the Abdomen and Pelvis, 2013.
2.
Silverman P. Primary Adrenal Malignancies. In: Onologic Imaging, 2012.