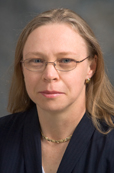 '
Theresa M Hofstede, BSc, DDS
Present Title & Affiliation
Primary Appointment
Associate Professor, Department of Head and Neck Surgery, Division of Surgery, The University of Texas MD Anderson Cancer Center, Houston, TX
Research Interests
Radiation-induced xerostomia
Office Address
The University of Texas MD Anderson Cancer Center
1515 Holcombe Blvd
Unit Number: 1445
Houston, TX 77030
Room Number: FCT10.6054
Email: thofstede@mdanderson.org
Education & Training
Degree-Granting Education

1991
University of Western Ontario, London, Ontario, Canada, DDS, General Dentistry
1987
University of Toronto, Toronto, Ontario, Canada, BSc, Chemistry

Postgraduate Training

7/2006-6/2007

Clinical Fellowship, Maxillofacial and Dental Oncology Fellowship, The University of Texas MD Anderson Cancer Center, Houston, TX

7/1996-6/1999

Clinical Residency, Prosthodontics, University of Rochester Eastman Dental Center, Rochester, NY

7/1991-6/1992

Clinical Residency, General Practice, St. Joseph's Hospital, London, Ontario, Canada
Board Certifications
| | |
| --- | --- |
| 2008 | American Board of Prosthodontics |
Experience/Service
Academic Appointments
Assistant Professor, Department of Head and Neck Surgery, The University of Texas MD Anderson Cancer Center, Houston, TX, 7/2007-8/2013
Administrative Appointments/Responsibilities
Chairman, Oral Oncology Symposium: Current Trends in Oncologic Dentistry and Maxillofacial Prosthetics, Department of Head and Neck Surgery, Division of Surgery, The University of Texas MD Anderson Cancer Center, Houston, TX, 5/2014
Program Director, Oncologic-based Maxillofacial Implant Fellowship Program, Department of Head and Neck Surgery, Division of Surgery, The University of Texas MD Anderson Cancer Center, Houston, TX, 1/2012-present
Program Director, Advanced Education Program in Maxillofacial Prosthodontics and Oral Oncology, Department of Head and Neck Surgery, Division of Surgery, The University of Texas MD Anderson Cancer Center, Houston, TX, 1/2012-present
Chairman, Oral Oncology Symposium: Current Trends in Oncologic Dentistry and Maxillofacial Prosthetics, Department of Head and Neck Surgery, Division of Surgery, The University of Texas M. D. Anderson Cancer Center, Houston, TX, 5/2011
Director, Maxillofacial Prosthodontic Dental Laboratory, Department of Head and Neck Surgery, Division of Surgery, The University of Texas MD Anderson Cancer Center, Houston, TX, 2/2011-present
Program Chair, Dental Oncology Core Curriculum Series (MODO-1501), Section of Oral Oncology and Maxillofacial Prosthodontics, Department of Head and Neck Surgery, Division of Surgery, The University of Texas MD Anderson Cancer Center, Houston, TX, 4/2010-present
Program Chair, Dental Oncology Didactic Lecture Series (MODO-1503), Section of Oral Oncology and Maxillofacial Prosthodontics, Department of Head and Neck Surgery, Division of Surgery, The University of Texas MD Anderson Cancer Center, Houston, TX, 4/2010-present
Institutional Committee Activities
Member, Faculty Search Committee, Dept. of Head & Neck Surgery, Section of Oncologic Dentistry and Prosthodontics, Chairman: Dr. Mark S. Chambers, 2010-present
Honors and Awards
2010

Judson C. Hickey Scientific Writing Award in the Clinical Category, Award bestower at the Annual Session of the American Academy of Maxillofacial Prosthetics, 2011,

The Journal of Prosthetic Dentistry

2000

Tylman Research Second Place Award

1998

American Academy of Fixed Prosthodontics

1991

London and District Dental Society Award,

London and District Dental Society

1989-1990

MRC Research Scholarship

1986-1987

NSERC Research Scholarship

1984

Ontario Scholar,

Provincial Government of Ontario
Professional Memberships
Academy of Osseointegration
Member, 1/2012-present
American Academy of Maxillofacial Prosthetics
Chair - Educational Standards Committee, 1/2012-present
American College of Prosthodontists
Member, 1996-present
American Dental Association
Member, 2002-present
Selected Publications
Peer-Reviewed Original Research Articles

1.
Tsai CJ, Hofstede TM, Sturgis EM, Garden AS, Lindberg ME, Wei Q, Tucker SL, Dong L. Osteoradionecrosis and Radiation Dose to the Mandible in Patients With Oropharyngeal Cancer. Int J Radiat Oncol Biol Phys 85(2):415-20, 2/2013. e-Pub 7/2012. PMID: 22795804.
2.
Nguyen CT, Hofstede TM. Prosthodontic Treatment and Medical Considerations for a Patient with Turner Syndrome: A Clinical Report. J Prosthodont. e-Pub 6/2012. PMID: 22672559.
3.
Kumar VA, Hofstede TM, Ginsberg LE. CT Imaging Features of Obturator Prostheses in Patients following Palectomy or Maxillectomy. AJNR Am J Neuroradiol 32(10):1926-9, Nov-Dec, 11/2011. e-Pub 7/2011. PMID: 21799037.
4.
Hofstede TM, Jacob RF. Diagnostic considerations and prosthetic rehabilitation of a cocaine-induced midline destructive lesion: A clinical report. J Prosthet Dent 103:1-5, 2010. PMID: 20105673.
5.
Bidra AS, Hofstede TM, Skoracki RJ, Jacob RF. Maxillofacial rehabilitation of a 7-year old boy with osteosarcoma of the mandible using a free fibula flap and implant supported prosthesis: a clinical report. J Prosthet Dent 102(6):348-353, 2009. PMID: 19961992.
6.
Hofstede TM, Ercoli C. An indirect technique for fabrication of a post and core wax pattern. J Prosthet Dent 87(3):341-342, 2002. PMID: 11941366.
7.
Hofstede TM, Ercoli C, Graser GN, Tallents RH, Moss ME, Zero DT. Influence of metal surface finishing on porcelain porosity and beam failure loads at the metal-ceramic interface. J Prosthet Dent 84(3):309-17, 9/2000. PMID: 11005904.
8.
Hebel K, Gajjar R, Hofstede T. Single-Tooth Replacement: Bridge vs. implant-supported restoration. J Can Dent Assoc 66(8):435-438, 2000. PMID: 11040527.
9.
Hofstede TM, Ercoli C, Hagan ME. Alternative complete-arch cement-retained implant-supported fixed partial denture. J Prosthet Dent 82(1):94-9, 7/1999. PMID: 10384169.
10.
Ricci J, Koetzle T, Bautista M, Hofstede T, Morris R, Sawyer J. Single-crystal X-ray and neutron diffraction studies of an 2- Dihydrogen transition-metal complex. J Am Chem Soc 111:8823-8827, 1989.