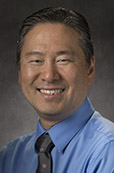 '
Thomas K. Nishino, Ph.D.
Present Title & Affiliation
Primary Appointment
Assistant Professor, Department of Imaging Physics, Division of Diagnostic Imaging, The University of Texas MD Anderson Cancer Center, Houston, TX
Dual/Joint/Adjunct Appointment
Adjunct Professor, School of Health Professions, Houston, TX
Bio Statement
Dr. Thomas Nishino joined MD Anderson in January, 2009. Prior to that, Dr. Nishino spent 7 years at UTMB in the Department of Radiology. Dr. Nishino enjoys employing modern technology and novel pedagogical techniques for improving teaching efficacy.
Furthermore, Dr. Nishino teaches courses for the School of Health Professions Radiological Technologist Program and the GSBS Medical Physics Program. As of current, Dr. Nishino is researching automatic methods of evaluating and assessing image quality for digital radiography.
Research Interests
2-D and 3-D image processing methods for the extraction of pertinent, clinical data used by radiologists and clinicians to assess anatomy, pathology and physiologic activity in the human body
Clinical Interests
Dose monitoring and reduction in radiographic and fluoroscopic examinations

Continuous improvement of the quality assurance program in radiography/fluoroscopy and magnetic resonance imaging

Correlating quality control metrics with improvements in patient safety and image quality

Monitoring and assessment of technical staff performance in order to maintain optimal image quality in accordance with ALARA principle
Education & Training
Degree-Granting Education

2000
Lehigh University, Bethlehem, PA, PHD, Physics
1997
Lehigh University, Bethlehem, PA, MS, Physics
1994
University of Hawai'i at Hilo, Hilo, HI, BA, Physics

Postgraduate Training

7/1999-6/2001

Postdoctoral Fellowship, Medical Physics, University of Alabama at Birmingham Hospital, Birmingham, AL
Board Certifications
| | |
| --- | --- |
| 6/2003 | American Board of Radiology |
Selected Publications
Peer-Reviewed Original Research Articles

1.
Oto A, Ernst R, Ghulmiyyah L, Nishino TK, Hughes D, Chalijub G, Saade G. MR imaging in the triage of pregnant patients with acute abdominal and pelvic pain. e-Pub 3/2008.
2.
Lu LJ, Nishino TK, Khamapirad T, Grady JJ, Leonard MH, Brunder DG. Computing mammographic density from a multiple regression model constructed with image-acquisition parameters from a full-field digital mammographic unit. Phys Med Biol 52:4905-4921, 2007.
3.
Teoh R, Johnson R, Nishino TK, Richard ER. Evaluation of 3D CT processing for DIEP flap breast reconstruction. Canadian Journal of Plastic Surgery, Winter 2007 15(4):196-198, 2007.
4.
Oto A, Srinivasan PN, Ernst RD, Koroglu M, Cesani F, Nishino TK, Chaljub G. Revisiting MRI for appendix location during pregnancy. AJR 185:960-963, 3/2006.
5.
Vijayakumar V, Ali S, Nishino TK, Nusynowitz M. Clinical Nuclear Medicine. What influences early hypothyroidism after radioiodine treatment of Graves' hyperthyroidism? Clin Nucl Med 31:688-689, 2006.
6.
Oto A, Ernst RD, Mileski WJ, Nishino TK, Le O, Wolfe G, Chaljub G. Localization of appendix by three-dimensional multidetector-row CT and its impact on the surgeon's choice of appendectomy incision. Am J Roentgenol 187:987-990, 2006.
7.
Nishino TK, Wu X, Johnson R. Thickness of molybdenum filter and squared contrast-to-noise ratio per dose for digital mammography. Am J Roentgenology 185:960-963, 10/2005.
8.
Ernst RD, Sarai P, Nishino TK, Collins T, Oto A, Hernandez A, Walser EM, Chaljub G. Transition from film to electronic media in the first-year medical school gross anatomy lab. J Digital Imaging 16(4):337-340, 2003.
© 2014 The University of Texas MD Anderson Cancer Center