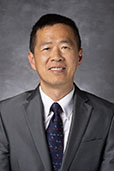 '
Tinsu Pan, Ph.D., DABR, ABSNM
Present Title & Affiliation
Primary Appointment
Professor, Department of Imaging Physics, Division of Diagnostic Imaging, The University of Texas MD Anderson Cancer Center, Houston, TX
Research Interests
Dynamic imaging of tumor motion with PET/CT and cone beam CT
Cardiac imaging with PET/CT
Education & Training
Degree-Granting Education

1991
The University of Michigan, Ann Arbor, MI, PHD, Electrical Engineering and Computer Science
1985
National Tsing-Hua University, Hsin-Chu, MS, Electrical Engineering
1983
National Tsing-Hua University, Hsin-Chu, BS, Electrical Engineering
Board Certifications
| | |
| --- | --- |
| 2007 | American Board of Radiology - Diagnostic Physics |
| 1996 | American Board of Science in Nuclear Medicine |
Professional Memberships
American Association of Physicists in Medicine
Member, 1992-present
Society of Nuclear Medicine
Member, 2004-present
Selected Publications
Peer-Reviewed Original Research Articles

1.
Pan T, Riegel AC, Ahmad MU, Sun X, Chang JY, Luo D. New weighted maximum-intensity-projection images from cine CT for delineation of the lung tumor plus motion. Med Phys 40(6/061901):061901, 6/2013. PMID: 23718592.
2.
Busse N, Erwin W, Pan T. Evaluation of a semiautomated lung mass calculation technique for internal dosimetry applications. Med Phys 40(12):122503, 12/2013. PMID: 24320539.
3.
Oki Y, Chuang H, Chasen B, Jessop A, Pan T, Fanale M, Dabaja B, Fowler N, Romaguera J, Fayad L, Hagemeister F, Rodriguez MA, Neelapu S, Samaniego F, Kwak L, Younes A. The prognostic value of interim positron emission tomography scan in patients with classical Hodgkin lymphoma. Br J Haematol 165(1):112-6, 4/2014. e-Pub 1/2014. PMID: 24386943.
4.
Fave X, Yang J, Carvalho L, Martin R, Pan T Balter P, Court L. Upright cone beam CT imaging using the onboard imager. Med Phys 41(6):061906, 6/2014. PMID: 24877817.
5.
Yan H, Zhen X, Folkerts M, Li Y, Pan T, Cervino L, Jiang SB, Jia X. A hybrid reconstruction algorithm for fast and accurate 4D cone-beam CT imaging. Med Phys 41(7):071903, 7/2014. PMCID: PMC4187347.
6.
Yen TC, Visvikis D, Pan T, Fang YH. Biomedical imaging: role and opportunities of medical imaging in the "omics" era. Biomed Res Int 2014:930213, 2014. e-Pub 6/2014. PMCID: PMC4065776.
7.
Riegel AC, Bucci MK, Mawlawi OR, Ahmad M, Luo D, Chandler A, Pan T. Defining internal target volume using positron emission tomography for radiation therapy planning of moving lung tumors. J Appl Clin Med Phys 15(1):4600, 2014. e-Pub 1/2014. PMID: 24423860.
8.
Palmer J, Yang J, Pan T, Court LE. Motion of the esophagus due to cardiac motion. PLoS One 9(2):e89126, 2014. e-Pub 2/2014. PMCID: PMC3938435.
9.
Mathieu KB, Ai H, Fox PS, Godoy MC, Munden RF, de Groot PM, Pan T. Radiation dose reduction for CT lung cancer screening using ASIR and MBIR: a phantom study. J Appl Clin Med Phys 15(2):4515, 2014. e-Pub 3/2014. PMID: 24710436.

Invited Articles

1.
Pan T, Zaidi H. Attenuation correction strategies for PET/CT and 4D PET/CT. PET Clinics 8:37-50, 2013.

Book Chapters

1.
Pan T. Four-Dimensional Computed Tomography. In: Technology and Applications (Devices, Circuits, and Systems). Ed(s) Farncombe T and Iniewski K. CRC Press, 2013.
2.
Pan T. Helical 4D-CT and comparison with cine 4D-CT. In: 4D Modeling and Estimation of Respiratory Motion for Radiation Therapy. Chapter 2. Ed(s) Ehrhardt J and Lorenz C. Springer, 25-41, 2013.
© 2014 The University of Texas MD Anderson Cancer Center