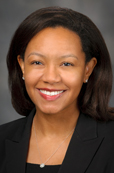 '
Valencia Thomas
Present Title & Affiliation
Primary Appointment
Associate Professor, Department of Dermatology - Research, Division of Internal Medicine, The University of Texas MD Anderson Cancer Center, Houston, TX
Education & Training
Degree-Granting Education

2000
University of Chicago Pritzker School of Medicine, Chicago, IL, MD, Dermatology

Postgraduate Training

7/2008-6/2009

Clinical Fellowship, Dermatophathology, University of Texas at Houston, Houston, TX

7/2005-7/2006

Clinical Fellowship, Surgical Dermatology, Oregon Health and Science University, Portland, TX

7/2002-6/2005

Clinical Residency, Dermatology, Harvard Medical School, Boston, MA

7/2001-6/2002

Clinical Fellowship, Dermatology Clinical Investigations, Mass, General Hospital, Boston, MA

7/2000-6/2001

Clinical Internship, Reproductive Medicine, University of California San Diego, San Diego, CA

9/1992-6/1996

A.B., Harvard University, Boston, MA
Experience/Service
Academic Appointments
Assistant Professor, Department of Dermatology, The University of Texas Health Science Center at Houston, Houston, TX, 6/2009-4/2013
Mohs Surgeon, Westlake Dermatology, Austin, TX, 5/2008-5/2009
Assistant Professor, Department of Dermatology, Yale Medical School, New Haven, CT, 9/2006-5/2008
Instructor, Department of Dermatology, Oregon Health Science University, Portland, OR, 7/2005-7/2006
Administrative Appointments/Responsibilities
Clinical Faculty, Department of Dermatology, Division of Internal Medicine, The University of Texas MD Anderson Cancer Center, Houston, TX, 6/2008-2009
Honors and Awards
| | |
| --- | --- |
| 2006 | Annual Faculty Teaching Award |
| 2004 | Thomas B. Fitzpatrick Memorial Education Fund Off-Site Elective Award |
| 2004 | Women's Dermatologic Society |
| 2000 | Leon O. Jacobson Award |
| 1999-2000 | Irving H. Graff Memorial Scholarship |
| 1997 | National Institutes of Health Summer Research Award, University of Chicago Prtizker School of Medicine |
| 1995 | The Aloian Award for Improving Intercultural and Race Relations at Harvard University |
Professional Memberships
American Board of Dermatology
Member, 8/2008
American Board of Dermatopathology
Member, 9/2009
Selected Publications
Peer-Reviewed Original Research Articles

1.
Riddel c, Rashid R, Thomas V. Ungual and periungual human papillomavirus-associated squamous cell carcinoma. J Am Acad Dermatol. 64(6):1147-53, 2011.
2.
Rashid RM, Thomas V. Androgenic pattern presentation of scarring and inflammatory alopecia. J Eur Acad Dermatol Venereol 24(8):979-80, 8/2010.
3.
Cutlan JE, Rashid RM, Torres-Cabala C, Tyring SK, Thomas V,. Epidermodysplasia verruciformis after cutaneous T-cell lymphoma. Dermatol Online J. 15(16):12, 8/2010.
4.
Rashid RM, Rashid RM, Thomas V. Subungal traumatic neuroma. J Am Acad Dermatol 63(1):e7-8, 7/2010.
5.
Thomas VD, Yang FC, Kvedar JC. Biologics in psoriasis: a quick reference guide. J Am Acad 53(2):346-51, 8/2005.
6.
Chin MH, Polonsky TS, Thomas VD, Nerney MP. Developing a conceptuual framework for understanding illness and attitudes inolder, urban African-Americans with diabetes. Diabetes Education 26(3):439-49, 6/2000.

Book Chapters

1.
Caro I, Thomas V,. Current Treatment Options in Infectious Disease. In: Myositis, 2002.