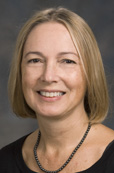 '
Vicki Huff, Ph.D.
Present Title & Affiliation
Primary Appointment
Professor, Department of Genetics, The University of Texas MD Anderson Cancer Center, Houston, TX
Dual/Joint/Adjunct Appointment
Professor, The University of Texas Graduate School of Biomedical Sciences, Houston, TX
Research Interests
Human disease genetics
Cancer genetics
Familial cancer predisposition
Kidney and liver development

Mouse models for kidney and liver cancer
My research program focuses on identifying and understanding the normal function of genes whose alteration is a critical step during tumorigenesis. The model system I am using is Wilms tumor (WT), a childhood cancer of the kidney. One Wilms tumor gene, WT1, has been isolated, and we have identified germline and somatic mutations at this locus in roughly 20% of Wilms tumor cases. WT1 encodes a zinc finger transcription factor that is essential for normal embryonal development. Children heterozygous for germline WT1 mutations often display genitourinary anomalies and, depending upon the mutation, early onset renal failure.
We are investigating WT1 function in tumorigenesis and development using a combination of approaches, including mutational analysis of primary human tumors, development of mouse strains carrying WT1 mutations observed in humans and gene expression arrays. From this work we know that WT1 mutations are strongly associated with alteration of the wnt signaling pathway and that WT1 mutation results in a distinctive gene expression profile and loss of heterozygosity profile in tumors. We have generated a mutant mouse strain carrying a common missense mutation observed in WT patients (R394W) and have determined that heterozygous mutant mice develop early onset renal failure with a pathology and disease course identical to that in patients. We are now using this model to identify the early changes in gene expression that initiate the process of glomerulosclerosis and renal failure. We have also generated a mouse strain carrying a conditional knock-out Wt1 allele and are using this strain to investigate the role of Wt1 in the development and subsequent normal function of the kidney, ovaries and testes. Recently we have determined that ablation of Wt1 function in the committed testes results in complete loss of testes architecture, germ cells and Sertoli cells. Current experiments are now focused on understanding the molecular and cellular consequences of Wt1 ablation in the testes.
My laboratory has also determined that WT1 is not responsible for the Wilms tumor predisposition observed in most families, demonstrating that predisposition to Wilms tumor is genetically heterogeneous. We have successfully localized to chromosome 19q the gene (FWT2) responsible for inherited predisposition to Wilms tumor in many families and are now sublocalizing it with the goals of isolating the gene, elucidating its role in normal and tumor development and understanding its role in tumorigenesis. Overall, these studies will help to elucidate the genes and cellular pathways critical for the regulation of cell growth and differentiation in normal kidney and how those functions are abrogated during tumorigenesis.
View a complete list of Dr. Huff's publications.
Office Address
The University of Texas MD Anderson Cancer Center
Department of Genetics Unit 1010
1515 Holcombe Blvd.
Houston, TX 77030
Room Number: S15.8316A
Phone: (713) 834-6384
Email: vhuff@mdacc.tmc.edu
Education & Training
Degree-Granting Education

1987
University of Michigan, Ann Arbor, MI, PHD, Human Genetics

Postgraduate Training

2/1987-2/1990

Postdoctoral Fellowship, Biochem & Mol Biol, The University of Texas MD Anderson Cancer Center, Houston, TX, Dr. Grady Saunders
Selected Publications
Peer-Reviewed Original Research Articles

1.
Flores LG, Yeh HH, Soghomonyan S, Young D, Bankson J, Hu Q, Alauddin M, Huff V, Gelovani JG. Monitoring Therapy with MEK Inhibitor U0126 in a Novel Wilms Tumor Model in Wt1 Knockout Igf2 Transgenic Mice Using (18)F-FDG PET with Dual-Contrast Enhanced CT and MRI: Early Metabolic Response Without Inhibition of Tumor Growth. Mol Imaging Biol 15(2):175-85, 4/2013. e-Pub 8/2012. PMCID: PMC3591528.
2.
Gadd S, Beezhold P, Jennings L, George D, Leuer K, Huang CC, Huff V, Tognon C, Sorensen PH, Triche T, Coffin CM, Perlman EJ. Mediators of receptor tyrosine kinase activation in infantile fibrosarcoma: a Children's Oncology Group study. J Pathol 228(1):119-30, 9/2012. e-Pub 7/2012. PMID: 22374738.
3.
Gadd S, Huff V, Huang CC, Ruteshouser EC, Dome JS, Grundy PE, Breslow N, Jennings L, Green DM, Beckwith JB, Perlman EJ. Clinically relevant subsets identified by gene expression patterns support a revised ontogenic model of Wilms tumor: a Children's Oncology Group Study. Neoplasia 14(8):742-56, 8/2012. PMCID: PMC3431181.
4.
Huff V. Wilms' tumours: about tumour suppressor genes, an oncogene and a chameleon gene. Nat Rev Cancer 11(2):111-21, 2/2011. e-Pub 1/2011. PMID: 21248786.
5.
Perlman EJ, Grundy PE, Anderson JR, Jennings LJ, Green DM, Dome JS, Shamberger RC, Ruteshouser EC, Huff V. WT1 mutation and 11p loss of heterozygosity predict relapse in very low risk Wilms tumors treated by surgery alone. J Clin Oncol 29(6):698-703, 2/2011. e-Pub 12/2010. PMCID: PMC3056654.
6.
Hu Q, Gao F, Tian W, Ruteshouser EC, Wang Y, Lazar A, Stewart J, Strong LC, Behringer RR, Huff V. Wt1 ablation and Igf2-Up-regulation in mice result in Wilms tumors with elevated pERK1/2. J Clin Invest 121(1):174-83, 1/2011. e-Pub 12/2010. PMCID: PMC3007149.
7.
Shamberger RC, Anderson JR, Breslow NE, Perlman EJ, Beckwith JB, Ritchey ML, Haase GM, Donaldson M, Grundy PE, Weetman R, Coppes MJ, Malogolowkin M, Shearer PD, Kletzel M, Thomas PR, Macklis R, Huff V, Weeks DA, Green DM. Long-term outcomes for infants with very low risk Wilms tumor treated with surgery alone in National Wilms Tumor Study-5. Ann Surg 251(3):555-8, 3/2010. PMCID: PMC2836016.
8.
Gao F, Maiti S, Alam N, Zhang Z, Deng JM, Behringer RR, Lecureuil C, Guillou F, Huff V. The Wilms tumor gene, Wt1, is required for Sox9 expression and maintenance of tubular architecture in the developing testis. Proc Natl Acad Sci U S A 103(32):11987-92, 8/2006. e-Pub 7/2006. PMCID: PMC1567685.
9.
Ruteshouser EC, Hendrickson BW, Colella S, Krahe R, Pinto L, Huff V. Genome-wide loss of heterozygosity analysis of WT1-wild-type and WT1-mutant Wilms tumors. Genes Chromosomes Cancer 43(2):172-80, 6/2005. PMID: 15761866.
10.
Ruteshouser EC, Huff V. Familial Wilms tumor. Am J Med Genet C Semin Med Genet 129(1):29-34, 8/2004. PMID: 15264270.
© 2014 The University of Texas MD Anderson Cancer Center