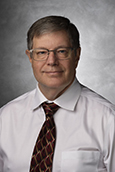 '
William R Geiser
Present Title & Affiliation
Primary Appointment
Senior Medical Physicist, Department of Imaging Physics, Division of Diagnostic Imaging, The University of Texas MD Anderson Cancer Center, Houston, TX
Associate Faculty, Graduate School of Biomedical Sciences, Houston, TX
Bio Statement
William Geiser, MS DABR, is a Senior Medical Physicist in the Department of Imaging Physics at the University of Texas MD Anderson Cancer Center. He is the Mammography Quality Standards Act (MQSA) physicist of record for MD Anderson Cancer Center Section of Breast Imaging.
After obtaining his Masters of Science in Imaging Medical Physics at the University of Florida in 1996, he began his career as clinical medical physicist working with the Environmental Health and Safety program at the University of Florida. While there he performed medical physics services for Shands Hospital at the University of Florida and obtained his board certification in Diagnostic Radiological Physics in May 2000. He moved to Texas to work at the University of Texas MD Anderson Cancer Center in December of 2001 where he currently practices as a Senior Medical Physicist in the Department of Imaging Physics.
Mr. Geiser area of expertise is in imaging physics as it relates to breast imaging. He is particularly interested in full field digital mammographic imaging and digital breast tomosynthesis. Another passion of his is image informatics and image display.
Mr. Geiser has authored several articles in peer reviewed journals, lectured at international conferences and participated as an instructor in hands on courses. He has authored a book chapter on artifacts in digital mammography.
Research Interests
Dosimetry in Mammography

Phantoms for FFDM and Breast Tomosynthesis
Clinical Interests
Informatics

Radiologists reading efficiency in mammography

Breast imaging: Mammography, Ultrasound, Tomosynthesis, Contrast Enhanced Mammography, Molecular Breast Imaging
Education & Training
Degree-Granting Education

1996
University of Florida, Gainesville, FL, MS, Medical Physics
1992
Southern Oregon State College, Ashland, OR, BS, Physics
Board Certifications
| | |
| --- | --- |
| 5/2000 | American Board of Radiology |
Selected Publications
Peer-Reviewed Original Research Articles

1.
Leong DL, Rainford L, Haygood TM, Whitman GJ, Geiser WR, Adrada BE, Santiago L, Brennan PC. Trend of Contrast Detection Threshold with and without Localization. J Digit Imaging 26(6):1099-106, 12/2013. e-Pub 3/2013. PMCID: PMC3824922.
2.
Carkaci S, Geiser WR, Adrada BE, Marquez C, Whitman GJ. How to establish a cost-effective mobile mammography program. AJR Am J Roentgenol 201(5):W691-7, 11/2013. PMID: 24147498.
3.
Geiser WR, Haygood TM, Santiago L, Stephens T, Thames D, Whitman GJ. Challenges in Mammography: Part 1Artifacts in Digital Mammography. AJR Am J Roentgenol 197(12):W1023 - W1030, 12/2011. PMID: 22109316.
4.
Liu X, Lai CJ, Whitman GJ, Geiser WR, Shen Y, Yi Y, Shaw CC. Effects of exposure equalization on image signal-to-noise ratios in digital mammography: A simulation study with an anthropomorphic breast phantom. Med Phys 38(12):6489, 12/2011. PMCID: PMC3247925.
5.
Huda W, Steinbach BG, Geiser WR, Belden CJ. Optimal technique factors for magnification mammography. Invest Radiol 32(7):378-81, 7/1997. PMID: 9228602.
6.
Geiser WR, Huda W, Gkanatsios NA. Effect of patient support pads on image quality and dose in fluoroscopy. Med Phys 24(3)(3):377-82, 3/1997. PMID: 9089590.
7.
Rill LN, Huda W, Geiser WR, Gkanatsios NA. Viewbox luminance measurements and their effect on reader performance. Radiology 201:820-820, 11/1996.

Abstracts

1.
Liu H, Geiser WR, Willis C. Effects of Prepatient Filtration on Contrast, Scatter and Dose in CR Chest Exams: A Phantom Study. The 47th Annual AAPM Meeting, Seattle WA, 2005.