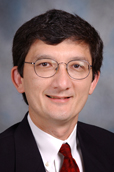 '
William A Ross, MD, MBA
Present Title & Affiliation
Primary Appointment
Professor, Department of Gastroenterology, Hepat,& Nutr, Division of Internal Medicine, The University of Texas MD Anderson Cancer Center, Houston, TX
Office Address
The University of Texas MD Anderson Cancer Center
1400 Pressler
Unit Number: Unit 1466
Houston, TX 77030
Phone: 713-794-5073
Fax: 713-563-4408
Education & Training
Degree-Granting Education

1999
Colorado State University, Fort Collins, CO, MBA, Finance
1982
University of California, Irvine, Irvine, CA, MD
1978
University of California, Irvine, Irvine, CA, BS, cum laude Biological Sciences

Postgraduate Training

1995

Fellowship Therapeutic Biliary Endoscopy, Nihon University Medical School, Tokyo, Japan

1985-1987

Fellowship Gastroenterology, Gastroenterology, Baylor College of Medicine, Houston, TX

1984-1985

Clinical Residency, Baylor College of Medicine, Houston, TX

1983-1984

Clinical Residency, Internal Medicine, University of California, Irvine, Irvine, CA

1982-1983

Clinical Internship, Internal Medicine, Baylor College of Medicine, Houston, TX
Board Certifications
| | |
| --- | --- |
| 2004 | Geriatrics |
| 1/1989 | Gastroenterology |
| 1/1985 | Internal Medicine |
Experience/Service
Academic Appointments
Associate, Digestive and Liver Disease Consultants, Houston, TX, 2001-2002
Sr. Partner, Lake Charles Medical and Surgical Clinic, Lake Charles, LA, 1994-2001
Associate, Fort Bend Gastroenterology, Missouri City, TX, 1992-1993
Partner, Lake Charles Medical and Surgical Clinic, Lake Charles, LA, 1987-1992
Selected Publications
Peer-Reviewed Original Research Articles

1.
Ajani JA, Correa AM, Hofstetter WL, Rice DC, Blum MA, Suzuki A, Taketa T, Welsh J, Lin SH, Lee JH, Bhutani MS, Ross WA, Maru DM, Macapinlac HA, Erasmus J, Komaki R, Mehran RJ, Vaporciyan AA, Swisher SG. Clinical parameters model for predicting pathologic complete response following preoperative chemoradiation in patients with esophageal cancer. Ann Oncol 23(10):2638-42, 10/2012. e-Pub 7/2012. PMCID: PMC3457750.
2.
Jaganmohan S, Lynch PM, Raju RP, Ross WA, Lee JE, Raju GS, Bhutani MS, Fleming JB, Lee JH. Endoscopic Management of Duodenal Adenomas in Familial Adenomatous Polyposis-A Single-Center Experience. Dig Dis Sci 57(3):732-7, 3/2012. e-Pub 9/2011. PMID: 21960285.
3.
Atiq M, Bhutani MS, Bektas M, Lee JE, Gong Y, Tamm EP, Shah CP, Ross WA, Yao J, Raju GS, Wang X, Lee JH. EUS-FNA for Pancreatic Neuroendocrine Tumors: A Tertiary Cancer Center Experience. Dig Dis Sci 57(3):791-800, 3/2012. e-Pub 10/2011. PMID: 21964743.
4.
Ross WA, Alousi AM. Making the diagnosis of gastrointestinal GVHD: is evaluation of the ileum necessary? Bone Marrow Transplant 47(3):321-2, 3/2012. PMID: 22395763.
5.
Singal AK, Ross WA, Guturu P, Varadhachary GR, Javle M, Jaganmohan SR, Raju RP, Fleming JB, Raju GS, Kuo YF, Lee JH. Self-Expanding Metal Stents for Biliary Drainage in Patients with Resectable Pancreatic Cancer: Single-Center Experience with 79 Cases. Dig Dis Sci 56(12):3678-84, 12/2011. e-Pub 7/2011. PMID: 21750930.
6.
Kim HN, Alousi AM, Lee JH, Qiao W, Xiao L, Ross WA. Role of ERCP in patients after hematopoietic stem cell transplantation. Gastrointest Endosc 74(4):817-24, 10/2011. e-Pub 7/2011. PMID: 21802682.
7.
Raju RP, Jaganmohan SR, Ross WA, Davila ML, Javle M, Raju GS, Lee JH. Optimum palliation of inoperable hilar cholangiocarcinoma: comparative assessment of the efficacy of plastic and self-expanding metal stents. Dig Dis Sci 56(5):1557-64, 5/2011. e-Pub 1/2011. PMID: 21222156.
8.
Kountourakis P, Correa AM, Hofstetter WL, Lee JH, Bhutani MS, Rice DC, Komaki R, Maru DM, Ross WA, Vaporciyan A, Swisher SG, Ajani JA. Combined modality therapy of cT2N0M0 esophageal cancer: the University of Texas M. D. Anderson Cancer Center experience. Cancer 117(5):925-30, 3/2011. e-Pub 10/2010. PMCID: PMC3080168.
9.
Weston BR, Ross WA, Liu J, Lee JH. Clinical outcomes of nitinol and stainless steel uncovered metal stents for malignant biliary strictures: is there a difference? Gastrointest Endosc 72(6):1195-200, 12/2010. PMID: 21111871.
10.
Ross WA, Egwim CI, Wallace MJ, Wang M, Madoff DC, Lee JH. Outcomes in Lymphoma Patients with Obstructive Jaundice: A Cancer Center Experience. Dig Dis Sci 55(11):3271-7, 11/2010. e-Pub 7/2010. PMID: 20632106.
11.
Shureiqi I, Chen D, Day RS, Zuo X, Hochman FL, Ross WA, Cole RA, Moy O, Morris JS, Xiao L, Newman RA, Yang P, Lippman SM. Profiling Lipoxygenase Metabolism in Specific Steps of Colorectal Tumorigenesis. Cancer Prev Res (Phila Pa). e-Pub 6/2010. PMID: 20570882.
12.
Ross, WA. Colorectal cancer screening in evolution: Japan and the USA. J Gastroenterol Hepatol 25(Suppl. 1):S49-S56, 5/2010. PMID: 20586866.
13.
Das P, Jiang Y, Lee JH, Bhutani MS, Ross WA, Mansfield PF, Ajani JA. Multimodality approaches to localized gastric cancer. J Natl Compr Canc Netw 8(4):417-25, 4/2010. PMID: 20410334.
14.
Weston BR, Iyer RB, Qiao W, Lee JH, Bresalier RS, Ross WA. Ability of integrated positron emission and computed tomography to detect significant colonic pathology: the experience of a tertiary cancer center. Cancer 116(6):1454-61, 3/2010. PMID: 20143447.
15.
Lee JH, Stewart J, Ross WA, Anandasabapathy S, Xiao L, Staerkel G. Blinded Prospective Comparison of the Performance of 22-Gauge and 25-Gauge Needles in Endoscopic Ultrasound-Guided Fine Needle Aspiration of the Pancreas and Peri-pancreatic Lesions. Dig Dis Sci 54(10):2274-81, 10/2009. e-Pub 8/2009. PMID: 19669880.
16.
Leung KK, Ross WA, Evans D, Fleming J, Lin E, Tamm EP, Lee JH. Pancreatic Cystic Neoplasm: The Role of Cyst Morphology, Cyst Fluid Analysis, and Expectant Management. Ann Surg Oncol, 10/2009. e-Pub 6/2009. PMID: 19536601.
17.
Cen P, Correa AM, Le JH, Maru D, Anandasabapathy S, Liao Z, Hofstetter WL, Swisher SG, Komaki R, Ross WA, Vaporciyan A, Ajani JA. Adenocarcinoma of the lower esophagus with Barrett's esophagus or without Barrett's esophagus: differences in patients' survival after preoperative chemoradiation. Dis Esophagus 22(1). e-Pub 11/2008. PMID: 19021684.
18.
Varadhachary GR, Wolff RA, Crane CH, Sun CC, Lee JE, Pisters PW, Vauthey JN, Abdalla E, Wang H, Staerkel GA, Lee JH, Ross WA, Tamm EP, Bhosale PR, Krishnan S, Das P, Ho L, Xiong H, Abbruzzese JL, Evans DB. Preoperative gemcitabine and cisplatin followed by gemcitabine-based chemoradiation for resectable adenocarcinoma of the pancreatic head. J Clin Oncol 26(21):3487-95, 7/2008. PMID: 18640929.
19.
Weston BR, Ross WA, Wolff RA, Evans D, Lee JE, Wang X, Xiao LC, Lee JH. Rate of bilirubin regression after stenting in malignant biliary obstruction for the initiation of chemotherapy: how soon should we repeat endoscopic retrograde cholangiopancreatography? Cancer 112(11):2417-23, 6/2008. PMID: 18404695.
20.
Ross WA, Wasan SM, Evans DB, Wolff RA, Trapani LV, Staerkel GA, Prindiville T, Lee JH. Combined EUS with FNA and ERCP for the evaluation of patients with obstructive jaundice from presumed pancreatic malignancy. Gastrointest Endosc 68(3):461-6, 4/2008. e-Pub 4/2008. PMID: 18384788.
21.
Cen P, Hofstetter WL, Correa AM, Wu TT, Lee JH, Ross WA, Davilla M, Swisher SG, Fukami N, Rashid A, Maru D, Ajani JA. Lymphovascular invasion as a tool to further subclassify T1b esophageal adenocarcinoma. Cancer 112(5):1020-7, 3/2008. PMID: 18205187.
22.
Cen P, Hofstetter WL, Lee JH, Ross WA, Wu TT, Swisher SG, Davila M, Rashid A, Correa AM, Ajani JA. Value of endoscopic ultrasound staging in conjunction with the evaluation of lymphovascular invasion in identifying low-risk esophageal carcinoma. Cancer 112(3):503-10, 2/2008. PMID: 18072264.
23.
Tetzlaff ED, Correa AM, Komaki R, Swisher SG, Maru D, Ross WA, Ajani JA. Significance of thromboembolic phenomena occurring before and during chemoradiotherapy for localized carcinoma of the esophagus and gastroesophageal junction. Dis Esophagus 21(7):575-81, 2008. e-Pub 5/2008. PMID: 18459989.

Invited Articles

1.
Ross WA, Lee JH. Endoscopic approach to tracheoesophageal fistulas in adults. Tech Gastrointest Endosc 10(4):155-163, 2008.

Editorials

1.
Ross WA. Small-bowel imaging: multiple paths to the last frontier. Gastrointest Endosc 68(6):1117-21, 12/2008. PMID: 19028219.

Abstracts

1.
Petersen BT, Kahaleh M, Kozarek RA, Loren DE, Gupta K, Kowalski TE, Freeman M, Chen YK, Branch MS, Edmundowicz SA, Binmoeller KF, Baron TH, Gluck M, Ayub K, Shah RJ, Kinney TP, Ross WA, Jowell PS. A Multi-Site, Single Arm, Prospective Study of a New Nitinol, Self-Expanding, Biliary Fully-Covered Stent for the Palliative Treatment of Malignant Bile Duct Obstruction. Gastrointestinal Endoscopy 67(5):AB232, 4/2008.
2.
Weston BR, Ross WA, Davila ML, Lee JH. Clinical Outcomes and Performance of Nitinol and Stainless Steel Uncovered Metal Stents for Malignant Biliary Strictures. Is There a Difference?. Gastrointestinal Endoscopy 67(5):AB170, 4/2008.
3.
Weston BR, Iyer RB, Lee JH, Ross WA. Clinical Significance of Incidental 18F-FDG Uptake in the Colon On PET/CT: Colonoscopic Findings in a Case Control Study. Gastrointestinal Endoscopy 67(5):AB82-AB83, 4/2008.
4.
Lee JH, Davila RE, Ross WA, Davila ML. Self-Expandable Metal Stents in the Management of Benign and Malignant Colorectal Obstruction. Gastrointestinal Endoscopy 67(5):AB316-AB317, 4/2008.

Book Chapters

1.
Ross WA. Graft vs Host Disease and Immunologic Complications. In: Medical Care of Cancer Patients. Ed(s) SJ Yeung, C Escalante, R Gagel. BC Decker, 278-284, 2009. ISBN: 978-1-55009-312-4.
2.
Lee JH, Ross WA. Invasive/Interventional Gastroenterology. In: Medical Care of the Cancer Patients. Ed(s) SJ Yeung, C Escalante, R Gagel. BC Decker, 285-291, 2009. ISBN: 978-1-55009-312-4.

Letters to the Editor

1.
Tan D, Ross WA. Colorectal polyps: clinical significance of endoscopic and pathologic correlation. Am J Clin Pathol 129(4):659-60; author reply 660, 4/2008. PMID: 18431859.
© 2014 The University of Texas MD Anderson Cancer Center