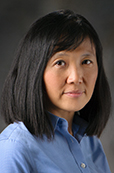 '
Ying Guo, MD, MS
Present Title & Affiliation
Primary Appointment
Associate Professor, Department of Palliative Care and Rehabilitation Medicine, Division of Cancer Medicine, University of Texas MD Anderson Cancer Center, Houston, TX
Office Address
The University of Texas MD Anderson Cancer Center
1515 Holcombe Blvd.
Unit Number: 1414
Houston, TX 77030
Room Number: FCT5.6020
Phone: (713) 745-2327
Fax: (713) 792-6092
Education & Training
Degree-Granting Education

1992
University of Texas Medical Branch, Galveston, TX, MS, Microbiology/Immunology
1985
Third Military Medical University, ChongQing, SiChuan, China, MD, Medicine

Postgraduate Training

12/2010-5/2011

Acupuncture, Medical Acupuncture for Physicians, Helms Medical Institute, Berkeley, CA

1997-1999

PM&R Resident, Physical Medicine and Rehabilitation, Baylor College of Medicine, Houston, TX

1996-1997

PM&R Resident, Physical Medicine and Rehabilitation, University of Virginia, Charlottesville, VA

1995-1996

Intern-Transitional Year, Physical Medicine and Rehabilitation, University of Virginia, Charlottesville, VA

1992-1994

Postdoctoral Fellow, Microbiology/Immunology, University of Texas Medical Branch, Galveston, TX

1989-1990

Postdoctoral Fellow, Microbiology/Immunology, University of Texas Medical Branch, Galveston, TX

1987-1989

Postdoctoral Fellow, Immunology, John Hopkins University, Baltimore, MD

1985-1987

Surgery Resident, Third Military Medical University, ChongQing, SiChuan, China
Board Certifications
| | |
| --- | --- |
| 7/2010 | American Board of Physical Medicine and Rehabilitation |
| 2003 | American Board of Electrodiagnostic Medicine |
Experience/Service
Academic Appointments
Assistant Professor, Department of Palliative Care and Rehabilitation Medicine, Division of Cancer Medicine, University of Texas M. D. Anderson Cancer Center, Houston, TX, 7/1999-8/2006
Professional Memberships
International Society of Physical and Rehabilitation Medicine
Member, 2005-present
The Multinational Association of Supportive Care in Cancer
Member, 2005-present
Selected Publications
Peer-Reviewed Original Research Articles

1.
Shin KY, Guo Y, Konzen B, Fu J, Yadav R, Bruera E. Inpatient Cancer Rehabilitation: the Experience of a National Comprehensive Cancer Center. Am J Phys Med Rehabil 90(5(suppl)):S63-S68, 5/2011. PMID: 21765265.
2.
Guo Y, Fu J, Palmer JL, Hanohano J, Cote C, Bruera E. Comparison of Post-operative Rehabilitation in Cancer Patients Undergoing Internal and External Hemipelvectomy. Arch Phys Med Rehabil 92(4):620-5, 4/2011. PMID: 21440708.
3.
Guo Y, Shin KY, Hainley S, Bruera E, Palmer JL. Inpatient Rehabilitation Improved Functional Status in Asthenic Patients with Solid and Hematologic Malignancies. Am J Phys Med Rehabil 90(4):265-71, 4/2011. PMID: 21273895.
4.
Guo Y, Palmer JL, Bianty J, Konzen B, Shin K, Bruera E. Advance directives and do-not-resuscitate orders in patients with cancer with metastatic spinal cord compression: advanced care planning implications. J Palliat Med 13(5):513-7, 5/2010. PMID: 20192843.
5.
Guo Y, Persyn L, Palmer JL, Bruera E. Incidence of and risk factors for transferring cancer patients from rehabilitation to acute care units. Am J Phys Med Rehabil 87(8):647-53, 2008. PMID: 18645323.
6.
Guo Y, Young BL, Hainley S, Palmer JL, Bruera E. Evaluation and pharmacologic management of symptoms in cancer patients undergoing acute rehabilitation in a comprehensive cancer center. Arch Phys Med Rehabil 88:891-5, 2007.
7.
Guo Y, LeDay-Jacobs C, Palmer JL, Bruera E. Psychosocial assessment of patients who have undergone inpatient cancer rehabilitation. Am J Hosp Palliat Care 24:196-201, 2007.
8.
Guo Y, Palmer JL, Kaur G, Hainley S, Young B, Bruera E. Nutritional status of cancer patients and its relationship to function in an inpatient rehabilitation setting. Support Care Cancer 13:169-75, 3/2005. PMID: 15580364.

Invited Articles

1.
Guo Y. Physical Medicine, Rehabilitation and Pain Patients. 5th Vital Sign" The Houston VAMC Pain Management Newsletter, 1(2):2, 2001.

Abstracts

1.
Guo Y. A randomized, double-blinded, placebo-controlled trial of oral alpha lipoic acid to prevent platinum-induced polyneuropathy. Journal of Clinical Oncology 29(15S):552s, 5/2011.
2.
Hainley S, Guo Y. Understanding the Nurse's Perception of What Is Important for Them to Contribute to the Multidisciplinary Cancer Rehabilitation Team Weekly Conference. PM&R Journal 2(9S):S155, 11/2010.
3.
Guo Y, Bruera E. The Effect of Sitting Meditation on Vagal Tone, Measured by Heart Rate Variability (Hrv). Support Care Cancer 16:747-48, 2008.
4.
Guo, Y, Persyn L, Palmer JL, Bruera E. Risk factors for medical complications during cancer rehabilitation. Multinational Association of Supportive Care in Cancer 17th International Symposium, Geneva, Switzerland, 2005.

Book Chapters

1.
Yadav R, Shin KY, Guo Y, Konzen B. Cancer Rehabilitation. In: Medical Care of Cancer Patients. Ed(s) Yeung SJ, Escalante CP, Gagel RF. BC Decker: New York, 563-570, 2009.
2.
Guo Y, Truong AN. Rehabilitation of Patients with Breast Cancer. In: M. D. Anderson Cancer Care Series, Breast Cancer, 2nd. Ed(s) Hunt KK, Robb GL, Strom EA, Ueno NT. Springer: New York, 485-504, 2008.
3.
Guo Y, Konzen B. Lymphedema. The assessment and management of lymphedema. In: Textbook of Palliative Medicine. 83. Ed(s) Bruera E, Higginson I, Ripamonti C, von Gunten C. Hodder Arnold: London, 787-96, 2006.
4.
Gillis, T, Yadav R, Guo Y. Rehabilitation of Patients with Neurological Tumors and Tumor-Related Disabilities. In: Cancer in the Nervous System. 22. Oxford University Press, 470-92, 2002.
Grant & Contract Support
Title:
A Phase II Pilot Study Examining the Role of Fermented Soy Dietary Supplement for Improving Cancer-Associated Anorexia and Cachexia: New Therapeutic Opportunities in Cancer Reserach, Haelan Products, Inc.
Funding Source:
Haelan Products Inc
Role:
Principal Investigator
Duration:
10/1/2007
Title:
Prevention of Cisplatin- or Oxaliplatin-Induced Peripheral
Funding Source:
CCOP/NCI
Role:
Principal Investigator
Duration:
1/1/2004
© 2014 The University of Texas MD Anderson Cancer Center