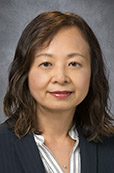 '
Yu Shen
Present Title & Affiliation
Primary Appointment
Professor, Department of Biostatistics, Division of Quantitative Sciences, The University of Texas MD Anderson Cancer Center, Houston, TX
Research Interests
Biostatistics
Clinical Trial Design
Survival Analysis
Statistical methods for cancer screening studies
Education & Training
Degree-Granting Education

1994
University of Washington, Seattle, WA, PHD, Biostatistics
1990
University of Notre Dame, Notre Dame, IN, MS, Mathematics
1984
East China Normal University, Shanghai, China, BS, Mathematics
Honors and Awards
2014

Conversation with a Living Legend Professorship

2007

Elected Fellow,

American Statistical Association

2001

Finalist, Julie and Ben Roger Award for Excellence

1999-2001

Cancer Research and Prevention Foundation award
Selected Publications
Peer-Reviewed Original Research Articles

1.
Ahern CH, Shih YC, Dong W, Parmigiani G, Shen Y. Cost-Effectiveness of Alternative Strategies for Integrating MRI into Breast Cancer Screening for Women at High Risk. Br J Cancer 111(8):1542-51, 10/2014. e-Pub 8/2014. PMCID: PMC4200098.
2.
Ning J, Qin J, Shen Y. Score Estimating Equations from Embedded Likelihood Functions under Accelerated Failure Time Model. J Am Stat Assoc 109(508):1625-35, 10/2014. PMID: 25663727.
3.
Hoffman KE, Niu J, Shen Y, Jiang J, Davis JW, Kim J, Kuban DA, Perkins GH, Shah JB, Smith GL, Volk RJ, Buchholz TA, Giordano SH, and Smith BD. Physician Variation in Management of Low-Risk Prostate Cancer: a Population-based Cohort Study. JAMA Internal Medicine 174(9):1450-9, 9/2014.
4.
Liu H, Shen Y, Ning J, Qin J. Sample size calculations for prevalent cohort designs. Stat Methods Med Res. e-Pub 8/2014. PMCID: PMC4317376.
5.
Eberth JM, Xu Y, Smith GL, Shen Y, Jiang J, Buchholz TA, Hunt KK, Black DM, Giordano SH, Whitman GJ, Yang W, Shen C, Elting L, Smith BD. Surgeon influence on use of needle biopsy in patients with breast cancer: a national medicare study. J Clin Oncol 32(21):2206-16, 7/20/2014. e-Pub 6/9/2014. PMCID: PMC4164811.
6.
Rueth NM, Lin HY, Bedrosian I, Shaitelman SF, Ueno NT, Shen Y, Babiera G. Underuse of trimodality treatment affects survival for patients with inflammatory breast cancer: an analysis of treatment and survival trends from the national cancer database. J Clin Oncol 32(19):2018-24, 7/2014. e-Pub 6/2014. PMCID: PMC4067942.
7.
Masuda H, Brewer TM, Liu DD, Iwamoto T, Shen Y, Hsu L, Willey JS, Gonzalez-Angulo AM, Chavez-MacGregor M, Fouad TM, Toodward WA, Reuben JM, Valero V, Alvarez RH, Hortobagyi GN, Ueno NT. Long-term treatment efficacy in primary inflammatory breast cancer by hormonal receptor- and HER2-defined subtypes. Annals of Oncology 25:384-391, 2014. PMCID: PMC3905780.
8.
Ning J, Qin J, and Shen Y. Semiparametric accelerated failure time model for length-biased data with application to dementia study. Statistica Sinica 24:313-333, 2014. PMCID: PMC3903417.
9.
Lynch SP, Shen Y, Kamat A, Grossman HB, Shah JB, Millikan RE, Dinney CP, Siefker-Radtke A. Neoadjuvant chemotherapy in small cell urothelial cancer improves pathologic down-staging and long-term outcomes. Results from a retrospective study at the M. D. Anderson Cancer Center. Eur Urol 64(2):307-13, 8/2013. e-Pub 4/2012. PMCID: PMC3815632.
10.
Ning J, Qin J, Asgharian M, Shen Y. Empirical likelihood-based confidence intervals for length-biased data. Stat Med 32(13):2278-2291, 6/2013. e-Pub 10/2012. PMCID: PMC4034580.
11.
Siefker-Radtke AO, Dinney CP, Shen Y, Williams DL, Kamat AM, Grossman HB, Millikan RE. A phase 2 clinical trial of sequential neoadjuvant chemotherapy with ifosfamide, doxorubicin, and gemcitabine followed by cisplatin, gemcitabine, and ifosfamide in locally advanced urothelial cancer: Final results. Cancer 119(3):540-547, 2/1/2013. e-Pub 8/22/2012. PMCID: PMC3828072.
12.
Brewster AM, Bedrosian I, Parker PA, Dong W, Peterson SK, Cantor SB, Crosby M, Shen Y. Association between contralateral prophylactic mastectomy and breast cancer outcomes by hormone receptor status. Cancer 118(22):5637-43, 11/2012. e-Pub 4/2012. PMCID: PMC3478501.
13.
Albert JM, Liu DD, Shen Y, Pan IW, Shih YC, Hoffman KE, Buchholz TA, Giordano SH, Smith BD. Nomogram to predict the benefit of radiation for older patients with breast cancer treated with conservative surgery. J Clin Oncol 30(23):2837-43, 8/2012. e-Pub 6/2012. PMCID: PMC3410401.
14.
Shen Y, Ning J, Qin J. Likelihood approaches for invariant density ratio model with biased-sampling data. Biometrika 99(2):363-378, 6/2012. e-Pub 3/2012. PMCID: PMC3635710.
15.
Ning J, Qin J, Shen Y. Buckley-James type Estimator with Right-censored and Length-biased Data. Biometrics 67(4):1369-78, 12/2011. e-Pub 3/2011. PMCID: PMC3137763.
16.
Qin J, Ning J, Liu H, Shen Y. Maximum likelihood estimations and EM algorithms with length-biased data. J Am Stat Assoc 106(496):1434-49, 12/2011. PMCID: PMC3273908.
17.
Ahern CH, Cheng Y, Shen Y. Risk-specific optimal cancer screening schedules: an application to breast cancer early detection. Stat Biosci 3(2):169-186, 12/2011. PMCID: PMC3230228.
18.
Ning J, Qin J, Shen Y. Nonparametric tests for right-censored data with biased sampling. J R Stat Soc Series B Stat Methodol 72(5):609-630, 11/2010. PMCID: PMC2963462.
19.
Qin J, Shen Y. Statistical Methods for Analyzing Right-censored Length-biased Data under Cox Model. Biometrics 66(2):382-392, 6/2010. e-Pub 6/2009. PMCID: PMC3035941.
20.
Liu H, Shen Y. A Semiparametric Regression Cure Model for Interval-Censored Data. J Am Stat Assoc 104(487):1168-1178, 12/2009. PMCID: PMC2846840.
21.
Shen Y, Ning J, Qin J. Analyzing Length-biased Data with Semiparametric Transformation and Accelerated Failure Time Models. J Am Stat Assoc 104(487):1192-1202, 9/2009. PMCID: PMC2972554.
22.
Ahern CH, Shen Y. Cost-effectiveness analysis of mammography and clinical breast examination strategies: a comparison with current guidelines. Cancer Epidemiol Biomarkers Prev 18(3):718-725, 3/2009. e-Pub 3/2009. PMCID: PMC2716399.
23.
Shen Y, Dong W, Feig BW, Ravdin P, Theriault RL, Giordano SH. Patterns of treatment for early stage breast cancers at the M. D. Anderson Cancer Center from 1997 to 2004. Cancer 115(10):2041-2051, 3/2009. e-Pub 3/2009. PMCID: PMC2716402.
24.
Shen Y, Costantino JP, Qin J. Tamoxifen chemoprevention treatment and time to first diagnosis of estrogen receptor-negative breast cancer. J Natl Cancer Inst 100(20):1448-53, 10/2008. e-Pub 10/2008. PMCID: PMC2720727.
25.
Bekele BN, Ji Y, Shen Y, Thall PF. Monitoring late-onset toxicities in phase I trials using predicted risks. Biostatistics 9(3):442-57, 7/2008. e-Pub 12/14/2007. PMCID: PMC3294317.
26.
Dong W, Berry DA, Bevers TB, Kau SW, Hsu L, Theriault RL, Shen Y. Prognostic role of detection method and its relationship with tumor biomarkers in breast cancer: the university of Texas M.D. Anderson Cancer Center experience. Cancer Epidemiol Biomarkers Prev 17(5):1096-103, 5/2008. PMCID: PMC2701362.
27.
Shen Y, Qin J, Costantino JP. Inference of Tamoxifen's Effects on Prevention of Breast Cancer from a Randomized Controlled Trial. J Am Stat Assoc 102(480):1235-1244, 12/2007. PMCID: PMC2721282.
28.
Shen Y, Dong W, Esteva FJ, Kau SW, Theriault RL, Bevers TB. Are there racial differences in breast cancer treatments and clinical outcomes for women treated at M.D. Anderson Cancer Center? Breast Cancer Res Treat 102(3):347-356, 5/2007. e-Pub 9/2006. PMID: 17028980.
29.
Shen Y, Cheng Y. Adaptive Design: Estimation and Inference with Censored Data in a Semiparametric Model. Biostatistics 8:306-322, 2007. PMID: 16787996.
30.
Sharma P, Shen Y, Wen S, Yamada S, Jungbluth AA, Gnjatic S, Bajorin DF, Reuter VE, Herr H, Old LJ, Sato E. CD8 tumor-infiltrating lymphocytes are predictive of survival in muscle-invasive urothelial carcinoma. Proc Natl Acad Sci U S A 104(10):3967-72, 2007. PMID: 17360461.
31.
Cong XJ, Yin G, Shen Y. Marginal Analysis of Correlated Failure Time Data with Informative Cluster Sizes. Biometrics 63(3):663-672, 2007. PMID: 17825000.
32.
Sharma P, Shen Y, Wen S, Bajorin DF, Reuter VE, Old LJ, Jungbluth AA. Cancer-testis antigens: expression and correlation with survival in human urothelial carcinoma. Clin Cancer Res 12:5442-7, 2006. PMID: 17000678.
33.
Berry DA, Inoue L, Shen Y, Venier J, Cohen D, Bondy M, Theriault R, Munsell MF. Modeling the Impact of Treatment and Screening on U.S. Breast Cancer Mortality: A Bayesian Approach. J Natl Cancer Inst Monogr 36(36):30-6, 2006. PMID: 17032892.
34.
Zeng D, Cai J, Shen Y. Semiparameteric additive risks model for interval-censored data. Statistica Sinica 16:287-95, 2006. PMID: NIPM.
35.
Grossman HB, Soloway M, Messing E, Katz G, Stein B, Kassabian V, Shen Y. Surveillance for recurrent bladder cancer using a point-of-care proteomic assay. JAMA 295:299-305, 2006. PMID: 16418465.
36.
Shen Y, Huang X. Nonparametric estimation of asymptomatic duration from a randomized prospective cancer screening trial. Biometrics 61(4):992-9, 12/2005. PMID: 16401272.
37.
Shen Y, Yang Y, Inoue LY, Munsell MF, Miller AB, Berry DA. Role of detection method in predicting breast cancer survival: analysis of randomized screening trials. J Natl Cancer Inst 97(16):1195-203, 8/2005. PMID: 16106024.
38.
Bekele BN, Shen Y. A Bayesian approach to jointly modeling toxicity and biomarker expression in a phase I/II dose-finding trial. Biometrics 61(2):343-54, 2005. PMID: 16011680.
39.
Shen Y, Parmigiani G. A model-based comparison of breast cancer screening strategies: mammograms and clinical breast examinations. Cancer Epidemiol Biomarkers Prev 14:529-32, 2005. PMID: 15734983.
40.
Yin G, Shen Y. Adaptive design and estimation in randomized clinical trials with correlated observations. Biometrics 61:362-9, 2005. PMID: 16011682.
41.
Cheng Y, Shen Y. Bayesian Adaptive Designs for Clinical Trials. Biometrika 92:633-646, 2005. PMID: Not in PubMed.
42.
Grossman HB, Messing E, Soloway M, Tomera K, Katz G, Berger Y, Shen Y. Detection of bladder cancer using a point-of-care proteomic assay. JAMA 293(7):810-6, 2005. PMID: 15713770.
43.
Shen Y, Zelen M. Robust modeling in screening studies: estimation of sensitivity and preclinical sojourn time distribution. Biostatistics 6:604-14, 2005. PMID: 15860542.
44.
Cheng Y, Shen Y. Estimation of a parameter and its exact confidence interval following sequential sample size reestimation trials. Biometrics 60:910-8, 2004. PMID: 15606411.
45.
Davis DW, Shen Y, Mullani NA, Wen S, Herbst RS, O'Reilly M, Abbruzzese JL, McConkey DJ. Quantitative analysis of biomarkers defines an optimal biological dose for recombinant human endostatin in primary human tumors. Clin Cancer Res 10:33-42, 2004. PMID: 14734449.
46.
Shen Y, Cai J. Sample size re-estimate for clinical trials with censored survival data. J Amer Statist Assoc 98:418-426, 2003.
47.
Albitar M, Manshouri T, Shen Y, Liu D, Beran M, Kantarjian HM, Rogers A, Jilani I, Lin CW, Pierce S, Freireich EJ, Estey EH. Myelodysplastic syndrome is not merely "preleukemia". Blood 100(3):791-8, 8/1/2002. PMID: 12130488.
48.
Shen L, Ahuja N, Shen Y, Habib NA, Toyota M, Rashid A, Issa JP. DNA methylation and environmental exposures in human hepatocellular carcinoma. J Natl Cancer Inst 94:755-61, 2002. PMID: 12011226.
49.
Shen Y, Cai J. Maximum of the weighted Kaplan-Meier tests with application to cancer prevention and screening trials. Biometrics 57:837-43, 2001. PMID: 11550935.
50.
Van Haaften-Day C, Shen Y, Xu F, Yu Y, Berchuck A, Havrilesky LJ, de Bruijn HW, van der Zee AG, Bast RC, Jr, Hacker NF. OVX1, macrophage-colony stimulating factor, and CA-125-II as tumor markers for epithelial ovarian carcinoma: a critical appraisal. Cancer 92:2837-44, 2001. PMID: 11753957.
51.
Shen Y, Zelen M. Screening sensitivity and sojourn time from breast cancer early detection clinical trials: mammograms and physical examinations. J Clin Oncol 19:3490-9, 2001. PMID: 11481355.
52.
Shen Y, Wu D, Zelen M. Testing the independence of two diagnostic tests. Biometrics 57:1009-17, 2001. PMID: 11764239.
53.
Estey EH, Shen Y, Thall PF. Effect of time to complete remission on subsequent survival and disease-free survival time in AML, RAEB-t, and RAEB. Blood 95:72-7, 2000. PMID: 10607687.
54.
Steinbach G, Lynch PM, Phillips RK, Wallace MH, Hawk E, Gordon GB, Wakabayashi N, Saunders B, Shen Y, Fujimura T, Su LK, Levin B. The effect of celecoxib, a cyclooxygenase-2 inhibitor, in familial adenomatous polyposis. N Engl J Med 342:1946-52, 2000. PMID: 10874062.
55.
Shen Y, Fleming TR. Assessing effects on long-term survival after early termination of randomized trials. Lifetime Data Anal 5:55-66, 1999. PMID: 10214002.
56.
Shen Y, Cheng SC. Confidence bands for cumulative incidence curves under the additive risk model. Biometrics 55:1093-100, 1999. PMID: 11315053.
57.
Shen Y, Zelen M. Estimation procedures for screening programs: Stable and nonstable disease models for multi-modality case finding. Biometrika 86:503-515, 1999.
58.
Shen Y, Fisher L. Statistical inference for self-designing clinical trials with a one-sided hypothesis. Biometrics 55:190-7, 1999. PMID: 11318154.
59.
Shen Y, Thall PF. Parametric likelihoods for multiple non-fatal competing risks and death. Stat Med 17:999-1015, 1998. PMID: 9612887.
60.
Etzioni R, Shen Y. Estimating asymptomatic duration in cancer: the AIDS connection. Stat Med 16:627-44, 1997. PMID: 9131752.
61.
Shen Y, Fleming TR. Weighted mean survival test statistics: a class of distance tests for censored survival data. J R Stat Soc Ser B 59:269-280, 1997.
Grant & Contract Support
Title:
Cancer Center Support Grant - Biostatistics Shared Resource (PPSR-21)
Funding Source:
NIH/NCI
Role:
Co-Director
Principal Investigator:
Ronald DePinho
Duration:
9/6/2013 - 6/30/2018
Title:
Contralateral Prophylactic Mastectomy and Breast Cancer: Clinical and Psychosocial Outcomes
Funding Source:
Patient-Centered Outcomes Research Institute (PCORI)
Role:
Co-Investigator
Principal Investigator:
Brewster
Duration:
9/1/2013 - 8/31/2016
Title:
SPORE in Genitourinary Cancer (PC-B)
Funding Source:
NIH/NCI
Role:
Biostatistics Core Director
Principal Investigator:
Colin Dinney
Duration:
9/19/2012 - 8/31/2017
Title:
Development of Targeted Therapy for ERK Pathway in Breast Cancer
Funding Source:
NIH/NCI
Role:
Co-Investigator
Principal Investigator:
Chandra Bartholomeusz
Duration:
3/1/2012 - 2/29/2016
Title:
Targeting the ICOS/ICOSL pathway to improve anti-tumor immune responses
Funding Source:
NIH/NCI
Role:
Co-Investigator
Principal Investigator:
Pademanee Sharma
Duration:
2/29/2012 - 12/31/2016
Title:
Improving on Anti-CTLA-4 Therapy
Funding Source:
Cancer Prevention & Research Institute of Texas (CPRIT)
Role:
Collaborator
Principal Investigator:
Pademanee Sharma
Duration:
12/1/2011 - 11/30/2014
Title:
Technology Diffusion & Cost-Effectiveness of Mammography Screening in Older Women
Funding Source:
NIH/NCI
Role:
Principal Investigator
Duration:
9/26/2011 - 8/31/2014
Title:
Statistical Methods for Breast Cancer Prevention and Treatment Studies
Funding Source:
NIH/NCI
Role:
Principal Investigator
Duration:
6/16/2010 - 4/30/2016
Title:
University of Texas MD Anderson SPORE in Ovarian Cancer (PC-B)
Funding Source:
NIH/NCI
Role:
Co-Investigator
Principal Investigator:
Robert C. Bast Jr
Duration:
9/30/1999 - 8/31/2015
© 2014 The University of Texas MD Anderson Cancer Center