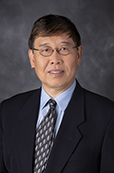 '
Zhen Fan, M.D.
Present Title & Affiliation
Primary Appointment
Professor (with tenure), Department of Experimental Therapeutics, Division of Cancer Medicine, The University of Texas MD Anderson Cancer Center, Houston, TX
Dual/Joint/Adjunct Appointment
Full Member, Graduate Faculty, The Graduate School of Biomedical Sciences (GSBS), The University of Texas Health Science Center at Houston, Houston, TX
Research Interests
The long-term goal of research in my laboratory is to explore innovative therapeutic strategies and to develop novel therapeutic agents for cancer treatment through applying and integrating emerging knowledge and new concepts in cancer biology and cancer immunology.
My laboratory has a long track record of investigating cell signaling aberrations (such as addiction to mutations, overlapping signaling pathways, and feedback regulation) downstream of EGFR and HER2 to develop targeted cancer therapy. Through our published work, we have made significant contributions toward elucidating the mechanisms by which two FDA-approved therapeutic antibodies, cetuximab (an EGFR-targeting antibody) and trastuzumab (a HER2-targeting antibody), inhibit cancer cell survival and proliferation and induce cancer cell death and the mechanisms by which cancer cells resist cetuximab or trastuzumab treatment.
Our current research focuses on three major areas that are connected through hypoxia-inducible factor-1 (HIF-1), a key transcription factor that is regulated by signaling pathways downstream of EGFR and HER2 and that plays a multifaceted role in cancer development: (1) HIF-1-mediated cancer metabolism, via stimulation of aerobic glycolysis (i.e., the Warburg effect), inhibition of oxidative phosphorylation in mitochondria, and disruption of redox homeostasis; (2) HIF-1-regulated cancer metastasis, via activation of metastasis-related genes and stimulation of angiogenesis and lymphangiogenesis; and (3) HIF-1-mediated cancer immune escape, via regulation of immune checkpoint pathways.
We have developed several antibody engineering platforms for developing novel therapeutic agents for cancer treatment. By utilizing cutting-edge recombinant antibody technology and innovative strategies to engineer new bispecific antibodies and antibody fusion proteins, we are striving to develop second-generation antibody-based drugs that have multiple functions and thus are expected to work better than the first-generation antibody drugs, such as cetuximab and trastuzumab, currently used to treat cancer patients.
Office Address
The University of Texas MD Anderson Cancer Center
1881 East Road
Unit Number: 1950
Houston, TX 77054
Email: zfan@mdanderson.org
Education & Training
Degree-Granting Education

1988
Shanghai Medical University, School of Graduate Studies (now Fudan University Graduate School), Shanghai, China, MS, Histology/Embryology
1985
Shanghai Medical University (SMU), School of Medicine (now Fudan University Shanghai Medical College), Shanghai, China, MD, Clinical Medicine
Selected Publications
Peer-Reviewed Original Research Articles

1.
Luo J, Hong Y, Lu Y, Qiu S, Chaganty BK, Zhang L, Wang X, Li Q, Fan Z. Acetyl-CoA carboxylase rewires cancer metabolism to allow cancer cells to survive inhibition of the Warburg effect by cetuximab. Cancer Lett 384:39-49, 1/2017. e-Pub 9/2016. PMCID: PMC5110372.
2.
Lu H, Li X, Lu Y, Qiu S, Fan Z. ASCT2 (SLC1A5) is an EGFR-associated protein that can be co-targeted by cetuximab to sensitize cancer cells to ROS-induced apoptosis. Cancer Lett 381(1):23-30, 10/2016. e-Pub 7/2016. PMCID: PMC5017913.
3.
Lu Y, Shi C, Qiu S, Fan Z. Identification and validation of COX-2 as a co-target for overcoming cetuximab resistance in colorectal cancer cells. Oncotarget 7(40):64766-64777, 10/2016. PMCID: PMCN/A.
4.
Ai Z, Lu Y, Qiu S, Fan Z. Overcoming cisplatin resistance of ovarian cancer cells by targeting HIF-1-regulated cancer metabolism. Cancer Lett 373(1):36-44, 4/2016. e-Pub 1/2016. PMCID: PMC4769873.
5.
Chaganty BK, Lu Y, Qiu S, Somanchi SS, Lee DA, Fan Z. Trastuzumab upregulates expression of HLA-ABC and T cell costimulatory molecules through engagement of natural killer cells and stimulation of IFNγ secretion. Oncoimmunology 5(4):e1100790, 4/2016. e-Pub 10/2015. PMCID: PMC4839349.
6.
Khelwatty SA, Essapen S, Seddon AM, Fan Z, Modjtahedi H. Acquired resistance to anti-EGFR mAb ICR62 in cancer cells is accompanied by an increased EGFR expression, HER-2/HER-3 signalling and sensitivity to pan HER blockers. Br J Cancer 113(7):1010-9, 9/2015. e-Pub 9/2015. PMCID: PMC4651123.
7.
Li X, Lu Y, Lu H, Luo J, Hong Y, Fan Z. AMPK-mediated energy homeostasis and associated metabolic effects on cancer cell response and resistance to cetuximab. Oncotarget 6(13):11507-18, 5/2015. e-Pub 3/2015. PMCID: PMC4484472.
8.
Liang K, Qiu S, Lu Y, Fan Z. Autocrine/paracrine erythropoietin regulates migration and invasion potential and the stemness of human breast cancer cells. Cancer Biol Ther 15(1). e-Pub 1/2014. PMCID: PMC24100272.
9.
Ai M, Qiu S, Lu Y, Fan Z. HER2 regulates Brk/PTK6 stability via upregulating calpastatin, an inhibitor of calpain. Cell Signal 25(9):1754-61, 9/2013. e-Pub 5/2013. PMCID: PMC3703634.
10.
Lu H, Li X, Luo Z, Liu J, Fan Z. Cetuximab reverses the Warburg effect by inhibiting HIF-1-regulated LDH-A. Mol Cancer Ther 12(10). e-Pub 8/2013. PMCID: PMC23920275.
11.
Lu H, Liang K, Lu Y, Fan Z. The anti-EGFR antibody cetuximab sensitizes human head and neck squamous cell carcinoma cells to radiation in part through inhibiting radiation-induced upregulation of HIF-1α. Cancer Lett 322(1):78-85, 9/2012. e-Pub 2/2012. PMCID: PMC3361552.
12.
Liang K, Esteva FJ, Albarracin C, Stemke-Hale K, Lu Y, Bianchini G, Yang CY, Li Y, Li X, Chen CT, Mills GB, Hortobagyi GN, Mendelsohn J, Hung MC, Fan Z. Recombinant human erythropoietin antagonizes trastuzumab treatment of breast cancer cells via Jak2-mediated Src activation and PTEN inactivation. Cancer Cell 18(8):401-2, 11/2010. PMCID: PMC3022383.
13.
Li X, Lu Y, Pan T, Fan Z. Roles of autophagy in cetuximab-mediated cancer therapy against EGFR. Autophagy 6(8):1066-1077, 11/2010. e-Pub 11/2010. PMCID: PMC3039478.
14.
Li X, Fan Z. The EGFR antibody cetuximab induces autophagy in cancer cells by downregulating HIF-1α and Bcl-2 and activating the beclin-1/hVps34 complex. Cancer Res 70(14):5942–52, 7/2010. PMCID: PMC2933174.
15.
Cardó-Vila M, Giordano RJ, Sidman RL, Bronk LF, Fan Z, Mendelsohn J, Arap W, Pasqualini R. From combinatorial peptide selection to drug prototype (II): Targeting the epidermal growth factor receptor pathway. Proc Natl Acad Sci U S A 107(11):5118–5123, 3/2010. e-Pub 2/2010. PMCID: PMC2841862.
16.
Li X, Lu Y, Liang K, Pan T, Mendelsohn J, Fan Z. Requirement of hypoxia-inducible factor-1 alpha downregulation in mediating the antitumor activity of the anti-epidermal growth factor receptor monoclonal antibody cetuximab. Mol Cancer Ther 7(5):1207-1217, 2008. PMID: 18483308.
17.
Lu Y, Li X, Liang K, Luwor R, Siddik ZH, Mills GB, Mendelsohn J, Fan Z. Epidermal growth factor receptor (EGFR) ubiquitination as a mechanism of acquired resistance escaping treatment by the anti-EGFR monoclonal antibody cetuximab. Cancer Res 67:8240-8247, 9/2007. PMID: 17804738.
18.
Luwor RB, Lu Y, Li X, Mendelsohn J, Fan Z. The antiepidermal growth factor receptor monoclonal antibody cetuximab/C225 reduces hypoxia-inducible factor-1 alpha, leading to transcriptional inhibition of vascular endothelial growth factor expression. Oncogene 24:4433-4441, 6/2005. PMID: 15806152.
19.
Liang K, Lu Y, Jin W, Ang KK, Milas L, Fan Z. Sensitization of breast cancer cells to radiation by trastuzumab. Mol Cancer Ther 2:1113-20, 11/2003. PMID: 14617784.
Grant & Contract Support
| | |
| --- | --- |
| Title: | A novel approach for improving anti-VEGF therapy for breast cancer |
| Funding Source: | NIH/NCI |
| Role: | Principal Investigator |
| Duration: | 9/1/2014 - 8/31/2019 |