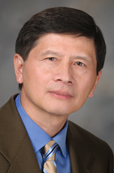 '
Zhizhong Z. Pan, Ph.D.
Present Title & Affiliation
Primary Appointment
Professor, Department of Pain Medicine, Division of Anesthesiology and Critical Care, The University of Texas MD Anderson Cancer Center, Houston, TX
Office Address
The University of Texas MD Anderson Cancer Center
1515 Holcombe Blvd
Unit Number: 110
Houston, TX 77030
Room Number: Y6.5617
Education & Training
Degree-Granting Education

1993
Vollum Institute and Department of Physiology, Oregon Health Sciences University, Portland, OR, PHD, Neuroscience
1985
Shanghai Institute of Physiology, Chinese Academy of Sciences, Shanghai, China, MS, Physiology
1982
Jiangxi University, Jiangxi, China, BS, Biology

Postgraduate Training

8/1993-7/1997

Postdoctoral Fellowship, Neuroscience, Department of Neurology, University of California at San Francisco, San Francisco, CA, Howard Fields
Experience/Service
Academic Appointments
Associate Professor, Department of Biochemistry and Molecular Biology, The University of Texas MD Anderson Cancer Center, Houston, TX, 9/2006-8/2012
Faculty Member, The University of Texas Graduate School of Biomedical Sciences, Houston, TX, 8/2000-present
Institutional Committee Activities
Member, Admission Committee, GSBS Neuroscience Program, 2008-present
Member, Institutional Animal Care and Use Committee (IACUC), 9/2005-8/2008
Honors and Awards
1993

National Research Service Award,

NIH

1991

Oregon N.L. Tartar Research Award,

State of Oregon
Selected Publications
Peer-Reviewed Original Research Articles

1.
Bie B, Wang Y, Cai YQ, Zhang Z, Hou YY, Pan ZZ. Upregulation of nerve growth factor in central amygdala increases sensitivity to opioid reward. Neuropsychopharmacology 37(13):2780-8, 12/2012. e-Pub 8/8/2012. PMCID: PMC3499709.
2.
Pan ZZ. A life switch in pain. Pain 153(4):738-9, 4/2012. e-Pub 2/17/2012. PMCID: PMC3423326.
3.
Zhang Z, Pan ZZ. Signaling Cascades for Delta-opioid Receptor-mediated Inhibition of GABA Synaptic Transmission and Behavioral Antinociception. Mol Pharmacol 81(3):375-83, 3/2012. e-Pub 12/5/2011. PMCID: PMC3286306.
4.
Pan ZZ. Transcriptional control of Gad2. Transcription 3(2):68-72, Mar-Apr, 3/2012. e-Pub 3/1/2012. PMCID: PMC3337827.
5.
Metzele R, Alt C, Bai X, Yan Y, Zhang Z, Pan Z, Coleman M, Vykoukal J, Song YH, Alt E. Human adipose tissue-derived stem cells exhibit proliferation potential and spontaneous rhythmic contraction after fusion with neonatal rat cardiomyocytes. FASEB J 25(3):830-9, 3/2011. e-Pub 11/8/2010. PMID: 21059751.
6.
Zhang Z, Cai YQ, Zou F, Bie B, Pan ZZ. Epigenetic suppression of GAD65 expression mediates persistent pain. Nat Med 17(11):1448-55, 2011. e-Pub 10/9/2011. PMCID: PMC3210928.
7.
Gopalakrishnan V, Bie B, Sinnappah-Kang ND, Adams H, Fuller GN, Pan ZZ, Majumder S. Myoblast-Derived Neuronal Cells Form Glutamatergic Neurons in the Mouse Cerebellum. Stem Cells 28(10):1839-47, 10/2010. e-Pub 8/26/2010. PMID: 20799335.
8.
Zhang Z, Pan ZZ. Synaptic mechanism for functional synergism between delta- and mu-opioid receptors. J Neurosci 30(13):4735-45, 3/31/2010. PMCID: PMC2858689.

Abstracts

1.
Bie B, Zhang Z, Cai YQ, Reyes F, Pan ZZ. Delta-Opioid Receptor Trafficking and Functions. 6th Symposium for Chinese Neuroscientists Worldwide, 2010.
2.
Zhang Z, Pan ZZ. Signaling cascade for delta-opioid receptor-induced inhibition of GABA synaptic transmission. 40th Annual Meeting of the Society for Neuroscience, 2010.