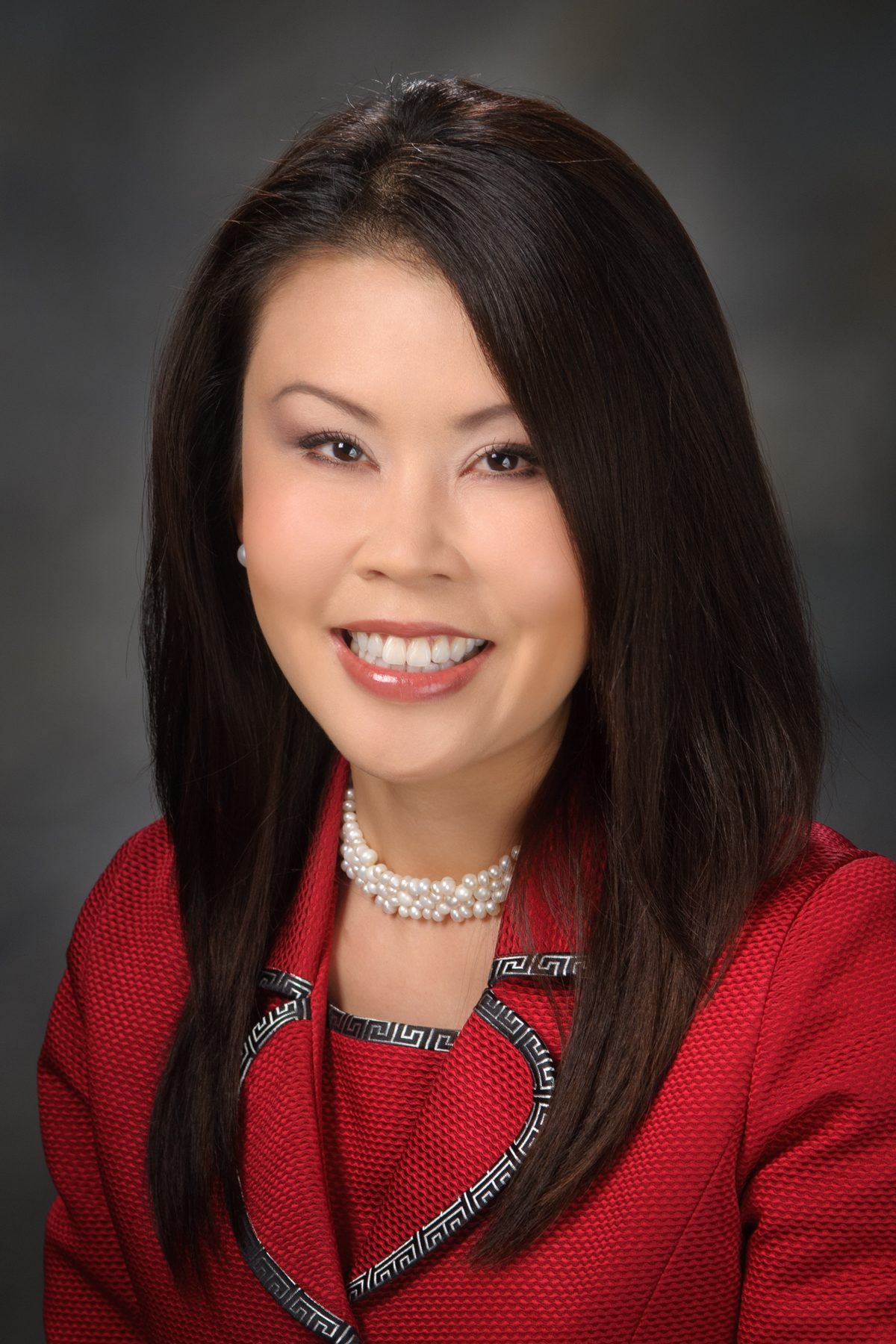 Anne S. Tsao, MD
Department of Thoracic-Head & Neck Med Onc, Division of Cancer Medicine
Primary Appointment
VP, Faculty & Academic Affairs, Division of Academic Affairs, Sr VP Office, The University of Texas MD Anderson Cancer Center, Houston, TX
Professor, Department of Thoracic/Head and Neck Medical Oncology, Division of Cancer Medicine, The University of Texas MD Anderson Cancer Center, Houston, TX
Section Chief, Department of Thoracic/Head and Neck Medical Oncology, Division of Cancer Medicine, The University of Texas MD Anderson Cancer Center, Houston, TX
Program chair, Department of Thoracic/Head and Neck Medical Oncology, Division of Cancer Medicine, The University of Texas MD Anderson Cancer Center, Houston, TX
Director, Department of Mesothelioma Program, The University of Texas MD Anderson Cancer Center, Houston, TX
Clinical Medical Director, Department of Thoracic and Orthopedic Center ad interim, The University of Texas MD Anderson Cancer Center, Houston, TX
Degree-Granting Education
| | |
| --- | --- |
| 1998 | University of Chicago, Pritzker School of Medicine, Chicago, IL, USA, MD, Medicine |
| 1994 | Massachusetts Institute of Technology, Cambridge, MA, USA, BS, Molecular Biology |
Postgraduate Training
| | |
| --- | --- |
| 2019-2021 | MIT Management Executive MBA, Massachusetts Institute of Technology, Boston, MA |
| 2001-2004 | Fellowship, Medical Oncology, The University of Texas MD Anderson Cancer Center, Houston, TX |
| 1998-2001 | Internal Medicine, Internal Medicine, Indiana University Department of Internal Medicine, Indianapolis, IN |
| | |
| --- | --- |
| 2014 | American Board of Internal Medicine - Board Certified for Medical Oncology Specialty |
| 2004 | American Board of Internal Medicine - Board Certified for Medical Oncology Specialty |
| | |
| --- | --- |
| 2020 | Virtual Methods Workshop, AACR |
| 2018 | Bristol Myers Squibb Women's History Month Grand Rounds, Bristol Myers Squibb Network of Women |
| 2016 | ASCO Advocacy Champion 2016, ASCO |
| 2013 | Fleming Fellowship for Mesothelioma Cancer Research, Fleming Foundation |
| 2013 | Ronald E. & Rebecca M. Kennedy Endowment for Lung Cancer, Ronald E. & Rebecca M. Kennedy Endowment |
| 2013 | Aileen M. Dillon & Lee M. Bourg Mesothelioma Fund, Aileen M. Dillon & Lee M. Bourg Mesothelioma Fund |
| 2013 | HOPE Foundation Mesothelioma Research, SWOG |
| 2012 | ASCO Leadership Development Program, ASCO |
| 2007 | ASCO Career Development Award, ASCO |
| 2005 | Head and Neck SPORE Career Development Award, Head and Neck SPORE |
| 2004 | American Society of Clinical Oncology, Merit Award, ASCO |
| 2003 | American Society of Clinical Oncology, Young Investigator Award, ASCO |
| 2003 | National Institute of Health Clinical Research Loan Repayment Award, National Institute of Health |
| 2003 | Glaxo-Smith-Kline National Fellowship Competition, Glaxo-Smith-Kline |
| 2003 | University of Texas MD Anderson Cancer Center Division of Cancer Medicine Excellence in Research Award, M. D. Anderson Cancer Center |
| 2002 | Workshop Methods in Clinical Cancer Research, AACR-ASCO |
| 2001 | Finalist Award Winner Indiana University Resident/Fellow Research Competition, Indiana University |
| 1999 | National Institute of Health Summer Research Award, National Institute of Health |
Peer-Reviewed Articles
Baas P, Scherpereel A, Nowak AK, Fujimoto N, Peters S, Tsao, AS , Mansfield AS, Popat S, Jahan T, Antonia S, Oulkhouir Y, Bautista Y, Cornelissen R, Greillier L, Grossi F, Kowalski D, Rodríguez-Cid J, Aanur P, Oukessou A, Baudelet C, Zalcman G

. First-line nivolumab plus ipilimumab in unresectable malignant pleural mesothelioma (CheckMate 743): a multicentre, randomised, open-label, phase 3 trial. Lancet 397(10272):375-386, 2021. e-Pub 2021. PMID: 33485464.

Chen R, Lee WC, Fujimoto J, Li J, Hu X, Mehran R, Rice D, Swisher SG, Sepesi B, Tran HT, Chow CW, Little LD, Gumbs C, Haymaker C, Heymach JV, Wistuba II, Lee JJ, Futreal PA, Zhang J, Reuben A, Tsao, AS , Zhang J

. Evolution of Genomic and T-cell Repertoire Heterogeneity of Malignant Pleural Mesothelioma Under Dasatinib Treatment. Clin Cancer Res 26(20):5477-5486, 2020. e-Pub 2020. PMID: 32816946.

Cascone T, Sepesi B, Lin HY, Kalhor N, Parra ER, Jiang M, Godoy MCB, Zhang J, Fossella FV, Tsao, AS , Lam VK, Lu C, Mott FE, Simon GR, Antonoff MB, Mehran RJ, Rice DC, Behrens C, Weissferdt A, Moran C, Vaporciyan AA, Lee JJ, Swisher SG, Gibbons DL, Wistuba II, William WN, Heymach JV

. A Phase I/II Study of Neoadjuvant Cisplatin, Docetaxel and Nintedanib for Resectable Non-Small Cell Lung Cancer. Clin Cancer Res 26(14):3525-3536, 2020. e-Pub 2020. PMID: 32193228.

Rajaram R, Correa AM, Xu T, Nguyen QN, Antonoff MB, Rice D, Mehran R, Roth J, Walsh G, Swisher S, Hofstetter WL, Vaporciyan A, Cascone T, Tsao, AS , Papadimitrakopoulou VA, Gandhi S, Liao Z, Sepesi B

. Locoregional Control, Overall Survival, and Disease-Free Survival in Stage IIIA (N2) Non-Small-Cell Lung Cancer: Analysis of Resected and Unresected Patients. Clin Lung Cancer 21(4):e294-e301, 2020. e-Pub 2020. PMID: 32089476.

Tsao, AS , Liu S, Lee JJ, Alden C, Blumenschein G, Herbst R, Davis SE, Kim E, Lippman S, Stewart D, Tang XM, Wistuba I, Hong WK

. Clinical outcomes and biomarker profiles of elderly pretreated NSCLC patients from the BATTLE trial. J Thorac Oncol 7(11):1645-52, 2012. PMID: 23059780.

Tsao, AS , Tang XM, Sabloff B, Xiao L, Shigematsu H, Roth J, Spitz M, Hong WK, Gazdar A, Wistuba I

. Clinical-Pathological Characteristics of the EGFR Gene Mutation in Non-small Cell Lung Cancer. J Thorac Oncol 1(3):231-239, 2006. PMID: 17409862.

Karp DD, Tsao, AS , Kim ES

. Nonsmall-cell lung cancer: chemoprevention studies. Semin Thorac Cardiovasc Surg 15(4):405-20, 2003. PMID: 14710383.

Gregory J. Riely, Joel W. Neal, D. Ross Camidge, Alexander I. Spira, Zofia Piotrowska, Daniel B. Costa, Tsao, AS , Jyoti D. Patel, Shirish M. Gadgeel, Lyudmila Bazhenova, Viola W. Zhu, Howard West, Tarek Mekhail, Ryan D. Gentzler, Danny Nguyen, Sylvie Vincent, Steven Zhang, Jianchang Lin, Veronica Bunn, Shu Jin, Shuanglian Li, Pasi A. Jänne

. Activity and Safety of Mobocertinib (TAK-788) in Previously Treated Non–Small Cell Lung Cancer With EGFR Exon 20 Insertion Mutations From a Phase 1/2 Trial. Cancer Discovery. e-Pub 2021. PMID: 33632775.

Milbury K, Li Y, Durrani S, Liao Z, Tsao AS, Carmack C, Cohen L, Bruera E

. A Mindfulness-Based Intervention as a Supportive Care Strategy for Patients with Metastatic Non-Small Cell Lung Cancer and their Spouses: Results of a 3-Arm Pilot Randomized Controlled Trial. Oncologist 25(11). e-Pub 2020. PMID: 32621630.

Gay CM, Zhou Y, Lee JJ, Tang XM, Lu W, Wistuba II, Ferrarotto R, Gibbons DL, Glisson BS, Kies MS, Simon GR, Heymach JV, Tsao AS

. A Phase II Trial of Alisertib (MLN8237) in Salvage Malignant Mesothelioma. Oncologist. e-Pub 2020. PMID: 32608142.

Hong L, Negrao MV, Dibaj SS, Chen R, Reuben A, Bohac JM, Liu X, Skoulidis F, Gay CM, Cascone T, Mitchell KG, Tran HT, Le X, Byers LA, Sepesi B, Altan M, Elamin YY, Fossella FV, Kurie JM, Lu C, Mott FE, Tsao, AS , Rinsurongkawong W, Lewis J, Gibbons DL, Glisson BS, Blumenschein GR, Roarty EB, Futreal PA, Wistuba II, Roth JA, Swisher SG, Papadimitrakopoulou VA, Heymach JV, Lee JJ, Simon GR, Zhang J

. Programmed Death-Ligand 1 Heterogeneity and Its Impact on Benefit From Immune Checkpoint Inhibitors in NSCLC. J Thorac Oncol. e-Pub 2020. PMID: 32389639.

Lin SH, Lin Y, Yao L, Kalhor N, Carter BW, Altan M, Blumenschein G, Byers LA, Fossella F, Gibbons DL, Kurie JM, Lu C, Simon G, Skoulidis F, Chang JY, Jeter MD, Liao Z, Gomez DR, O'Reilly M, Papadimitrakopoulou V, Thall P, Heymach JV, Tsao, AS

. Phase II Trial of Concurrent Atezolizumab With Chemoradiation for Unresectable NSCLC. J Thorac Oncol. e-Pub 2020. PMID: 31778797.

Zauderer MG, Tsao, AS , Fennell DA, Bretscher MT, Davies J, Wong W, Pattipaka T, Peake MD

. Treatment and Referral Patterns in Malignant Pleural Mesothelioma Patients in the USA. Journal of Thoracic Oncology.
| | |
| --- | --- |
| Title: | Dyadic yoga Program for Patients with Lung Cancer Undergoing Radiotherapy and their Family Caregivers |
| Funding Source: | NIH/NCI |
| Role: | Co-Investigator |
| | |
| --- | --- |
| Title: | SIV Division of Cancer Medicine Genentech SIV Alliance |
| Funding Source: | Genentech |
| Role: | Co-Principal Investigator |
| | |
| --- | --- |
| Title: | A pilot to replace chemotherapy with ipilmumab-nivolumab in local -regionally advanced non-small cell lung cancer ( NSCLC) |
| Funding Source: | Bristol Myesr squibb |
| Role: | Principal Investigator |
| | |
| --- | --- |
| Title: | A Multicenter, Double Blind, Randomized, Controlled Study of M7824 with Concurrent Chemoradiation Followed by M7824 versus Concurrent Chemoradiation Plus Placebo Followed by Durvalumab in Participants with Unresectable Stage III NSCLC |
| Funding Source: | EMD Serono, Inc |
| Role: | Principal Investigator |
| | |
| --- | --- |
| Title: | A Phase 2, Umbrella Study with Rolling Arms of Investigational Agents with either Pembrolizumab in Combination with Chemotherapy or with Pembrolizumab Alone in Patients with Advanced NSCLC (U01-01 Master) |
| Funding Source: | Merck |
| Role: | Principal Investigator |
| | |
| --- | --- |
| Title: | A Phase 1b Efficacy and Safety Study of Cofetuzumab Pelidotin (ABBV-647, a PTK7-Targeting Antibody Drug Conjugate) in Subjects with PTK7-Expressing, Recurrent Non-Small Cell Lung Cancer |
| Funding Source: | AbbVie |
| Role: | Principal Investigator |