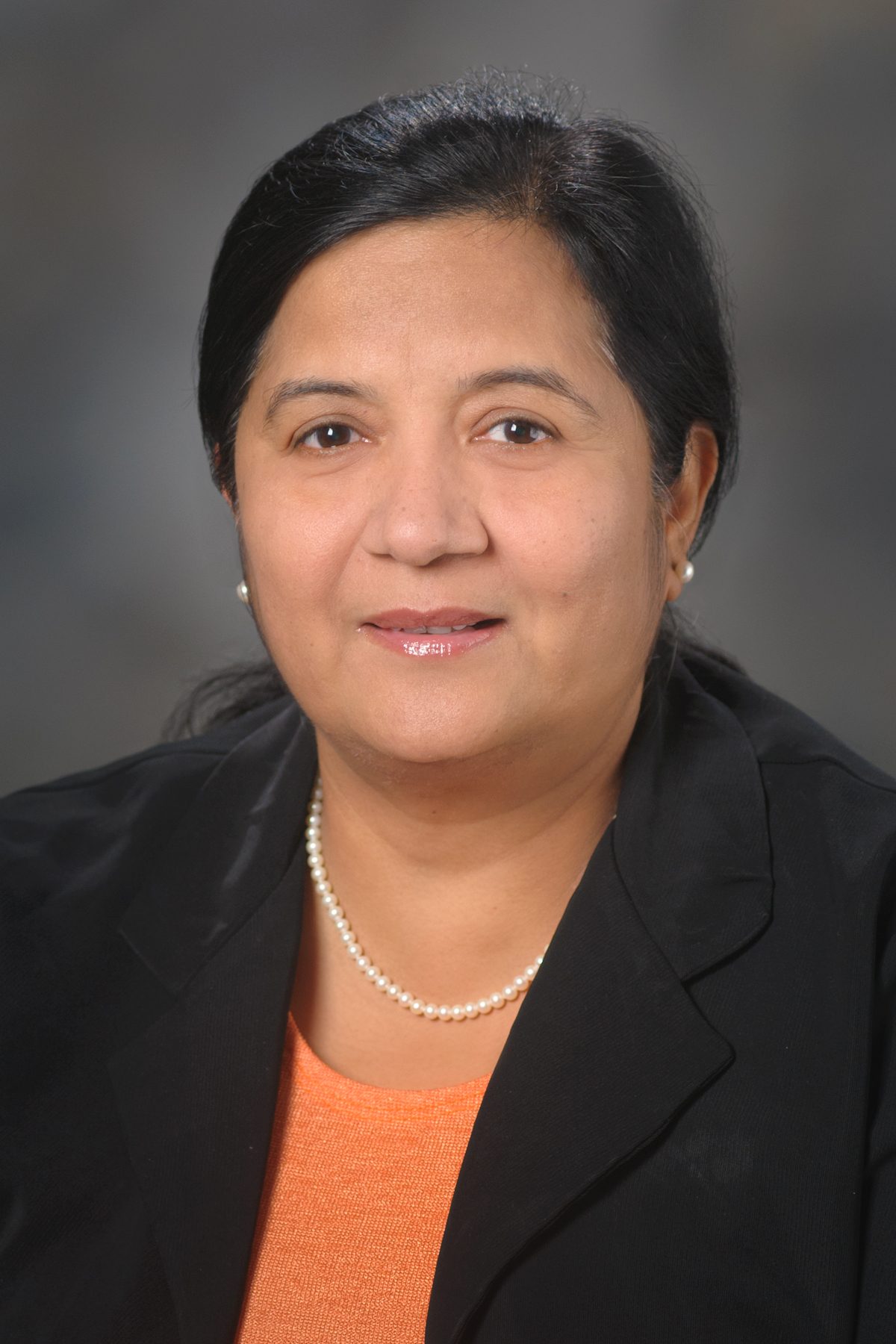 Asha S. Multani, Ph.D.
Department of Genetics, Division of Basic Sciences
About Dr. Multani
Dr. Asha S. Multani, Associate Professor in the Department of Genetics, and the Co-Director of the MD Anderson Cytogenetics and Cell Authentication Core, received her Ph.D. from Gujarat University, India in Genetics during which she trained extensively in clinical Cytogenetics. She obtained her postdoctoral training in the Department of Cancer Biology at The University of Texas MD Anderson Cancer Center, joined the Department of Genetics in 2002, where she established the MCF as an Institutional specialty resource. Dr. Multani has extensive expertise in the field in Human and Mammalian Cytogenetics, and specializes in the evaluation of genetic instability and complex chromosomal rearrangements in cancer cells, telomere dysfunction, characterization of embryonic stem cells, and authentication of cell lines. She is actively involved in developing cutting edge cytogenetic assays. Her current focus is optimizing RNA FISH for the detection of virus in renal disease. In addition, Dr. Multani is actively involved in education and training.
Read More
Primary Appointment
Associate Professor, Department of Genetics, Division of Basic Science Research, The University of Texas MD Anderson Cancer Center, Houston
Degree-Granting Education
| | |
| --- | --- |
| 1993 | Gujarat University, Ahmedabad, IND, PHD, Cell Biology |
Postgraduate Training
| | |
| --- | --- |
| 1995-1997 | Fellowship, The University of Texas MD Anderson Cancer Center, Houston, TX |
| 1993-1995 | Fellowship, Gujarat University, Ahmedabad |
Other Appointments/Responsibilities
Co-Director, Molecular Cytogenetics Core Facility, The University of Texas MD Anderson Cancer Center, Houston, TX, 2003 - 2019
Peer-Reviewed Articles
Achuthan V, Perreira JM, Sowd GA, Puray-Chavez M, McDougall WM, Paulucci-Holthauzen A, Wu X, Fadel HJ, Poeschla EM, Multani AS, Hughes SH, Sarafianos SG, Brass AL, Engelman AN

. Capsid-CPSF6 interaction licenses nuclear HIV-1 trafficking to sites of viral DNA integration. Cell Host and Microbe 24(3):392-404, 2018. PMID: 30173955.

deCarvalho AC, Kim H, Poisson LM, Winn ME, Mueller C, Cherba D, Koeman J, Seth S, Protopopov A, Felicella M, Zheng S, Multani A, Jiang Y, Zhang J, Nam DH, Petricoin EF, Chin L, Mikkelsen T, Verhaak RGW

. Discordant inheritance of chromosomal and extrachromosomal DNA elements contributes to dynamic disease evolution in glioblastoma. Nat Genet 50(5):708-717, 2018. e-Pub 2018. PMID: 29686388.

Ong DST, Hu B, Ho YW, Sauvé CG, Bristow CA, Wang Q, Multani AS, Chen P, Nezi L, Jiang S, Gorman CE, Monasterio MM, Koul D, Marchesini M, Colla S, Jin EJ, Sulman EP, Spring DJ, Yung WA, Verhaak RGW, Chin L, Wang YA, DePinho RA

. PAF promotes stemness and radioresistance of glioma stem cells. Proc Natl Acad Sci U S A 114(43):E9086-E9095, 2017. e-Pub 2017. PMID: 29073105.

Graham NA, Minasyan A, Lomova A, Cass A, Balanis NG, Friedman M, Chan S, Zhao S, Delgado A, Go J, Beck L, Hurtz C, Ng C, Qiao R, Ten Hoeve J, Palaskas N, Wu H, Müschen M, Multani AS, Port E, Larson SM, Schultz N, Braas D, Christofk HR, Mellinghoff IK, Graeber TG

. Recurrent patterns of DNA copy number alterations in tumors reflect metabolic selection pressures. Mol Syst Biol 13(2):914, 2017. e-Pub 2017. PMID: 28202506.

Gallardo M, Lee HJ, Zhang X, Bueso-Ramos C, Pageon LR, McArthur M, Multani A, Nazha A, Manshouri T, Parker-Thornburg J, Rapado I, Quintas-Cardama A, Kornblau SM, Martinez-Lopez J, Post SM

. hnRNP K is a novel haploinsufficient tumor suppressor that regulates proliferation and differentiation programs in hematologic malignancies. Cancer Cell 28(4):486-499, 2015. e-Pub 2015. PMID: 26412324.

Colla S, Ong DS, Ogoti Y, Marchesini M, Mistry NA, Clise-Dwyer K, Ang SA, Storti P, Viale A, Giuliani N, Ruisaard K, Ganan Gomez I, Bristow CA, Estecio M, Weksberg DC, Ho YW, Hu B, Genovese G, Pettazzoni P, Multani AS, Jiang S, Hua S, Ryan MC, Carugo A, Nezi L, Wei Y, Yang H, D'Anca M, Zhang L, Gaddis S, Gong T, Horner JW, Heffernan TP, Jones P, Cooper LJ, Liang H, Kantarjian H, Wang YA, Chin L, Bueso-Ramos C, Garcia-Manero G, DePinho RA

. Telomere dysfunction drives aberrant hematopoietic differentiation and myelodysplastic syndrome. Cancer Cell 27(5):644-57, 2015. PMID: 25965571.

Wang Y, Waters J, Leung ML, Unruh A, Roh W, Shi X, Chen K, Scheet P, Vattathil S, Liang H, Multani A, Zhang H, Zhao R, Michor F, Meric-Bernstam F, Navin NE

. Clonal evolution in breast cancer revealed by single nucleus genome sequence. Nature 512(7513):155-60, 2014. e-Pub 2014. PMID: 25079324.

Wagner KW, Alam H, Dhar SS, Giri U, Li N, Wei Y, Giri D, Cascone T, Kim JH, Ye Y, Multani AS, Chan CH, Erez B, Saigal B, Chung J, Lin HK, Wu X, Hung MC, Heymach JV, Lee MG.

. KDM2A promotes lung tumorigenesis by epigenetically enhancing ERK1/2 signaling. J Clin Invest 123(12):5231-46, 2013. PMID: 24200691.

Deriano L, Chaumeil J, Coussens M, Multani A, Chou Y, Alekseyenko AV, Chang S, Skok JA, Roth DB

. The RAG2 C-terminus suppresses genomic instability and lymphomagenesis. Nature 471(7336):119-23, 2011. PMID: 21368836.

Rai R, Zheng H, He H, Luo Y, Multani A, Carpenter PB, Chang S

. The function of classical and alternative non-homologous end-joining pathways in the fusion of dysfunctional telomeres. EMBO J 29(15):2598-610, 2010. e-Pub 2010. PMID: 20588252.

Sung SY, Hsieh CL, Law A, Zhau HE, Pathak S, Multani AS, Lim S, Coleman IM, Wu LC, Figg WD, Dahut WL, Nelson P, Lee JK, Amin MB, Lyles R, Johnstone PA, Marshall FF, Chung LW

. Coevolution of prostate cancer and bone stroma in three-dimensional coculture: implications for cancer growth and metastasis. Cancer Res 68(23):9996-10003, 2008. PMID: 19047182.

Rai R, Dai H, Multani AS, Li K, Chin K, Gray J, Lahad JP, Liang J, Mills GB, Meric-Bernstam F, Lin SY

. BRIT1 regulates early DNA damage response, chromosomal integrity, and cancer. Cancer Cell 10(2):145-57, 2006. e-Pub 2006. PMID: 16872911.

Wu L, Multani AS, He H, Cosme-Blanco W, Deng Y, Deng JM, Bachilo O, Pathak S, Tahara H, Bailey SM, Deng Y, Behringer RR, Chang S

. Pot1 deficiency initiates DNA damage checkpoint activation and aberrant homologous recombination at telomeres. Cell 126(1):49-62, 2006. PMID: 16839876.

Akli S, Zheng PJ, Multani AS, Wingate HF, Pathak S, Zhang N, Tucker SL, Chang S, Keyomarsi K

. Tumor-specific low molecular weight forms of cyclin E induce genomic instability and resistance to p21, p27, and antiestrogens in breast cancer. Cancer Res 64(9):3198-208, 2004. PMID: 15126360.

Veletic I, Manshouri T, Multani AS, Yin CC, Chen L, Verstovsek S, Estrov Z

. Myelofibrosis osteoclasts are clonal and functionally impaired. Blood. e-Pub 2019. PMID: 30745304.