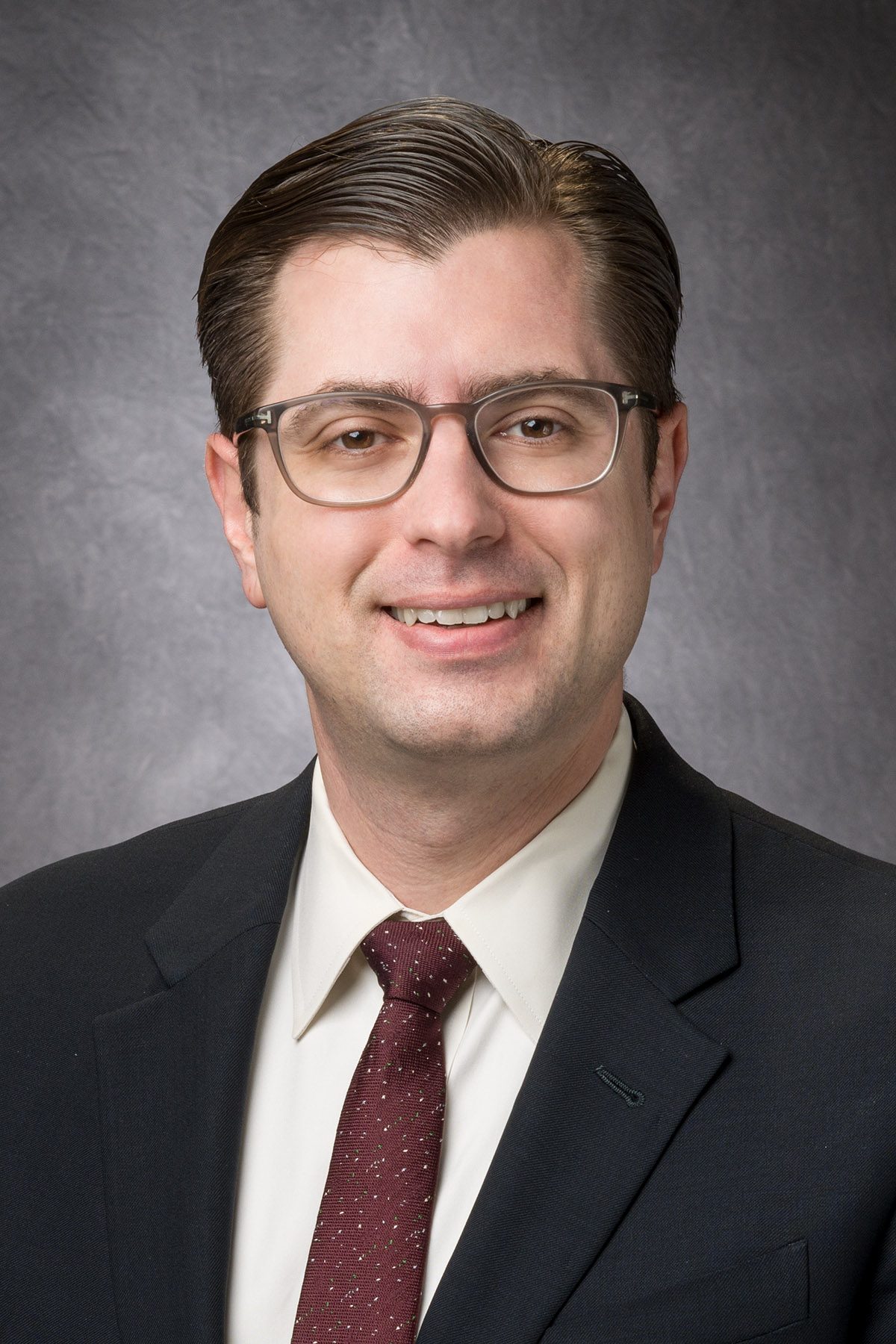 Brandon G. Smaglo, M.D., FACP
Department of Gastrointestinal Medical Oncology, Division of Cancer Medicine
Primary Appointment
Associate Professor, Department of Gastrointestinal (GI) Medical Oncology, Division of Cancer Medicine, The University of Texas MD Anderson Cancer Center, Houston, TX
Degree-Granting Education
| | |
| --- | --- |
| 2019 | Rice University Jones Graduate School of Business, Houston, TX, USA, Graduate Certificate, Healthcare Management |
| 2006 | SUNY Downstate Health Sciences Center at Brooklyn, Brooklyn, NY, USA, MD, Medicine |
| 2002 | Vassar College, Poughkeepsie, NY, USA, AB, Biochemistry |
Postgraduate Training
| | |
| --- | --- |
| 2010-2013 | Clinical Fellowship, Hematology/Oncology, Georgetown University, Lombardi Comprehensive Cancer Center, Washington, DC |
| 2009-2010 | Chief Resident, Internal Medicine, SUNY Downstate, Brooklyn, NY |
| 2006-2009 | Clinical Residency, Internal Medicine, SUNY Downstate, Brooklyn, NY |
| | |
| --- | --- |
| 2013 | ABIM-Medical Oncology |
| 2010 | ABIM-Internal Medicine |
| | |
| --- | --- |
| 2017 | Oncology Faculty Educator of the Year, Baylor Graduating Fellow Class |
| 2016 | Teacher of the Year, Georgetown Fellow Class |
| 2016 | Fellow, American College of Physicians, American College of Physicians |
| 2015 | Full Member, Sigma Xi |
| 2010 | Alpha Omega Alpha, SUNY Downstate, Eta New York Chapter |
Texas Society of Clinical Oncology, TX
Board Member at Large, 2018 - 2021
American Association for the Advancement of Science
member, 2014 - Present
American Association for Cancer Research
Active Member, 2012 - Present
American Society of Clinical Oncology
member, 2010 - Present
American College of Physicians
Fellow, 2006 - Present
Sigma Xi
Full Member, 2002 - Present
Peer-Reviewed Articles
Huey RW, Shah AT, Reddi HV, Dasari P, Topham JT, Hwang H, Dhillon N, Willett A, Smaglo BG, Estrella JS, Rashid A, Matamoros A, Overman MJ, Choquette L, Omerza G, Kelly K, Wang X, Loree JM, Rueter J, Varadhachary GR, Raghav K

. Feasibility and value of genomic profiling in cancer of unknown primary: real-world evidence from prospective profiling study. J Natl Cancer Inst 115(8):994-997, 2023. PMID: 37202363.

Ludford K, Ho WJ, Thomas JV, Raghav KPS, Blum-Murphy M, Fleming ND, Lee MS, Smaglo BG, You YN, Tillman MM, Kamiya-Matsuoka C, Thirumurthi S, Messick C, Johnson B, Vilar E, Dasari A, Shin S, Hernandez A, Yuan X, Yang H, Foo WC, Qiao W, Maru D, Kopetz S, Overman MJ

. Neoadjuvant pembrolizumab in localized microsatellite instability high/deficient mismatch repair solid tumors. J Clin Oncol 41(12):2181-2190, 2023.

Mahadik JD, Machado Heredia ML, Smaglo BG, Fisher WE, Dhingra S

. Perineural Invasion by an Intraductal Papillary Mucinous Neoplasm of Pancreas: A Case Report of an Unusual and Unreported High-Risk Feature of Malignant Progression. Ann Clin Lab Sci 52(5):838-842, 2022. PMID: 36261175.

Hester CA, Perri G, Prakash LR, Maxwell JE, Ikoma N, Kim MP, Tzeng CD, Smaglo B, Wolff R, Javle M, Overman MJ, Lee JE, Katz MHG

. Radiographic and Serologic Response to First-Line Chemotherapy in Unresected Localized Pancreatic Cancer. J Natl Compr Canc Netw 20(8):887-897.e3, 2022. PMID: 35948035.

Raghav KP, Stephen B, Karp DD, Piha-Paul SA, Hong DS, Jain D, Chudy Onwugaje DO, Abonofal A, Willett AF, Overman M, Smaglo B, Huey RW, Meric-Bernstam F, Varadhachary GR, Naing A

. Efficacy of pembrolizumab in patients with advanced cancer of unknown primary (CUP): a phase 2 non-randomized clinical trial. J Immunother Cancer 10(5), 2022. PMID: 35618285.

Sada YH, Smaglo BG, Tran Cao HS, Mok H, Musher BL, Massarweh NN

. National Trends in Multimodality Therapy for Locally Advanced Gastric Cancer. J Surg Res 237:41-49, 2019. e-Pub 2019. PMID: 30694790.

Sada YH, Smaglo BG, Tan JC, Tran Cao HS, Musher BL, Massarweh NN

. Prognostic Value of Nodal Response After Preoperative Treatment of Gastric Adenocarcinoma. J Natl Compr Canc Netw 17(2):161-168, 2019. PMID: 30787129.

Tesfaye A, Marshall JL, Smaglo BG

. Approach to the medical management of surgically resectable gastric cancer. Clin Adv Hematol Oncol 14(2):129-35, 2016. PMID: 27057811.

Al-Hajeili M, Marshall JL, Smaglo BG

. Neoadjuvant Treatment for Surgically Resectable Metastatic Colorectal Cancer. Oncology (Williston Park) 30(1):10-6, 2016. PMID: 26791840.

Smaglo BG, Tesfaye A, Halfdanarson TR, Meyer JE, Wang J, Gatalica Z, Reddy S, Arguello D, Boland PM

. Comprehensive multiplatform biomarker analysis of 199 anal squamous cell carcinomas. Oncotarget 6(41):43594-604, 2015. PMID: 26498363.

Smaglo BG, Aldeghaither D, Weiner LM

. The development of immunoconjugates for targeted cancer therapy. Nat Rev Clin Oncol 11(11):637-48, 2014. e-Pub 2014. PMID: 25265912.
Invited Articles
Smaglo BG. Role for neoadjuvant systemic therapy for potentially resectable pancreatic cancer. Cancers 15(8):2377, 2023. e-Pub 2023.
Book Chapters
Smaglo BG, Aldeghaither D, Weiner LM. Antibody therapy. In: Encyclopedia of Immunobiology. First Edition. Elsevier: Amsterdam, 2016.