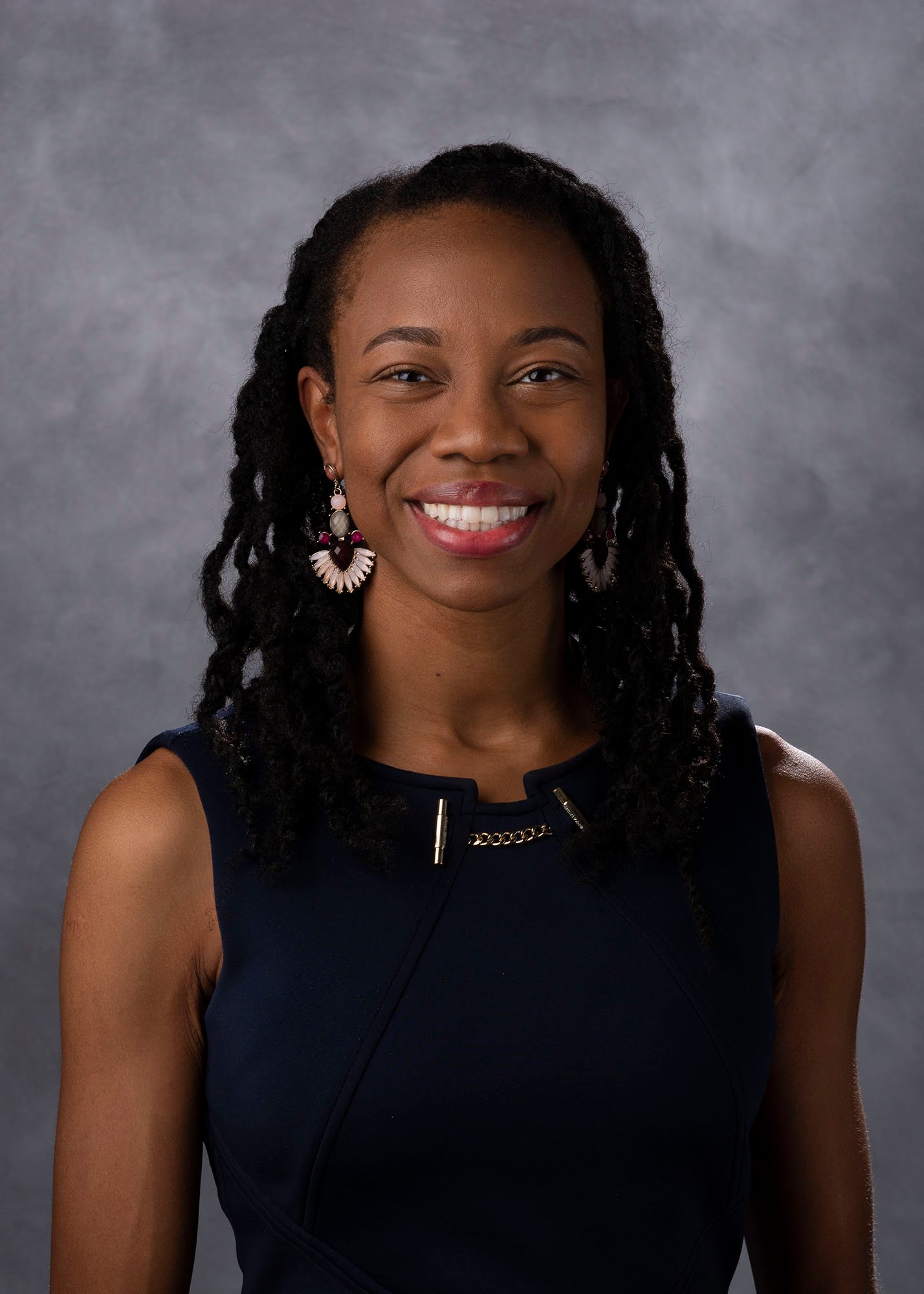 Chidinma Anakwenze, M.D., MPH
Department of Radiation Oncology, Division of Radiation Oncology
Primary Appointment
Assistant Professor, Division of Radiation Oncology, The University of Texas MD Anderson Cancer Center, Houston, TX
Dual/Joint/Adjunct Appointment
Assistant Professor, Division of Radiation Oncology, The University of Texas Medical Branch, Galveston, TX
Degree-Granting Education
| | |
| --- | --- |
| 2017 | University of Alabama at Birmingham (UAB) School of Medicine, Birmingham,, AL, USA, MD, Medicine |
| 2016 | Johns Hopkins Bloomberg School of Public Health, Baltimore, MD, USA, MA, Public Health, Focus in Epidemiology, Biostatistics, Global Health |
| 2011 | University of Alabama, Alabama, AL, USA, BS, B.S. in Biomedical Engineering |
Postgraduate Training
| | |
| --- | --- |
| 2018-2022 | Clinical Residency, Radiation Oncology, The University of Texas MD Anderson Cancer Center, Houston, TX |
| 2017-2018 | Clinical Residency, Internal Medicine, The University of Texas Health Science Center at Houston, Houston, TX |
Other Appointments/Responsibilities
Member, Global Health Subcommittee, Association of Residents in Radiation Oncology (ARRO), Houston, TX, 2021 - Present
Post Course Evaluation & Advisory Role, ARRO-CARO Collaborative Global Oncology Enrichment Program, Houston, TX, 2020 - Present
Abstract Reviewer,, NIH NCI 9th Annual Symposium on Global Cancer Research, Houston, TX, 2020 - 2021
Member, Students for a Positive Academic Partnership with the East Baltimore Community, Houston, TX, 2015 - 2016
Trip Coordinator, JB Grant Global Health Society, Houston, TX, 2015 - 2016
Captain, University of Alabama School of Medicine, Bama Covered, Birmingham,, AL, 2013 - 2014
Event Co-Chair and Chair of Programming Committee, University of Alabama SNMA Pre-Health Conference, Birmingham,, AL, 2013 - 2014
Member and President, Student National Medical Association (SNMA), Houston, TX, 2012 - 2017
Learning Community Representative, University Alabama School of Medicine, Houston, TX, 2012 - 2017
Institutional Committee Activities
Member, MD Anderson Breast Radiation Oncology Treatment Guidelines Committee, 2022 - Present
Member, Radiation Oncology Strategic Initiatives Boot Walk Non-Faculty Seed Award Review Committee, 2021 - Present
Chair, Budget Subcommittee, House Staff Senate Graduate Medical Education, MD Anderson, 2020 - 2021
Resident Representative, Department of Radiation Oncology Quality and Safety Committee, 2020 - Present
Resident Participant, Protocol in a Day, Protocol development session, 2020 - 2020
Co-Founder and Co-Chair, House Staff Senate Graduate Medical Education, Global Oncology Subcommittee, 2019 - Present
Diversity Subcommittee, House Staff Senate Graduate Medical Education, 2018 - 2019
Member, Diversity Subcommittee, House Staff Senate Graduate Medical Education, 2018 - 2019
Member, Post-Baccalaureate Research Education Program, 2011 - 2012
Member, National Science Foundation Research Experience for Undergraduates in Physics, 2010 - 2010
Member, National Society of Collegiate Scholars, 2008 - 2009
Member, Alpha Lambda Delta Academic Honor Society, 2007 - 2008
| | |
| --- | --- |
| 2021 | American Society for Radiation Oncology (ASTRO) Residents/Fellows in Radiation Oncology Seed Grant, American Society of Radiation Oncology |
| 2021 | Mitchell, George, and Stephen Brown Award for Resident Excellence in Radiation Oncology, American Society of Radiation Oncology |
| 2013 | Minority Health and International Training Program, University of Alabama: National Institutes of Health (NIH) |
| 2013 | Poster Presentation, University of Alabama: Dale J. Benos Medical Student Research Day |
| 2012 | Comer Foundation Medical Scholarship Recipient, University of Alabama |
| 2012 | Benjamin and Roberta Russell Endowed Medical Scholarship Recipient, University of Alabama |
| 2011 | Ruth and William Silen MD Award at New England Science Symposium, Harvard Medical School |
| 2010 | Department of Biomedical Engineering Honors Program Induction, University of Alabama |
| 2010 | Math, Engineering, and Technology, UAB Summer Research Expo, University of Alabama |
| 2007 | Alpha Lambda Delta Academic Honor Society Induction |
Radiological Society of North America
Member, 2020 - Present
American Society of Clinical Oncology
Member, 2018 - Present
American Society for Radiation Oncology
Member, 2016 - Present
JB Grant Global Health Society
Field Trip Coordinator, 2015 - 2016
African Public Health Network, Houston, TX
Lecture Series Committee Member, 2015 - 2016
Students for a Positive Academic Partnership with the East Baltimore Community, Baltimore, MD
Member, 2015 - 2016
Student National Medical Association (SNMA)
President (2013-2014), 2012 - 2017
Peer-Reviewed Articles
Anakwenze Akinfenwa CP, Strom EA

. From the Plexus to the Cord: A Case of Metastatic Breast Cancer. Int J Radiat Oncol Biol Phys 114(2):181-182, 2022. PMID: 36055314.

Diao K, Kizub DA, Ausat N, Mwaba CK, Anakwenze Akinfenwa CP, Cameron CA, Chiao EY, Lombe DC, Msadabwe SC, Lin LL

. Perspectives of Zambian Clinical Oncology Trainees in the MD Anderson and Zambia Virtual Clinical Research Training Program (MOZART). Oncologist 27(10):e804-e810, 2022. PMID: 35689473.

Rhee DJ, Anakwenze Akinfenwa CPA, Rigaud B, Jhingran A, Cardenas CE, Zhang L, Prajapati S, Kry SF, Brock KK, Beadle BM, Shaw W, O'Reilly F, Parkes J, Burger H, Fakie N, Trauernicht C, Simonds H, Court LE

. Automatic contouring QA method using a deep learning-based autocontouring system. J Appl Clin Med Phys 23(8):e13647, 2022. e-Pub 2022. PMID: 35580067.

Anakwenze Akinfenwa CP, Ibraheem A, Nwankwo K, Lasebikan N, Ali-Gombe M, Aliyu UM, Ikhile E, Adegboyega O, Abdullahi A, Klopp AH, Schmeler K, Lin LL, Jhingran A, Page BR, Leng J, Grover S, Ntekim A

. Emerging Use of Public-Private Partnerships in Public Radiotherapy Facilities in Nigeria. JCO Glob Oncol 7:1260-1269, 2021. PMID: 34351813.

Taku, N., Woodhouse, K. D., Liao, K. P., Anakwenze, C. P., Harrison, R. A., Zaky, W., Paulino, A. C. & Yeboa, D. N.

. Patterns of care for pediatric patients with newly-diagnosed grade II gliomas. Child's Nervous System 37(5):1563-1572, 2021.

Rohini K. Bhatia, Sarah Rayne, William Rate, Lame Bakwenabatsile, Barati Monare, Chidinma Anakwenze, Preet Dhillon, Mohan Narasimhamurthy, Scott Dryden-Peterson, Surbhi Grover

. Patient factors associated with delays in obtaining cancer care in Botswana. Journal of Global Oncology 2018(4), 2018.

Chidinma Anakwenze, Rohini Bhatia, William Rate, Lame Bakwenabatsile, Kebatshabile Ngoni, Sarah Rayne, Preet Dhillon, Mohan Narasimhamurthy, Ari Ho-Foster, Doreen Ramogola-Masire, Surbhi Grover

. Factors related to advanced stage of cancer presentation in Botswana. Journal of Global Oncology 2018(4):1-9, 2018.

Anakwenze CP, Ntekim A, Trock B, Uwadiae IB, Page BR

. Barriers to radiotherapy access at the University College Hospital in Ibadan, Nigeria. Clin Transl Radiat Oncol 5:1-5, 2017. e-Pub 2017. PMID: 29594210.

Cristiano Boneti, Chidinma P. Anakwenze, Jorge De La Torre, Tony L. Weaver, Sherry S. Collawn

. Two-year follow-up of autologous fat grafting with laser-assisted facelifts. Annals of plastic surgery 76:S260-S263, 2016.

Chidinma P. Anakwenze, Evelyn Coronado-Interis, Maung Aung, Pauline E. Jolly

. A Theory-Based Intervention to Improve Breast Cancer Awareness and Screening in Jamaica. Prevention Science 16(4):578-585, 2015.

Evelyn Coronado Interis, Chidinma P. Anakwenze, Maug Aung, Pauline E. Jolly

. Increasing cervical cancer awareness and screening in Jamaica: Effectiveness of a theory-based educational intervention. International Journal of Environmental Research and Public Health 13(1):53, 2015.

Adinarayana Andukuri, Young Doug Sohn, Chidinma P. Anakwenze, Dong Jin Lim, Brigitta C. Brott, Young Sup Yoon, Ho Wook Jun

. Enhanced human endothelial progenitor cell adhesion and differentiation by a bioinspired multifunctional nanomatrix. Tissue Engineering - Part C: Methods 19(5):375-385, 2013.

Akinwande A; Ugwuanyi C; Chiegwu H; Idigo F; Abi R; Ogolodom M; Anakwenze C; Odukoya O

. Radiotherapy services in low resource settings; the situation in Nigeria. Sage Open Medicine.

Yu C, Anakwenze Akinfenwa C, Zhao Y, Martin R, Ludmir E, Niedzielski J, Qureshi A, Das P, holliday E, Raldow A, Nguyen C, Mumme R, Netherton T, Rhee DJ, Gay S, Yang J, Court L, Cardenas C

. Multi-organ auto-segmentation of abdominal structures from contrastenhanced and non-contrast-enhanced computed tomography images. Scientific Reports.
Invited Articles
Lichter K, Anakwenze Akinfenwa C, MacDuffie E, Bhatia R, Small C, Croke J, Small W, Chino J, Petereit D, Grover S. Treatment of cervical cancer: overcoming challenges in access to brachytherapy. Expert Rev Anticancer Ther 22(4):353-359, 2022. e-Pub 2022. PMID: 35227148.
Abstracts
Chidinma P. Anakwenze, Susan McGovern, Nicolette Taku, Kaiping Liao, David R. Boyce-Fappiano, Carlos Kamiya-Matsuoka, Amol Ghia, Caroline Chung, Daniel Trifiletti, Sherise D. Ferguson, Jing Li, Debra Nana Yeboa

. Association Between Facility Volume and Overall Survival for Patients with Grade II Meningioma after Gross Total Resection. World Neurosurgery 141:e133-e144, 2020.

David Boyce-Fappiano, Matthew S. Ning, Nikhil G. Thaker, Todd A. Pezzi, Olsi Gjyshi, Shane Mesko, Chidinma Anakwenze, Nicholas D. Olivieri, Alexis B. Guzman, James R. Incalcaterra, Chad Tang, Mary F. McAleer, Joseph M Herman, Amol J. Ghia

. Time-driven, activity-based cost analysis of radiation treatment options for spinal metastases. Journal of oncology practice 16(3):E271-E279, 2020.

Jim Leng, Atara I. Ntekim, Abiola Ibraheem, Chidinma P. Anakwenze, Daniel W. Golden, Olufunmilayo I. Olopade

. Infrastructural challenges lead to delay of curative radiotherapy in Nigeria. Journal of Global Oncology 6:269-276, 2020.
Book Chapters
Adinarayana Andukuri, Chidinma P. Anakwenze, Bryan A. Blakeney, Ho Wook Jun. Native endothelium mimicking nanomatrices and applications. In: Nanomedicine and the Cardiovascular System. CRC Press: Published - Jan 1 2011, 221-238, 2011.
| | |
| --- | --- |
| Title: | |
| Funding Source: | American Society for Therapeutic Radiology and Oncology (ASTRO) |
| Role: | Co-Principal Investigator |
| | |
| --- | --- |
| Title: | |
| Funding Source: | American College of Radiation Oncology |
| Role: | Co-Principal Investigator |
| | |
| --- | --- |
| Title: | |
| Funding Source: | National Science Foundation Research Experience for Undergraduates in Physics |
| Role: | Investigator |
| | |
| --- | --- |
| Title: | Post-Baccalaureate Research Education Program |
| Funding Source: | NIH/NCI |
| Role: | Investigator |
| | |
| --- | --- |
| Title: | Minority Health and International Training Program |
| Funding Source: | NIH/NCI |
| Role: | Investigator |
| | |
| --- | --- |
| Title: | Cancer Research Experiences for Students |
| Funding Source: | NCI |
| Role: | Investigator |