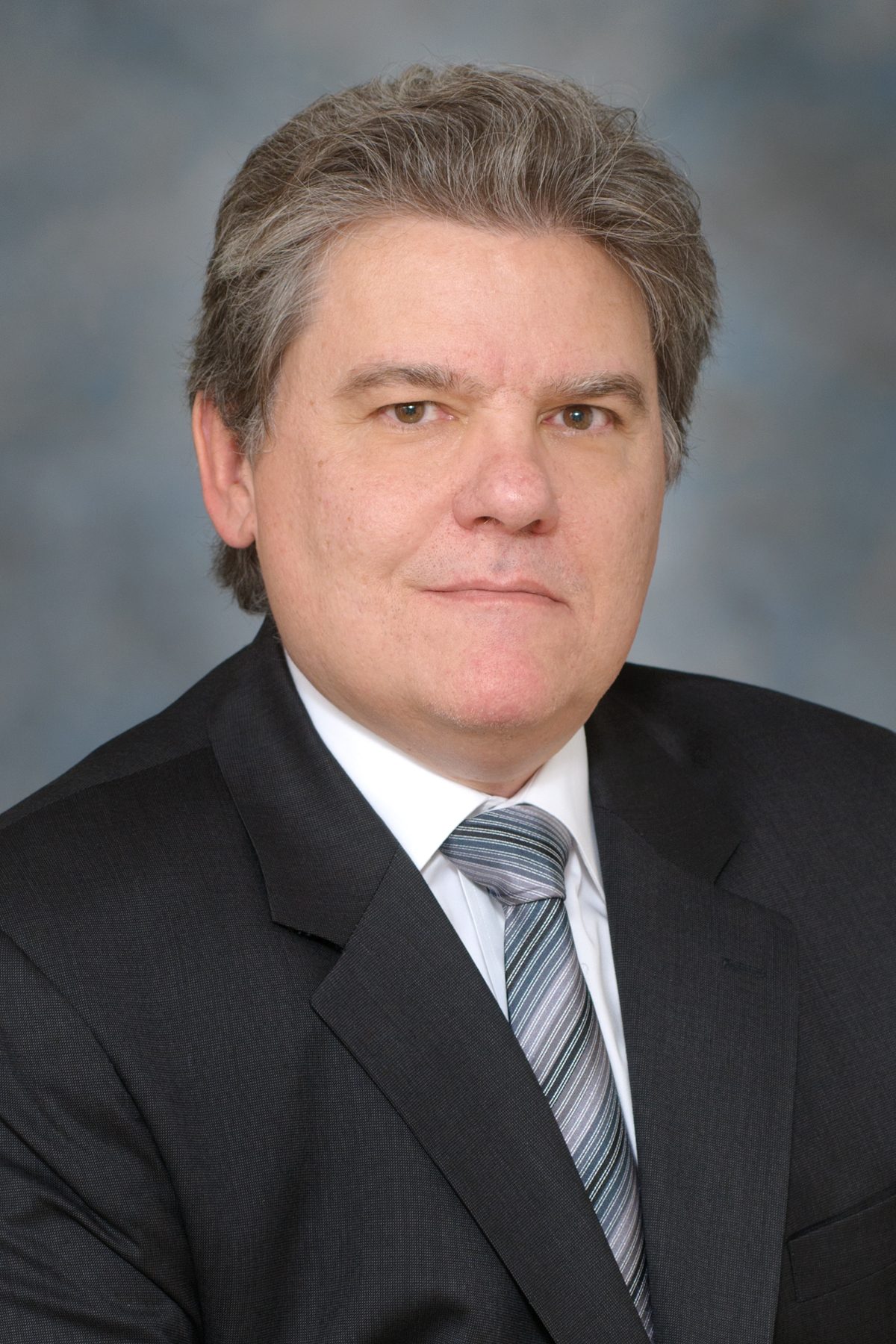 C. Marcelo Aldaz, M.D., Ph.D.
Department of Epigenetics and Molecular Carcinogenesis, Division of Basic Sciences
Primary Appointment
Professor, Department of Epigenetics and Molecular Carcinogenesis, Division of Science Park-Research Division, The University of Texas MD Anderson Cancer Center, Smithville, TX
Dual/Joint/Adjunct Appointment
Professor, University of Texas Health Science Center, GSBS, Houston, TX
▪ Breast cancer genetics. ▪ Hormonal carcinogenesis. ▪ Breast cancer mouse models. ▪ Role of WWOX in cancer and other human pathologies. 1. Ductal Carcinoma in situ (DCIS) is by definition a cancerous precursor lesion to Invasive Ductal Carcinoma of the breast. Importantly, there are no reliable biomarkers to facilitate the distinction of DCIS lesions with higher chance of progression versus those lesions that are unlikely to progress. Thus, specific biomarkers for accurate patient stratification are needed to benefit patients from receiving unnecessary aggressive treatments and vice versa to identify those patients that require closer monitoring post standard treatment. Currently the Aldaz laboratory is engaged in comprehensive approaches to characterize the genome, transcriptome and methylome of DCIS lesions with the goal of identifying key driver mutations, epigenetic changes and gene expression alterations that occur at pre-invasive stages of breast cancer progression. These studies will lead to the identification of novel biomarkers with great potential to better stratify DCIS patients while hopefully impacting clinical management of DCIS patients while leading to the development of rationale based targeted therapeutic approaches. 2. Several years ago the Aldaz laboratory discovered a putative tumor suppressor gene (WWOX) affected in breast and many other cancers. This gene spans the second most common chromosomal fragile site, FRA16D and as consequence is frequently affected by genomic abnormalities and chromosomal rearrangements. A mouse conditional KO model has been developed for better understanding the role of WWOX in cancer. Interestingly, the WWOX locus was also shown to be a target in familial dyslipidemias and metabolic syndrome related conditions. Indeed, we recently demonstrated that WWOX modulates HDL metabolism and lipoprotein gene expression. In other recent collaborative studies it has been confirmed that WWOX is found mutated in a new form of autosomal recessive cerebellar ataxia with epilepsy and mental retardation. In summary, multiple approaches are being pursued at Dr. Aldaz's lab to understand the role of WWOX not only in cancer but also in other important human pathological conditions.
Degree-Granting Education
| | |
| --- | --- |
| 1983 | University of Buenos Aires Medical School, Buenos Aires, ARG, PHD, Doctor in Medical Sciences |
| 1980 | University of Buenos Aires Medical School, Buenos Aires, ARG, MD, Medicine |
Peer-Reviewed Articles
Hussain T, Liu B, Shrock MS, Williams T, Aldaz CM

. WWOX, the FRA16D gene: a target of and a contributor to genomic instability. Genes Chromosomes Cancer 58(5):324-338, 2019. e-Pub 2018. PMID: 30350478.

Hussain T, Kil H, Hattiangady B, Lee J, Kodali M, Shuai B, Attaluri S, Takata Y, Shen J, Abba MC, Shetty AK, Aldaz CM

. Wwox deletion leads to reduced GABA-ergic inhibitory interneuron numbers and activation of microglia and astrocytes in mouse hippocampus. Neurobiol Dis 121:163-176, 2019. e-Pub 2018. PMID: 30290271.

McBride KM, Kil H, Mu Y, Plummer JB, Lee J, Zelazowski MJ, Sebastian M, Abba MC, Aldaz CM

. Wwox Deletion in Mouse B Cells Leads to Genomic Instability, Neoplastic Transformation, and Monoclonal Gammopathies. Front Oncol 9:517, 2019. e-Pub 2019. PMID: 31275852.

Hussain T, Abba MC, Chen J, Aldaz CM

. Delineating WWOX protein interactome by tandem affinity purification mass-spectrometry: Identification of top interactors and key metabolic pathways involved. Frontiers in Oncology 8(591), 2018.

Visschedijk MC, Spekhorst LM, Cheng SC, van Loo ES, Jansen BHD, Blokzijl T, Kil H, de Jong DJ, Pierik M, Maljaars JPWJ, van der Woude CJ, van Bodegraven AA, Oldenburg B, Löwenberg M, Nieuwenhuijs VB, Imhann F, van Sommeren S, Alberts R, Xavier RJ, Dijkstra G, Nico Faber K, Aldaz CM, Weersma RK, Festen EAM

. Genomic and expression analyses identify a disease modifying variant for fibrostenotic Crohn's disease. J Crohns Colitis 12(5):582-588, 2018. e-Pub 2018. PMID: 29361163.

Schrock MS, Batar B, Lee J, Druck T, Ferguson B, Cho JH, Akakpo K, Hagrass H, Heerema NA, Xia F, Parvin JD, Aldaz CM, Huebner K

. Wwox-Brca1 interaction: Role in DNA repair pathway choice. Oncogene 36(16):2215-2227, 2017. e-Pub 2016. PMID: 27869163.

Abba MC, Zhong Y, Lee J, Kil H, Lu Y, Takata Y, Simper MS, Gaddis S, Shen J, Aldaz CM. DMBA induced mouse mammary tumors display high incidence of activating Pik3caH1047 and loss of function Pten mutations. Oncotarget 7(39):64289-64299, 2016. e-Pub 2016. PMID: 27588403.
| | |
| --- | --- |
| Title: | Characterization of early breast cancer driver IncRNAs |
| Funding Source: | Department of Defense (DOD) |
| Role: | Principal Investigator |
| | |
| --- | --- |
| Title: | Role of WWOX Loss of Function in High Risk Multiple Myeloma |
| Funding Source: | Leukemia and Lymphoma Society |
| Role: | Project Leader |
| | |
| --- | --- |
| Title: | Targeted casein kinase 1δ (CK1δ) inhibition as a breast cancer prevention strategy |
| Funding Source: | NCI Preclinical PREVENT Cancer Program |
| Role: | Principal Investigator |
| | |
| --- | --- |
| Title: | Pilot Evaluation of Epigenomic and Immunologic States in Current and Former Tobacco Smokers |
| Funding Source: | Tobacco Pilot Award, The University of Texas MD Anderson Cancer Center |
| Role: | Principal Investigator |