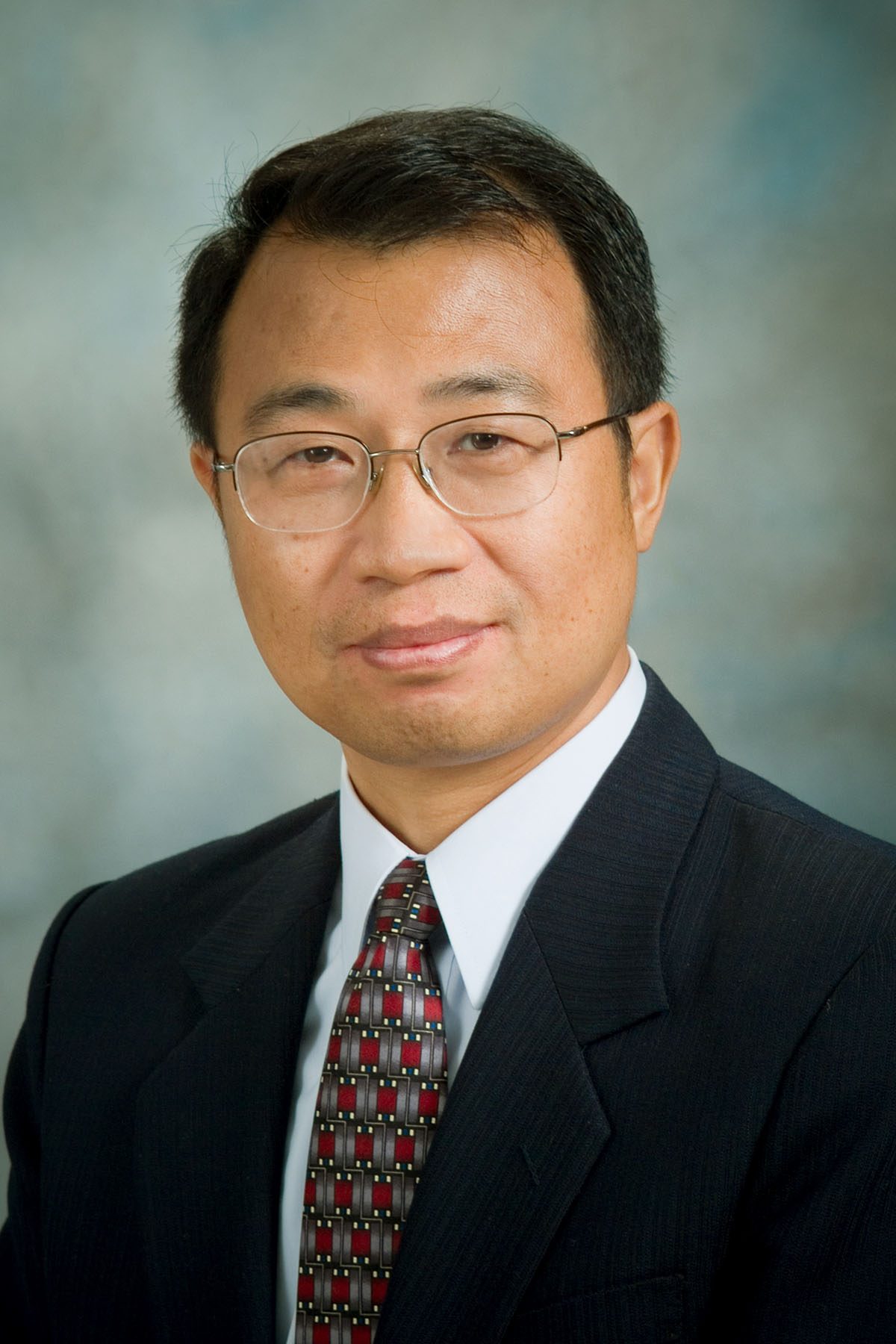 Congjun Wang
Department of Radiation Physics, Division of Radiation Oncology
Degree-Granting Education
| | |
| --- | --- |
| 2003 | Ohio University, Athens, OH, USA, PHD, Physics |
| 1989 | Ohio University, Athens, OH, USA, MS, Physics |
| 1985 | Huazhong University of Science and Technology, Wuhan, CHN, MS, Optical Engineering |
| 1982 | Huazhong University of Science and Technology, Wuhan, CHN, BS, Optical Engineering |
Academic Appointments
Instructor, Department of Radiation Physics, Division of Radiation Oncology, The University of Texas MD Anderson Cancer Center, Houston, TX, 2005 - 2009
Instructor, Department of Physics, Ohio University, Chillicothe, OH, 1993 - 1993
Assistant Professor, Department of Optical Engineering, Huazhong University of Science and Technology, Wuhan, 1986 - 1987
Instructor, Department of Optical Engineering, Huazhong University of Science and Technology, Wuhan, 1985 - 1986
Other Appointments/Responsibilities
IT Consultant, Proview, Inc, Houston, TX, 2001 - 2002
IT Consultant, BIW, Houston, TX, 1998 - 2001
Programmer, Xerox Global Services, Cleveland, OH, 1996 - 1997
Programmer/Analyst, Pony Computer, Inc, Cleveland, OH, 1994 - 1996
Peer-Reviewed Articles
Nguyen K, Cummings D, Lanza VC, Morris K, Wang C, Sutton J, Garcia J

. A Dosimetric Comparative Study: Volumetric Modulated Arc Therapy vs Intensity-Modulated Radiation Therapy in the Treatment of Nasal Cavity Carcinomas. Med Dosim 38(3):223-232, 2013. e-Pub 2013. PMID: 23578496.

Garcia MK, Chiang JS, Cohen L, Liu M, Palmer JL, Rosenthal DI, Wei Q, Tung S, Wang C, Rahlfs T, Chambers MS

. Acupuncture for Radiation-induced Xerostomia in Cancer Patients: A Pilot Study. Head Neck 31(10):1360-8, 2009. PMID: 19378325.

Wang H, Shiu A, Wang C, O'Daniel J, Mahajan A, Woo S, Liengsawangwong P, Mohan R, Chang EL

. Dosimetric effect of translational and rotational errors for patients undergoing image-guided stereotactic body radiotherapy for spinal metastases. Int J Radiat Oncol Biol Phys 71(4):1261-1271, 2008. e-Pub 2008. PMID: 18485614.

Wang C, Shiu A, Lii M, Woo S, Chang EL

. Automatic target localization and verification for on-line image-guided stereotactic body radiotherapy of the spine. Technol Cancer Res Treat 6(3):187-96, 2007. PMID: 17535027.

Wang C, Shovlin J, Kordesh M

. Real-time Observation of CVD Diamond Dissolution and Oxidation Using Photoemission Electron Microscopy. Diamond and Related Materials 3:1066-1071, 1994.

Garcia A, Wang C, Kordesch M

. Controlled Deposition and Lateral Growth of and Ordered Monolayer of Carbon on Mo (100) Observed in situ. Appl Phys Lett 61:2984-2986, 1992.

Wang C, Kordesch E

. The Morphology of Carbon Films and Surfaces Studied by Photo-emission Electron Microscopy. Ultromicroscopy 31:154-163, 1991.

Wang C, Garcia A, Kordesh M

. Cold Field Emission From DVD Diamond Films Observed in Emission Electron Microscopy. Electronics Letters 27:1459-1460, 1991.

Wang C, Stumpf FB

. Instructional Laboratory Experiment of the Effect of a Ring Baffle on the Radiation From a Small Sonar Transducer at an Air-Water Surface. J Acoustical Society of America 86:604-1606, 1989.

Ruan Y, Wang C, Lu N

. A New way of Establishing 3-D Optical Diffraction Integrals for Focusing Optical Systems. Acta Optica Sinica 8:521-526, 1988.

Wang C, Ruan Y, Zhang P

. Calculation of Optical Diffraction Integrals Using Liner Phase and Liner Amplitude Approximations. Appl. Optics, 1988.

Ruan Y, Wang C

. 3-D Light Distribution Within the Focused Spot by Large Aperture Objectives for Optical Data Storage. Proceedings 14th Congress of the International Commission for Optics 813:447-448, 1987.