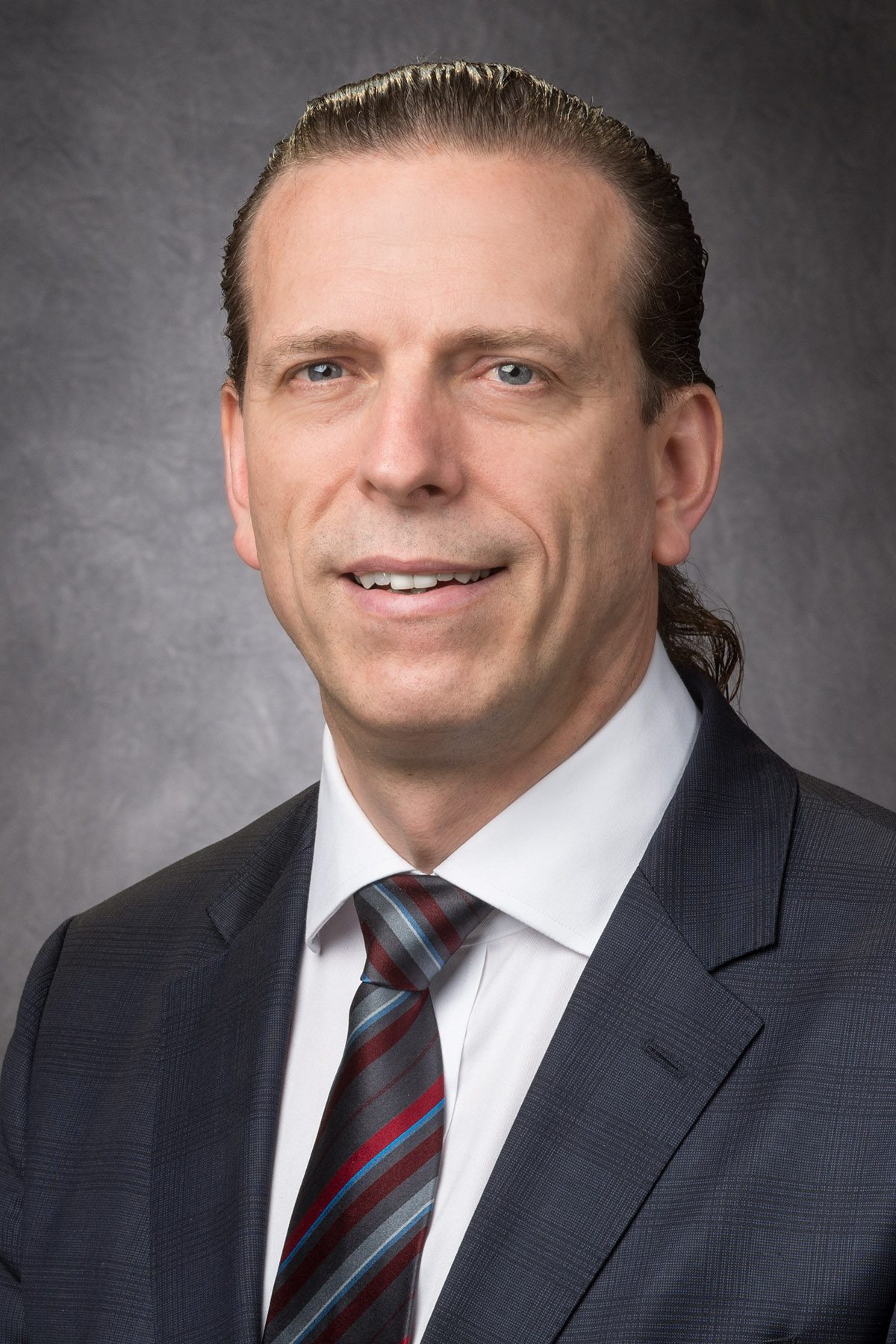 David A. Jaffray, BSc, PhD
Department of Radiation Physics, Division of Radiation Oncology
About Dr. David A. Jaffray
Dr. Jaffray is world-renowned for pioneering state-of-the-art image-guided radiation therapy, advancing the science and practice in medical physics, and for international leadership in clinical data science for oncology. Recruited to MD Anderson in May 2019, Dr. Jaffray serves as the IDSO director and is the institution's inaugural chief technology and digital officer, bringing more than two decades of scientific expertise and proven skill as an innovator. In this role, he directs the strategic design, acquisition, management and implementation of an enterprise-wide technology infrastructure to safeguard the integrity and availability of the institution's systems and intellectual property assets. He and his leadership team advance data integration, data governance and data security across MD Anderson's campuses and its national network, as well as coordinate technology-enabled innovation. He also is a professor with dual appointments for Radiation Physics and Imaging Physics.
Over the course of his career, he has played an important role in bridging the fields of biomedical engineering and medical physics. He continues to facilitate dialog and partnership between these two important disciplines and how they can tackle major health challenges worldwide. For his leadership, Dr. Jaffray was recognized in 2021 as a Fellow of the International Union for Physical and Engineering Sciences in Medicine and in 2022 as a Fellow of the National Academy of Inventors.
Dr. Jaffray holds 47 patents and has authored more than 300 peer-reviewed publications in cancer science and technology, including the development of new radiation treatment machines, the exploration of the fundamental limits of imaging system performance, the development of novel nanoparticle formulations for improved detection of cancer, and challenges in global health.
Read More
Present Title & Affiliation
Primary Appointment
Senior Vice President and Chief Technology and Digital Officer, Division of Office of the Sr. VP & Chief Technology and Digital Officer, The University of Texas MD Anderson Cancer Center, Houston, TX
Dual/Joint/Adjunct Appointment
Professor, Department of Radiation Physics, Division of Radiation Oncology, The University of Texas MD Anderson Cancer Center, Houston, TX
Professor, Department of Imaging Physics, Division of Diagnostic Imaging, The University of Texas MD Anderson Cancer Center, Houston
Degree-Granting Education
| | |
| --- | --- |
| 1994 | University of Western Ontario, London, CAN, PHD, Medical Biophysics |
| 1988 | University of Alberta, Edmonton, CAN, BSc, Physics |
| | |
| --- | --- |
| 1999 | Radiation Oncology, American Board of Medical Physics |
Academic Appointments
Scientist, University Health Network, Toronto, 2015 - 2019
Professor, Division of Institute of Biomaterials and Biomedical Engineering (IBBME), University of Toronto, Toronto, 2009 - 2019
Professor, Department of Medical Biophysics, Division of Faculty of Medicine, University of Toronto, Toronto, 2007 - 2019
Professor, Department of Radiation Oncology, Division of Faculty of Medicine, University of Toronto, Toronto, 2007 - 2019
Associate Professor, Department of Medical Biophysics, Division of Faculty of Medicine, University of Toronto, Toronto, 2002 - 2007
Associate Professor, Department of Radiation Oncology, Division of Faculty of Medicine, University of Toronto, Toronto, 2002 - 2007
Senior Scientist, Department of Radiation Physics, Division of Radiation Oncology, Princess Margaret Cancer Centre, Toronto, 2002 - 2019
Adjunct Assistant Professor, Department of Physics, Oakland University, Rochester, MI, 1994 - 2002
Staff Physicist, Division of Radiation Oncology, William Beaumont Hospital, Rochester, MI, 1993 - 2002
Administrative Appointments/Responsibilities
Director, Institute for Data Science in Oncology, The University of Texas MD Anderson Cancer Center, Houston, TX, 2021 - Present
Executive Vice President, University Health Network, Toronto, 2015 - 2019
Head, University Health Network, Toronto, 2013 - 2019
Director, University Health Network, Toronto, 2011 - 2019
Director, Department of Preclinical and Computational Cores, Princess Margaret Cancer Centre, Toronto, 2007 - 2019
Vice Chair, Department of Radiation Oncology, University of Toronto, Toronto, 2004 - 2016
Orey and Mary Fidani Family Chair, Department of Radiation Physics, Princess Margaret Cancer Centre, Troy, MI, 2002 - 2018
Head, Department of Radiation Physics, Princess Margaret Cancer Centre, Toronto, 2002 - 2019
| | |
| --- | --- |
| 2021 | Fellow of the National Academy of Inventors, National Academy of Inventors |
| 2021 | Fellow of the International Union for Physical and Engineering Sciences in Medicine, International Union for Physical and Engineering Sciences in Medicine |
| 2021 | Fellow of the German Radiation Oncology Society (DEGRO), German Radiation Oncology Society (DEGRO) |
| 2018 | ASTRO Gold Medal Award, American Society for Radiation Oncology |
| 2016 | Fellow of AAPM Award, American Association of Physicists in Medicine |
| 2014 | Honorable Mention for Innovation Award, Cancer Quality Council of Ontario |
| 2014 | Professional Development & CME Award, University of Toronto |
| 2014 | Fellow of COMP Award, Canadian Organization of Medical Physicists |
| 2013 | Excellence in Basic Sciences Research Award, Western University |
| 2013 | Faculty of Medicine Colin Woolf Award for Excellence in Course Coordination, University of Toronto |
| 2012 | Jorge Heller Award, Controlled Release Society |
| 2011 | James A. Purdy Lectureship, Washington University |
| 2010 | John S. Laughlin Lectureship, Memorial Sloan Kettering Cancer Center |
| 2007 | Inventor of the Year Award, University Health Network |
| 2007 | Innovation Award, Cancer Care Ontario |
| 2004 | Young Alumni Award of Merit, Western University |
| 2003 | Canada's Top 40 Under 40 Award, The Caldwell Partners |
| 2003 | Premier's Research Excellence Award, Government of Ontario |
| 2003 | Sylvia Fedoruk Award, Canadian Organization of Medical Physicists |
| 2002 | Farrington- Daniels award Best Dosimetry Paper, American Association of Physicists in Medicine |
| 2001 | Sylvia Sorkin Greenfield Best Paper Award, American Association of Physicists in Medicine |
| 1986 | NSERC Summer Studentship, Cross Cancer Institute |
National Center for Radiation Research in Oncology Carl Gustav Carus University Hospital Dresden
Scientific Advisory Board, 2012 - Present
American Association of Physicists in Medicine
Member, Therapy Physics Committee, 2012 - Present
American Association of Physicists in Medicine
Chair, TETAWG (Therapy Emerging Technology Assessment Working Group), 2012 - Present
American Society for Therapeutic Radiology and Oncology
Member, 2005 - Present
Canadian Organization of Medical Physicists
Member, 2005 - Present
Canadian Institutes of Health Research
Reviewer, Medical Physics and Imaging Committee, 2005 - Present
National Cancer Institute of Canada/Clinical Trials Group
Reviewer, 2003 - Present
Canadian Association of Radiation Oncologists
Member, 2002 - Present
Natural Sciences and Engineering Research Council of Canada (NSERC)
Reviewer, 2002 - Present
National Institutes of Health
Reviewer, Center for Scientific Review, (P01, R43, R01, STTR/SBIR), 1999 - Present
| | |
| --- | --- |
| Title: | Robotic Radiobiology |
| Funding Source: | Canada Foundation for Innovation (CFI) |
| Role: | Principal Investigator |
| | |
| --- | --- |
| Title: | Image-based quantitative assessment of tumor hypoxia |
| Funding Source: | Canadian Institutes of Health Research (CIHR) |
| Role: | Principal Investigator |
| | |
| --- | --- |
| Title: | Clinical Investigation of Frameless, Adaptive, Image-guided Gamma Knife Radiosurgery |
| Funding Source: | Canadian Institutes of Health Research (CIHR) |
| Role: | Co-Investigator |
| | |
| --- | --- |
| Title: | A Research Pipeline for Hypoxia-Directed Precision Cancer Medicine |
| Funding Source: | Terry Fox Research Institute (TFRI) |
| Role: | Co-Investigator |
| | |
| --- | --- |
| Title: | Advanced Strategies for Image Quality Improvement and Dose Reduction in CT |
| Funding Source: | Natural Sciences and Engineering Research Council of Canada (NSERC) |
| Role: | Principal Investigator |
| | |
| --- | --- |
| Title: | Science Operating Room Extension (SCORE) |
| Funding Source: | Canada Foundation for Innovation (CFI) |
| Role: | Principal Investigator |
| | |
| --- | --- |
| Title: | Quantitative Imaging for Personalized Cancer Medicine (ITP-Trials) |
| Funding Source: | Ontario Institute for Cancer Research (OICR) |
| Role: | Principal Investigator |
| | |
| --- | --- |
| Title: | Ontario Consortium for Adaptive Interventions in Radiation Oncology (OCAIRO) |
| Funding Source: | Ontario Research Fund (ORF) |
| Role: | Principal Investigator |
| | |
| --- | --- |
| Title: | Integrative Systems-Level Imaging (ISLI) |
| Funding Source: | Canadian Foundation for Innovation (CFI) |
| Role: | Principal Investigator |