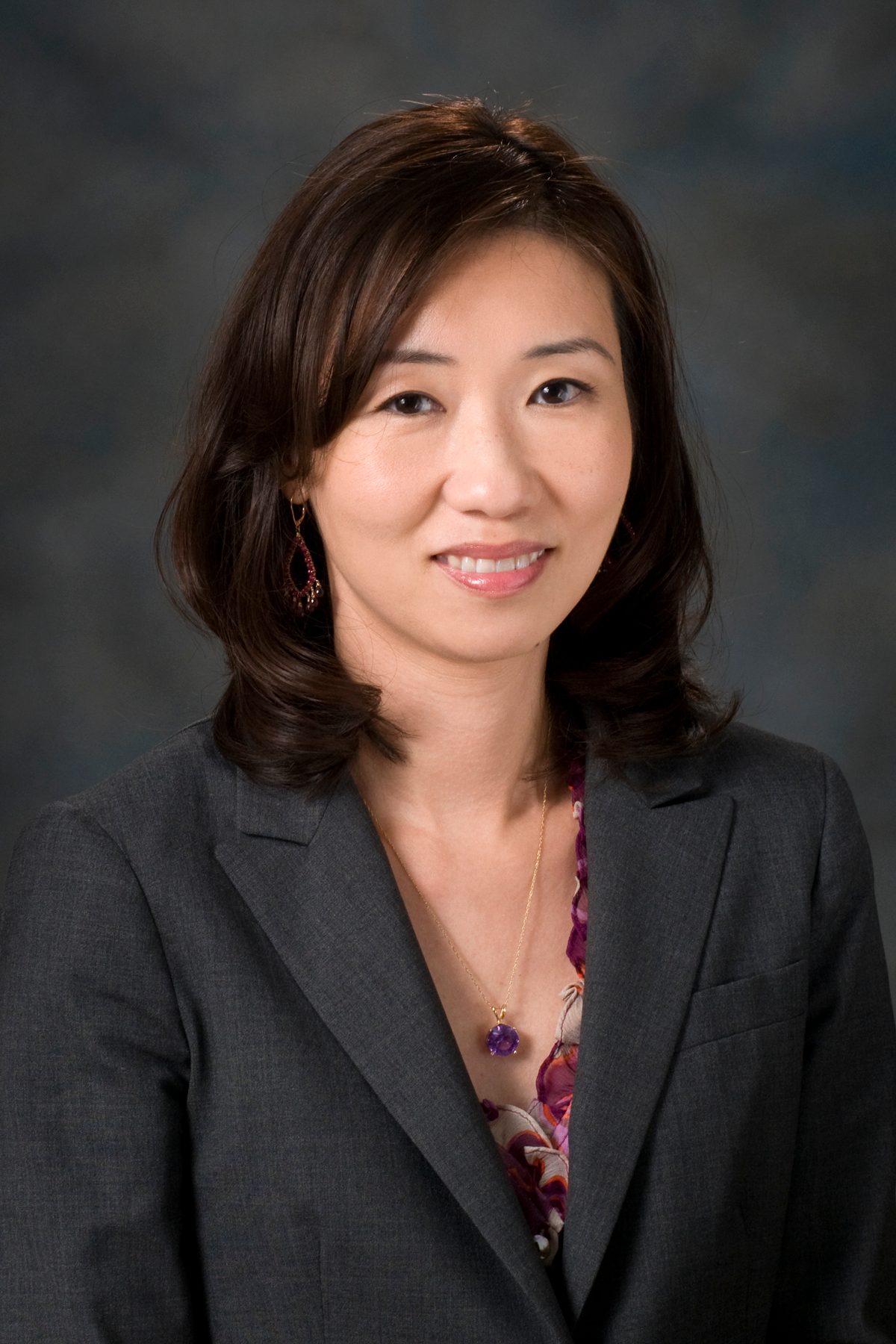 Eileen H. Shinn
Department of Behavioral Science, Division of Cancer Prevention and Population Sciences
About Dr. Shinn
Eileen H. Shinn, PhD, is an assistant professor in the Department of Behavioral Science. Her research interests include behavioral interventions, especially focusing on adherence, biobehavioral outcomes in cancer, and dissemination of interventions via mobile technologies. She is also working with genomic researchers in breast cancer to investigate the interaction of adherence to adjuvant endocrine therapy and tumoral sensitivity to endocrine treatment on outcomes.
She currently leads a translational project utilizing an interactive website to disseminate an efficacious intervention promoting adherence to preventive swallowing exercises in head and neck cancer patients during radiation, funded by the Cancer Prevention and Research Institute of Texas (CPRIT). She has been PI of several grants, testing the efficacy and feasibility of psychosocial interventions in head and neck cancer and ovarian cancer patients (5R01DE019141; ACS RSGPB-09-156-01-CPPB; R21DE019954; R03CA108358; K07CA093512). She is also multi-PI on an study testing the efficacy of a remote dehydration monitoring system (CYCORE) in the reduction of hospitalization rates for head and neck cancer patients during radiation (Peterson; R01CA177996). Dr. Shinn has also conducted multisite research characterizing biobehavioral factors in long-term versus short-term ovarian cancer survivors and in adherence to daily oral treatment in ER+ breast cancer.
Dr. Shinn's long-term goal is to link psychosocial research with advanced molecular assay techniques to impact health outcomes such as cardiovascular toxicities, late term toxicities and stress-mediated tumor progression.
Dr. Shinn has served as scientific reviewer for grant review panels for the Department of Defense Breast Cancer Research Program and as an ad-hoc member for NIH study sections. In 2016, Dr. Shinn received the New Investigator Award from the American Speech and Language Hearing Association. In 2012-13, she was a participant in the NIH Common Fund initiative panel, "Science of Behavior Change." She holds a Ph.D. in clinical psychology from Ohio University.
Read More
Primary Appointment
Assistant Professor, Department of Behavioral Science, Division of OVP, Cancer Prevention and Population Sciences, The University of Texas MD Anderson Cancer Center, Houston, TX
Degree-Granting Education
| | |
| --- | --- |
| 1998 | Ohio University, Athens, USA, PHD, Clinical Psychology |
| 1996 | Baylor College of Medicine, Houston, TX, USA, Resident, Clinical Psychology |
| 1993 | Ohio University, Athens, OH, USA, MS, Clinical Psychology |
| 1989 | Amherst College, Amherst, MA, USA, BS, Psychology |
Other Appointments/Responsibilities
Contract therapist, Woodland Centers Community Mental Health Center, Meigs County, 1994 - 1995
| | |
| --- | --- |
| 2016 | The National Foundation of Swallowing Disorders Award, National Foundation of Swallowing Disorders |
| 2011 | Head and Neck Cancer Alliance New Investigator Award, American Speech Language Hearing Association, Division 13 |
| 2001 | Media Article of the Month, American Journal of Hypertension, July |
| 1990 | Patricia R. Harris Fellowship, Ohio University Clinical Psychology |
Peer-Reviewed Articles
Shinn EH, Valentine A, Jethanandani A, Basen-Engquist K, Fellman B, Urbauer D, Atkinson E, Yusuf SW, Lenihan D, Woods ML, Kies MS, Sood AK, Carmack C, Morrison WH, Gillenwater A, Sturgis EM, Garden AS

Depression and Oropharynx Cancer Outcome Psychosom Med 78 (1) :38-48, 2016. PMID: 26632757

Shinn EH, Basen-Engquist K, Baum G, Steen S, Bauman RF, Morrison W, Garden AS, Sheil C, Kilgore K, Hutcheson KA, Barringer D, Yuan Y, Lewin JS

Adherence to preventive exercises and self-reported swallowing outcomes in post-radiation head and neck cancer patients Head and Neck 35 (12) :1707-12, 2013. e-Pub 2013. PMID: 24142523

Peterson SK, Shinn E, Basen-Engquist K, Demark-Wahnefried W, Prokhorov A, Baru C, Krueger I, Farcas E, Rios P, Lin K, Yan Y, Martch S, Patrick K

Identifying Early Dehydration Risk With Home-Based Sensors During Radiation Treatment: A Feasibility Study on Patients With Head and Neck Cancer J Natl Cancer Inst Monogr (47) :162-168, 2013. PMID: 24395986

Hutcheson KA, Bhayani MK, Beadle BM, Gold KA, Shinn EH, Lai SY, Lewin J

Eat and exercise during radiotherapy or chemoradiotherapy for pharyngeal cancers: use it or lose it. JAMA Otolaryngol Head Neck Surg 139 (11) :1127-34, 2013. PMID: 24051544

Shinn EH, Lenihan DJ, Urbauer DL, Basen-Engquist KM, Valentine A, Palmero L, Woods ML, Patel P, Nick AM, Shahzad MM, Stone RL, Golden A, Atkinson E, Lutgendorf SK, Sood AK

Impact of cardiovascular comorbidity on ovarian cancer mortality. Cancer Epidemiol Biomarkers Prev 22 (11) :2102-9, 2013. PMID: 24045927

Shinn EH, Taylor CL, Kilgore K, Valentine A, Bodurka DC, Kavanagh J, Sood A, Li Y, Basen-Engquist K

Associations with Worry about Dying and Hopelessness in Ambulatory Ovarian Cancer Patients Palliat Support Care 7 (3) :299-306, 2009. PMID: 19788771

Basen-Engquist K, Hughes D, Perkins H, Shinn E, Taylor CC

Dimensions of physical activity and their relationship to physical and emotional symptoms J Cancer Surviv 2 (4) :253-61, 2008. PMID: 18923906

Shinn EH, Basen-Engquist K, Thornton B, Spiess PE, Pisters L

Health behaviors and depressive symptoms in testicular cancer survivors. Urology 69 (4) :748-53, 2007. PMID: 17445663

Basen-Engquist K, Fouladi RT, Cantor SB, Shinn E, Sui D, Sharman M, Follen M

Patient assessment of tests to detect cervical cancer Int J Technol Assess Health Care 23 (2) :240-247, 2007. PMID: 17493310

Basen-Engquist K, Taylor CL, Rosenblum C, Smith MA, Shinn EH, Greisinger A, Gregg X, Massey P, Valero V, Rivera E

Randomized pilot test of a lifestyle physical activity intervention for breast cancer survivors Patient Educ Couns 64 (1-3) :225-34, 2006. PMID: 16843633

Shinn E, Basen-Engquist K, Le T, Hansis-Diarte A, Bostic D, Martinez-Cross J, Santos A, Follen M

Distress after an abnormal Pap smear result: scale development and psychometric validation. Prev Med 39 (2) :404-12, 2004. PMID: 15226053

Shinn EH, Poston WS, Kimball KT, St Jeor ST, Foreyt JP

Blood pressure and symptoms of depression and anxiety: a prospective study. Am J Hypertens 14 (7 Pt 1) :660-4, 2001. PMID: 11482304

Christensen DK, Armaiz-Pena GN, Ramirez E, Matsuo K, Zimmerman B, Zand B, Shinn E, Goodheart MJ, Bender D, Thaker PH, Ahmed A, Penedo FJ, DeGeest K, Mendez L, Domann F, Sood AK, Lutgendorf SK

SSRI use and clinical outcomes in epithelial ovarian cancer Oncotarget 7 (22) :33179-91. PMID: 27121207

Shinn EH, Swartz RJ, Thornton BB, Spiess PE, Pisters LL, Basen-Engquist KM

Testis cancer survivors' health behaviors: comparison with age-matched relative and demographically-matched population controls J Clin Oncol 28 (13) :2274-2279. PMID: 20368572

Cantor SB, Yamal JM, Guillaud M, Cox DD, Atkinson EN, Benedet JL, Miller D, Ehlen T, Matisic J, van Niekerk D, Bertrand M, Milbourne A, Rhodes H, Malpica A, Staerkel G, Nader-Eftekhari S, Adler-Storthz K, Scheurer ME, Basen-Engquist K, Shinn E, West LA, Vlastos AT, Tao X, Beck JR, Macaulay C, Follen M

Accuracy of optical spectroscopy for the detection of cervical intraepithelial neoplasia: Testing a device as an adjunct to colposcopy. Int J Cancer 128 (5) :1151-68. PMID: 20830707
Invited Articles
Bradford A, Shinn E, Incorporating Patient Perspectives and Priorities into Clinical Trial Design., 140 (2) :191-2, 2016
Other Articles
Shinn E

Adherence to Swallowing Exercises in the Prevention of Radiation-Related Dysphagia. News from SPOHNC, 2015
Editorials
Bradford A, Shinn E, Gynecologic Oncology
Abstracts
Shinn, E, Lenihan D, Urbauer D, Woods M, Nick M, Basen-Engquist K, Sood A

Impact of cardiovascular comorbidity on ovarian cancer outcome Psychosomatic Medicine 22 (11) :2102-2109, 2013. e-Pub 2013. PMID: 24045927
| | |
| --- | --- |
| Title: | Active for Life After Breast Cancer: Combining a Physical Activity Program with Survivor Navigation |
| Funding Source: | Cancer Prevention & Research Institute of Texas (CPRIT) |
| Role: | Co-Investigator |
| | |
| --- | --- |
| Title: | CYCORE: Cyberinfrastructure for Cancer Comparative Effectiveness Research |
| Funding Source: | University of California San Diego |
| Role: | Co-Investigator |
| | |
| --- | --- |
| Title: | Adherence to Swallowing Rehabilitation Exercises in Head and Neck Cancers |
| Funding Source: | NIH/NIDCR |
| Role: | Principal Investigator |
| | |
| --- | --- |
| Title: | Media-Rich mobile dissemination of a dysphagia prevention program for head and neck cancer patients during radiation |
| Funding Source: | Cancer Prevention & Research Institute of Texas (CPRIT) |
| Role: | Principal Investigator |