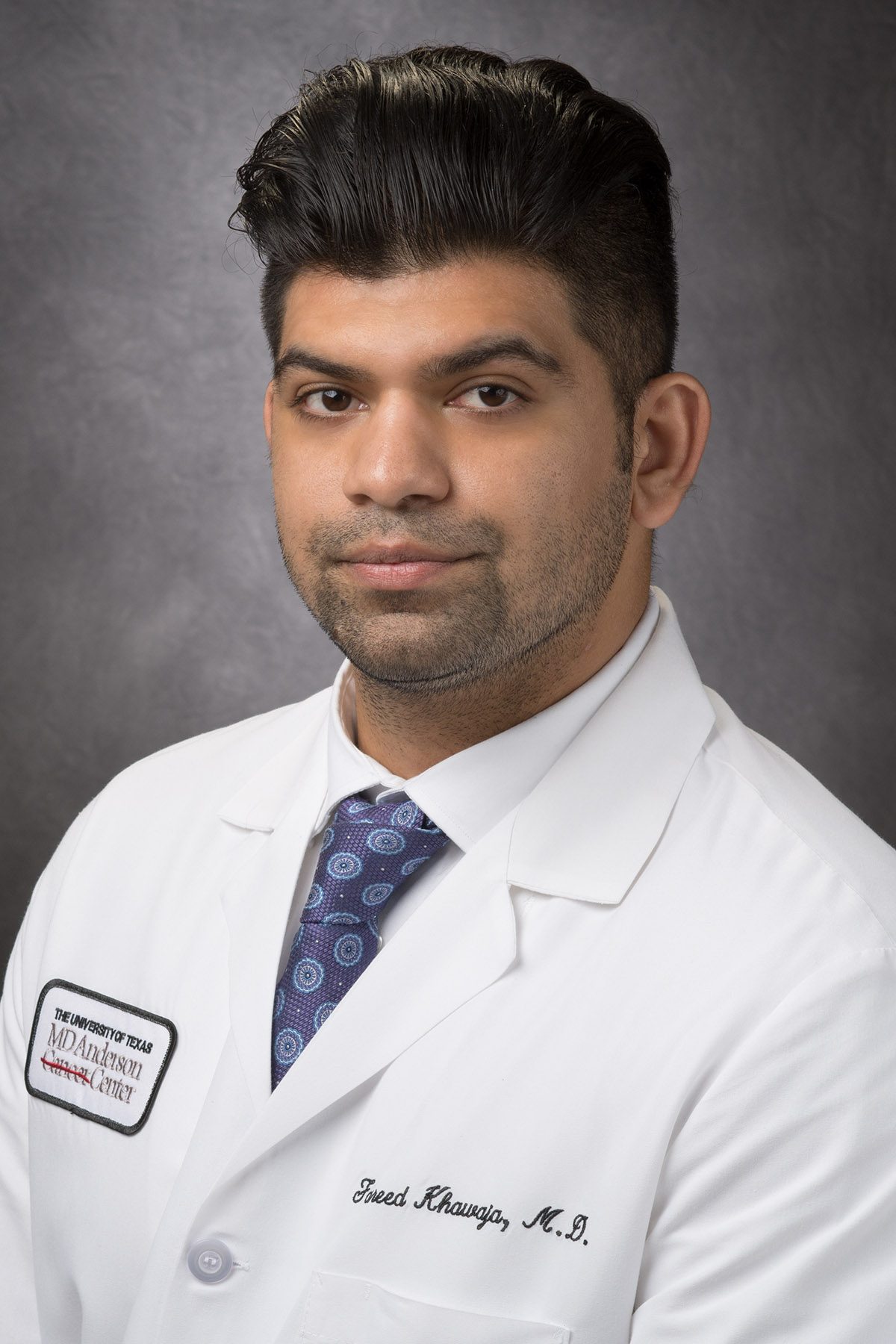 Fareed Khawaja
Department of Infectious Diseases, Infection Control, and Employee Health, Division of Internal Medicine
Primary Appointment
Assistant Professor, Department of Infectious Diseases, Infection Control and Employee Health, Division of Internal Medicine, The University of Texas MD Anderson Cancer Center, Houston, TX
Postgraduate Training
| | |
| --- | --- |
| 2017-2019 | Clinical Fellowship, The University of Texas Health Science Center at Houston/MD Anderson, Houston, TX |
| 2014-2017 | Clinical Residency, The University of Texas Health Science Center at Houston, Houston, TX |
| | |
| --- | --- |
| 2019 | American Board of Internal Medicine Specialty-Infectious Diseases |
| 2017 | American Board of Internal Medicine |
Other Appointments/Responsibilities
Research Trainee, The Mayo Clinic, Rochester, MN, 2013 - 2014
| | |
| --- | --- |
| 2008 | Pre-Med Honor for all A's |
| 2007 | Principal's List |
| 2006 | Pre-Med Honor for all A's |
MD Anderson Transfusion Committee, TX
Member, 2020 - Present
Peer-Reviewed Articles
Sarah E Simmons, Ricardo Carrion, Kendra J Alfson, Hilary M Staples, Chetan Jinadatha, William R Jarvis, Priya Sampathkumar, Roy F Chemaly, Fareed Khawaja, Mark Povroznik, Stephanie Jackson, Keith S Kaye, Robert M Rodriguez, Mark A Stibich

. Deactivation of SARS-CoV-2 with pulsed-xenon ultraviolet light: Implications for environmental COVID-19 control. Infection Control and Hospital Epidemiology, 2020. PMID: 32741425.

Almas Aysha, Ahmed Nayla, Khawaja Fareed, Khan Hameed Aamir

. Diuretics induced hyponatremia in a Hospital setting in Karachi, Pakistan A case control study. Journal of the College of Physicians and Surgeons, 2014.

Chemaly Roy F., Khawaja Fareed

. Respiratory Syncytial Virus in Hematopoietic Cell Transplant Recipients and Hematologic Malignancy Patients.