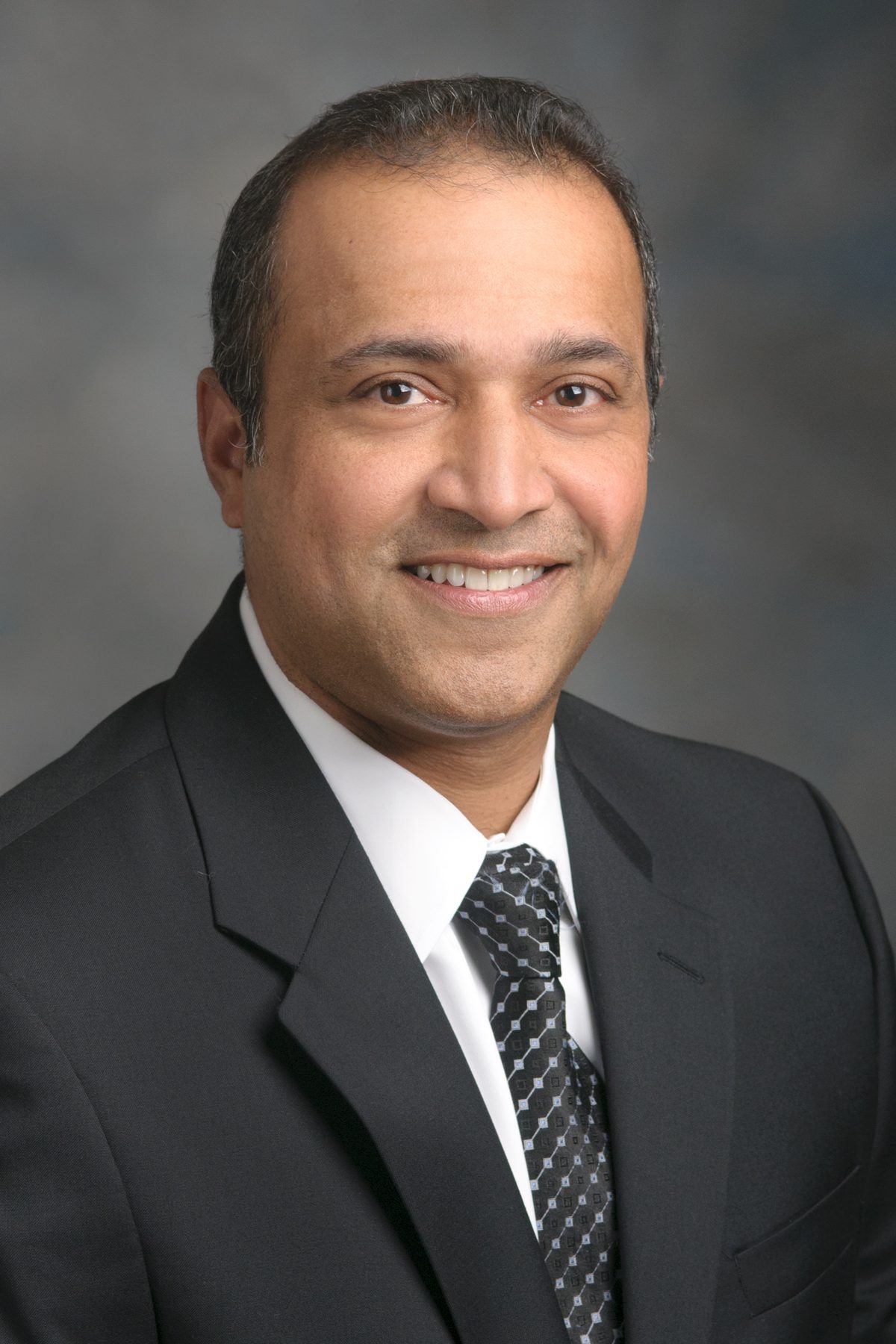 George A. Eapen, MD
Department of Pulmonary Medicine, Division of Internal Medicine
Primary Appointment
Professor, Department of Pulmonary Medicine, Division of Internal Medicine, The University of Texas MD Anderson Cancer Center, Houston, TX
Deputy Department Chair, Department of Pulmonary Medicine, Division of Internal Medicine, The University of Texas MD Anderson Cancer Center, Houston, TX
Section Chief, Department of Pulmonary Medicine, Division of Interventional Pulmonology, The University of Texas MD Anderson Cancer Center, Houston, TX
Degree-Granting Education
| | |
| --- | --- |
| 1990 | College of Medical Sciences Medical School, University of Benin, Benin City, NGA, MD, Medicine |
Postgraduate Training
| | |
| --- | --- |
| 1998-2001 | Clinical Fellowship, Pulmonary and Critical Care Medicine, Baylor College of Medicine, Houston, TX |
| 1994-1997 | Clinical Residency, Internal Medicine, Southern Illinois School of Medicine, Springfield, IL |
| | |
| --- | --- |
| 2015 | AABIP |
| 2002 | ABIM-Critical Care |
| 2001 | ABIM-Pulmonary |
| 1998 | ABIM-Internal Medicine |
Academic Appointments
Associate Professor, Department of Pulmonary Medicine, Division of Internal Medicine, The University of Texas MD Anderson Cancer Center, Houston, TX, 2008 - 2014
Assistant Professor, Department of Pulmonary Medicine, Division of Internal Medicine, The University of Texas MD Anderson Cancer Center, Houston, TX, 2001 - 2008
Assistant Professor, Department of Critical Care, The University of Texas M. D. Anderson Cancer Center, Houston, TX, 2001 - 2007
Fellowship, Baylor College of Medicine, Houston, TX, 1998 - 2001
Chief Resident, Southern Illinois University SOM, Springfield, IL, 1997 - 1998
Residency, Southern Illinois University SOM, Springfield, IL, 1994 - 1997
Administrative Appointments/Responsibilities
Program Director, Interventional Pulmonology Fellowship Program, Department of Pulmonary Medicine, The University of Texas MD Anderson Cancer Center, Houston, TX, 2007 - Present
Director of Educational Programs, Department of Pulmonary Medicine, The University of Texas MD Anderson Cancer Center, Houston, TX, 2003 - Present
Institutional Committee Activities
Member, CME Advisory Committee, 2011 - Present
Chair, Clinical Research Committee, 2009 - 2012
Military or Other Governmental Service
Colonel, United States Army Reserve, 1998 - Present
| | |
| --- | --- |
| 2016 | Clinical Safety & Effectiveness, UT MD Anderson Cancer Center |
| 2011 | Army Commendation Medal, United States Army |
| 2011 | Afghan Campaign Medal With Campaign Star, United States Army |
| 2011 | Outstanding Teaching Award, University of Texas, Houston |
| 2008 | Army Commendation Medal, United States Army |
| 2008 | Iraqi Campaign Medal with Campaign Star, United States Army |
| 2006 | Army Achievement Medal, United States Army |
| 2003 | Army Commendation Medal, United States Army |
| 2002 | Army Commendation Medal, United States Army |
| 2002 | Army Achievement Medal, United States Army |
| 1996 | Barry Breen Award for Outstanding Resident, Southern Illinois School of Medicine |
NCCN - National Comprehensive Cancer Network, Fort Washington, PA
Lung Cancer Screening Guideline Panel Member, 2010 - Present
American Association for Bronchology and Interventional Pulmonology
Member, Board of Directors, 2009 - 2014
American College of Chest Physicians
Member, 2003 - Present
Peer-Reviewed Articles
Invited Articles
Other Articles
Editorials
Ost D, Eapen GA, Jimenez CA, Morice RC. Improving procedural training and certification in pulmonary medicine. Chest 137(1):6-8, 2010. PMID: 20051398.
Abstracts
Iribarren J, MD; Casal R, MD; Eapen GA, MD; Jimenez C, MD; Lan C, DO; Lazarus DR, MD; Morice R, MD; Ost D, MD

. Safety and Effectiveness of Microdebrider Bronchoscopy for the Management of Central Airway Obstruction. Chest, 2012.
Book Chapters
Lazarus DR, Jimenez CA, Eapen GA. Endobronchial Ultrasound. In: Interventional Pulmonology, 2012.
Lazarus D, Rice D, Eapen G. Bronchoscopic Interventions for Lung Cancer. In: Lung Cancer Book. Wiley, 2012.
Shannon VR, Eapen GA, Jimenez CA, Morice RC, Travis EL, Bashoura L, Safdar A, Adachi R, Balachandran D, Faiz S, Dickey BF. Respiratory Complications, Pulmonary Hypertension. In: Cancer Medicine. Holland-Frei, 2010.
Kufe DW, Bast Jr. RC, Hait W, Hong WK, Pollock RE Weichselbaum RR, Holland JF, Frei E. Respiratory Complications Chapter 135 (Malignant Airway Obstruction). In: Cancer Medicine. BC Decker Publications, 2006.
Fein A, Kamholz S, Ost D. Immunocompriomised host / BMT Chapter 16. In: Respiratory Emergencies 2006. Hodder Arnold, Health Sciences, 2006.
Letters to the Editor
Kennedy MP, Shweihat Y, Sarkiss M, Eapen GA. Complete mediastinal and hilar lymph node staging of primary lung cancer by endobronchial ultrasound: moderate sedation or general anesthesia?. Chest 134: 1350-1; author reply 1351, 2008.
Kennedy MP, Jimenez CA, Morice RC, Eapen GA. Is endobronchial ultrasound additive to routine bronchoscopy in diagnosing sarcoidosis?. Eur Respir J 30 (3): 601-2, 2007.
| | |
| --- | --- |
| Title: | Multimodality virtual endoscopy with hybrid PET/CT units |
| Funding Source: | NIH/NCI |
| Role: | Co-Investigator |
| | |
| --- | --- |
| Title: | Comparative effectiveness of indwelling pleural catheters versus thoracoscopic pleurodesis for treatment of malignant pleural effusions |
| Funding Source: | The University of Texas MD Anderson Cancer Center |
| Role: | Collaborator |
| | |
| --- | --- |
| Title: | MIRA on Lung Cancer Pathogenesis |
| Funding Source: | Cancer Prevention & Research Institute of Texas (CPRIT) |
| Role: | Co-Investigator |