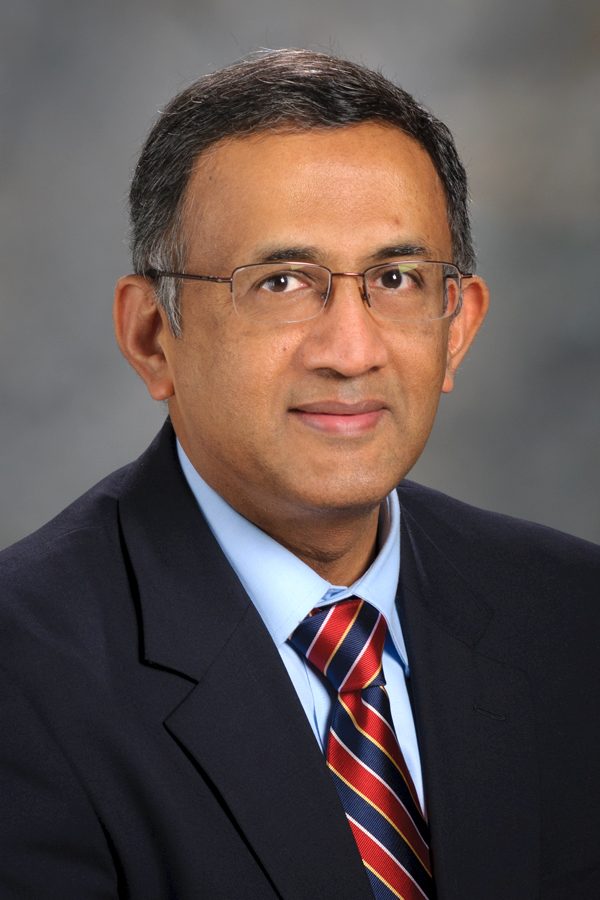 Gottumukkala S. Raju, M.D. FACG, FASGE
Department of Gastroenterology Hepatology and Nutrition, Division of Internal Medicine
About Dr. Raju
Dr. Raju is passionate about service - "Hands that serve are holier than lips that pray", Saibaba.

Raju is grateful to H-E-B Gastrointestinal Cancer Prevention, Research, and Education Endowment created by Mr. Charles Butt (2016) and John Stroehlein Endowed Distinguished Professorship for their support. Philanthropy helps full time clinicians remain at the cutting edge of clinical care, research, education, and service to the society as outlined below.

Raju developed a YouTube Channel dedicated for Colon Cancer Prevention & EMR . As the Co-Editor-in-Chief of Video GIE , an official, open access, video journal of the American Society for Gastrointestinal Endoscopy, he is passionate about improving education of endoscopists and their teams around the world (2016). It all started with the launch of ASGE Video Editing Training Scholarship Program (2007), development of Video GIE section in Gastrointestinal Endoscopy Journal (2013), and final launch of Video GIE as an independent journal (2016) - Raju was part of this journey right from the beginning working with so many of his ASGE friends and colleagues. Raju is currently exploring with the President of the Coleman Community College in Texas Medical Center to develop a training program for future generation of endoscopy assistants (this is critical for better endoscopic care of patients; currently, there are no programs dedicated to train endoscopy assistants in Texas (2016) Service to the Community: The American Society of Gastrointestinal Endoscopy (ASGE) offers opportunities for community service for endoscopists. The society recognized his contributions with the American Society of Gastrointestinal Endoscopy Distinguished Service Award in 2014. The President of ASGE honored Raju for his 15 years of service and contributions that lead to the launch of Video GIE at the ASGE World Cup of Endoscopy in 2016. 10 year journey to Video GIE and its mission to serve endoscopists provide better care around the world
Read More
Primary Appointment
Founding Co-Editor-in-Chief, Video GIE, an official journal of ASGE, American Society of Gastrointestinal Endoscopy, Downers Grove, IL
Clinical Medical Director, Department of Endoscopy, Division of Internal Medicine, The University of Texas MD Anderson Cancer Center, Houston, TX
John Stroehlein Distinguished Professor of Gastroenterology, Department of Gastroenterology, Hepat,& Nutr, Division of Internal Medicine, The University of Texas MD Anderson Cancer Center, Houston, TX
Dr.Raju's team is interested in colon cancer prevention and endoscopic resection of colon polyps as an alternative to surgery.
Endoscopic closure of colon perforations
: This investigative work in the animal laboratory at the University of Texas Medical Branch, Galveston, formed the basis for clinical care of patients with large polyps who are at high risk for perforation.
Endoscopic mucosal resection of colon polyps as an alternative to surgery:
Our team is able to avoid surgery in 75% of patients with large and flat lesions that could not removed in a community practice. Invited to give the
BJ Vakil Oration at the 1st World Conference on GI Endoscopy
on February 18, 2017 by the President of World Endoscopy Organization, Nagi Reddy.
Quality improvement in colonoscopy:
Developed the Natural Language Processing Program as an alternative to manual method to measure quality of colonoscopy (recipient of the University of Texas MD Anderson Cancer Center DOIM First Annual Quality Improvement Distinguished Paper Award)
Past Research Profile:
Publications for lookup. Future Research: Dr. Raju started two studies to understand the biology of subtle and flat precancerous lesions that are difficult to recognize and resect in collaboration with basic scientists and epidemiologists. A. Prospective Cohort Study of Endoscopic Resection of Large & Flat Lesions B. Serrated Lesions of the Colon
Dr. Raju sees patients in the COLON POLYP CLINIC that is dedicated to high quality colon cancer screening and resection of large and flat lesions as an alternative to surgery.
Endoscopic Mucosal Resection: Dr. Raju has resected over 400 large flat lesions between 2009 and 2014, with over 200 lesions referred from outside that would have required surgery. The bleeding rate is less than 5%, perforation rate less than 1%; and none required surgery for management of bleeding or perforation. The residual adenoma at 6 months was less than 3% (you could check his EMR experience and look up his outcomes ).
Colon cancer screening: Dr.Raju offers colon cancer screening, with a high adenoma detection rate (>50% in men; > 35% in women; you could look up the adenoma detection rates .)
Dr. Raju's YouTube colonoscopy education channel shares colonoscopy techniques to prevent
COLON CANCER PREVENTION
through better detection and resection with over 500 videos and 400,000 views.
Dr. Raju's facebook education channel - Endoscopist -shares tips on endoscopy and colonoscopy.
Degree-Granting Education
| | |
| --- | --- |
| 1992 | Royal College of Physicians, London, GBR, MRCP, Medicine |
| 1989 | Delhi University, New Delhi, IND, DM, Gastroenterology |
| 1986 | PGIMER, Chandigarh, IND, MD, Internal Medicine |
| 1982 | Andhra Medical College, Visakhapatnam, IND, MBBS, Medicine |
Postgraduate Training
| | |
| --- | --- |
| 1997-1998 | Interventional Endoscopy, Beth Israel & Deaconess Center, Harvard Medical School, Boston, MA |
| 1995-1997 | GI Fellowship, University of Iowa, Iowa, IA |
| 1993-1995 | Internal Medicine Residency, Cleveland Clinic, Cleveland, OH |
| | |
| --- | --- |
| 2007 | Gastroenterology (ABIM) - Top 10 decile |
Academic Appointments
Professor, Department of Gastroenterology, Hepat,& Nutr, Division of Internal Medicine, The University of Texas MD Anderson Cancer Center, Houston, TX, 2009 - Present
Professor, The University of Texas Medical Branch, Galveston, TX, 2006 - 2008
Associate Professor, The University of Texas Medical Branch, Galveston, Galveston, TX, 2001 - 2006
Assistant Professor, The University of Kansas Medical Center, Kansas City, KS, 1998 - 2001
Administrative Appointments/Responsibilities
GI Fellowship Site Director, Department of Gastroenterology, Hepat,& Nutr, The University of Texas MD Anderson Cancer Center, Houston, TX, 2011 - 2016
Director of Endoscopy, University of Texas Medical Branch, Galveston, Galveston, TX, 2001 - 2008
Director of Endoscopy, Kansas University Medical Center, Kansas City, KS, 1998 - 2001
Institutional Committee Activities
Steering Committee, Premalignant Genome Atlas Program, 2014 - Present
Chair, GHN Tissue Bank, 2013 - Present
Member, The University of Texas MD Anderson Cancer Center GME, 2011 - Present
| | |
| --- | --- |
| 2017 | BJ Vakil Oration - First World Congress of GI Endoscopy, Hyderabad, India - Endoscopic Resection of Colon Polyps as an Alternative to Surgery, Society for Gastrointestinal Endoscopy of India and World Endoscopy Organization |
| 2016 | American College of Gastroenterology Edgar Achkar Visiting Professorship, American College of Gastroenterology |
| 2016 | Founding Co-Editor-in-Chief of Video GIE, an official journal of the American Society for Gastrointestinal Endoscopy |
| 2016 | American Society for Gastrointestinal Endoscopy President's Recognition at the World Cup of Endoscopy, San Diego for service to the society & launch of a video journal for endoscopists |
| 2016 | H-E-B Gastrointestinal Cancer Prevention, Research, & Education Endowement, Donor: Mr. Charles Butt, H-E-B |
| 2016 | DOIM First Annual Quality Improvement Distinguished Paper Award, The University of Texas MD Anderson Cancer Center - Department of Internal Medicine |
| 2016 | Listed in Top Doctors of Houston, Compiled by industry specialist Castle Connolly, to identify America's Top Doctors located in the Houston area. |
| 2016 | Nominee for the Provost's Distinguished Mentoring Awards, The University of Texas MD Anderson Cancer Center |
| 2016 | 92nd Japanese Gastroenterological Endoscopy Society President's Invited Lecture at the Japanese Digestive Diseases Week, Kobe, Japan - "Video Journalism for Endoscopists" |
| 2015 | John Stroehlein Distinguished Professorship, The University of Texas MD Anderson Cancer Center |
| 2014 | American Society for Gastrointestinal Endoscopy Distinguished Service Award |
| 2014 | President's Recognition for Faculty Excellence, The University of Texas MD Anderson Cancer Center |
| 2013 | Editor, Video GIE, American Society of Gastrointestinal Endoscopy |
| 2013 | Chair, ASGE Educational Products Committee, American Society of Gastrointestinal Endoscopy |
| 2012 | 33rd Annual Telly Award for the Colorectal Cancer Screening: A Story of Choices. Patient Education Video, The Telly Awards |
| 2012 | King of the American Society of Gastrointestinal Endoscopy - EndoFest, American Society of Gastrointestinal Endoscopy |
| 2012 | Co-Director - ASGE Postgraduate Course at the Annual ACG Meeting, American Society of Gastrointestinal Endoscopy |
| 2012 | Super Doctors, SuperDoctors.com |
| 2012 | GOLD LEVEL AWARD in the Association TRENDS' 2012 All-Media Contest for the American Society of Gastrointestinal Endoscopy Self Assessment Program (GESAP VII), the TRENDS ALL Media Contest |
| 2011 | Health and Science Communications Association Award -"Colonoscopy & Colon Cancer Prevention" Patient Education Video, National Health Information Awards Judges |
| 2011 | Who's Who in Medicine and Healthcare, Marquis |
| 2011 | National Health Information Award, National Health Information Award |
| 2011 | MarCom Award - Gold Level Award for the Online Learning Center of the American Society of Gastrointestinal Endoscopy, Association of Marketing and Communications Professionals |
| 2010 | ASGE Audio-Visual Award for the production of an educational video "Endoscopic Management of GI Leaks", American Society of Gastrointestinal Endoscopy |
| 2010 | Editor, CME Section of GIE (an official journal of the American Society for Gastrointestinal Endoscopy), American Society of Gastrointestinal Endoscopy |
| 2008 | Alfa Omega Alfa Society, AOA of the University of Texas Medical Branch, Galveston, TX |
| 2007 | Fellow, American Society of Gastrointestinal Endoscopy |
| 2007 | Top Docs of America, Top Doctors of America |
| 2006 | Physician of the year honoree, Mardi Gras, Galveston, TX, Galveston, Texas |
| 2005 | Editor, CME Section of GIE (an official journal of the American Society for Gastrointestinal Endoscopy), American Society of Gastrointestinal Endoscopy |
| 2004 | Best Doctors of America, Best Doctors of America |
| 2004 | Fellow, Royal College of Physicians, UK |
| 2002 | Fellow, American College of Gastroenterology |
| 1993 | Best Graduating Resident of the Year in Internal Medicine, Cleveland Clinic Foundation, Cleveland, Ohio |
| 1981 | Vemuri Shivaji Rao Gold Medal in Medicine, Andhra Medical College, Visakhapatnum, India |
| 1980 | Ranked second in Eye & ENT among 150 medical students, Andhra University, Visakhapatnum, India |
| 1980 | Ranked first in Internal Medicine among 150 medical students, Andhra University, Visakhapatnum, India |
| 1980 | Ranked second in Final MBBS among 150 medical students, Andhra University, Visakhapatnum, India |
| 1980 | Sri Ramachandrula Hanumantha Rao & Rajya Lakshmi Merit Scholarship, Andhra Medical College, Visakhapatnum, India |
| 1980 | Tatachari Gold Medal in Pathology, Andhra Medical College, Visakhapatnum, India |
| 1979 | Ranked first in Second MBBS among 150 medical students, Andhra University, Visakhapatnum, India |
| 1979 | Ranked first in Microbiology among 150 medical students, Andhra University, Visakhapatnum, India |
| 1979 | Ranked first in Pathology among 150 medical students, Andhra University, Visakhapatnum, India |
| 1976 | Andhra Pradesh State Merit Scholarship- Top 1% of the candidates, Andhra Pradesh High School Board, Hyderabad, AP, India |
| 1976 | Ranked first in Organic Chemistry among 150 medical students, Nagarjuna University, Guntur, AP, India |
American Society of Gastrointestinal Endoscopy, Dover Grove, IL
Narrow Band Imaging Task Force, 2015 - 2015
American Society of Gastrointestinal Endoscopy, Downers Grove, IL
Member of the ASGE Strategic Planning Committee, 2015 - 2015
American Society of Gastrointestinal Endoscopy, Downers Grove
Co-Chair, Planning Committee for the ASGE-DDW Video Plenary Session & World Cup of Endoscopy, 2014 - 2016
American Society of Gastrointestinal Endoscopy, Chicago, IL
Chair, ASGE Educational Products Committee, 2013 - 2016
American Society of Gastrointestinal Endoscopy, Chicago
Editor, VideoGIE, Gastrointestinal Endoscopy Journal, 2013 - Present
American Society of Gastrointestinal Endoscopy, Downers Grove, IL
Chair, ASGE - Gastrointestinal Endoscopy Self Assessment Program VIII, 2013 - 2014
American Society of Gastrointestinal Endoscopy, Chicago, IL
Member of Strategic Planning Committee, 2011 - 2011
American Society of Gastrointestinal Endoscopy, Chicago
Chair, Web Education Committee, 2010 - 2012
American Society of Gastrointestinal Endoscopy, Downers Grove, IL
Co-Chair, ASGE - Gastrointestinal Endoscopy Self Assessment Program VII, 2010 - 2011
American Society of Gastrointestinal Endoscopy, Downers Grove, IL
Editor, CME Section - Gastrointestinal Endosocopy, 2010 - 2014
American Soceity of Gastrointestinal Endoscopy
Fellow, 2007 - Present
American Society of Gastrointestinal Endoscopy
Vice-Chair, Web Education Committee, 2007 - 2010
American Society of Gastrointestinal Endoscopy, Oakbrook, IL
Co-Chair, ASGE - Gastrointestinal Endoscopy Self Assessment Program VI, 2007 - 2008
American Society of Gastrointestinal Endoscopy, Oakbrook, IL
Editor, CME Section - Gastrointestinal Endoscopy, 2005 - 2009
Royal College of Physicians, UK
Fellow, 2004 - 2004
American Society of Gastrointestinal Endoscopy, Oakbrook, IL
Co-Chair, ASGE - Gastrointestinal Endoscopy Self Assessment Program V, 2004 - 2005
American College of Gastroenterology
Fellow, 2002 - Present
Peer-Reviewed Articles
Thirumurthi S, Raju GS, Pande M, Ruiz J, Carlson R, Hagan KB, Lee JH, Ross WA

Does deep sedation with propofol affect adenoma detection rates in average risk screening colonoscopy exams? World J Gastrointest Endosc 9 (4) :177-182, 2017. PMID: 28465784

Hoffman AS, Lowenstein LM, Kamath GR, Housten AJ, Leal VB, Linder SK, Jibaja-Weiss ML, Raju GS, Volk RJ

An entertainment-education colorectal cancer screening decision aid for African American patients: A randomized controlled trial. Cancer 123 (8) :1401-1408, 2017. e-Pub 2016. PMID: 28001305

Law R, Das A, Gregory D, Komanduri S, Muthusamy R, Rastogi A, Vargo J, Wallace MB, Raju GS, Mounzer R, Klapman J, Shah J, Watson R, Wilson R, Edmundowicz SA, Wani S

Endoscopic resection is cost-effective compared with laparoscopic resection in the management of complex colon polyps: an economic analysis. Gastrointest Endosc 83 (6) :1248-57, 2016. PMID: 26608129

Raju GS, Lum PJ, Ross WA, Thirumurthi S, Miller E, Lynch PM, Lee JH, Bhutani MS, Shafi MA, Weston BR, Pande M, Bresalier RS, Rashid A, Mishra L, Davila ML, Stroehlein JR

Outcome of EMR as an alternative to surgery in patients with complex colon polyps. Gastrointest Endosc 84 (2) :315-25, 2016. PMID: 26859866

Lynch PM, Morris JS, Wen S, Advani SM, Ross W, Chang GJ, Rodriguez-Bigas M, Raju GS, Ricciardiello L, Iwama T, Rossi BM, Pellise M, Stoffel E, Wise PE, Bertario L, Saunders B, Burt R, Belluzzi A, Ahnen D, Matsubara N, Bülow S, Jespersen N, Clark SK, Erdman SH, Markowitz AJ, Bernstein I, De Haas N, Syngal S, Moeslein G

A proposed staging system and stage-specific interventions for familial adenomatous polyposis. Gastrointest Endosc 84 (1) :115-125.e4, 2016. PMID: 26769407

Chen J, Raju GS, Jogunoori W, Menon V, Majumdar A, Chen JS, Gi YJ, Jeong YS, Phan L, Belkin M, Gu S, Kundra S, Mistry NA, Zhang J, Su X, Li S, Lin SH, Javle M, McMurray JS, Rahlfs TF, Mishra B, White J, Rashid A, Beauchemin N, Weston BR, Shafi MA, Stroehlein JR, Davila M, Akbani R, Weinstein JN, Wu X, Mishra L

Mutational Profiles Reveal an Aberrant TGF-β-CEA Regulated Pathway in Colon Adenomas. PLoS One 11 (4) :e0153933, 2016. PMID: 27100181

Rao AK, Soetikno R, Raju GS, Lum P, Rouse RV, Sato T, Titzer-Schwarzl D, Aisenberg J, Kaltenbach T

Large Sessile Serrated Polyps Can Be Safely and Effectively Removed by Endoscopic Mucosal Resection. Clin Gastroenterol Hepatol 14 (4) :568-74, 2016. PMID: 26499926

Cassani LS, Raju GS

Techniques for management of bleeding associated with colonic endoscopic mucosal resection. Gastrointest Endosc 83 (2) :469-70, 2016. PMID: 26341854

Ertem F, Dashwood WM, Rajendran P, Raju G, Rashid A, Dashwood R

Development of a murine colonoscopic polypectomy model (with videos). Gastrointest Endosc 83 (6) :1272-6, 2016. PMID: 26658879

Tang SJ, Raju G

Endoscopic photography and image documentation. Gastrointest Endosc 82 (5) :925-31, 2015. e-Pub 2015. PMID: 26142557

Raju GS, Lum PJ, Slack RS, Thirumurthi S, Lynch PM, Miller E, Weston BR, Davila ML, Bhutani MS, Shafi MA, Bresalier RS, Dekovich AA, Lee JH, Guha S, Pande M, Blechacz B, Rashid A, Routbort M, Shuttlesworth G, Mishra L, Stroehlein JR, Ross WA

Natural Language Processing as an Alternative to Manual Reporting of Colonoscopy Quality Metrics Gastrointest Endosc 82 (3) :512-9, 2015. e-Pub 2015. PMID: 25910665

Ross WA, Thirumurthi S, Lynch PM, Rashid A, Pande M, Shafi MA, Lee JH, Raju GS

Detection rates of premalignant polyps during screening colonoscopy: Time to revise quality standards? Gastrointest Endosc 81 (3) :567-74, 2015. e-Pub 2015. PMID: 25583558

Raju GS

Endoscopic clip closure of gastrointestinal perforations, fistulae, and leaks. Dig Endosc 26 Suppl 1:95-104, 2014. e-Pub 2013. PMID: 24373001

Haito-Chavez Y, Law JK, Kratt T, Arezzo A, Verra M, Morino M, Sharaiha RZ, Poley JW, Kahaleh M, Thompson CC, Ryan MB, Choksi N, Elmunzer BJ, Gosain S, Goldberg EM, Modayil RJ, Stavropoulos SN, Schembre DB, DiMaio CJ, Chandrasekhara V, Hasan MK, Varadarajulu S, Hawes R, Gomez V, Woodward TA, Rubel-Cohen S, Fluxa F, Vleggaar FP, Akshintala VS, Raju GS, Khashab MA

International multicenter experience with an over-the-scope clipping device for endoscopic management of GI defects (with video). Gastrointest Endosc 80 (4) :610-22, 2014. e-Pub 2014. PMID: 24908191

Atiq M, Bhutani MS, Ross WA, Raju GS, Gong Y, Tamm EP, Javle M, Wang X, Lee JH

Role of endoscopic ultrasonography in evaluation of metastatic lesions to the pancreas: a tertiary cancer center experience. Pancreas 42 (3) :516-23, 2013. PMID: 23211369

Wang W, Shpaner A, Krishna SG, Ross WA, Bhutani MS, Tamm EP, Raju GS, Xiao L, Wolff RA, Fleming JB, Lee JH

Use of EUS-FNA in diagnosing pancreatic neoplasm without a definitive mass on CT. Gastrointest Endosc 78 (1) :73-80, 2013. PMID: 23523302

Chen WC, Maru DM, Abraham SC, Tan D, Raju GS

Endoscopic clip tamponade of bleeding: a novel adjunct technique for endoscopic mucosal resection. Endoscopy 45 Suppl 2 UCTN:E104-5, 2013. PMID: 23526499

Chen WC, Weston B, Krishna SG, Gomez G, Rashid A, Katz MH, Lee JE, Raju GS

Prolonged endoscopic loop ligation for removal of gastrointestinal tumors. Endoscopy 45 Suppl 2 UCTN:E69-70, 2013. e-Pub 2013. PMID: 23526523

Gomez-Esquivel R, Raju GS

Endoscopic closure of acute esophageal perforations. Curr Gastroenterol Rep 15 (5) :321, 2013. PMID: 23558969

Eisen G, Raju GS, Baron T

VideoGIE - launch! Gastrointest Endosc 78 (2) :225, 2013. PMID: 23867372

Lee JH, Krishna SG, Singh A, Ladha HS, Slack RS, Ramireddy S, Raju GS, Davila M, Ross WA

Comparison of the utility of covered metal stents versus uncovered metal stents in the management of malignant biliary strictures in 749 patients. Gastrointest Endosc 78 (2) :312-24, 2013. PMID: 23591331

Raju GS, Vadyala V, Slack R, Krishna SG, Ross WA, Lynch PM, Bresalier RS, Hawk E, Stroehlein JR

Adenoma detection in patients undergoing a comprehensive colonoscopy screening Cancer Med 2 (3) :391-402, 2013. PMID: 23930215

Atiq M, Bhutani MS, Bektas M, Lee JE, Gong Y, Tamm EP, Shah CP, Ross WA, Yao J, Raju GS, Wang X, Lee JH

EUS-FNA for Pancreatic Neuroendocrine Tumors: A Tertiary Cancer Center Experience. Dig Dis Sci 57 (3) :791-800, 2012. PMID: 21964743

Beck WC, Bhutani MS, Raju GS, Nealon WH

Surgical management of late sequelae in survivors of an episode of acute necrotizing pancreatitis. J Am Coll Surg 214 (4) :682-8; discussion 688-90, 2012. PMID: 22463910

Atiq M, Gong Y, Raju GS, Lee JH

Pancreatic Endocrine Microadenomatosis in a Patient With Oculofaciocardiodental (OFCD) Syndrome. Pancreas 41 (2) :327-9, 2012. PMID: 22343980

Jaganmohan S, Lynch PM, Raju RP, Ross WA, Lee JE, Raju GS, Bhutani MS, Fleming JB, Lee JH

Endoscopic Management of Duodenal Adenomas in Familial Adenomatous Polyposis-A Single-Center Experience. Dig Dis Sci 57 (3) :732-7, 2012. PMID: 21960285

Pinchuk IV, Beswick EJ, Saada JI, Boya G, Schmitt D, Raju GS, Brenmoehl J, Rogler G, Reyes VE, Powell DW

Human Colonic Myofibroblasts Promote Expansion of CD4+ CD25high Foxp3+ Regulatory T Cells. Gastroenterology 140 (7) :2019-30, 2011. PMID: 21376048

Singh A, Kuo YF, Riall TS, Raju GS, Goodwin JS

Predictors of Colorectal Cancer Following a Negative Colonoscopy in the Medicare Population. Dig Dis Sci 56 (11) :3122-8, 2011. PMID: 21681506

Singal AK, Ross WA, Guturu P, Varadhachary GR, Javle M, Jaganmohan SR, Raju RP, Fleming JB, Raju GS, Kuo YF, Lee JH

Self-Expanding Metal Stents for Biliary Drainage in Patients with Resectable Pancreatic Cancer: Single-Center Experience with 79 Cases. Dig Dis Sci 56 (12) :3678-84, 2011. e-Pub 2011. PMID: 21750930

Raju RP, Jaganmohan SR, Ross WA, Davila ML, Javle M, Raju GS, Lee JH

Optimum Palliation of Inoperable Hilar Cholangiocarcinoma: Comparative Assessment of the Efficacy of Plastic and Self-Expanding Metal Stents. Dig Dis Sci 56 (5) :1557-64, 2011. PMID: 21222156

Park PO, Bergström M, Rothstein R, Swain P, Ahmed I, Gomez G, Raju GS

Endoscopic sutured closure of a gastric natural orifice transluminal endoscopic surgery access gastrotomy compared with open surgical closure in a porcine model. A randomized, multicenter controlled trial. Endoscopy 42 (4) :311-7, 2010. PMID: 20200808

Nealon WH, Bhutani M, Riall TS, Raju G, Ozkan O, Neilan R

A unifying concept: pancreatic ductal anatomy both predicts and determines the major complications resulting from pancreatitis. J Am Coll Surg 208 (5) :790-9; discussion 799-801, 2009. PMID: 19476839

Raju GS, Malhotra A, Ahmed I

Colonoscopic full-thickness resection of the colon in a porcine model as a prelude to endoscopic surgery of difficult colon polyps: a novel technique (with videos). Gastrointest Endosc 70 (1) :159-65, 2009. PMID: 19559838

Malhotra A, Guturu P, Basim MS, Raju GS

A rare case of breast cancer metastasis presenting as linitis plastica of the stomach and colon (with videos). Gastrointest Endosc 70 (3) :552-3; discussion 553, 2009. PMID: 19699983

Mummadi RR, Groce JR, Raju GS, Gomez G

Endoscopic management of colocutaneous fistula in a morbidly obese woman (with video). Gastrointest Endosc 67 (7) :1207-8, 2008. PMID: 18291390

Singh A, Alperin JB, Gomez GA, Loop K, Hudnall SD, Cass AR, Raju GS

Mucosal associated lymphoid tissue lymphoma of the colon presenting as autoimmune hemolytic anemia (with video). Gastrointest Endosc 67 (7) :1175-6; discussion 1176, 2008. PMID: 18355818

Raju GS, Fritscher-Ravens A, Rothstein RI, Swain P, Gelrud A, Ahmed I, Gomez G, Winny M, Sonnanstine T, Bergström M, Park PO

Endoscopic closure of colon perforation compared to surgery in a porcine model: a randomized controlled trial (with videos). Gastrointest Endosc 68 (2) :324-32, 2008. PMID: 18561931

Fan X, Scott L, Qiu S, Raju GS, Shabot M

Colonic coinfection of histoplasma and cytomegalovirus mimicking carcinoma in a patient with HIV/AIDS Gastrointest Endosc 67:977-8, 2008

Pinchuk IV, Saada J1, Beswick EJ, Boya G, Qiu SM, Mifflin RC, Ragu GS

PD-1 Ligand Expression by Human Colonic Myofibroblasts/Fibroblasts Regulates CD4(+) T-Cell Activity Gastroenterology 135 (4) :1228-1237, 1237.e1-2, 2008. PMID: 18760278

Ahmed I, Shibukawa G, Groce R, Pussard A, Brining D, Raju GS

Study of full-thickness endoluminal segmental resection of colon in a porcine colon model (with videos) Gastrointest Endosc 65 (4) :696-702, 2007. PMID: 17383466

Artifon EL, Sakai P, Ishioka S, Hondo FY Raju GS

Suprapapillary puncture of the common bile duct for selective biliary access: a novel technique (with videos) Gastrointest Endosc 65 (1) :124-31, 2007. PMID: 17185091

Groce JR, Raju GS, Hewlett A, Zwischenberger JB

Endoscopic clip closure of a gastric staple-line dehiscence (with video) Gastrointest Endosc 65 (2) :321-322, 2007. PMID: 17258993

Moparty B, Lograno R, Nealon WH, Wasman I, Raju GS, Pasricha PJ, Bhutani MS

The role of endoscopic ultrasound and endoscopic ultrasound-guided fine-needle aspiration in distinguishing pancreatic cystic lesions Diagn Cytopathol 35 (1) :18-25, 2007. e-Pub 2007. PMID: 17173300

Neilan RE, Groce JR, Jalil S, Raju GS

White bile (with video). Gastrointest Endosc 66 (1) :180-1; discussion 181, 2007. PMID: 17591495

Gomez V, Groce JR, Xaio SY, Bhutani MS, Raju GS

Band ligation resection of duodenal carcinoid (with video). Gastrointest Endosc 66 (2) :397; discussion 398, 2007. PMID: 17643721

Raju GS, Shibukawa G, Ahmed I, Brining D, Poussard A, Xiao SY, Coe J, Cropper M, Martin D, Hull J

Endoluminal suturing may overcome the limitations of clip closure of a gaping wide colon perforation (with videos). Gastrointest Endosc 65 (6) :906-11, 2007. PMID: 17350009

Raju GS, Ahmed I, Shibukawa G, Poussard A, Brining D

Endoluminal clip closure of a circular full-thickness colon resection in a porcine model (with videos). Gastrointest Endosc 65 (3) :503-9, 2007. PMID: 17321256

Raju GS, Ahmed I, Brining D, Xiao SY

Endoluminal closure of large perforations of colon with clips in a porcine model (with video). Gastrointest Endosc 64 (4) :640-646, 2006. PMID: 16996362

Raju GS, Ahmed I, Xiao SY, Brining D, Poussard A, Tarcin O, Shibukawa G, Dawon K, Knight G, Tanguay R, Hull J

Controlled trial of immediate endoluminal closure of colon perforations in a porcine model by use of a novel clip device (with videos) Gastrointest Endosc 64 (6) :989-997, 2006. PMID: 17140911

Waxman I, Raju GS, Critchlow J, Antonioli DA, Spechler SJ

High-frequency probe ultrasonography has limited accuracy for detecting invasive adenocarcinoma in patients with Barrett's esophagus and high-grade dysplasia or intramucosal carcinoma: a case series Am J Gastroenterol 101 (8) :1773-1779, 2006. PMID: 16780561

Artifon EL, Sakai P, Cunha JE, Dupont A, Filho FM, Hondo FY, Ishioka S, Raju GS

Surgery or endoscopy for palliation of biliary obstruction due to metastatic pancreatic cancer. Am J Gastroenterol 101 (9) :2031-7, 2006. PMID: 16968509

Pham BV, Raju GS, Ahmed I, Brining D, Chung S, Cotton P, Gostout CJ, Hawes RH, Kalloo AN, Kantsevoy SV, Pasricha PJ

Immediate endoscopic closure of colon perforation by using a prototype endoscopic suturing device: feasibility and outcome in a porcine model (with video). Gastrointest Endosc 64 (1) :113-9, 2006. PMID: 16813815

Raju GS, Gomez G, Xiao SY, Ahmed I, Brining D, Bhutani MS, Kalloo AN, Pasricha PJ

Effect of a novel pancreatic stent design on short-term pancreatic injury in a canine model. Endoscopy 38 (3) :260-5, 2006. PMID: 16528653

Raju GS, Sud R, Elfert AA, Enaba M, Kalloo A, Pasricha PJ

Biliary drainage by using stents without a central lumen: a pilot study. Gastrointest Endosc 63 (2) :317-20, 2006. PMID: 16427942

Raju GS, Pham B, Xiao SY, Brining D, Ahmed I

A pilot study of endoscopic closure of colonic perforations with endoclips in a swine model. Gastrointest Endosc 62 (5) :791-5, 2005. PMID: 16246701

Raju GS, Pasricha PJ

ShapeLock: a rapid access port for redeployment of a colonoscope into the proximal colon to facilitate multiple polypectomies in a single session. Gastrointest Endosc 61 (6) :768-70, 2005. PMID: 15855992

Raju GS, Gomez G

Endoloop ligation of a large colonic lipoma: a novel technique. Gastrointest Endosc 62 (6) :988-90, 2005. PMID: 16301055

Moparty B, Raju GS

Role of hemoclips in a patient with cecal angiodysplasia at high risk of recurrent bleeding from antithrombotic therapy to maintain coronary stent patency: a case report. Gastrointest Endosc 62 (3) :468-9, 2005. PMID: 16111979

Raju GS, Ahmed I, Xiao SY, Brining D, Bhutani MS, Pasricha PJ

Graded esophageal mucosal ablation with cryotherapy, and the protective effects of submucosal saline. Endoscopy 37 (6) :523-6, 2005. PMID: 15933923

Rex DK, Khashab M, Raju GS, Pasricha J, Kozarek R

Insertability and safety of a shape-locking device for colonoscopy. Am J Gastroenterol 100 (4) :817-20, 2005. PMID: 15784024

Raju GS, Faruqi S, Bhutani MS, Soloway R

Catheter probe EUS-assisted treatment with hemoclips of a colonic Dieulafoy's lesion with recurrent bleeding. Gastrointest Endosc 60 (5) :851-4, 2004. PMID: 15557977

Warneke RM, Walser E, Faruqi S, Jafri S, Bhutani MS, Raju GS

Cap-assisted endoclip placement for recurrent ulcer hemorrhage after repeatedly unsuccessful endoscopic treatment and angiographic embolization: case report. Gastrointest Endosc 60 (2) :309-12, 2004. PMID: 15278071

Raju GS, Rex DK, Kozarek RA, Ahmed I, Brining D, Pasricha PJ

A novel shape-locking guide for prevention of sigmoid looping during colonoscopy. Gastrointest Endosc 59 (3) :416-9, 2004. PMID: 14997146

Raju GS, Morris K, Boening S, Carpenter D, Gomez G

Capillary refilling sign demonstrated by capsule endoscopy. Gastrointest Endosc 58 (6) :936-7, 2003. PMID: 14652571

Faruqi S, Ahmed I, Membreno FE, Molina CP, Raju GS

Pinworms. Gastrointest Endosc 57 (4) :566, 2003. PMID: 12665774

Raju GS, Ahmed I, Daaboul B, Merati A

Endoscopic correction of a buried tracheo-esophageal prosthesis. Gastrointest Endosc 57 (2) :276-8, 2003. PMID: 12556807

Raju GS, Nath S, Zhao X, Jafri S, Gomez G, Luthra G

Duodenal diverticular hemostasis with hemoclip placement on the bleeding and feeder vessels: A case report. Gastrointest Endosc 57 (1) :116-7, 2003. PMID: 12518148

Raju GS, Olyaee M, Jafri SF, Hershberger J, May D

Stridor: a complication of PEG placement. Gastrointest Endosc 56 (1) :145-7, 2002. PMID: 12085057

Raju GS, Forster J, Sarosiek I, Rosenthal SJ, Lin Z, McCallum R

EUS guidance in gastric pacemaker implantation. Gastrointest Endosc 55 (6) :728-30, 2002. PMID: 11979260

Raju GS, Hershberger J, Crawford G, Girod D, Tsue T, Merati A

Laryngeal jack-assisted retrograde esophageal membranotomy through a gastrostomy. Gastrointest Endosc 53 (2) :239-41, 2001. PMID: 11174306

Daaboul B, Damjanov I, Pierce G, Raju GS

Traumatic cholecystitis. Gastrointest Endosc 52 (4) :525, 2000. PMID: 11023571

Smith MJ, Cherian P, Raju GS, Dawson BF, Mahon S, Bardhan KD

Bile acid malabsorption in persistent diarrhoea. J R Coll Physicians Lond 34 (5) :448-51, 2000. PMID: 11077656

Raju GS, Ahmed I, Bunting E, Tsue TT

A novel approach to radiation-induced post-cricoid esophageal stricture: the "Laryngeal Jack" to facilitate dilatation. Gastrointest Endosc 52 (2) :282-5, 2000. PMID: 10922113

Raju GS, Bardhan KD, Royston C, Beresford J

Giant gastric ulcer: its natural history and outcome in the H2RA era. Am J Gastroenterol 94 (12) :3478-86, 1999. PMID: 10606307

Raju GS, Bendixen BH, Khan J, Summers RW

Cerebrovascular accident during endoscopy: consider cerebral air embolism, a rapidly reversible event with hyperbaric oxygen therapy. Gastrointest Endosc 47 (1) :70-3, 1998. PMID: 9468427

Raju GS, Rao SSC, Lu C

Ascited and spontaneous pneumoperitoneum in bacterial overgrowth J clin Gastroenterol (25) :688-690, 1997

Raju GS, Rao SS, Lu C

Pneumoperitoneum and ascites secondary to bacterial overgrowth. J Clin Gastroenterol 25 (4) :688-90, 1997. PMID: 9451689

Raju GS, Felver M, Olin J, Satti D

Thrombolysis for acute Budd-Chiari syndrome: case report and review of literature Am J of Gasteoenterol 91 (1262-1263) , 1996

Raju GS, Bardhan KD, Royston C, Beresford J

The management of refractory gastric ulcer using H2-receptor antagonists. Aliment Pharmacol Ther 10 (3) :387-96, 1996. PMID: 8791968

Raju GS, Felver M, Olin JW, Satti SD

Thrombolysis for acute Budd-Chiari syndrome: case report and literature review. Am J Gastroenterol 91 (6) :1262-3, 1996. PMID: 8651186

Broor SL, Lahoti D, Bose PP, Ramesh GN, Raju GS, Kumar A

Benign esophageal strictures in children and adolescents: etiology, clinical profile, and results of endoscopic dilation. Gastrointest Endosc 43 (5) :474-7, 1996. PMID: 8726761

Raju GS, Smith MJ, Morton D, Bardhan KD

Mini-dose (1-microCi) 14C-urea breath test for the detection of Helicobacter pylori. Am J Gastroenterol 89 (7) :1027-31, 1994. PMID: 8017360

Raju GS, Dawson B, Bardhan KD

Bile acid malabsorption associated with Graves' disease. J Clin Gastroenterol 19 (1) :54-6, 1994. PMID: 7930435

Raju GS, Bardhan KD, Taylor PC, Harvey L, Rigby CC, Manasewitz S

Atypical presentation of Crohn's disease: severe, recurrent iron deficiency anemia dependent on blood transfusions. Am J Gastroenterol 89 (1) :113-5, 1994. PMID: 8273777

Broor SL, Raju GS, Bose PP, Lahoti D, Ramesh GN, Kumar A, Sood GK

Long term results of endoscopic dilatation for corrosive oesophageal strictures. Gut 34 (11) :1498-501, 1993. PMID: 8244131

Ramesh GN, Malla N, Raju GS, Sehgal R, Ganguly NK, Mahajan RC, Dilawari JB

Epidemiological study of parasitic infestations in lower socio-economic group in Chandigarh (north India). Indian J Med Res 93:47-50, 1991. PMID: 2022402

Dilawari JB, Chawla YK, Raju GS, Kaur U, Bambery P

Splenoportovenography in portal hypertension: a safe outpatient procedure. Can Assoc Radiol J 41 (3) :146-8, 1990. PMID: 2354389

Broor SL, Thorat VK, Chari ST, Misra SP, Raju GS

Gastric acid response to modified sham feeding in patients with duodenal ulcer: is increased vagal tone the cause of basal acid hypersecretion? J Gastroenterol Hepatol 5 (2) :116-20, 1990. PMID: 2103391

Banerjee K, Sharma G, Upadhaya S, Anand BS, Raju GS, Khandekar PS

Detection of hepatitis B virus in blood samples negative for surface antigen by DNA probe hybridization J Biosci (14) :279-287, 1989

Raju GS, Broor S, Singh V, Mehta SK

Fulminant viral hepatitis-Indian experience J Gastroenterol Hepatol 4 (4) :161-165, 1989. PMID: 2518791

Misra SP, Mahapatra J, Raju GS, Sood G, Anand BS

Endoscopic sphincterotomy--experience with 110 patients. Indian J Gastroenterol 8 (4) :253-5, 1989. PMID: 2599564

Dilawari JB, Raju GS, Chawla YK

Development of large spleno-adreno-renal shunt after endoscopic sclerotherapy. Gastroenterology 97 (2) :421-6, 1989. PMID: 2787257

Dilawari JB, Raju GS, Chawla Y, Kataria S, Kataria RN

Endoscopic sphincterotomy in the management of choledocholithiasis. J Assoc Physicians India 35 (3) :221-2, 1987. PMID: 3611005

Jaganmohan S, Raju GS

Tissue ingrowth in a fully covered self-expandable metallic stent (with videos). Gastrointest Endosc 68 (3) :602-4. e-Pub 2008. PMID: 18331738

Long Y, Sanchez-Espiridion B, Lin M, White L, Mishra L, Raju GS, Kopetz S, Eng C, Hildebrandt MAT, Chang DW, Ye Y, Liang D, Wu X

Global and targeted serum metabolic profiling of colorectal cancer progression. Cancer. e-Pub 2017. PMID: 28640361

Daniel CR, Shu X, Ye Y, Gu J, Raju GS, Kopetz S, Wu X

Severe obesity prior to diagnosis limits survival in colorectal cancer patients evaluated at a large cancer centre. Br J Cancer 114 (1) :103-9. PMID: 26679375

Lin SH, Raju GS, Huff C, Ye Y, Gu J, Chen JS, Hildebrandt MAT, Liang H, Menter DG, Morris J, Hawk E, Stroehlein JR, Futreal A, Kopetz S, Mishra L, Wu X

The somatic mutation landscape of premalignant colorectal adenoma. Gut. e-Pub 2017. PMID: 28607096

Sodikoff JB, Keilin SA, Cai Q, Bharmal SJ, Lewis MM, Raju GS, Willingham FF

Mycophenolate mofetil for maintenance of remission in steroid-dependent autoimmune pancreatitis. World J Gastroenterol 18 (18) :2287-90. PMID: 22611324

Didwaniya N, Reddy A, Gottumukkala RS, Bruera E

What is your gut feeling about opioid rotation? J Clin Oncol 33 (3) :e11-2. PMID: 24590650
Invited Articles
Hagan KB, Thirumurthi S, Gottumukkala R, Vargo J, Sedation in the Endoscopy Suite., 14 (2) :194-209, 2016
Thirumurthi S, Ross WA, Raju GS, Can Technology Improve the Quality of Colonoscopy?, 18 (7) :38, 2016
Thirumurthi S, Raju GS, How to deal with large colorectal polyps: snare, endoscopic mucosal resection, and endoscopic submucosal dissection; resect or refer?, 32 (1) :26-31, 2016
Daram SR, Tang SJ, Raju GS, A primer on endoscopic movie production (with videos)., 75 (1) :161-4, 2012
Raju GS, Gastrointestinal perforations: role of endoscopic closure., 27 (5) :418-22, 2011
Kim HN, Raju GS, Bowel preparation and colonoscopy technique to detect non-polypoid colorectal neoplasms., 20 (3) :437-48, 2010
Raju GS, Kaltenbach T, Soetikno R, Endoscopic mechanical hemostasis of GI arterial bleeding (with videos)., 66 (4) :774-85, 2007
Raju GS, Gerson L, Das A, Lewis B, Lewis B, American Gastroenterological Association (AGA) Institute medical position statement on obscure gastrointestinal bleeding., 133 (5) :1694-6, 2007
Raju GS, Endoscopic management of gastrointestinal leaks, 17:487-503, 2007
Raju GS, Gerson L, Das A, Lewis B, American Gastroenterological Association (AGA) Institute technical review on obscure gastrointestinal bleeding, 133 (5) :1697-1717, 2007
Raju GS, Thompson C, Zwischenberger JB, Emerging endoscopic options in the management of esophageal leaks (videos)., 62 (2) :278-86, 2005
Raju GS, Role of capsule endoscopy in the evaluation of obscure gastrointestinal bleeding, 39:101-105, 2005
Raju GS, Nath S, Capsule endoscopy, 7 (5) :358-365, 2005
Raju GS, Gajula L, Endoclips for GI endoscopy., 59 (2) :267-79, 2004
Raju GS, Postoperative Bile Duct Strictures., 5 (2) :113-121, 2002
Waxman I, Saitoh Y, Raju GS, Watari J, Yokota K, Reeves AL, Kohgo Y, High-frequency probe EUS-assisted endoscopic mucosal resection: a therapeutic strategy for submucosal tumors of the GI tract., 55 (1) :44-9, 2002
Raju GS, Waxman I, High-frequency US probe sonography-assisted endoscopic mucosal resection., 52 (6 Suppl) :S39-49, 2000
Raju GS, Endoscopic closure of gastrointestinal leaks., 104 (5) :1315-20
Manuals, Teaching Aids, Other Teaching Publications
Raju GS & GESAP Committee, ASGE - Gastrointestinal Endoscopy Self Assessment Program VIII, 2015
Raju GS & GESAP Committee, ASGE - Gastrointestinal Endoscopy Self Assessment Program VII, American Society of Gastrointestinal Endoscopy: Oakbrook, IL, 2012
Raju GS & GESAP Committee, ASGE - Gastrointestinal Endoscopy Self Assessment Program VI, American Society of Gastrointestinal Endoscopy: Oakbrook, IL, 2009
Raju GS & GESAP Committee, ASGE - Gastrointestinal Endoscopy Self Assessment Program V, American Society of Gastrointestinal Endoscopy: Oakbrook, IL, 2006
Other Articles
Book Chapters
Thirumurthi S, Raju GS, Management of Polypectomy Complications, In: Gastrointest Endosc Clin N Am, 2, Elsevier, 335-357, 2015
Thirumurthi S and Raju GS, Management of gastrointestinal EMR and ESD perforation: From Lab to Practice, In: Endoscopic Submucosal Dissection, First, Springer, 2014
Yague AS, Kaltenbach T, Raju G, Soetikno R., Advanced Endoscopic Resection of Colorectal Lesions, In: Colonoscopy and Polypectomy, Elsevier: Philadelphia, 459-78, 2013
Raju, GS., Repair of mucosal defects: A primer on endoscopic closure of gastrointestinal perforations, In: Successful Training in Gastrointestinal Endoscopy, First, Wiley-Blackwell: Oxford, 282-87, 2011
Raju GS, Pasricha PJ, Flat and Depressed Colorectal Neoplasia in the Western Hemisphere, In: Colonoscopy Principles and Practice, Blackwell, 2003
Raju GS, Parasitic diseases of the small bowel, In: Textbook of Clinical Gastroenterology, Current Science Group, 1998
Letters to the Editor
Raju GS, Clean up the colon on insertion for better adenoma detection (with video)., Gastrointest Endosc, 72: 1329-30, 2010
Raju GS, Magnetic resonance imaging incompatibility of clips is an issue., Gastrointest Endosc, 72: 905-6, 2010
Finlay D, Szauter K, Raju GS, Snyder N, Tuberculous peritonitis in a patient treated with infliximab, Am J Gastroenterol: 1624-1625, 2005
Finlay DG, Szauter K, Raju GS, Snyder N, Tuberculous peritonitis., Am J Gastroenterol, 100: 1624-5, 2005
Raju GS, What is new in tattooing? "Custom Tattooing", Gastrointest Endosc, 59: 328-329, 2004
Raju GS, Ahmed I, Team approach to the management of complex esoghageal strictures, Gastrointest Endosc: 304, 2002
Raju GS, Double injection technique to prevent complications of endoscopic tattooing, Gastrointest Endosc: 697, 2001
Raju GS, Grading ERCPs by degree of difficulty: a great concept., Gastrointest Endosc, 52: 704-5, 2000
Gardner A, Raju GS, Innovative thinking for the improvement of medical systems--"ENDOVIEW for the patients"., Am J Gastroenterol, 95: 2134, 2000
Raju GS, Jones TF, Hershberger JA, Modification of controlled radial expansion balloon catheter to fit into Pentax diagnostic gastroscope., Am J Gastroenterol, 95: 1604-5, 2000
Raju GS, Gardner A, Quality improvement of GI endoscopy--the "Endocard"., Gastrointest Endosc, 51: 254, 2000
Raju GS, Olayee M, Weston A, Delcore R, McCallum R, Pancreatic pseudocyst in a patient with cirrhotic ascites and portal hypertension: effective endoscopic drainage with Seldinger technique., Gastrointest Endosc, 50: 455-6, 1999
Dilawari JB, Chawla YK, Raju GS, Kaur U, Bambery P, Safety of splenoportovenography as an outpatient procedure., LANCET, 2: 101, 1987