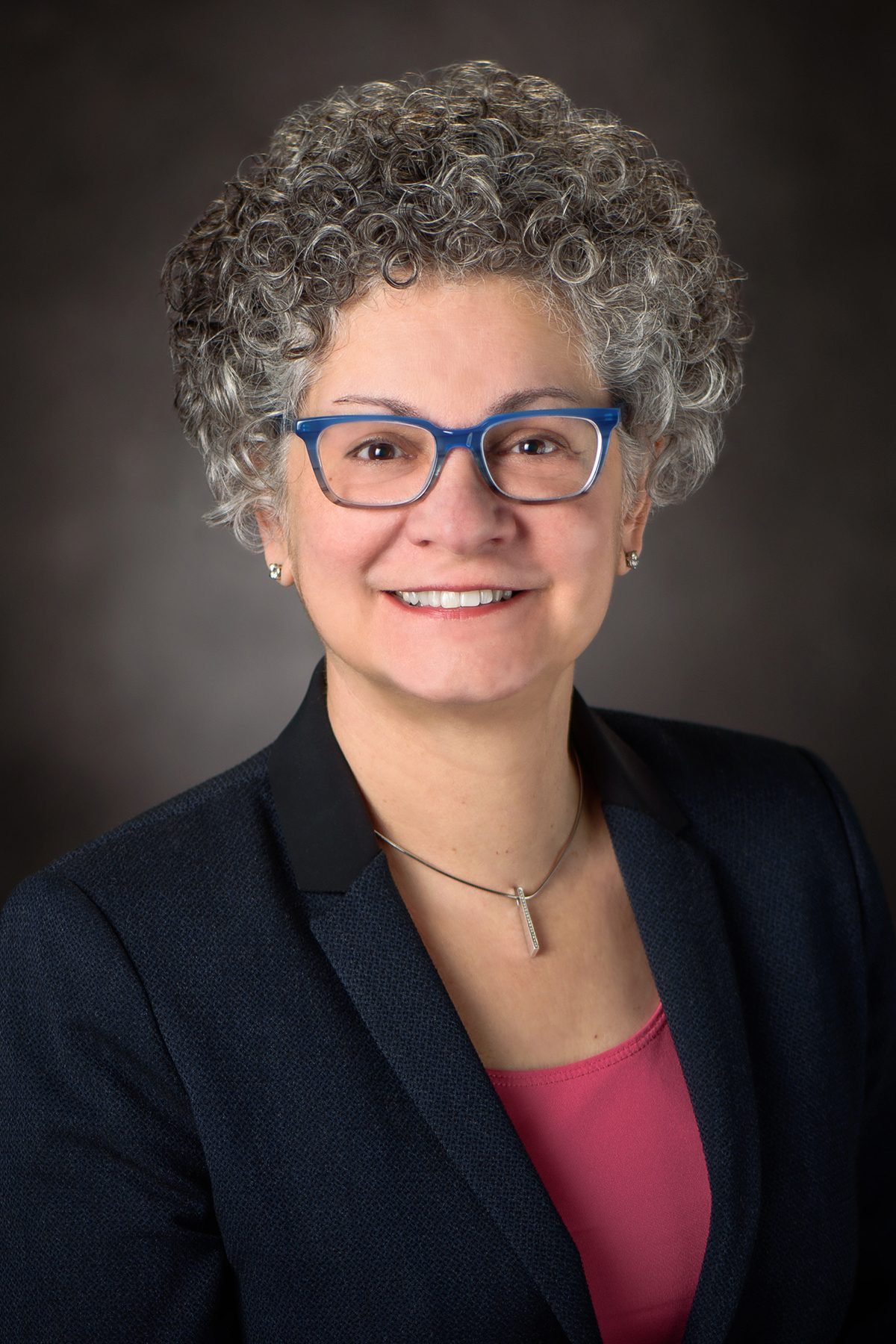 Guillermina (Gigi) Lozano, Ph.D.
Department of Genetics, Division of Basic Sciences
About Dr. Lozano
Guillermina (Gigi) Lozano is a geneticist recognized for her studies of the p53 tumor suppressor pathway, from characterizing p53 as a transcriptional activator to characterizing the physiological importance of Mdm2 and Mdm4 proteins as inhibitors of p53, and the consequences of p53 mutations on tumor development. Lozano was born in East Chicago, Indiana before moving to Texas with her family where she completed undergraduate studies in Biology and Mathematics at Pan American University (now known as the University of Texas Rio Grande Valley). She completed graduate studies at Rutgers University and the University of Medicine and Dentistry of New Jersey, and a post doctoral fellowship at Princeton University. She was hired as an Instructor at The University of Texas MD Anderson Cancer Center in 1987 and rose through the ranks to her current position as chair of the department of Genetics. She was elected a Fellow of the American Association for the Advancement of Science. She received the Minorities in Cancer Research Jane Cooke Wright Lectureship, and Women in Cancer Research Charlotte Friend Lectureship awards both from the American Association for Cancer Research. Dr. Lozano is also the recipient of distinguished alumni awards from both her undergraduate and graduate alma maters. She is a member of the National Academy of Sciences and the National Academy of Medicine.

View a complete list of Dr. Lozano's publications.

Visit Dr. Lozano's Lab website.

Follow Dr. Lozano on Twitter: @drgglozano
Read More
Primary Appointment
Professor and Chair, Department of Genetics, The University of Texas MD Anderson Cancer Center, Houston, TX
Hubert L. Olive Stringer Distinguished Chair in Oncology in Honor of Sue Gribble Stringer, Department of Genetics, Division of Basic Science Research, The University of Texas MD Anderson Cancer Center, Houston, TX
Dual/Joint/Adjunct Appointment
Professor, The University of Texas MD Anderson Cancer Center UTHealth Graduate School of Biomedical Sciences, Houston, TX
p53 pathway tumor suppressors mouse models
Mutation of the p53 gene is a critical event in the elaboration of many tumors of diverse origin. The p53 protein is activated in response to DNA damage, serving as a checkpoint in the elimination or repair of cells with damaged DNA. Alterations in components of the p53 pathway, such as amplification of the Mdm2 gene, which encodes a p53 inhibitor, also contribute to tumorigenesis. The overall goal of my laboratory is to understand the signals that regulate the p53 pathway and the consequences of expressing wild-type or mutant p53. Toward this goal, we are generating mouse models to address the importance of various p53 mutations in tumor development in vivo. The first mice generated were those expressing a common p53 mutation identified in human cancers. Mice expressing the p53R172H mutant develop osteosarcomas and carcinomas that metastasized at very high frequency. This study also indicates that mutant p53 is inherently unstable in vivo suggesting that other genetic alterations in tumor cells stabilize p53. We have generated mice with another interesting mutant that distinguishes the ability of p53 to induce apoptosis or cell cycle arrest. The p53R172P mutant cannot transactivate genes that induce apoptosis yet retains the ability to induce the p21 gene involved in cell cycle arrest. Importantly, this mutant shows delayed tumorigenesis suggesting that p53 activities other than apoptosis are also critical for tumor suppression. Tumors that arise in these mice are also genomically stable suggesting that the p53R172P mutant transactivates genes involved in maintaining a stable genome. Other mouse models generated probe the importance of components of the p53 pathway. For example, loss of Mdm2 or Mdm4 (genes that encode p53 inhibitors) results in embryonic lethality that is completely rescued by concomitant loss of p53. These studies indicate the importance of regulating p53 activity. We have made conditional loss-of-function allele of Mdm2 and Mdm4 to access the role of p53 in different cell types as a function of proliferation. Finally, we are studying individuals with Li-Fraumeni Syndrome, most of whom inherit a p53-missense mutation. Various factors including, modifiers of the p53 pathway alter the onset of tumorigenesis in these individuals.
View a complete list of Dr. Lozano's publications. Visit Dr. Lozano's Lab website. Follow Dr. Lozano on Twitter: @drgglozano
Degree-Granting Education
| | |
| --- | --- |
| 1986 | Rutgers University and the University of Medicine and Dentistry of New Jersey, Piscataway, NJ, USA, PHD, Biochemistry |
| 1979 | University of Texas Rio Grande Valley (formerly Pan American University), Edinburg, TX, USA, BS, Biology/Mathematics |
Postgraduate Training
| | |
| --- | --- |
| 1985-1987 | Postgraduate Training, Molecular Biology, Princeton University, Princeton, NJ |
| | |
| --- | --- |
| 2020 | The 2020 Benvenuto Memorial Lecture & Award, The University of Texas MD Anderson Cancer Center |
| 2020 | Member, American Academy of Arts and Sciences |
| 2019 | Jack and Beverly Randall Prize for Excellence in Cancer Research 2019, The University of Texas MD Anderson Cancer Center |
| 2018 | President's Leadership Award for Advancing Women and Minority Faculty, The University of Texas MD Anderson Cancer Center |
| 2018 | Hubert L. Olive Stringer Distinguished Chair in Oncology in Honor of Sue Gribble Stringer, The University of Texas MD Anderson Cancer Center |
| 2018 | E.E. Just Award, The American Society for Cell Biology |
| 2017 | Member, National Academy of Sciences |
| 2017 | The 2018 Charles A. LeMaistre, M.D. Outstanding Achievement Award in Cancer, The University of Texas MD Anderson Cancer Center |
| 2017 | Hall of Fame, Greater Houston Women's Chamber of Commerce |
| 2015 | Paul E. Darlington Mentoring Award, The University of Texas Graduate School of Biomedical Sciences |
| 2014 | Barbara Bowman Distinguished Texas Geneticist Award, 41st Annual Meeting of the Texas Genetics Society |
| 2014 | Member, National Academy of Medicine (formerly Institute of Medicine) |
| 2014 | Member, The Academy of Medicine, Engineering and Science of Texas |
| 2013 | Women in Cancer Research Charlotte Friend Memorial Lectureship, American Association for Cancer Research |
| 2013 | Women in Science with Excellence (WISE) Award, BioHouston, Inc |
| 2011 | Minorities in Cancer Research Jane Cooke Wright Lectureship, American Association for Cancer Research |
| 2010 | The 2010 Faculty Achievement Award in Basic Research, The University of Texas MD Anderson Cancer Center |
| 2004 | Mattie Allen Fair Endowed Research Chair, Professor of Genetics, The University of Texas MD Anderson Cancer Center |
| 2002 | August Educator of the Month, The University of Texas MD Anderson Cancer Center |
| 2000 | Anise J. Sorrell Endowed Professorship, Professor of Molecular Genetics, The University of Texas MD Anderson Cancer Center |
| 1996 | Past State President's Award, The Texas Federation of Business & Professional Women's Clubs, Inc |
| 1994 | The 1994 Faculty Achievement Award in Basic Research, The University of Texas MD Anderson Cancer Center |
| 1993 | Dean's Teaching Excellence Award, The University of Texas Graduate School for Biomedical Sciences |
| 1992 | Distinguished Alumnus Award, The University of Texas Pan American |
| 1990 | Outstanding Faculty Award, The University of Texas Graduate School for Biomedical Sciences |
| | |
| --- | --- |
| Title: | A Pathway of Tumor Suppression |
| Funding Source: | NIH/NCI |
| Role: | Principal Investigator |
| | |
| --- | --- |
| Title: | Cancer Center Support Grant, Cancer Genetics and Epigenetics |
| Funding Source: | NIH/NCI |
| Role: | Co-Principal Investigator |
| | |
| --- | --- |
| Title: | Cancer Center Support Grant, Genetically Engineered Mouse Facility (GEMF) |
| Funding Source: | NIH/NCI |
| Role: | Co-Principal Investigator |
| | |
| --- | --- |
| Title: | Role of p53 Missense Mutations on Tumorigenesis in Vivo |
| Funding Source: | NIH/NCI |
| Role: | Principal Investigator |
| | |
| --- | --- |
| Title: | (PQ4) Mutations in the histone chaperone DAXX drive pancreatic neuroendocrine |
| Funding Source: | NIH/NCI |
| Role: | Principal Investigator |
| | |
| --- | --- |
| Title: | Identifying vulnerabilities in mutant p53 driven tumorigenesis |
| Funding Source: | Cancer Prevention & Research Institute of Texas (CPRIT) |
| Role: | Principal Investigator |
| | |
| --- | --- |
| Title: | Defining diverse roles of p53 in pancreatic cancer |
| Funding Source: | NIH/NCI |
| Role: | Mentor |
| | |
| --- | --- |
| Title: | Upgrade for Nikon Confocal: LUNV Laser Launch and DU-G |
| Funding Source: | NIH |
| Role: | Principal Investigator |
| | |
| --- | --- |
| Title: | A somatic mutant p53 mouse model of metastatic triple negative breast cancer |
| Funding Source: | Cancer Prevention & Research Institute of Texas (CPRIT) |
| Role: | Principal Investigator |
| | |
| --- | --- |
| Title: | The roles of TRIM24 in breast cancer |
| Funding Source: | NIH/NCI |
| Role: | Co-Investigator |
| | |
| --- | --- |
| Title: | Identifying cooperating lesions of Mdm4/mutant p53 driven breast cancer and resistance mechanisms to Mdm4 inhibition |
| Funding Source: | Sister Institution Network Fund |
| Role: | Principal Investigator |
| | |
| --- | --- |
| Title: | Identifying vulnerabilities in p53 mutant tumors |
| Funding Source: | Brockman Foundation |
| Role: | Principal Investigator |
| | |
| --- | --- |
| Title: | Understanding the physiologically relevant functions of Daxx |
| Funding Source: | The Neuroendocrine Tumor Research Foundation (NETRF) |
| Role: | Principal Investigator |