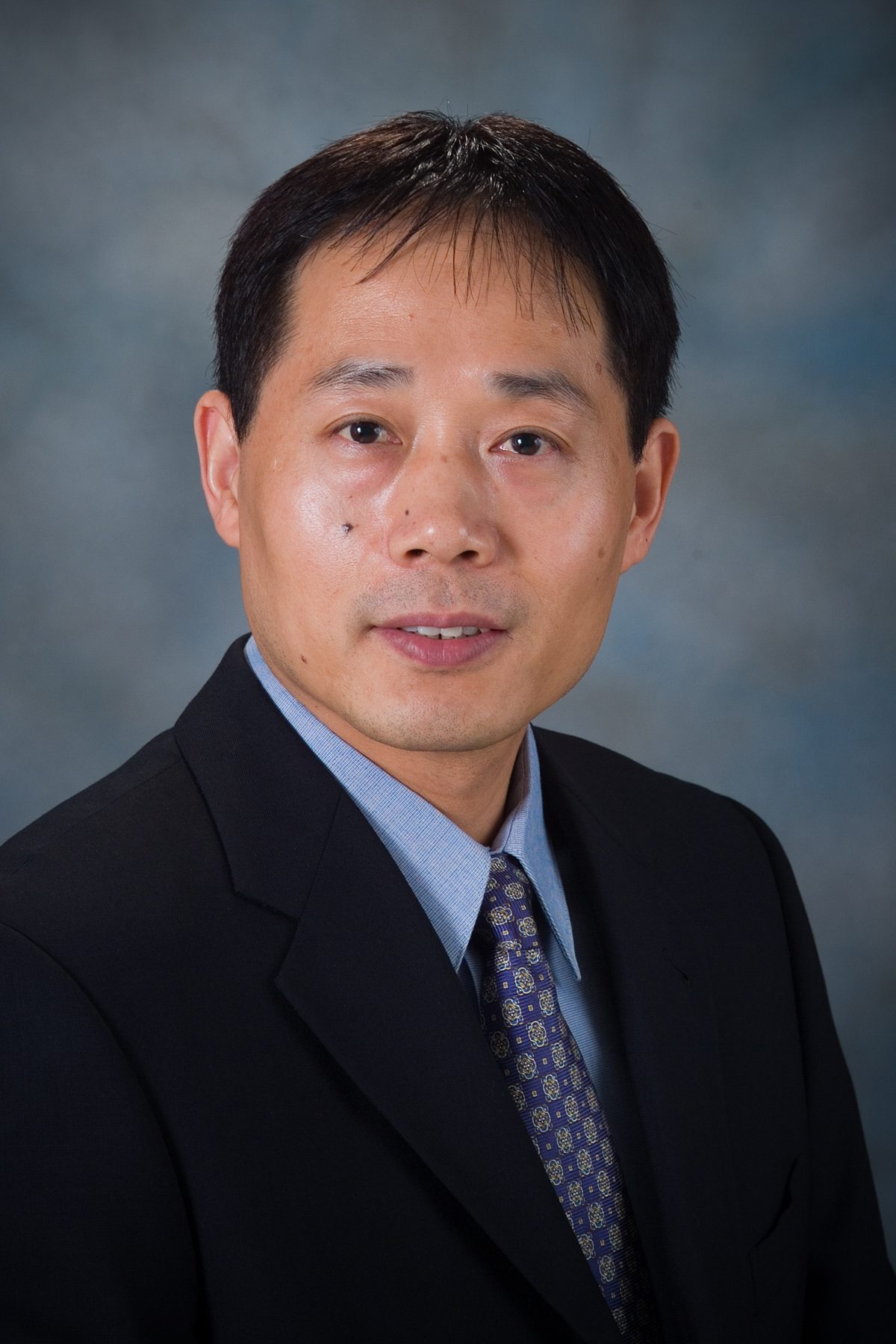 Guojun Li, MD, PhD, MS
Department of Head and Neck Surgery, Division of Surgery
Molecular Epidemiology of Clinical Outcome and Cancer Susceptibility Clinical Epidemiology, Risk Assessment, and Outcomes Viral Epidemiology (HPV) and Nutritional Epidemiology Nuclear receptors and Cancer Chemoprevention
Degree-Granting Education
| | |
| --- | --- |
| 2003 | The University of Texas, Health Science Center at Houston, Houston, TX, USA, PHD, Biological Sciences with Emphasis on Molecular Epidemiology |
| 1995 | North Dakota State University, Fargo, ND, USA, MS, Food and Biochemical Nutrition |
| 1987 | Tongji Medical University, Wuhan, CHN, MD, Public Health/Medicine with Medical Diploma |
Academic Appointments
Associate Professor, Division of Surgery, The University of Texas MD Anderson Cancer Center, Houston, TX, 2011 - 2020
| | |
| --- | --- |
| 2019 | Excellent Mentor Leadership Award, Trainee Research Day, MDACC |
| 2012 | Excellent Mentor Leadership Award, Trainee Research Day, MDACC |
| 2011 | Excellent Mentor Leadership Award, Trainee Research Day, MDACC |
| 2008 | NIH Career Development Award, NCI, NIH |
| 2004 | Excellent Presentation Award, Day of Prevention Science, MDACC |
| 2004 | Scholar in-Training Award, NCI CMGCC |
| 2003 | Postdoctoral Fellowship, NCI R25 Training Program Fellowship in Cancer Prevention |
| 2002 | Trainee Excellent Awards, UTH, School of Public Health |
American Thyroid Association
Member, 2007 - Present
American Association for the Advancement of Science
Member, 2002 - Present
Sigma Xi, The Scientific Research Society
Member, 2000 - Present
American Association for Cancer Research
Member, 1999 - Present
Peer-Reviewed Articles
Goyal N, Hennessy M, Lehman E, Lin W, Agudo A, Ahrens W, Boccia S, Brennan P, Brenner H, Cadoni G, Canova C, Chen C, Conway D, Curado MP, Dal Maso L, Daudt AW, Edefonti V, Fabianova E, Fernandez L, Franceschi S, Garavello W, Gillison M, Hayes RB, Healy C, Herrero R, Holcatova I, Kanda JL, Kelsey K, Hansen BT, Koifman R, Lagiou P, La Vecchia C, Levi F, Li G, Lissowska J, Mendoza López R, Luce D, Macfarlane G, Mates D, Matsuo K, McClean M, Menezes A, Menvielle G, Morgenstern H, Moysich K, Negri E, Olshan AF, Pandics T, Polesel J, Purdue M, Radoi L, Ramroth H, Richiardi L, Schantz S, Schwartz SM, Serraino D, Shangina O, Smith E, Sturgis EM, Swiatkowska B, Thomson P, Vaughan TL, Vilensky M, Winn DM, Wunsch-Filho V, Yu GP, Zevallos JP, Zhang ZF, Zheng T, Znaor A, Boffetta P, Hashibe M, Lee YA, Muscat JE

. Risk factors for head and neck cancer in more and less developed countries: Analysis from the INHANCE consortium. Oral Dis 29(4):1565-1578, 2023. e-Pub 2022. PMID: 35322907.

Liu Y, Kramer JR, Sandulache VC, Yu R, Li G, Chen L, Yusuf ZI, Shi Y, Pyarajan S, Tsavachidis S, Jiao L, Mierzwa ML, Chiao E, Mowery YM, Shuman A, Shete S, Sikora AG, White DL

. Immunogenetic Determinants of Susceptibility to Head and Neck Cancer in the Million Veteran Program Cohort. Cancer Res 83(3):386-397, 2023. PMID: 36378845.

Xu Y, Wang Z, Wei P, Gairola R, Kelsey KT, Sikora AG, Li G, Gu J

. Hypermethylation of nc886 in HPV-positive oropharyngeal cancer and its clinical implications: An epigenome-wide association study. Mol Ther Nucleic Acids 30:596-605, 2022. e-Pub 2022. PMID: 36514351.

Liu H, Li G, Sturgis EM, Shete S, Dahlstrom KR, Du M, Amos CI, Christiani DC, Lazarus P, Wei Q

. Genetic variants in CYP2B6 and HSD17B12 associated with the risk of squamous cell carcinoma of the head and neck. Int J Cancer. e-Pub 2022. PMID: 35404482.

Aggarwal P, Hutcheson KA, Yu R, Wang J, Fuller CD, Garden AS, Goepfert RP, Rigert J, Mott FE, Lu C, Lai SY, Gunn GB, Chambers MS, Li G, Wu CC, Hanna EY, Sturgis EM, Shete S

. Genetic susceptibility to patient-reported xerostomia among long-term oropharyngeal cancer survivors. Sci Rep 12(1):6662, 2022. e-Pub 2022. PMID: 35459784.

Guo M, Khanna A, Tinnirello AA, Hwang J, Zhang P, Xu L, Li G, Dahlstrom KR, Sturgis EM, Stewart J

. Detection accuracy of the Cobas HPV assay for high-risk HPV in head and neck FNA biopsy specimens. Cancer Cytopathol. e-Pub 2022. PMID: 35192231.

Srivastava A, Andersen MR, Alshehri AM, Lara B, Bashiri R, Li G, Chambers MS

. Effectiveness of a Chairside Acrylic Adjustment Cabinet in Reducing Dental Acrylic Debris and Aerosols. J Prosthodont. e-Pub 2021. PMID: 34855263.

Khanna A, Sturgis EM, Dahlstrom KR, Xu L, Wei Q, Li G, Gross ND

. Association of pretreatment body mass index with risk of head and neck cancer: a large single-center study. Am J Cancer Res 11(5):2343-2350, 2021. e-Pub 2021. PMID: 34094690.

Zhu Y, Xia X, Gross N, Dahlstrom KR, Gao L, Liang Z, Gao Z, Wei P, Liu C, Li G, Li Y, Chen X

. Prognostic Implications of Human Papillomavirus Status and p16 Expression in Laryngeal Squamous Cell Carcinoma. Head Neck 41(12):4151-4163, 2019. e-Pub 2019. PMID: 31566825.

Li G, Liu B, Xu Y

. Accurate recognition of cis-regulatory motifs with the correct lengths in prokaryotic genomes. Nucleic Acids Res 38(2):e12, 2010. e-Pub 2009. PMID: 19906734.

Song Y, Yang M, Zhang J, Sun Y, Tao Y, Li H, Zhang J,Li G, Li Y, Yang J

. IL-17 affects progression, metastasis, and recurrence of laryngeal cancer via the inhibition of apoptosis through activation of the PI3K/AKT/FAS/FASL pathways.

Wang K, Zhao H, Wan F, Wang W, Zhang Q, Liu C, Zhao H, Men C, Li H, Zhang Y, Li G, Lin C

. Effect of upregulation of PCA3 on early detection and prognosis in prostate cancer.
| | |
| --- | --- |
| Title: | Use of Serum HPV16 DNA as a Marker for Oropharyngeal Cancer Recurrence, R03 |
| Funding Source: | NIH/NCI |
| Role: | Co-Investigator |
| | |
| --- | --- |
| Title: | Molecular and Epidemiologic Characterization of Salivary Gland Carcinomas - Project 2 |
| Funding Source: | NIH/NIDCR |
| Role: | Project Co-Leader |
| | |
| --- | --- |
| Title: | Inflammatory response miRNAs predict HPV-associated oropharyngeal cancer outcome |
| Funding Source: | NIH/NCI |
| Role: | Principal Investigator |
| | |
| --- | --- |
| Title: | Immuno-inflammatory Response Non-coding RNAs as Predictors of HPV Status & Outcome of Oropharyngeal Cancer Patients |
| Funding Source: | NIH/NCI |
| Role: | Principal Investigator |
| | |
| --- | --- |
| Title: | Telomere-related Biomarkers for Risk and Prognosis Prediction of HPV-associated Oropharyngeal Cancer |
| Funding Source: | Cancer Prevention & Research Institute of Texas (CPRIT) |
| Role: | Collaborator |
| | |
| --- | --- |
| Title: | Inflammatory Response miRNA's Predict HPV-associated Oropharyngeal Cancer |
| Funding Source: | NIH/NCI |
| Role: | Principal Investigator |
| | |
| --- | --- |
| Title: | Association of the Human Oral Microbiota with Prevalent Oral HPV16 Infection Among Men |
| Funding Source: | UT MD Anderson Cancer Center - Internal Research Grant (IRG) |
| Role: | Principal Investigator |
| | |
| --- | --- |
| Title: | Validation of Cancer Prognostic/Risk Biomarkers |
| Funding Source: | Rosy Sail Ventures Limited (Donation) |
| Role: | Principal Investigator |
| | |
| --- | --- |
| Title: | Apoptoic Response Non-coding RNAs as Predictors of HPV Status & Outcome of Oropharyngeal Cancer Patients |
| Funding Source: | Cancer Prevention & Research Institute of Texas (CPRIT) |
| Role: | Principal Investigator |
| | |
| --- | --- |
| Title: | Survival Prediction of Inflammatory Long Non-coding RNAs in HPV-associated Oropharyngeal Cancer |
| Funding Source: | NIH/NCI |
| Role: | Principal Investigator |
| | |
| --- | --- |
| Title: | Genetic Variants HPV and Survival in Patients with Oropharyngeal Cancer |
| Funding Source: | NIH/NCI |
| Role: | Co-Principal Investigator |
| | |
| --- | --- |
| Title: | Leukocyte Telomere Length as a Novel Prognostic Biomarker in Oropharyngeal Cancer Patients |
| Funding Source: | NIH/NIDCR |
| Role: | Principal Investigator |
| | |
| --- | --- |
| Title: | Immuno-Inflammatory Response Long Non-Coding RNAs as Prognostic Predictors of HPV-Associated Oropharyngeal Cancer Patients after Definitive Radiotherapy |
| Funding Source: | NIH/NCI |
| Role: | Principal Investigator |
| | |
| --- | --- |
| Title: | Oral Microbiota Characterization and its Association with Prevalent Oral HPV Infection |
| Funding Source: | Emerson Collective Foundation |
| Role: | Co-Principal Investigator |
| | |
| --- | --- |
| Title: | Role of the Oral Microbiome in the Natural History of Oral HPV Infection among Men |
| Funding Source: | NIH/NCI |
| Role: | Principal Investigator |
| | |
| --- | --- |
| Title: | Serum-Based Apoptotic Response miRNAs as Biomarkers for Prediction of HPV-Associated Oropharyngeal Cancer Patients |
| Funding Source: | NIH/NCI |
| Role: | Principal Investigator |