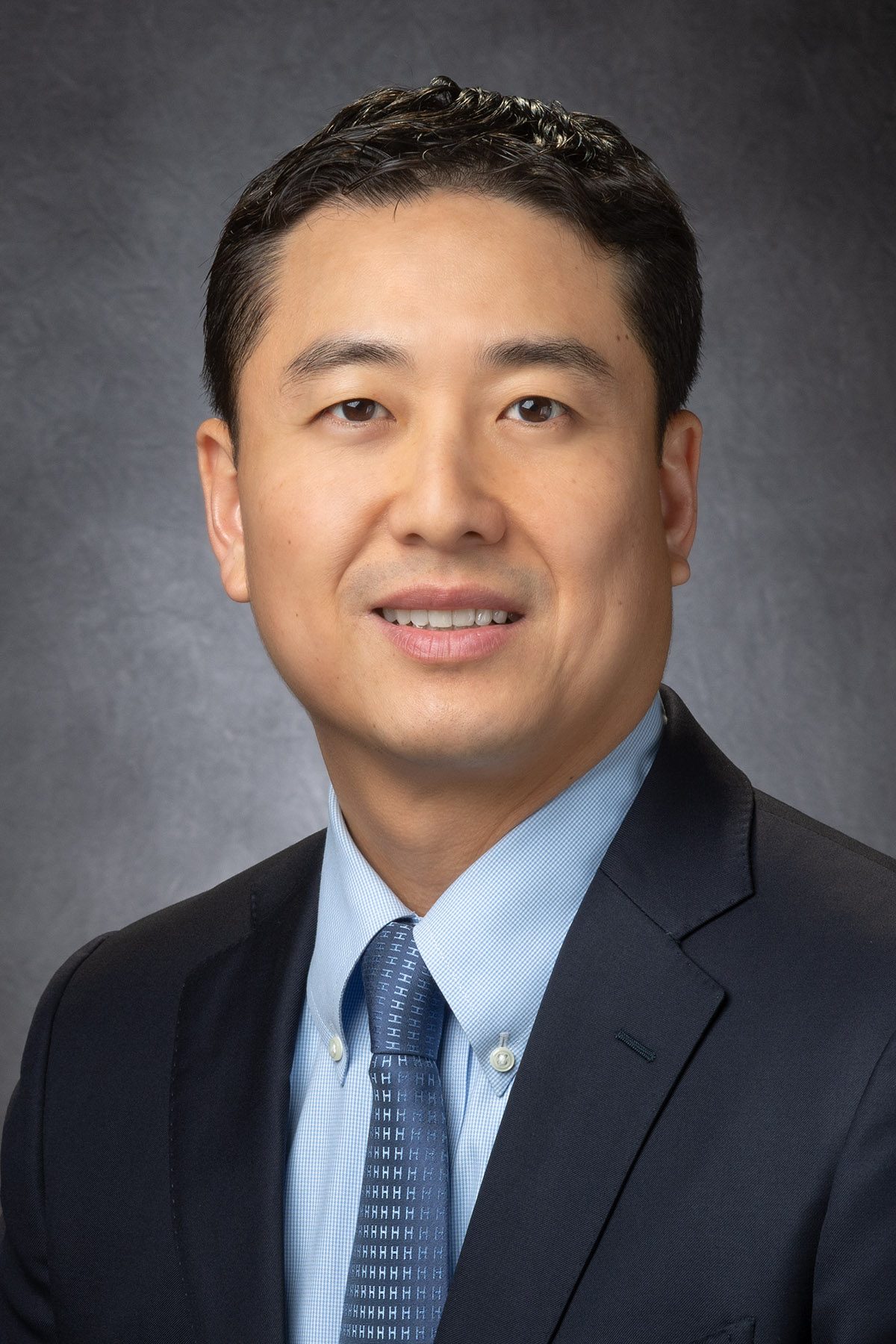 Henry Mok, MD PhD
Department of GU Radiation Oncology, Division of Radiation Oncology
Present Title & Affiliation
Primary Appointment
Associate Professor, Department of Radiation Oncology, Division of Radiation Oncology, The University of Texas MD Anderson Cancer Center, Houston, TX
Degree-Granting Education
| | |
| --- | --- |
| 2005 | Baylor College of Medicine, Houston, TX, USA, MD, Medical Scientist Training Program |
| 2004 | Baylor College of Medicine, Houston, TX, USA, PHD, Molecular and Human Genetics |
| 1996 | Rice University, Houston, TX, USA, BA, Chemistry and Biochemistry |
Postgraduate Training
| | |
| --- | --- |
| 2007-2011 | Residency, University of Texas MD Anderson Cancer Center, Houston, TX |
| 2006-2007 | Transitional Internship, The Methodist Hospital, Houston, TX |
| 2006-2006 | Research Fellowship, University of Texas MD Anderson Cancer Center, Houston, TX |
Academic Appointments
Associate Professor, Department of Radiation Oncology, Division of Radiation Oncology, Baylor College of Medicine, Houston, TX, 2019 - 2020
Assistant Professor, Department of Radiation Oncology, Division of Radiation Oncology, Baylor College of Medicine, Houston, TX, 2012 - 2019
| | |
| --- | --- |
| 2014 | Association of Residents in Radiation Oncology Educator of the Year Award |
| 1996 | James B. Walker Outstanding Senior in Biochemistry, Rice University |
| 1996 | Magna cum Laude, Phi Beta Kappa Honor Society |
| 1996 | Presidential Scholar, Baylor College of Medicine |
| 1992 | Rice/Baylor Medical Scholars Program |
Peer-Reviewed Articles
Tang C, Sanders J, Thames H, Swanson DM, Crook JM, Bruno T, Blanchard P, Ciezki J, Keyes M, Song D, Singh T, Merrick G, Stock R, Sullivan FJ, Mok H, Millar J, Frank SJ

. Outcomes after PD-103 versus I-125 for Low Dose Rate Prostate Brachytherapy Monotherapy: An International, Multi-Institutional Study. Radiother Oncol 183:109599, 2023. e-Pub 2023. PMID: 36889593.

Sanders JW, Kudchadker RJ, Tang C, Mok H, Venkatesan AM, Thames HD, Frank SJ

. Prospective Evaluation of Prostate and Organs at Risk Segmentation Software for MRI-based Prostate Radiation Therapy. Radiol Artif Intell 4(2):e210151, 2022. e-Pub 2022. PMID: 35391775.

Sada YH, Smaglo BG, Tran Cao HS, Mok H, Musher BL, Massarweh NN

. National Trends in Multimodality Therapy for Locally Advanced Gastric Cancer. J Surg Res 237:41-49, 2019. e-Pub 2019. PMID: 30694790.

Li, L., Mok, H, Jhaveri, P., Bonnen, M. D., Sikora, A. G., Eissa, N. T., Komaki, R. U., Ghebre, Y. T.

. Anticancer therapy and lung injury: molecular mechanisms. Expert Rev Anticancer Ther, 2018. PMID: 29996062.

Pham, N., Asper, J., Bonnen, M., Mok, H., Wagner, T., Ludwig, M., Carpenter, L., Jhaveri, P.

. Pre-treatment peer-review: enhancing value through increased efficiency and effectiveness of radiation oncology peer review. Journal of Radiation Oncology 7:97-102, 2018.

Chen AC, Bonnen MD, Mok H

. Onsite versus offsite radiation treatment of malignant spinal cord compression: lessons from a safety net health system. Br J Radiol 90(1072):20160922, 2017. e-Pub 2017. PMID: 28181815.

Wald O, Smaglo B, Mok H, Groth SS

. Future directions in esophageal cancer therapy. Ann Cardiothorac Surg 6(2):159-166, 2017. PMID: 28447005.

Hoffmann MS, Leslie LA, Jacobs RW, Millas S, Surabhi V, Mok H, Jhaveri P, Kott MM, Jackson L, Rieber A, Bhadkamkar NA

. Reducing the Time From Diagnosis to Treatment of Patients With Stage II/III Rectal Cancer at a Large Public Hospital. J Oncol Pract 12(2):e257-62, 2016. PMID: 26869658.

Briere TM, Crane CH, Beddar S, Bhosale P, Mok H, Delclos ME, Krishnan S, Das P

. Reproducibility and genital sparing with a vaginal dilator used for female anal cancer patients. Radiother Oncol 104(2):161-6, 2012. e-Pub 2012. PMID: 22841019.

Chakravarty T, Crane CH, Ajani JA, Mansfield PF, Briere TM, Beddar AS, Mok H, Reed VK, Krishnan S, Delclos ME, Das P

. Intensity-modulated radiation therapy with concurrent chemotherapy as preoperative treatment for localized gastric adenocarcinoma. Int J Radiat Oncol Biol Phys 83(2):581-6, 2012. e-Pub 2011. PMID: 22137021.

Mok H, Briere TM, Martel MK, Beddar S, Delclos ME, Krishnan S, Crane CH, Das P

. Comparative analysis of volumetric modulated arc therapy versus intensity modulated radiation therapy for radiotherapy of anal carcinoma. Pract Radiat Oncol 1(3):163-72, 2011. e-Pub 2011. PMID: 24673946.

Mok H, Crane CH, Palmer MB, Briere TM, Beddar S, Delclos ME, Krishnan S, Das P

. Intensity modulated radiation therapy (IMRT): differences in target volumes and improvement in clinically relevant doses to small bowel in rectal carcinoma. Radiat Oncol 6:63, 2011. e-Pub 2011. PMID: 21651775.

Debeb BG, Xu W, Mok H, Li L, Robertson F, Ueno NT, Reuben J, Lucci A, Cristofanilli M, Woodward WA

. Differential radiosensitizing effect of valproic acid in differentiation versus self-renewal promoting culture conditions. Int J Radiat Oncol Biol Phys 76(3):889-95, 2010. PMID: 20159363.

Mok H, Mlodnicka AE, Hentze MW, Muckenthaler M, Schumacher A

. The molecular circuitry regulating the switch between iron deficiency and overload in mice. J Biol Chem 281(12):7946-51, 2006. e-Pub 2006. PMID: 16418170.

Mok H, Mendoza M, Prchal JT, Balogh P, Schumacher A

. Dysregulation of ferroportin 1 interferes with spleen organogenesis in polycythaemia mice. Development 131(19):4871-81, 2004. e-Pub 2004. PMID: 15342464.

Mok H, Jelinek J, Pai S, Cattanach BM, Prchal JT, Youssoufian H, Schumacher A

. Disruption of ferroportin 1 regulation causes dynamic alterations in iron homeostasis and erythropoiesis in polycythaemia mice. Development 131(8):1859-68, 2004. PMID: 15084469.

Kruyt FA, Abou-Zahr F, Mok H, Youssoufian H

. Resistance to mitomycin C requires direct interaction between the Fanconi anemia proteins FANCA and FANCG in the nucleus through an arginine-rich domain. J Biol Chem 274(48):34212-8, 1999. PMID: 10567393.