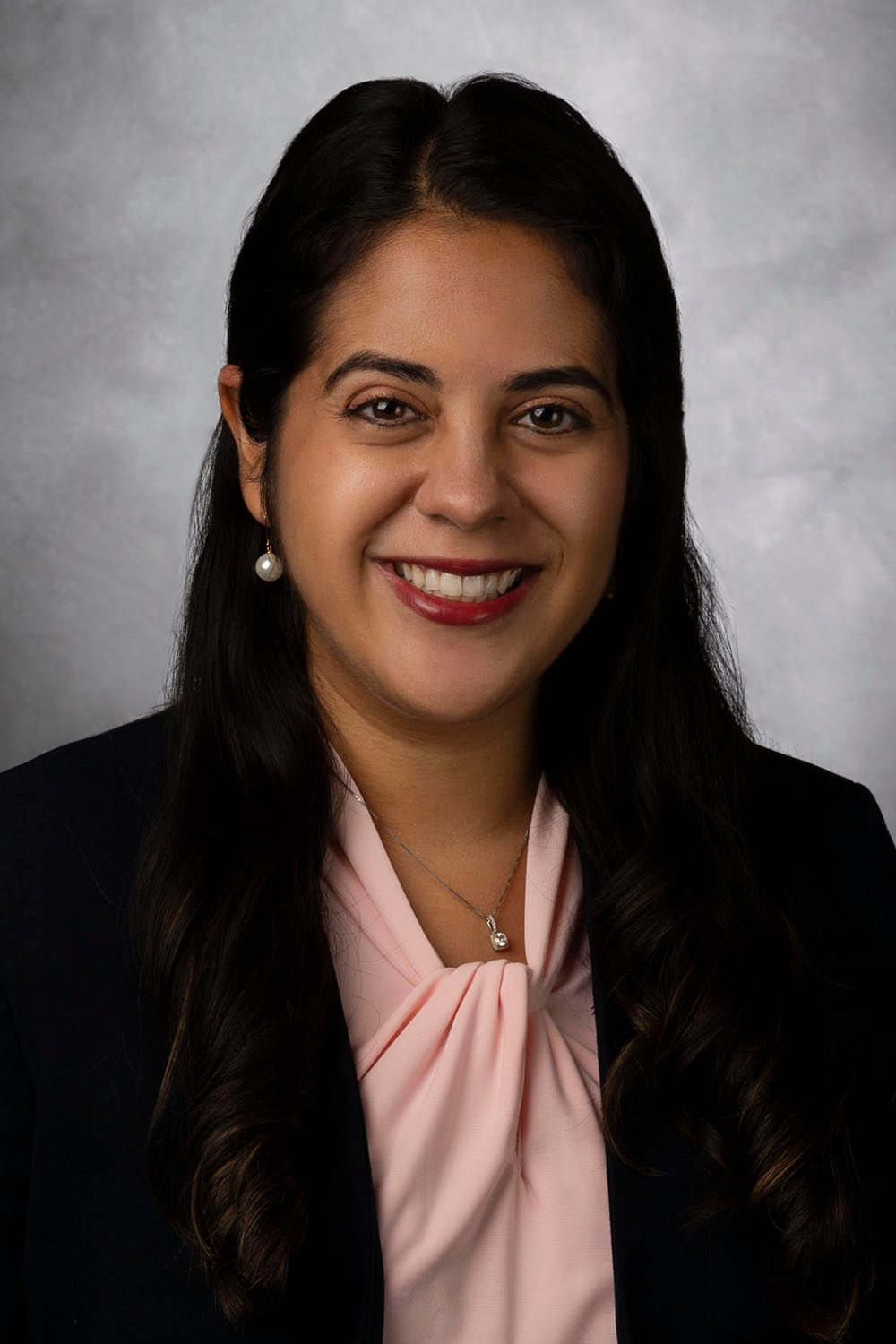 Jasmine Singh Sukumar
Department of Breast Medical Oncology, Division of Cancer Medicine
Primary Appointment
Assistant Professor, Department of Breast Medical Oncology, Division of Cancer Medicine, The University of Texas MD Anderson Cancer Center, Houston, TX
Degree-Granting Education
| | |
| --- | --- |
| 2016 | University of Missouri-Kansas City, Kansas City, MO, USA, MD, BA/MD |
Postgraduate Training
| | |
| --- | --- |
| 2021-2022 | Postdoctoral Fellow, The Ohio State University and James Comprehensive Cancer Center, Columbus, OH |
| 2020-2021 | Clinical Fellowship, Breast Cancer Fellowship, The Ohio State University and James Comprehensive Cancer Center, Columbus, OH |
| 2019-2021 | Clinical Fellowship, Medical Oncology, The Ohio State University and James Comprehensive Cancer Center, Columbus, OH |
| 2016-2019 | Clinical Residency, Internal Medicine, The University of Texas Southwestern Medical Center, Dallas, TX |
| | |
| --- | --- |
| 2021 | Medical Oncology |
| 2019 | ABIM Internal Medicine |
Institutional Committee Activities
Member, MD Anderson Breast Medical Oncology Survivorship and Database Working Group, 2022 - Present
Member, MD Anderson Survivorship Research Advisory Workgroup, 2022 - Present
| | |
| --- | --- |
| 2022 | ASCO Conquer Cancer Young Investigator Award, ASCO |
| 2021 | Pelotonia Post Doctoral Fellowship Award, The Ohio State University |
| 2021 | Alliance Cancer Control Program Pilot Project Award |
| 2021 | Transdisciplinary Research in Energetics and Cancer (TREC) Training Workshop, NIH |
| 2020 | FDA-AACR Oncology Educational Fellowship, FDA-AACR |
| 2017 | 1st place at North Texas ACP Poster Competition, North Texas ACP Poster Competition |
| 2017 | Foster Fellow Research Grant, UT Southwestern Medical Center |
| 2013 | Sarah Morrison Student Research Grant, University of Missouri Kansas City |
Peer-Reviewed Articles
Sukumar JS, Vaughn JE, Tegge A, Sardesai S, Lustberg M, Stein J

. Delay Discounting as a Potential Therapeutic Target for Weight Loss in Breast Cancer Survivors. Cancers (Basel) 14(5), 2022. e-Pub 2022. PMID: 35267441.

Sukumar J, Kassem M, Agnese D, Pilarski R, Ramaswamy B, Sweet K, Sardesai S

. Concurrent germline BRCA1, BRCA2, and CHEK2 pathogenic variants in hereditary breast cancer: a case series. Breast Cancer Res Treat 186(2):569-575, 2021. e-Pub 2021. PMID: 33507482.

Sukumar J, Gast K, Quiroga D, Lustberg M, Williams N

. Triple-negative breast cancer: promising prognostic biomarkers currently in development. Expert Rev Anticancer Ther 21(2):135-148, 2021. PMID: 33198517.

Sardesai S, Sukumar J, Kassem M, Palettas M, Stephens J, Morgan E, Addison D, Baliga R, Stover DG, VanDeusen J, Williams N, Cherian M, Lustberg M, Wesolowski R, Ramaswamy B

. Clinical impact of interruption in adjuvant Trastuzumab therapy in patients with operable HER-2 positive breast cancer. Cardiooncology 6(1):26, 2020. e-Pub 2020. PMID: 33292843.

Sukumar JS, Sukumar S, Purohit D, Welch BJ, Balani J, Yan S, Hathiramani SS

. Activating BRAF mutation in sclerosing mucoepidermoid carcinoma with eosinophilia of the thyroid gland: two case reports and review of the literature. J Med Case Rep 13(1):385, 2019. e-Pub 2019. PMID: 31882020.

Sukumar, JS, Moore, W, Khan, S

. Therapy with Tyrosine Kinase Inhibitor Lenvatinib in Radioactive Iodine Naive Advanced Differentiated Thyroid Cancer. International Journal of Endocrine Oncology 6(4), 2019.

Singh J, Moore W, Fattah F, Jiang X, Zheng J, Kurian P, Beg MS, Khan SA

. Activity and pharmacology of homemade silver nanoparticles in refractory metastatic head and neck squamous cell cancer. Head Neck 41(1):E11-E16, 2019. e-Pub 2018. PMID: 30537286.
| | |
| --- | --- |
| Title: | ASCO Conquer Cancer Young Investigator Award |
| Funding Source: | American Society of Clinical Oncology (ASCO) |
| Role: | Principal Investigator |
| | |
| --- | --- |
| Title: | Pelotonia Postdoctoral Fellowship Award |
| Funding Source: | The Ohio State University |
| Role: | Principal Investigator |
| | |
| --- | --- |
| Title: | Alliance Cancer Control Program Pilot Project Award |
| Funding Source: | Alliance For Clinical Trials in Oncology |
| Role: | Co-Investigator |